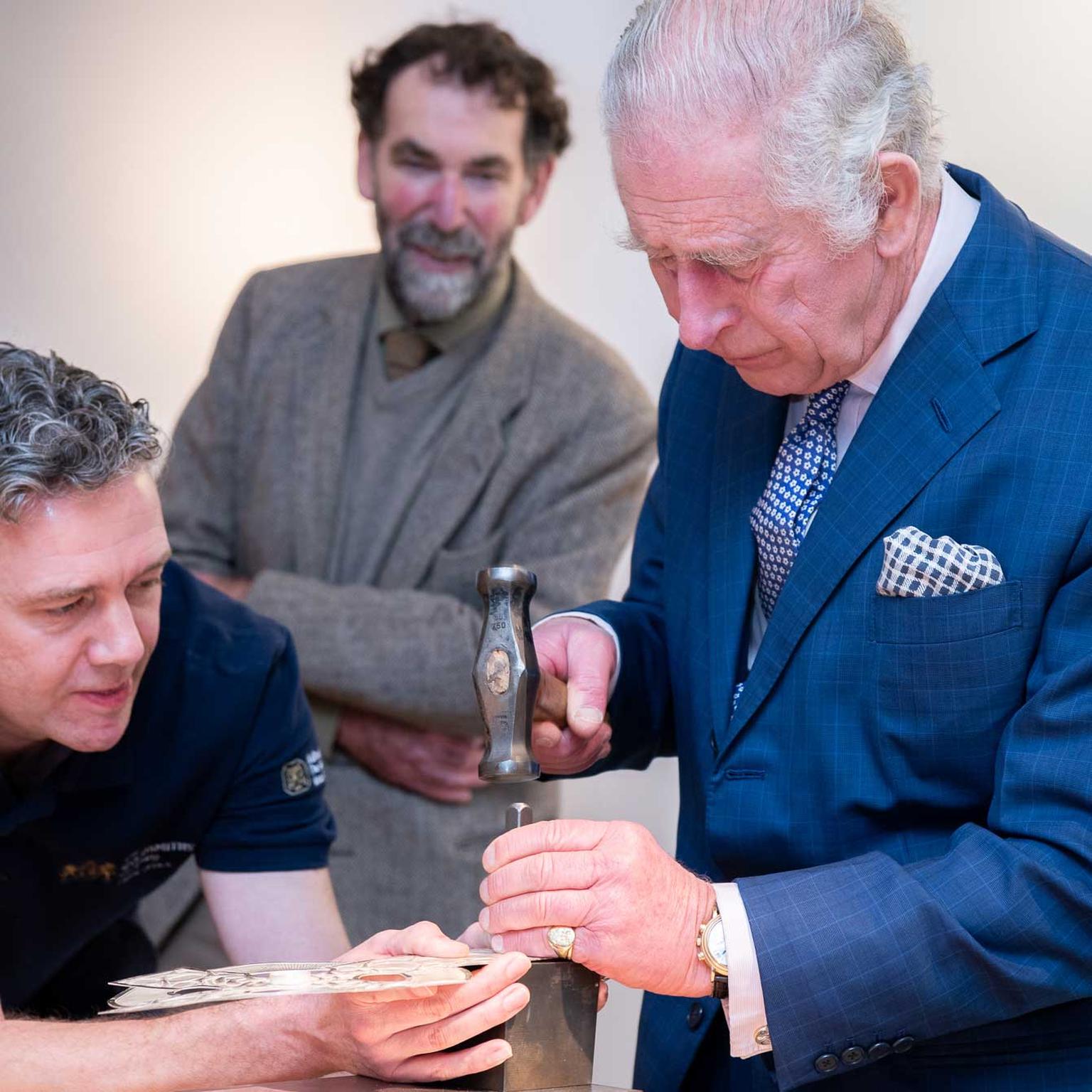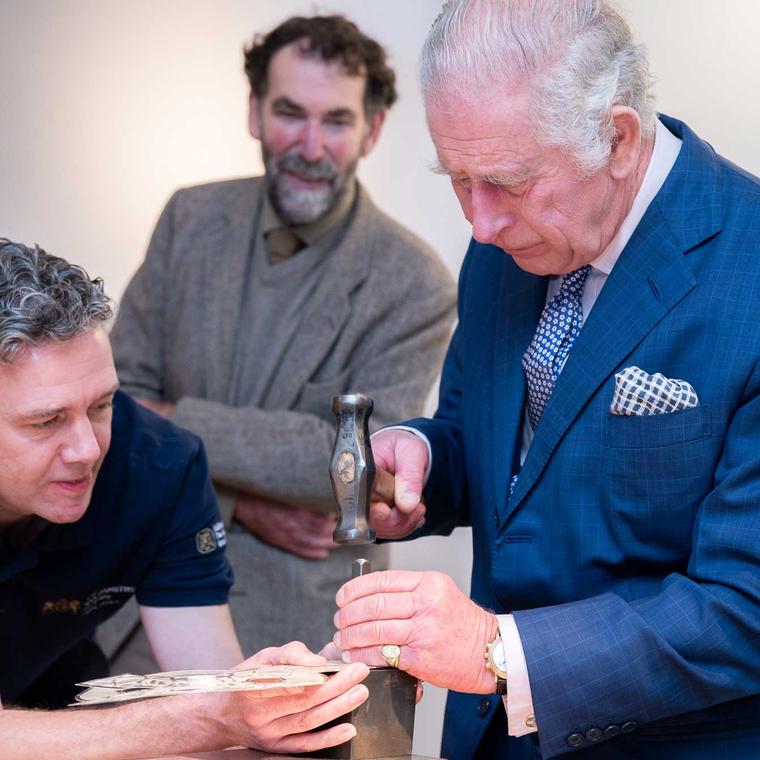 The Goldsmiths Company today reveals the new Cross of Wales that was designed and made by master silversmith Michael Lloyd and hallmarked by King Charles III. The cross includes a relic of the 'true cross', and the small splinters of wood are visible at the centre of the cross, on a red backing under a rose crystal. The fragments of the 'true cross' were a coronation gift from Pope Francis to King Charles. The commission was led by The Goldsmiths Company and brings together traditional silversmithing techniques in a contemporary design.
King Charles made history when he became the first monarch to apply a hallmark. King Charles visited the Goldsmiths Centre in London in November 2022 where he hand struck the 'Kings Mark' in the form of a leopard's head into the silver.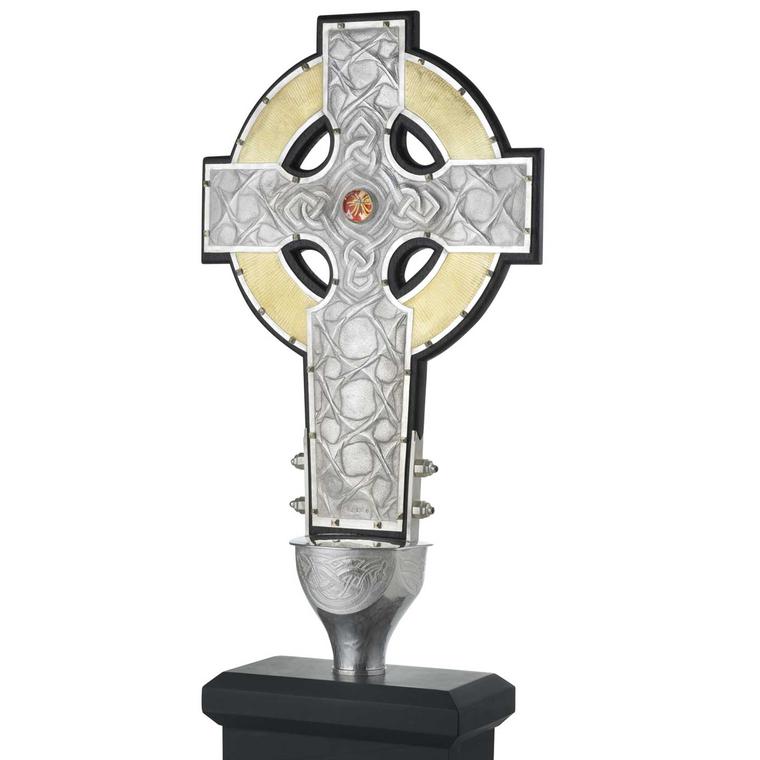 Designer and maker, Michael Lloyd said, "This project started with a love of the material, its malleability, its potential for expression. The commission has allowed me to delve into the previous 1,000 years of faith and history. Now, with more than 267 thousand hammer blows, the cross has emerged from the inanimate sheets of silver, and I am delighted it will be used as part of the Coronation Service on 6 May."
Dr Frances Parton, Deputy Curator of the Goldsmiths' Company who worked closely with the celebrated silversmith Michael Lloyd said, "The Cross of Wales shows the relevance of traditional skills and craftsmanship in the modern world. Using the ancient craft of chasing silver, Michael Lloyd has created a beautiful object, which combines a powerful message with a practical purpose."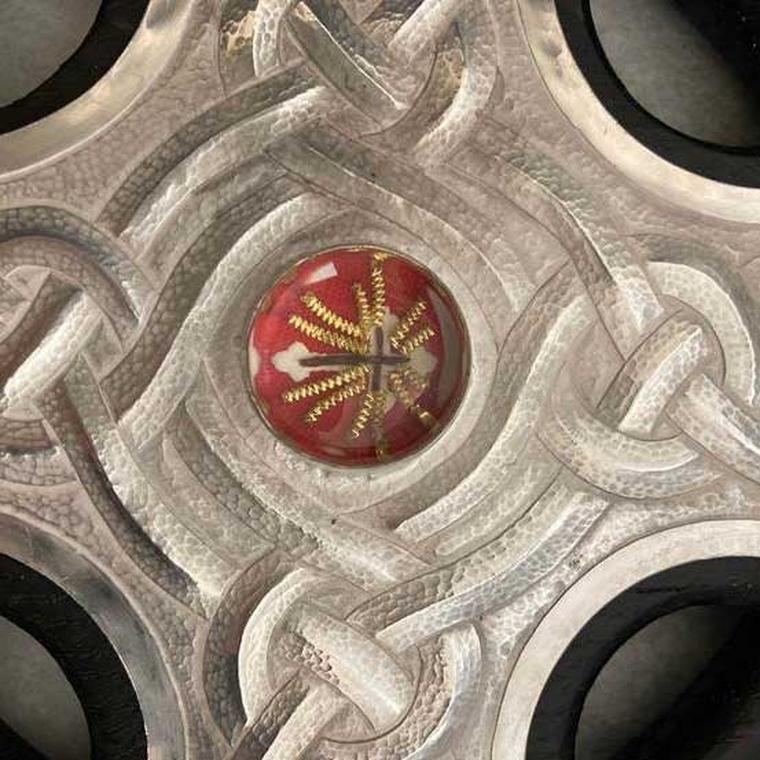 The design reflects King Charles' commitment to the environment and is made from recycled silver provided by the Royal Mint at Llantrisant. The shaft is made of windfall timber and the stand is of Welsh slate. 
The Royal Collection, that manages the royal family's art, was involved in the process. "Inspired by medieval Welsh art and design, The Cross of Wales combines historical reference with the very best contemporary craftsmanship", said Tim Knox, Director of the Royal Collection.
After the Coronation, the cross will be used in the Church of Wales. Ahead of the Coronation, the Cross of Wales will be blessed by Archbishop Andrew at Holy Trinity Church, Llandudno on April 19.
The Cross of Wales will lead the Coronation procession in Westminster Abbey on 6 May. It was designed and made by Michael Lloyd, 2023, The Goldsmiths' Company, Richard Valencia

The Cross of Wales was designed and made by silversmith Michael Lloyd and inspired by mediaeval Welsh art. Photographer Julia Skupny

The Cross of Wales designed and made by master silversmith Michael Lloyd will play a leading role at Westminster Abbey on 6 May. The Goldsmiths' Company.

The Cross of Wales incorporates a relic of the 'true cross' at its centre that were given to the King by Pope Francis as a Coronation gift. 

King Charles III makes history at the Goldsmiths' Centre in November 2022 by being the first monarch to hallmark an object. The hallmark is the King's Mark which His Majesty is hammering into the silver Cross of Wales with Adam Smith from the Goldsmiths Company and the silversmith Michael Lloyd in the background and Photographer - Julia Skupny