Cairo is home to Azza who set up Azza Fahmy Jewellery in 1969. At this time,  women working was frowned upon, so it was considered border-line lunacy to sit on the floor of a jewellery workshop in the chaotic, bustling Khan-Khalili market in Cairo to learn the traditional jewellery making skills . Azza followed her passion without fear of failure or the seemingly insurmountable challenges of setting up a business in a male-dominated world.
Like an oasis in the desert, where there is nothing, Azza creates a solution. While most would be overwhelmed by the task of creating an international luxury maison from scratch, not so for Azza. 'I was never scared or worried as I followed my passion, that is all that I saw, not the problems or the risks,' she says from her pink-walled office overlooking her workshop in outskirts of Cairo.
An interior designer by training from a well-to-do Cairene family, Azza discovered her passion for jewellery while leafing through a tome at a book fair. 'I wanted to learn to be a jeweller but there were no jewellery schools in Egypt. So I decided to find an apprenticeship like craftsmen did under the Ottomans. I sought out the best jeweller who was Hajj Sayyed in the Khan-Khalili market and learnt from him.'  Tying back her hair, wearing $20 overalls from Sears Roebuck that friends brought her from their trips to the USA to protect her from acid burns, she learnt her trade.  The manual labour has obliterated her fingerprints and given her a unique perspective into jewellery design. Today she manages a team of 250, including 100 craftsmen, with the wisdom of one who has done their time at the bench. A picture of Hajj Sayyed hangs in pride of place in Azza's office.
Today Azza Fahmy Jewellery is run by Azza and her two daughters Fatma Ghali who is now the Managing Director and Amina Ghali, Head Designer. The firm has 17 luxuriously appointed boutiques and points of sale in Egypt, the Middle East and London as well as a growing online e-commerce site and a successful pop-up in 2019 in the Los Angeles Waldorf Astoria hotel.  Azza Fahmy Jewellery lights up the red carpet and she has collaborated with the designer Matthew Williamson. The British Museum has turned to Azza Fahmy Jewellery more than once when looking to create a historically-accurate collections of pharaonic jewellery to accompany exhibitions. The latest collection is based on the medieval Mamluk dynasty of Cairo. As well as growing her business, she has set her sights on Azza Fahmy Jewellery making its mark in the USA.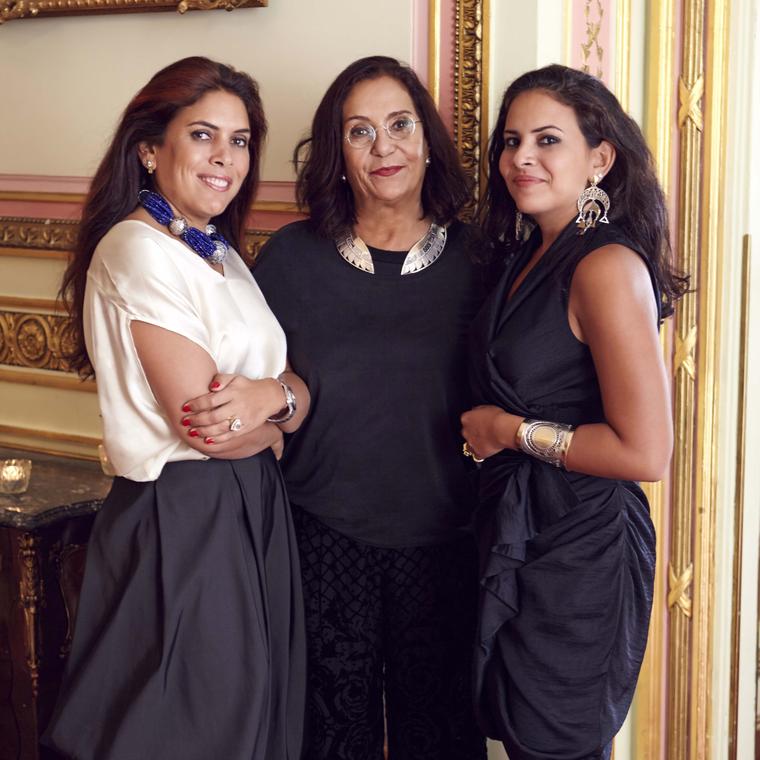 Azza may be a celebrity in Egypt, but every day she is at her factory in the desert outskirts of Cairo. Azza spends her time talking to the craftsmen, tweaking designs, challenging the marketing team and leaving a vortex of positivity in her wake.  
But that is not all that Azza is up to. At the heart of everything that Azza does is her constant quest to preserve traditional skills and crafts. A deep pool of generosity and love for her fellow men and women powers her forward. 'When I began training my workers my friends told me I was crazy. They said that they would take the skills and run and copy my designs. But I didn't see it that way, and I was right.' A stained glass window in her office opens over the 100-strong workshop of skilled jewellers all trained in the Azza Fahmy way of making jewellery respecting traditional techniques.
What really lights up Azza's eyes is her foundation. At the heart of this latest venture is a quest to hand down the traditional skills so beloved to her that she learnt at the feet of the masters of the Khan-Khalili. Her foundation has two arms: the first is The Design Studio by Azza Fahmy (DSAF), a jewellery school that offers technical and design programmes in Cairo. The second is the Azza Fahmy Foundation for Vocational Training.
The Design Studio by Azza Fahmy was set up in 2013 and claims to be 'the first and only professional jewellery-making and design school in Egypt and the region.' Already its first waves of graduates have made their way into the world and some even returned as teachers. The core of the programme is a two-year course that teaches both design as well as techniques. The school has an impressive workshop where each student has their own bench and tools where they learn not only the rigours of a conceptual approach to design but the techniques needed to make a finished jewel. The results are impressive with standards on an international level for both design and execution. Currently there are 22 students in the programme and short courses are offered in Cairo as well as the Middle East. Doris Maninger, co-founder of the Alchimia Jewelry School in Florence, is Senior Technical Consultant and helped Azza set up the programme. She flies in regularly to assess the students.  Maninger says: 'The loss of techniques and skills is a global problem as less and less schools teach these vital crafts so we make sure that our students learn both design and making.'
The second is the Azza Fahmy Foundation for Vocational Training,  a venture in partnership with the Egyptian National Academy for Science and Skills with support from the Drosos Foundation, a Swiss charity. Azza says: "Our foundation was awarded a grant by the Drosos Foundation to train 100 underprivileged and unemployed Egyptian youth in jewellery making techniques. The project aims to create career-launching opportunities for underserved Egyptian youth in the handicrafts sector by building their vocational capacities and linking them to good jobs in the sector.' Longer term, Azza hopes to extend the reach of the foundation beyond the jewellery sector to preserve a wider range of traditional Egyptian crafts and skills that are such a rich part of the country's heritage.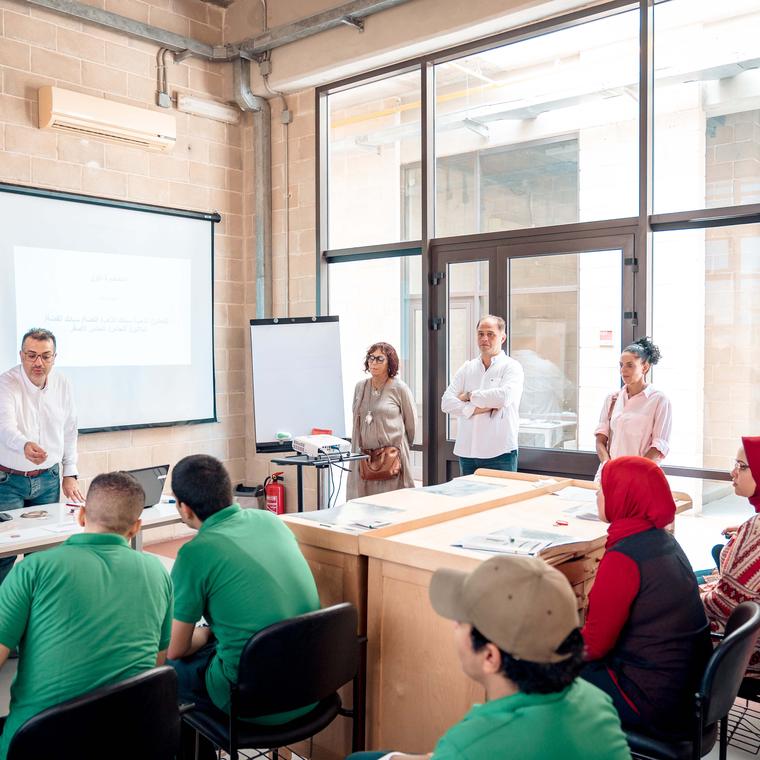 Turning her passion into life-changing training, Azza is practical to the core. 'The graduates of the Design Studio can eventually benefit the Azza Fahmy business and the foundation can increase the pool of skilled workers that I will need as our production capacity grows.'
With her autobiography in the pipeline, a new collection launching shortly as well as a capsule collection to celebrate the 100th anniversary of the discovery of the tomb of Tutankhamen in the making, Azza is brimming with plans and nothing is going to stop her.
Founder and Creative Design, Azza Fahmy with her daughters Fatma and Amina Ghali who together run the successful Egyptian jewellery company.

The Design Studio by Azza Fahmy was set up in 2013 and has an impressive workshop where students learn conceptual design as well as the techniques needed to make a finished jewel.

The first group of trainees of the Azza Fahmy Foundation for Vocational Training that aims to create career-launching opportunities for underserved Egyptian youth in the handicrafts sector.