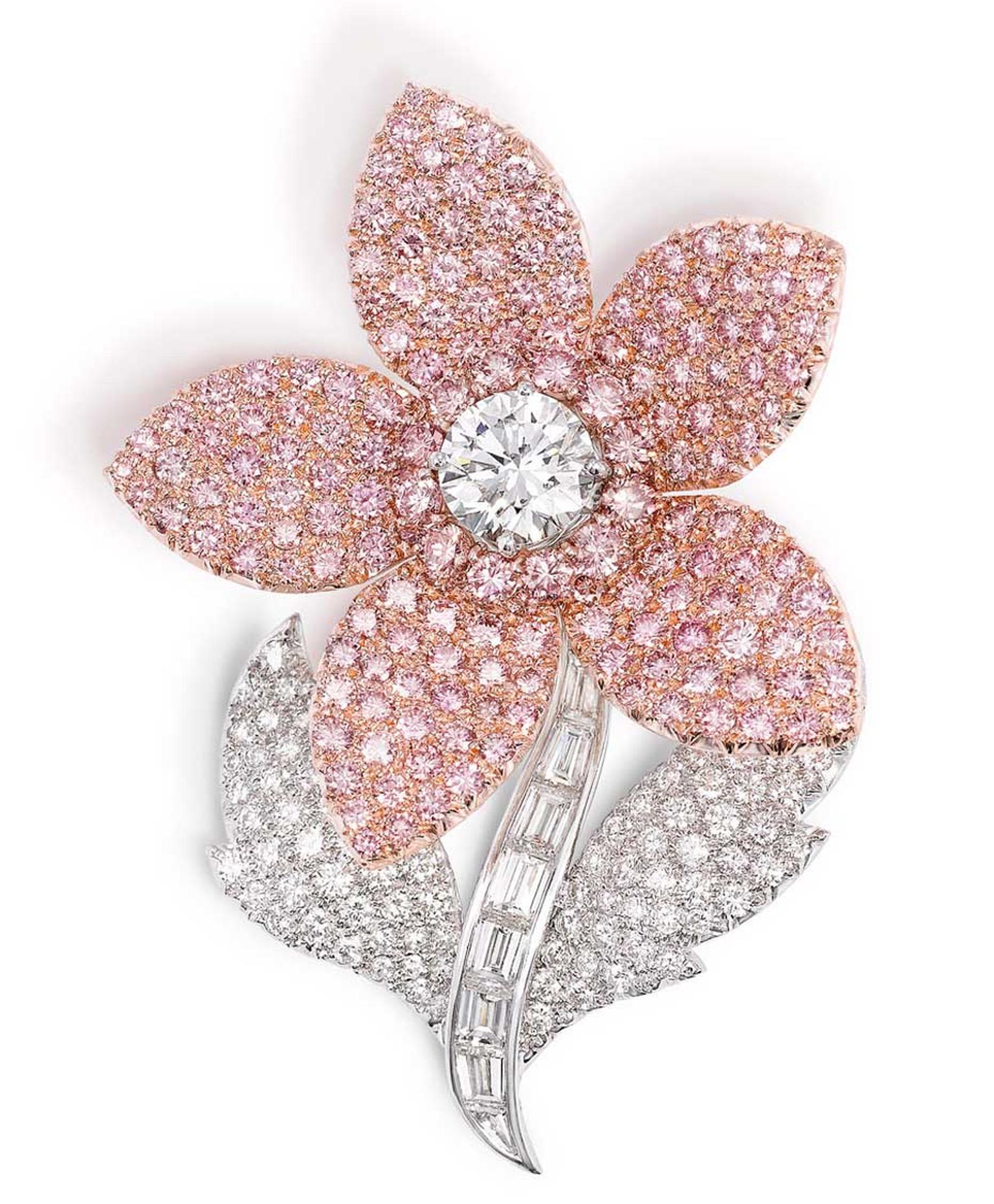 By Maria Doulton
Rare and awe inspiring, the pink diamond is one of the most valuable coloured diamonds in the world. Worth anywhere between 10 to 100 times more than an equivalent white, pink diamonds represent only 0.03% of the global annual production of diamonds.
Coloured diamonds, whether blue, yellow, orange or green, are more valuable than an equivalent white. But when it comes to pinks, they are so exceptional that you could fit into the palm of your hand an entire year's yield of premium-quality pink diamonds. And that makes them the most portable form of wealth on our planet.
So few and far between are top-quality pink diamonds that to commemorate Queen Elizabeth's Silver Jubilee in 2012, the Argyle Pink Diamonds company held an exhibition in London, for one day only. Calling on jewellers and collectors from around the world, it provided a sight unlikely to be witnessed again in our lifetimes. The 42 gems, valued at around £40 million, represented the greatest coming together in one place of pink diamonds. Experts from around the world were awestruck at the sight of so many of these rare stones under one roof.
The desirability of pink diamonds is reflected in the spiralling prices they achieve in auction rooms around the world. The record for the highest price paid per carat for a pink diamond was set at Sotheby's in Hong Kong on 7 October 2014 when a 8.41 carat Fancy Vivid Purple-Pink Internally Flawless sold for US$17,768,041or $2,112,727 per carat. The unusual shade of purple-tinged pink made this diamond highly covetable. What's more, it has been graded by the Gemological Institute of America as Internally Flawless, which is very unusual for a coloured diamond.This level of purity is normally only found in white diamonds. De Beers cut the stone from a 19.54 carat rough and maximised the intensity of colour of the final cut. 
This stunning pink diamond broke the previous record for the highest price paid per carat for a pink diamond, which was held by the 5.00 carat Fancy Vivid Pink that sold in 2009 for US$10 million, or $2 million per carat. The record overall price paid for a pink diamond belongs to what is now known as the "Graff Pink", which was bought by jeweller Laurence Graff at Sotheby's auction in November 2010. The jaw-droppingly large 24.78 carat Fancy Intense emerald-cut pink diamond sold for US$46.2 million, or just over $1.6 million per carat. 
Read about Sotheby's Unique Pink diamond
And it seems that for pink diamonds, it is record breaker after record breaker. In 2012,Christie's in New York sold a 9.00 carat pink diamond ring from the turn-of-the-century from the estate of Huguette M. Clark for $15.7 million, making it the most valuable pink diamond ever sold at auction in America.  
So when the world's wealthiest seek out something to truly set them apart, a pink diamond is the gemstone of choice. From Queen Elizabeth to the Sultan of Brunei and Hollywood stars, they are all drawn to the allure of the pink diamond. Jennifer Lopez's 6.00 carat pink diamond engagement ring from Ben Affleck is reported to have set him back a cool $1.2 million. Tennis player Anna Kournikova's pink diamond engagement ring, with a pear-cut centre stone from the Argyle Mine, has an estimated value of over $2.5 million.
Curiously, pink diamonds are always referred to as "she" and historically the Darya-I-Noor - Sea of Light - of the Iranian Crown Jewels is the largest pink diamond in the world. She is followed by the Noor-ol-Ain - Eye of Light - weighing 60.00 carats, believed to have come from the now depleted ancient and famed Golconda mines in India. Harry Winston was commissioned to set it into the Empress Farah's of Iran's wedding tiara in 1959. In 1999, a pink diamond was discovered by De Beers in South Africa weighing 132.5 carat in the rough. Cut by De Beers and sold to Steinmetz, who renamed it the Steinmetz Pink, the 59.60 carat oval-cut pink diamond is both internally flawless and a much-prized Fancy Vivid Pink colour. 
Queen Elizabeth II, one of the greatest jewellery collectors and lover of diamonds, owns the Williamson pink diamond brooch, which she can often be seen wearing at State functions. The 23.60 carat pink diamond at the centre of the brooch is believed to be one of the finest ever discovered. The stone was found in 1947 at the Mwadui mine in Tanganyika, Africa. The owner of the mine, Dr John Thorburn Williamson, gave it to Princess Elizabeth for her wedding and, in 1953, Cartier in London set the diamond into a flower-shaped brooch. 
The increasing rarity of pink diamonds only adds to their allure. So much so that only about 50 or 60 top-quality stones come on to the market every year. But don't expect to see conker-sized pinks - most are no bigger than a pea. If that does sound disappointingly small, when a single carat can fetch almost a million pounds, it is clear anything over one carat is exceptional.
Of course, smaller, lesser-quality pinks in lighter tones exist in greater numbers, but they are still many times more valuable than your average white. The reason there are few large top-quality pink diamonds is likely due to the force of the subterranean volcanic explosions that forced the diamonds nearer to the Earth's surface and shattered many on the way. A top-quality pink diamond is desirable; a large top-quality pink diamond of over 2.00 carats is exponentially more so.
As with all coloured diamonds, tone and saturation is everything. Colours vary from candyfloss pink to rich cherry jam hues. Vivid hues are right at the end of the colour spectrum of pink tones and are the most expensive.The rule of thumb is, the more intense the colour, the more valuable the stone. The most intense are rated as "Fancy Vivid", culminating in the highly valuable red diamond, which is rarer still than the pinks.
The three most important factors determining the colour and therefore the value of a pink diamond are the hue - which is the dominant colour of the diamond - the tone - the amount of light or darkness in the stone - and the saturation - the intensity of the hue. If a pink diamond achieves a top grading in all three categories the result is exceptional, even if the stone is no bigger than a drop of water. Japan is the strongest market for pink diamonds, where the lighter "cherry blossom" shades are favoured.
But how did pink diamonds come about? Josephine Johnson, Manager of Argyle Pink Diamonds, tells us: "We know pink diamonds are 1.6 billion years old, but we are not sure how they came to have their colour. What we do know is that all diamonds are produced under great pressure and pink diamonds even more so.This is caused by a slight twist in the crystal lattice, which makes the light refract through the diamond, and it comes out in the far end of the colour spectrum in colours such as pinks and reds."
Until the Argyle Diamond Mine in the remote region Western Australia was discovered in the late 1970s and started yielding pink diamonds, they were such an oddity that they were the territory of wealthy collectors of curios. This rare geological freak of nature was randomly found in Brazil, Russia and India and was more likely to be seen in an exhibition of minerals in a museum than gracing a pair of earrings. Jewellers were not entirely sure of their value so were hesitant about investing in them. What's more, it was difficult to find matching stones to make anything other than a solitaire ring, and a pink diamond was more likely to be hidden away in a bank vault than appear on the finger of a diva. 
But the discovery of the Argyle Diamond Mine in Australia changed the course of the history of pink diamonds. After prospecting in the Barramundi Gap in Northwestern Australia, two very determined geologists spotted a diamond shimmering in an anthill. The industrious ants had been digging up diamonds and had quite literally brought them to light. The Aboriginals had been aware of their presence and believed that the colours of the diamonds come from the scale of the barramundi fish, with pink diamonds coming from the heart.
The geologists scrambled to keep the location of their find secret while they mobilised forces to secure the area. When the first yield of pink diamonds came out of the mine, for the first time in history, a consistent, if very small, supply of pink diamonds wasa possibility.
The discovery of the Argyle Mine unleashed "pink mania". The first all-pink diamond jewellery to be sold on the open market was the Esmerian bow necklace, made by coloured gem specialist and jeweller Ralph Esmerian. The necklace contains hundreds of perfectly matched Argyle pink diamonds suspended around a 5.57 carat pink. When sold by a collector at Christie's in May 1992 it caused a frenzy of bidding, eventually selling for $1.8 million to a mystery buyer, and the marketplace changed radically. Pink diamonds were suddenly hot property and the demand for them has not slowed down since. 
Although pink diamonds appear sporadically in mines in Brazil, Russia and India, the occurrence of them is nowhere on the scale or the colour saturation of those found in the Argyle Mine. This one mine supplies 90% of the world's pink diamonds. And Argyle's special stones get a royal treatment. Each year, Rio Tinto, the mining company that owns the mine, invites a select few jewellers and dealers to bid for the top 1% of its offerings at the annual Argyle Pink Diamond Tender. Selected diamond dealers and jewellers, under high-security measures, are invited to inspect the stones at locations around the world. So strict is security that the locations are revealed at the last minute.
The stones, the size of drops of red syrup, sit in little white plastic boxes with Perspex lids. The buyers are allowed nothing more than a loupe with which to view the diamonds and make their bid in a sealed envelope. Prices per carat of these pick-of-the-crop stones hover around $1 million per carat and none are left unsold. Adding to the frenzy for pinks is the fact that the Argyle mine is expected to be depleted in the next decade.So between now and then there will only be another 500 or so top-quality stones sold at tender to come out of this mine.  
Mining pink diamonds is an expensive business. For every million carats of rough diamonds produced at the Argyle Mine, less than 1.00 carat will make it to tender. Or to put it more visually, it takes seven pickup trucks of diamonds to produce one ashtray full of pinks.
Paul King, property investor and collector of coloured diamonds, in particular pinks, considers high-quality pink diamonds both a good investment as well as a beautiful stone to own. "Unlike stocks and shares, they are tangible and you can also enjoy wearing them. And once the Argyle mine dries up, 90% of the world's supply of pink diamonds will disappear. It is inevitable that they will increase in value, but by how much, no one can say." In the meantime, everyone who is lucky enough to own a quality pink diamond can enjoy its exceptionally pretty colour and know that on their finger sits a very rare and precious creation that originated from the very centre of the earth.
But unlike larger, flashier stones, these fabulous freaks of nature can be discreet, which only adds to their mystery.As they tend to be small, the darker more precious stones can be mistaken by the uninitiated for a garnet. Only the owner is aware of its true value, which adds to their allure.
Read more about pink diamond jewellery here
Pink diamonds from the Argyle Diamond Mine in Western Australia are so rare that they comprise just 0.03% of global diamond production.

The important Argyle Satine pink diamond, a 1.02-carat cushion cut Fancy Intense Purplish-Pink diamond - one of the "hero" diamonds at Rio Tinto's 2012 Argyle Pink Diamonds Tender.

Unlike white diamonds, the value of pink diamonds is in the colour. The size, like the Argyle Siren pink diamond pictured here in calipers, is rarely above 1.00ct.

Once they have been found, rough diamonds are cut and polished. Pictured here is the Argyle Siren pink diamond before it was cut into a 1.32ct square radiant cut pink diamond.

This extravagant LJ West Majestic pink diamond bracelet, worth an estimated $8 million, was also included in the Argyle Pink Diamonds company's 2012 exhibition of pink diamonds in London.

Calleija Aurora pink diamond engagement ring, set with a 0.86ct Fancy Intense Purplish Pink Argyle diamond.

Calleija Valentia pink diamond engagement ring, set with a 0.53ct Purplish Pink Argyle pink diamond.

De Beers Classic pink diamond engagement ring, from the 1888 Master Diamonds and Creative Solitaires collection, set with a Fancy pink diamond with pavé white diamonds around the band.

De Beers Aurora pink diamond ring, from the 1888 Master Diamonds and Creative Solitaires collection, set with an oval Fancy Intense pink diamond surrounded by pavé white diamonds.

The uniqueness of the record-breaking pink diamond sold at Sotheby's in Hong Kong last year is down to the fact that is is Internally Flawless - a rare phenomenon in pink diamonds and virtually unheard of in any significant pink diamond of Fancy Vivid or Fancy Intense colour grading ever sold at auction.

At Sotheby's Hong Kong in October 2014, a 8.41 carat Fancy Vivid Purple-Pink Internally Flawless diamond sold for $17,768,041 or $2,112,727 per carat, entering the record books as the highest price paid per carat for any pink diamond.

The Steinmetz Pink diamond, discovered by De Beers in South Africa in 1999, weighs 59.60 carats and is a much-prized Fancy Vivid pink colour.