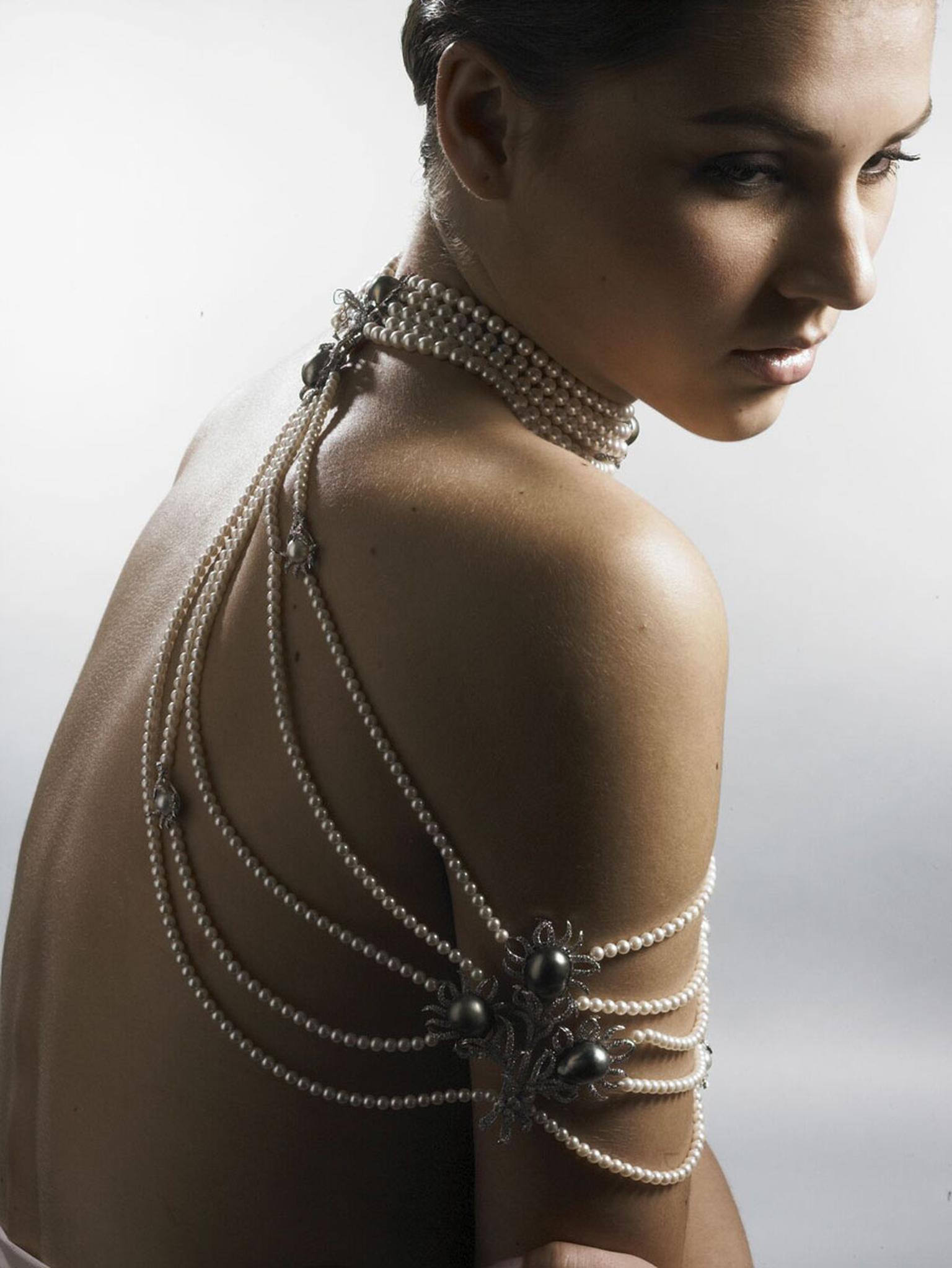 By Preeta Agarwal
Indian history and mythology are full of images of deities and royalty, bejewelled from head to toe. From 33 million gods and goddesses to an elaborate list of maharajas and maharanis [kings and queens], all had a common interest - a deep love of jewellery.
Over the centuries, traditions trickled down from the empires to the wealthy, and jewellery has remained one of the most coveted luxury items in India. But with today's modern lifestyles, bedecking yourself in precious jewels is not possible on a daily basis. On special occasions such as weddings, however, women continue to look for different ways in which to wear jewels, besides the usual necklaces, earrings, rings and bracelets.  
Of all the unconventional jewels worn by Indian women, the most popular are hair ornaments. Dressing up the centre parting is considered sacred in India and is a must for brides. Hair ornaments range from traditional three-part maang tikas (ornaments designed to be worn on the centre parting) and jhoomar (worn to the side forehead) to jooda (hair bun accessories) and jewels for braids. Amrapali, which has revived the art of traditional Rajasthani jewellery in India, offers classic hair ornaments, such as studded jhoomars, alongside more modern interpretations, including hair clips and colourful maang tika from the Manish Arora collaboration, created in collaboration with the Indian fashion designer.
Ganjam's heritage collection is full of hair ornaments, crafted in a South Indian temple style. Ruby and emerald-encrusted maang tikas are decorated with suns and moons, while elaborate jadai bangara (braid ornaments) are reserved for the courageous, who can handle the weight of all that gold repoussé work, diamonds and gemstones in their plaited hair. Sunita Shekhawat's hair comb takes us back to the Mughal era, while Ganjam's Tahiti pearl 'Leonid' tiara and Bina Goenka's gold floral hair band are a contemporary take on traditional hair accessories.
You will never tire of Mirari's one-shoulder strings and choker ensembles. These multi-purpose pearl and diamond necklaces split in two and can be worn separately or together. South Indian style waist belts from Bangalore's C. Krishniah Chetty and diamond and gemstone-studded waist belts from Gem Palace and Bina Goenka add charm to the stunning sarees worn by Indian women.
Nose pins (nath), armlets, anklets (paizeb) and toe rings play an important role in adorning a bride. Nose pins and toe rings are a symbol of marriage for women in many cultures across India. Ranging from a small diamond stud to large round designs and paisley shapes, nose pins vary in size and design from region to region. Coupled with studded accessories such as key chains and handbags from Bina Goenka, the ways in which Indian women can adorn themselves in jewels are, literally, endless.
Bina Goenka gold and diamond clutch bag.

Bina Goenka key chain, set with diamonds, rubies and pearls.

Sunita Shekhwat gold and diamond 'paizeb' (anklet) and toe ring.

Ganjam 'vanki' (armlet) from the family archives of the Heritage collection, set with uncut diamonds, rubies, emeralds and pearls.

Amrapali Manish Arora gold plated nose rings.

Bina Goenka gold waist belt.

Bina Goenka gold waist belt with emerald and ruby tassels.

Gem Palace gold waist belt set with diamonds and rubies.

C. Krishniah Chetty gold waist belt set with uncut diamonds, rubies, emerald and pearls.

Mirari pearl and diamond ensemble with two necklaces which convert into a unique shoulder draping ornament.

Mirari "Symphony of Strings" necklace with matching earrings and bracelet.

Mirari "Symphony of Strings" diamond studded choker and shoulder ornament.