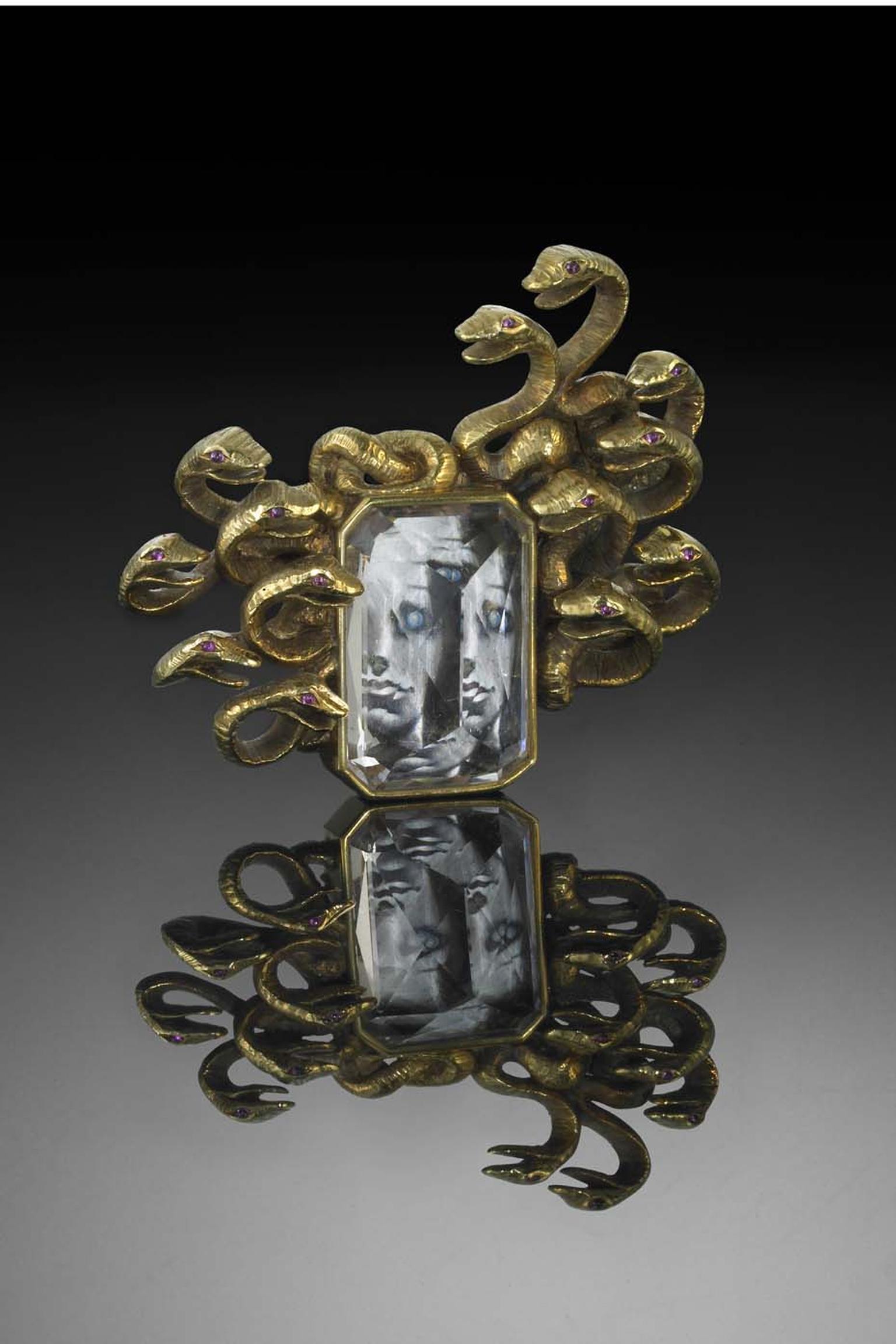 By Anthony DeMarco in New York
When Duke Fulco di Verdura opened his eponymous boutique in 1939, I wonder if he had any kind of inkling that he was going to revolutionise and modernise the world of high jewellery. 
The charismatic Sicilian royal native, brimming with confidence, had a Rolodex that was the envy of anyone. He had already made a mark in the world of high jewellery through collaborations with Coco Chanel and Paul Flato. His best-known pieces, even to this day, are the signature Maltese cuffs he made for Ms Chanel.
However, when he put up his own shingle with the financial backing of Cole Porter and Vincent Astor - thanks to that Rolodex - he became a superstar in a world where royalty, business leaders and world-class entertainers mingled. His clients included the Whitneys, Mellons and Rockefellers, as well as actors Joan Crawford, Katharine Hepburn and Rita Hayworth.
To celebrate this giant of jewellery design, Verdura's work will be the subject of a 75-year retrospective titled "The Power of Style: Verdura at 75", which is set to run from 14 October until 23 December 2014 at a space adjacent to the Verdura flagship boutique on 745 5th Ave., just a few feet away from his original boutique.
The retrospective will star around 150 original pieces of Verdura jewellery and objets d'art - the majority on loan from their owners - all created by Fulco di Verdura, as well as a small selection of his 10,000 gouache jewellery designs, archival materials, personal miniature paintings and period photographs. Curating the exhibition will be fashion designer Carolina Herrera, her husband Reinaldo Herrera, an editor at Vanity Fair, and their daughter, Patricia Lansing, who, as friends of the late Duke Fulco di Verdura, who died in 1978, as well as friends of the Landrigan family, who now own the luxury jewellery brand, are in a unique position to tell the Duke's story.
Verdura recently unveiled some of its plans for the exhibition, including a few of the pieces that will be on display. Among the items is the "Medusa" brooch, a collaboration with Salvador Dalí, featuring 13 intertwined snakes in yellow gold, with cabochon rubies for eyes. The snakes frame a miniature painting of Medusa by Dalí, set with a 73-carat morganite. Ward Landrigan, who purchased Verdura in 1985 and has described the brooch as the world's greatest Surrealist artwork. 
Verdura aquamarine and diamond necklace dating from 1993.

Verdura platinum Eight Blades ring featuring blue and white diamonds, set with a central 14.71ct emerald-cut blue diamond.

The enamel cuffs set with a candy-store collection of cabochon stones within a Maltese cross have become Verdura's signature piece.  

Coco Chanel pictured in one of her most iconic photographs wearing strands of pearls and her iconic Maltese cuffs made by Verdura.

Originally purchased by Joan Fontaine and worn in Alfred Hitchcock's film Suspicion, this Verdura baroque pearl, gemstone, diamond, platinum and gold Elephant brooch dates from 1957.

Duke Fulco di Verdura with Coco Chanel examining the signature Maltese cuffs he made for Ms Chanel.

The broad bracelet encircles the wrist in a comforting sequence of overlapping gold links. A pair of the flat links in the centre are covered with small diamonds, a statement of luxury and yet underscored with a practicality suitable for everyday wear.

Verdura gold Winged brooch featuring pink topaz and diamonds, circa 1938.

Verdura Wrapped Heart Brooch featuring cabochon rubies and diamonds in platinum, circa 1949.

Verdura's 'Lion's Paw Brooch' is fairytale object dreamed of in childhood. Verdura transformed shells found on the beach, or bought in the gift shop of the Natural History Museum in New York, into a glittering treasure.

Verdura Snail and Cherub brooches with enamelwork, diamonds, rubies and emeralds, dating from 1968.

Verdura platinum Sweet Pea brooch set with rubies and diamonds, circa 1950.