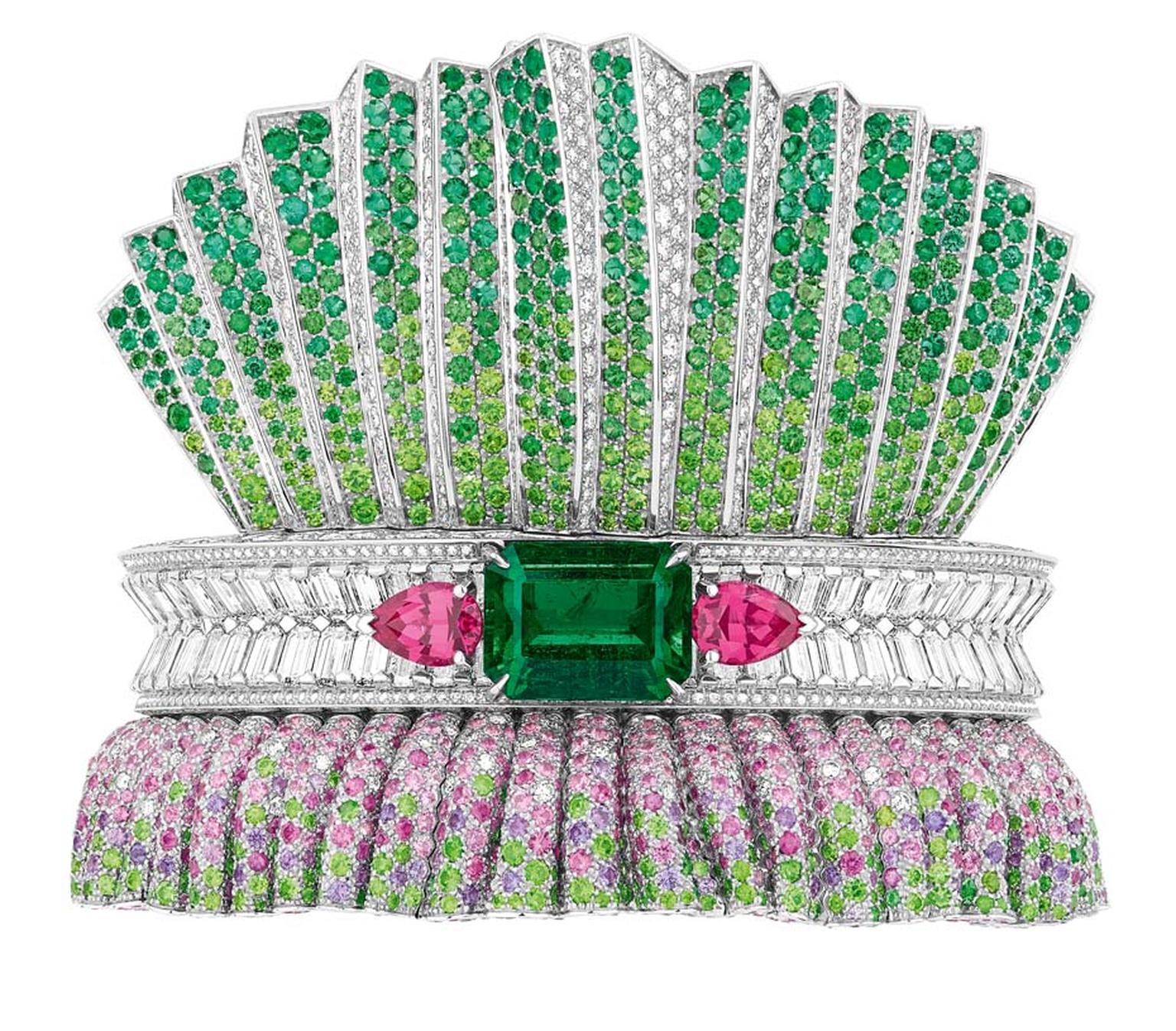 Fourteen of the world's top jewellery houses and jewellers will showcase their finest creations at the highly anticipated Biennale des Antiquaires in Paris this September.
As always, the impressive line-up promises to be a feast for the eyes that no lover of fine jewellery can afford to miss, and our coverage continues with some of the highlights from Piaget, Boucheron, Chanel and Dior.
Piaget has created the colourful Extremely Piaget collection specifically for the Biennale. The maison, which celebrates its 140th anniversary this year, has pulled out all the stops with a collection of watches and jewels that explodes with colour thanks to an array of different stones, including emeralds, sapphires, turquoise, lapis lazuli and yellow diamonds. Piaget's meticulous craftsmanship is evident in every piece, with plenty of surprising touches, including a tiny watch dial in either turquoise or lapis lazuli dangling nonchalantly from a sautoir necklace.
Japan has long been an inspiration for Boucheron. Founder Frédéric Boucheron considered the Japanese the greatest decorative artists in the world, and the new Rives du Japon pays homage to the nation's art. Referencing 'The Great Wave off Kanagawa' painting by Japanese artist Hokusai, the Rivage necklace uses Boucheron's renowned chahute technique to create a tsunami of 533 sapphires and diamonds.
Boucheron's Trésor de Perse necklace, meanwhile, elicited gasps of admiration when a sketch of it was released last month. The epitome of high jewellery, the necklace features two perfectly matched cabochon sapphires on strands of diamonds and rock crystal, mirroring the blue of the central stones. The collection as a whole is inspired by Louis Boucheron's travels to Tehran in 1930 and also includes the architectural Ispahan suite, which mimics the blue tiles on the great mosque of Isfahan.
The new Café Society high jewellery collection from Chanel celebrates the early 20th century bohemian movement, of which Gabrielle Chanel was a leading force. A cosmopolitan club made up of aristocrats, the bourgeoisie, socialites, artists and musicians, the café society rebelled against convention and paved the way for an aesthetic that valued talent over birthright.
The jewels in the collection take a similarly uncompromising stance by combing the clean lines of avant-garde geometry with mesmerising mosaics of colour. The impressive Café Society necklace stands proud in the centre of it all, defying tradition with its multitude of primary hues in the shape of sapphires, garnets and spinels cascading in an interlaced pattern.
The architectural approach that Christian Dior employed when designing couture dresses forms the basis for the Archi Dior high jewellery collection. Designer Victoire de Castellane says: "I wanted to create each piece just like the dresses Christian Dior designed with an architect's eye, as if the jewels were sculpted, pleated belted or draped fabrics."
Each jewel is named after one of Dior's iconic dresses, with the design subtly mirroring that of its sartorial namesake through a diamond belt, a bright red ruby petticoat or a gentle fan of pleats. The whirlwind of vibrant stones on the Ailee pieces mimic the swirls of a skirt, while the Bar ring conjures up the designer's New Look Bar suit.
To read more stories on the Biennale de Paris this September, please click here.
Boucheron Rives du Japon collection Ricochet necklace, crafted from rock crystal, diamonds and sapphires, reminds us of the fleeting circles created by pebbles when hitting the water.

Boucheron Trésor de Perse necklace featuring two strings of diamonds that run through rock crystal and join in the centre with two cabochon sapphires.

Combining the clean lines of avant-garde geometry with mesmerising mosaics of colour, Chanel's Café Society Morning in Vendome earrings feature circles of brillliant-cut white and yellow diamonds and two emerald-cut yellow diamonds.

Chanel Café Society pendant necklace set with a spessartite, diamonds, blue and yellow sapphires, red spinels, orange grenats and tsavorites.

Chanel Café Society Cruise necklace set with a 28.30ct brilliant-cut aquamarine, diamonds, aquamarine beads and black spinels.

Chanel Café Society Sunset necklace set with padparadscha sapphires, pink sapphires and brilliant-cut diamonds.

Dior's Ailée Diamant bracelet is set with more than 3,500 coloured gemstones and took more than 560 hours to create.

Dior Ailée Diamant bracelet in white gold, with diamonds, purple and pink sapphires and rubies.

Dior Bar en Corolle Diamant ring in white gold with diamonds, pink and purple sapphires, emeralds and demantoid garnets.

Piaget Extremely Piaget bracelet in pink gold set with 32 marquise-cut diamonds and 23 turquoise beads.

Piaget Extremely Piaget bracelet in white gold set with 97.46ct of lapis lazuli beads, 40.24ct of turquoise beads, 19.78ct of cabochon-cut turquoises and brilliant-cut diamonds.

Extremely Piaget Palace necklace in pink gold set with marquise and brilliant-cut diamonds and turquoise beads, which shines with the optimism and girl power of the 1970s.