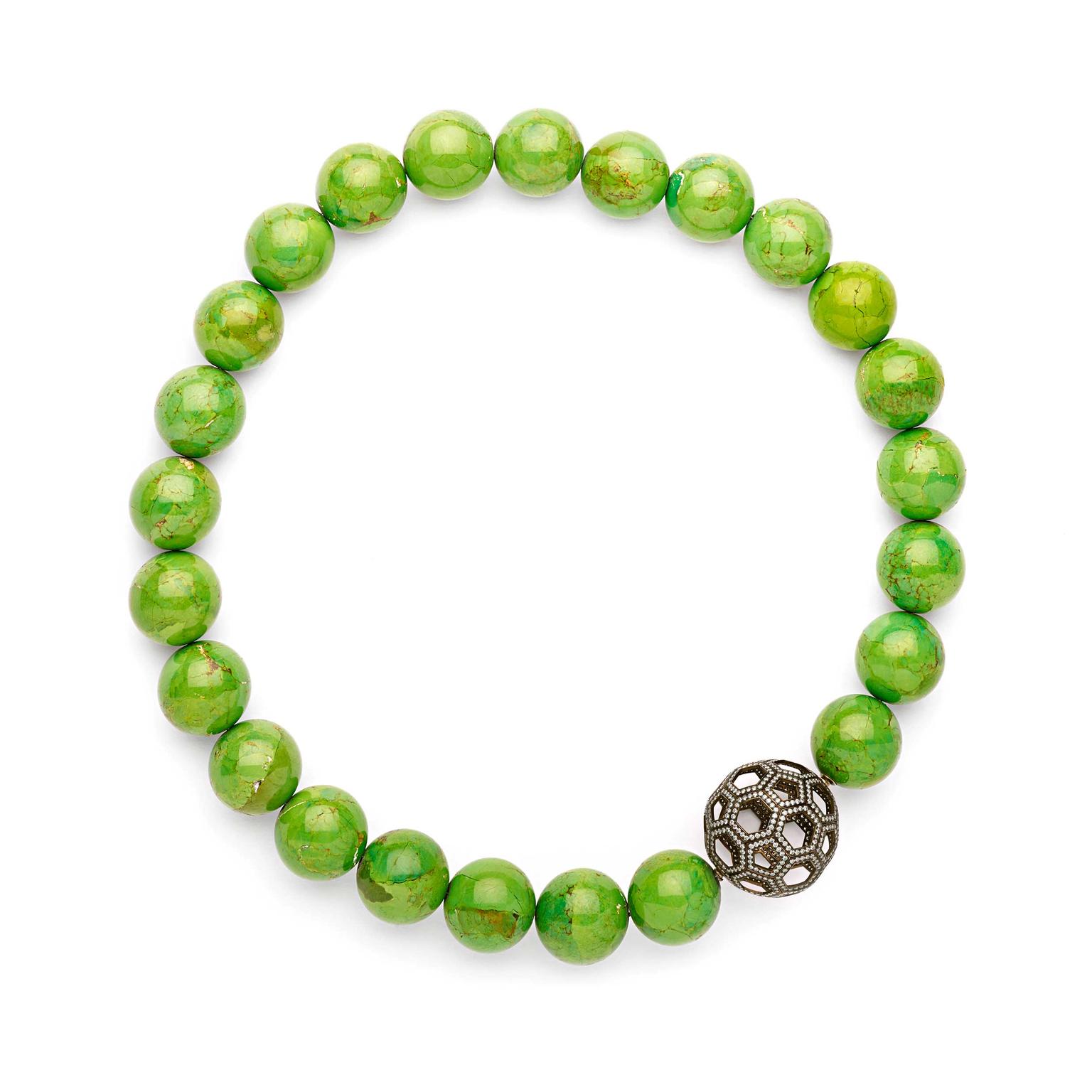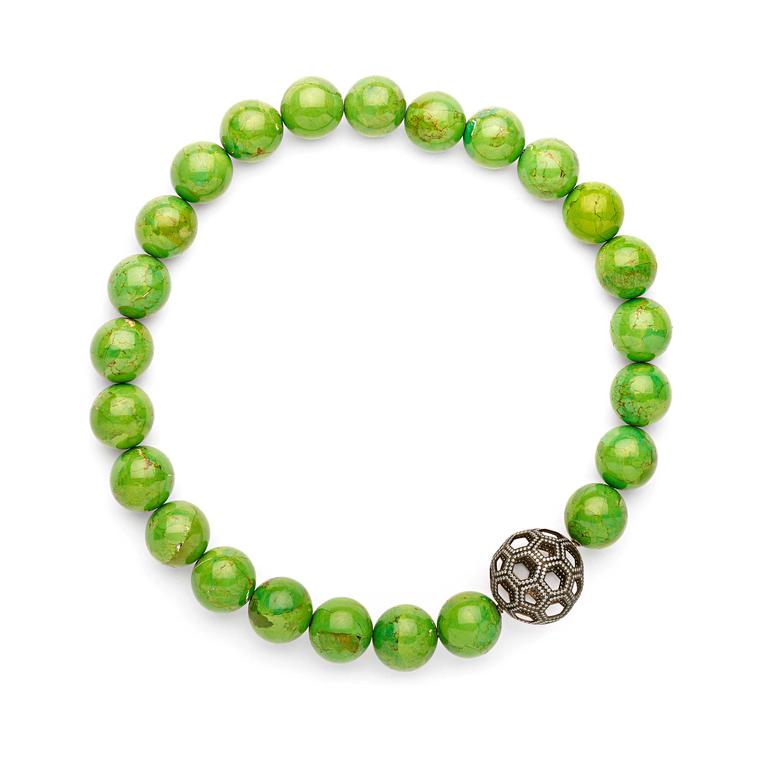 By Rachel Garrahan in New York
The vogue for turquoise jewelry was confirmed not only at the Couture Show Las Vegas, but also at this year's Academy Awards when Cate Blanchett wowed the crowds in a spectacular Tiffany jewelry turquoise bib. One of the world's most ancient gems, turquoise is available in a wide range of shades from the palest robin's egg blue to unexpected lime green.
Dive into the blue with more turquoise jewelry here
Selim Mouzannar's Sunset collection is inspired by the magical moment of sundown in his hometown of Beirut. He then went to Iran, one of the world's most revered homes of turquoise, to select the gem in beautifully intense shades of green and teal to create his Art Deco-style cuff, which is elegant and playful in equal measure. Imagine the sun setting on the Mediterranean as you turn over the outer diamond inlaid semi-circle that surrounds the turquoise sun.
Read more about Art Deco style jewelry at the Couture Show here
Turquoise, a copper aluminum phosphate formed in hot, dry places, including the American South West, the Middle East and Mexico, takes on a distinct green hue where there are significant levels of iron. Suzanne Syz is another lover of this rare shade. The Swiss jeweler who is renowned for her love of color and joie de vivre combines both in her That's Amore necklace, formed of 24 turquoise beads and a titanium globe, faceted like a precious football and set with more than 700 diamonds.
The organic shapes and spider web veins of the green turquoise necklace from Lydia Courteille still scream glamour but with an altogether earthier look. Like stones that have been pulled directly from the ground, they still bear evidence of their forest origins with tsavorite blossoms and vines of precious diamonds.
See Lydia Courteille's latest collection of earrings here
The 1960s cocktail ring from Fred Leighton sets turquoise against its cool cousin lapiz lazuli in a nubby dome of gold and diamonds. And Ara Vartanian's outsized, even-colored oval turquoise across-the-finger ring contrasts boldly against faceted blue sapphires.
Lapis and Sleeping Beauty turquoise create a rich tapestry when matched with rainbow-bright opals in earrings from Andrea Fohrman. Alternating diamond and blue sapphire pavé complete the look in earrings that would capture attention at any glamorous beachside party.
Teardrops of turquoise and malachite swing elegantly from the chandeliers of Dionea Orcini's earrings, while Sutra mixes duck egg blue turquoise against white gold, white diamonds and faceted blue sapphires.
Read more about the wave of blue gemstones washing across jewelry here
Nina Runsdorf turns to cool green as well, surrounding rich turquoise cabochons with a tumble of faceted pear and oval-shaped emeralds and diamonds, while Irene Neuwirth contrasts opaque turquoise jewelry with alternating glassy shades of tourmaline and aquamarine.
For an injection of summer warmth, turn to the bright mandarin garnet that takes center stage in Suzanne Felsen's turquoise ring. Demonstrating just how versatile the colored gemstone can be, carved domes of turquoise combine with rich crimson rubies and jasper tassels to provide class and contrast in earrings from Silvia Furmanovich.
Whatever you choose to pair this precious gem with, turquoise jewelry is guaranteed to bring a smile to your face.
Selim Mouzannar Sunset bracelet in 18k pink gold with turquoise and diamonds. ($6,944)

Lydia Courteille necklace in 18k gold with brown diamonds, tsavorites and turquoise.

Turquoise, lapis lazuli and diamond cocktail ring, circa 1960 from Fred Leighton jewelry.

White gold double finger ring with turquoise and blue sapphires from Ara Vartanian jewelry. ($8,000)

Andrea Fohrman lapis and opal earrings with white diamond and blue sapphire pavé, and Sleeping Beauty turquoise top with white diamond and blue sapphire pavé.

Dionea Orcini Amanée earrings in rose gold, turquoise, malachite white and black diamonds.

Sutra jewelry earrings in 18k gold, featuring diamonds, sapphires and a turquoise center stone. ($25,500)

Nina Runsdorf emerald and turquoise fine jewelry earrings. ($14,000)

One-of-a-kind 18k yellow gold necklace with turquoise, green tourmaline, fine aquamarine and diamond pavé from Irene Neuwirth jewelry.

Mandarin garnet, turquoise and diamond pavé in 18k white gold from Suzanne Felsen jewelry. ($5,000)  

Silvia Furmanovich earrings in 18k gold, diamond, ruby, turquoise and jasper.

Suzanne Syz That's Amore necklace in titanium set with 24 green turquoise and 720 diamonds.