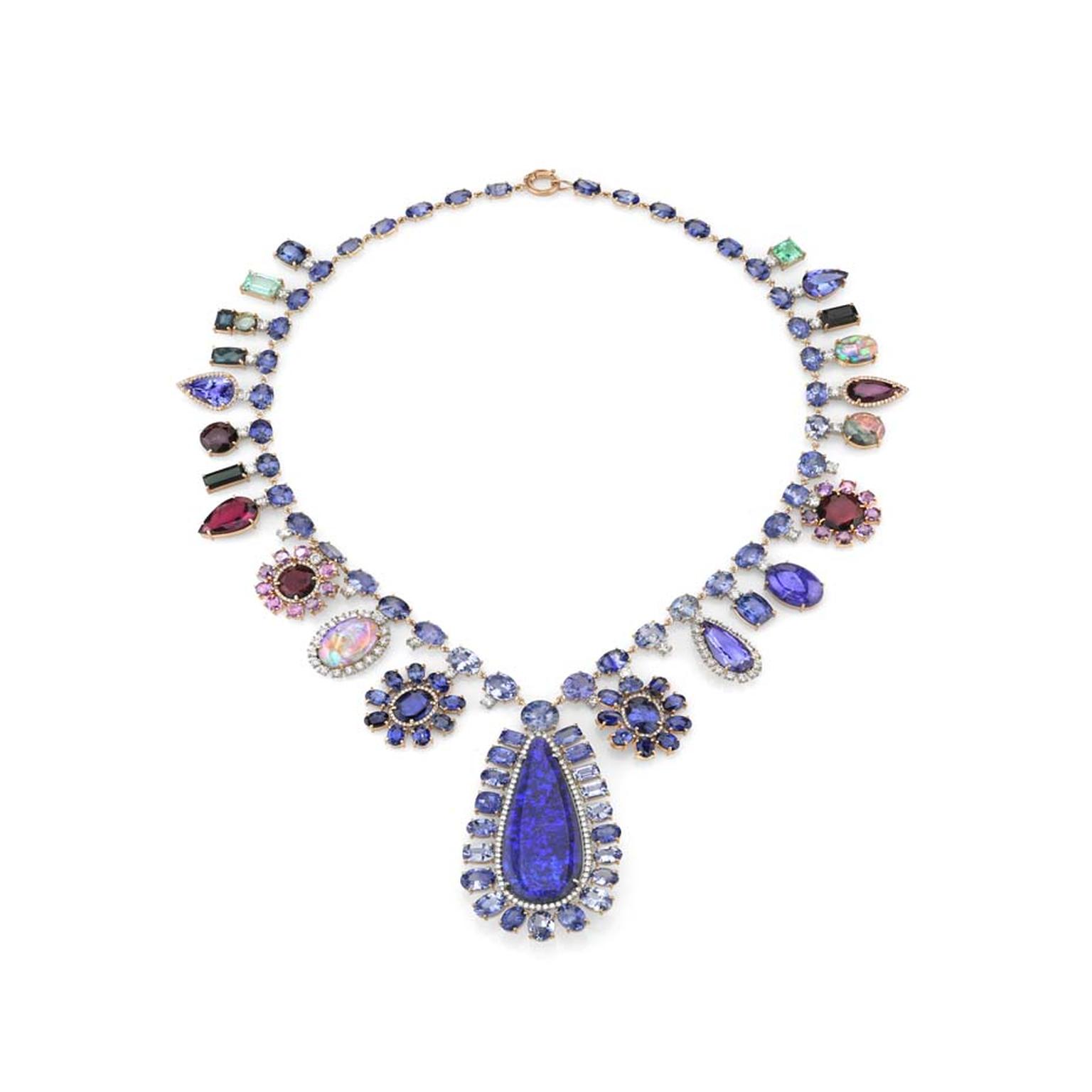 By Rachel Garrahan in New York
Whether evoking the warm, clear waters of the Mediterranean or the icy blue tones of the Atlantic, blue gemstones are everywhere this year. And from tanzanite to turquoise, blue sapphire to iolite, the Couture Show Las Vegas is no exception.
Read more about what to expect from the Couture Show Las Vegas
Endlessly inspired by the Pacific ocean, which lies just minutes from her Venice, California home, Irene Neuwirth does what she does best with a delicious and luxurious jumble of tanzanite and sapphires mixed with the warm vibrancy of Lightning Ridge opals, emeralds and multi-colored tourmalines.
Sticking to a simpler color palette, Nam Cho creates a textural feast with earrings of nubby sapphire and kyanite cabochons, with precious stones meticulously set to create a symmetrical pattern.
The eyes are on you in this heart pendant from Holly Dyment. With characteristic whimsical charm, she mixes vibrant iolite and amethyst with blue enamel. It's also impossible to avoid being charmed by Temple St Clair's owl ring in oceanic tones of blue-green tourmaline, Royal Blue Moonstone, emerald and sapphire.
Jemma Wynne updates its signature open bangles with mismatched tanzanites that just scream to be stacked, and Pamela Huizenga's spectacular opal ring invites you to dive in and enjoy its seemingly bottomless depths.
Discover more new tanzanite jewelry
These Ray Griffiths earrings conjure up warm summer nights on the Greek islands, the soft blue of the fluted Sleeping Beauty turquoise drops adding a touch of casual glamour to any summer wardrobe.
Also on display at the Couture Show Las Vegas this year will be this neon-bright Paraíba tourmaline in a Victor Velyan cocktail ring, which dazzles from its rich, textured setting of 24 carat gold and diamonds. It blinds like the sun in Brazil, which is home to this rare colored gemstone and a thousand beaches beside inviting aqua waters.
Read about the modern history of Paraiba tourmalines here
Bibi van der Velden Scarab ring in rose gold with tsavorites for eyes, brown diamonds and genuine scarab wings (£2,250 available at Net-A-Porter.com).

Flor de Pedra Carla Amorim earrings in white gold with turquoise, tanzanite and white diamonds ($12,980).

Holly Dyment heart locket with blue enamel, white diamonds, iolite and amethyst in gold ($3,380 from Broken English, New York).

Ileana Makri Round Eye Shield ring in yellow gold with champagne diamonds, blue sapphires and a tsavorite center ($4,660).

Jane Taylor one-of-a-kind Sword Swallower ring in white gold with an oval ndicolite tourmaline, blue topaz baguette, and green quartz baguette ($14,080).

Jemma Wynne open cuff in gold with tanzanites ($7,035).

Moritz Glik earrings with champagne diamonds and blue sapphires in rose gold.

Nam Cho blue sapphire cabochon earrings with white diamonds and kyanite cabochon.

Pamela Huizenga Calypso Australian black opal ring in gold with emeralds and diamonds.

Polly Wales Couture Design Awards Wedding and Engagement selection, including Atrium diamond ring, Ombre blue to white sapphire Confetti ring, and Ombre blue sapphire to white diamond Rapunzel eternity ring.

Ray Griffiths Sleeping Beauty turquoise earrings in gold with crownwork finial on triple diamond hooks ($5,690).

Temple St Clair Owl ring in gold with blue-green tourmalines, Royal Blue moonstones, emeralds, blue sapphires and diamonds ($35,000).