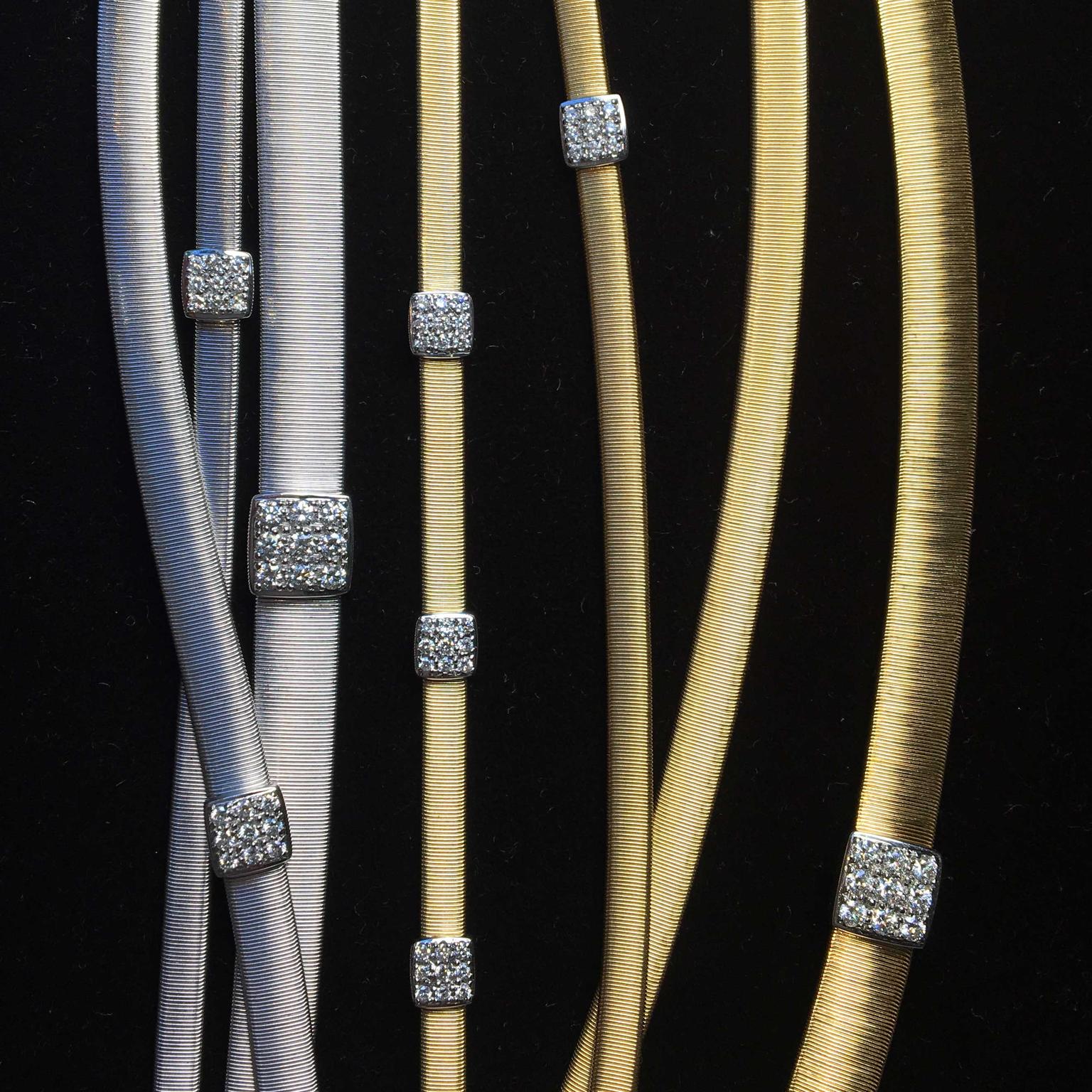 Everyday jewels that are incredibly comfortable and easy to wear but still make a big impact sit at the heart of the Marco Bicego jewellery brand, and the Italian jewellery maestro's latest collection, Masai, is no exception.
The deceptively simple and elegantly chic designs are inspired by the semi-nomadic Masai tribespeople are renowned for their colourful collar necklaces made up of multiple strands of beads. Bicego's Masai collection draws on the archaic elegance of these ornaments with layered strands of yellow or white gold, creating a modern and sophisticated shape that is fluid yet architectural. The perfect day-to-night jewels, the Masai collection will add a dash of contemporary cool to any outfit be it a pair of jeans and crisp white shirt or a floor-sweeping evening gown.
Amazingly flexible and lightweight, the Masai jewels have been handcrafted using Marco's signature "coil" technique, in which a thin 18-carat gold wire is wrapped around to create a spiral. "I inherited the coil technique from my father," says Marco. "It's really something that is in my DNA. I reinvent it every time, and yet it's something in which I can always recognise my roots."
Set up in 2000, Marco Bicego's eponymous jewellery brand builds on a family tradition of goldsmithing while injecting each collection with his own creative flair and passion for precious metals and gemstones. Despite never having any formal design training, during the many hours spent in his father's workshop, Marco soaked up techniques such as Bulino engraving, which is another hallmark of the brand. By marrying traditional craftsmanship with a forward-thinking aesthetic, he has created a brand that fluently unites both past and present. In 2009, the brand opened a new factory and showroom at its headquarters in Trissino, Veneto, a north Italian region that is synonymous with goldsmithing.
With a piece of Marco Bicego jewellery there is no need to sacrifice comfort for style as he considers how a jewel feels on the wearer to be as crucial as its outward appearance. The textured, hand-coiled strands in the Masai collection adapt to the natural curves of the body, allowing the styles to be worn alone or stacked. Marco says: "The comfort of the jewellery is very important to me.  I designed the Masai collection to be worn all day long, which is why it's so light and flexible. For me, the ultimate satisfaction is when I see a woman wearing my jewels as if they were an essential part of her, something she never removes."
The jewels are divided into two lines, one with coils in warm yellow or cool white gold with a subtle ribbed finish punctuated with square clusters of diamonds, the other featuring interweaving coils of both metal colours.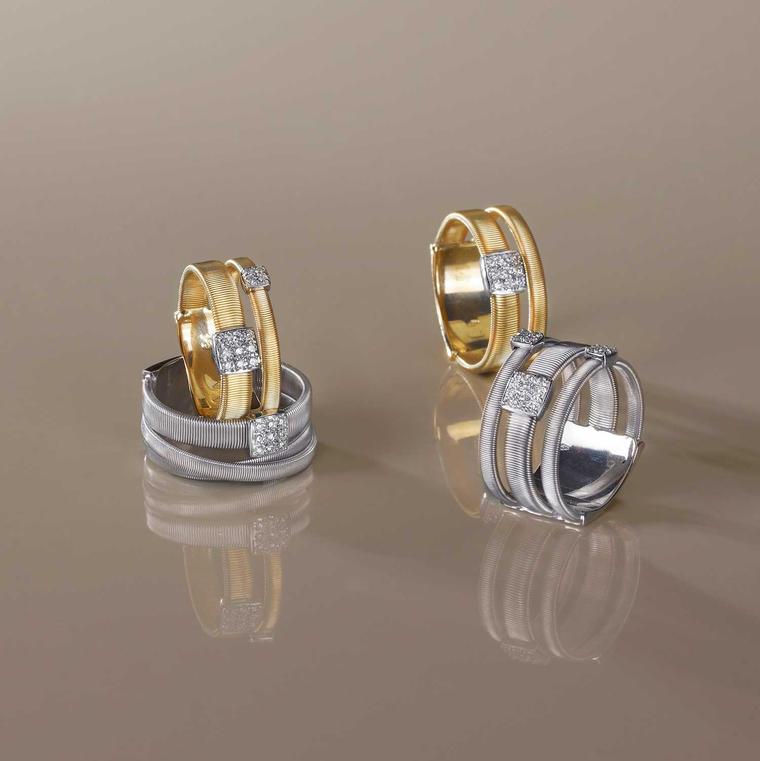 All the pieces can be mixed and matched as each one – from the minimalist hoop earrings to the diamond-embellished five-strand necklace – has the same effortlessly elegant handwriting. Marco explains: "The Masai collection is something you want to display, but it is also something you have a very physical relationship with. The tactile sensation is the link between a woman and her jewellery, and that is my inspiration when creating such versatile collections."
Masai also ties in seamlessly with Marco Bicego's previous fine jewellery collections such as Jaipur, Africa and Goa, cementing Bicego's position as one of the most coveted Italian brands on the international jewellery scene.
All the pieces in Marco Bicego's Masai collection can be mixed, matched and stacked as each has the same effortlessly elegant handwriting. 

The textured hand-coiled strands in the Masai collection adapt to the natural curves of the body.

Amazingly flexible and lightweight, the new Masai collection has been handcrafted using Marco's signature '"coil" technique.

Italian jeweller Marco Bicego looked to the Masai tribe of East Africa for inspiration when designing his latest collection.