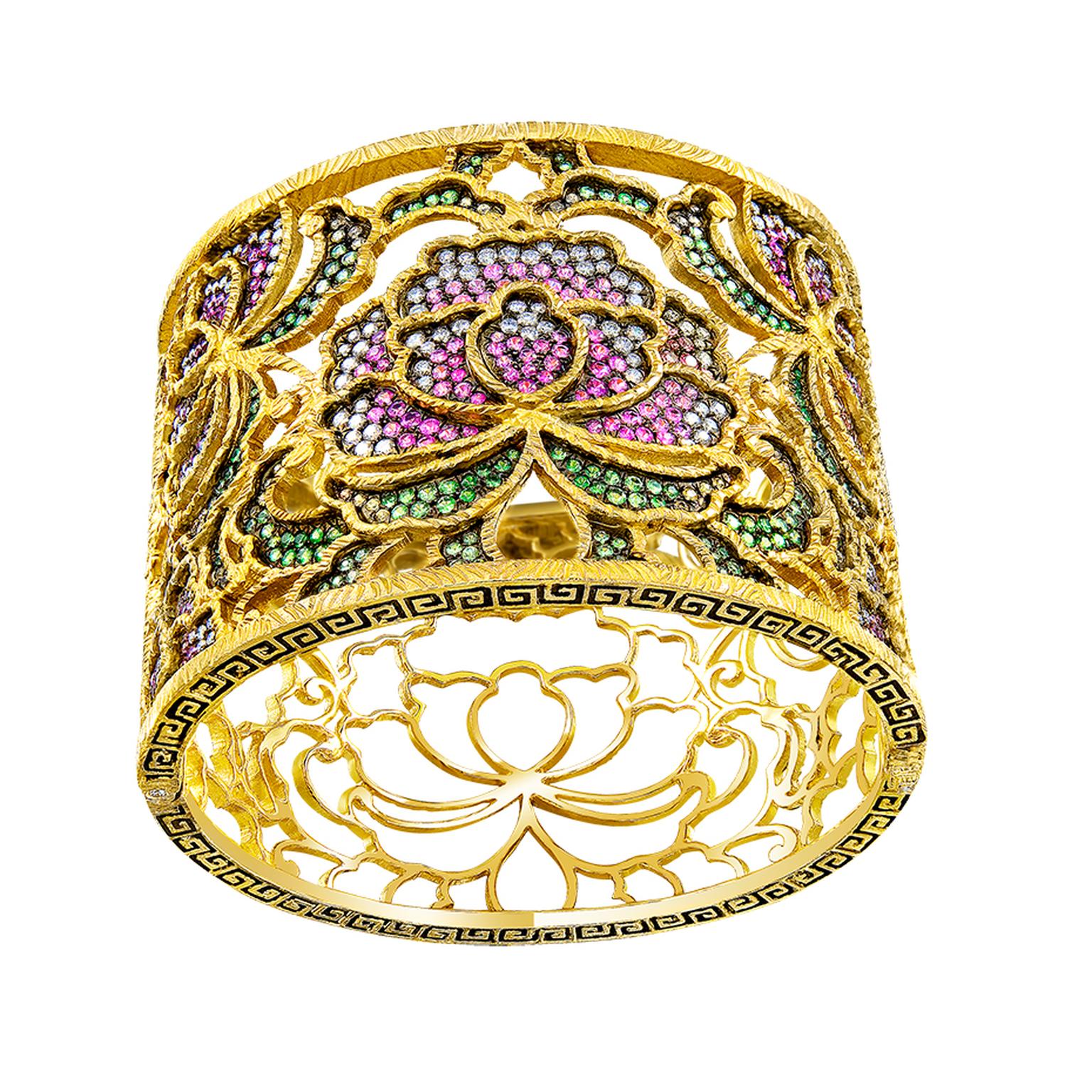 By Juliet de La Rochefoucauld in Paris
Scrambling through the crowds of the early morning commute, I wondered whether visiting the first Luxe Intelligence show in Paris would be all that it had promised. 
Based in New York, Luxe Intelligence represents a collection of leading independent jewellery designers from around the world. Its president, Andrea Hansen, chose the French capital for its inaugural Luxe Intelligence event in Europe to take advantage of the flocks of fashionistas who descend on Paris at this time of year for Paris Fashion Week. Think Rock Vault in London and you get the idea.
I was shown into the Marie Antoinette ballroom and was greeted by a range of eclectic and colourful jewels as varied as the designers presenting them. Paris was represented by the jewels of Sylvie Corbelin and Morphée; Alexandra Mor, Dionea Orcini and Borgioni had travelled to the French capital from the United States; then there was Cleison Roche from Brazil, Lygia Demades from Cyprus and Dickson Yewn, Nicholas Liu and L'Dezen from Hong Kong, to name but a few.
First stop was Sylvie Corbelin, who has an extraordinary knack for creating a very contemporary tale with flashes of the past. Her wonderful Calder-style mobile earrings use the eternal symbol of the eye combined with diamond, turquoise, amethyst, coloured sapphires and abalone shell.
Alexandra Mor, who defines herself as part of Israel's multicultural me´lange and is influenced by her French heritage and the Mediterranean climate, creates jewellery built around clean, symmetrical structures. Her jewels are all about diamond lines of clear architectural inspiration that are often used to enhance a special gemstone.  
Cleison Roche from Brazil was an eye-opener. His work is full of colour and inspired by the shapes and rhythms of nature and their "fluid and lyric dynamism". Roche's Orchid ring, which earned him second prize in the Colored Gem category at the 2012 Couture Show in Las Vegas, is a show of pink and green contrasts using petals of emeralds, Paraiba tourmalines, diamonds and rubellite. 
Madstone, created in 2010 by Kerri Halpern, blends exotic colours with coloured metals, giving her jewels a crazy "bad hair day" touch. Amethyst briolettes, a palette of coloured gemstones and a shank of creeping ivy, or fire opal arrows moving like tadpoles in every direction around a stunning oval fire opal were just a few of my favourites on show, as was her simple cuff and hexagonal collections with diamonds and coloured gold settings. 
Ethereal traces of gold and coloured gemstones follow the gentle curves of henna tracery from India in Dionea Orcini's esoteric jewellery. Many of her rings cover the whole finger. Putting one on was like rolling on a delicate silk stocking. One ring was designed to be worn on the tip of the finger, and I was convinced that I would lose it as soon as I waved my hand about. But no, with long fingernails it fixes in behind the nail and sits there quite comfortably, putting the final touch to my gem-covered hand. Orcini, meanwhile, draws much of her inspiration from ancient worlds and her jewels are elegant talismans creating personal and precious messages. 
Dickson Yewn presented a collection of witty references to China's past, from his cloisonné coloured diamond bracelet and his new Imperial Amulet collection, which found its beginnings in the broadswords commissioned by the Qianlong Emperor in the 18th century.
One of my favourite pieces at Luxe Intelligence was from Lika Bihar's gold collection: a simple cabochon turquoise in a collet setting of yellow gold and silver illustrating the marriage of workmanship of her artisans in Istanbul and her modern architectural design ethos. Another had to be Nicholas Lieou's Daedalus Collection, which was exquisite in its movement and use of very special gemstones, all set with originality and lightness of touch.For sheer opulence it is difficult to better the Italian jeweller goldsmith Massimo Izzo. His champagne glasses and cups are a true cornucopia of the sea. 
So what are the new tendencies for this group of artists? Simple lines - light, small and minimalist. Colour was present for the more important pieces.
Just a stone's throw from the catwalks, Luxe Intelligence's first show during Paris Fashion Week is destined to become an annual appointment on every fashionista's agenda. 
One-of-a-kind Madstone Bacchus ring with amethyst briolettes, a palette of coloured gemstones and a shank of creeping ivy.

One-of-a-kind Madstone Apollo pendant with fire opal arrows moving like tadpoles in every direction around a stunning oval fire opal.

Sylvie Corbelin Fascination collection mobile earrings featuring three gem-encrusted eyes suspended from a central stud, also in the shape of an eye.

Alexandra Mor Signature three-stone Asscher-cut diamond ring.

Dionea Orcini henna-inspired hand bracelet in gold and coloured gemstones.

Dionea Orcini Semiramis white and black gold double ring with the Flower of Life sacred geometry pattern set with diamonds, emeralds and tsavorites.

Massimo Izzo gold Seahorse champagne flutes, from the Jewels of the Sea collection.

Massimo Izzo coffee cup featuring Mediterranean motifs in gold and coral, from the Jewels of the Sea collection.

Cleison Roche's Orchid ring with emerald petals, Paraiba tourmalines, diamonds and a central rubellite.

Dickson Yewn Imperial Sword & Amulet collection pendants, set with jade, rubies, sapphires and other precious stones.

Lika Behar cabochon turquoise ring in a collet setting of yellow gold and silver.

Nicholas Lieou Daedalus collection Athena ring with diamonds and pearls.