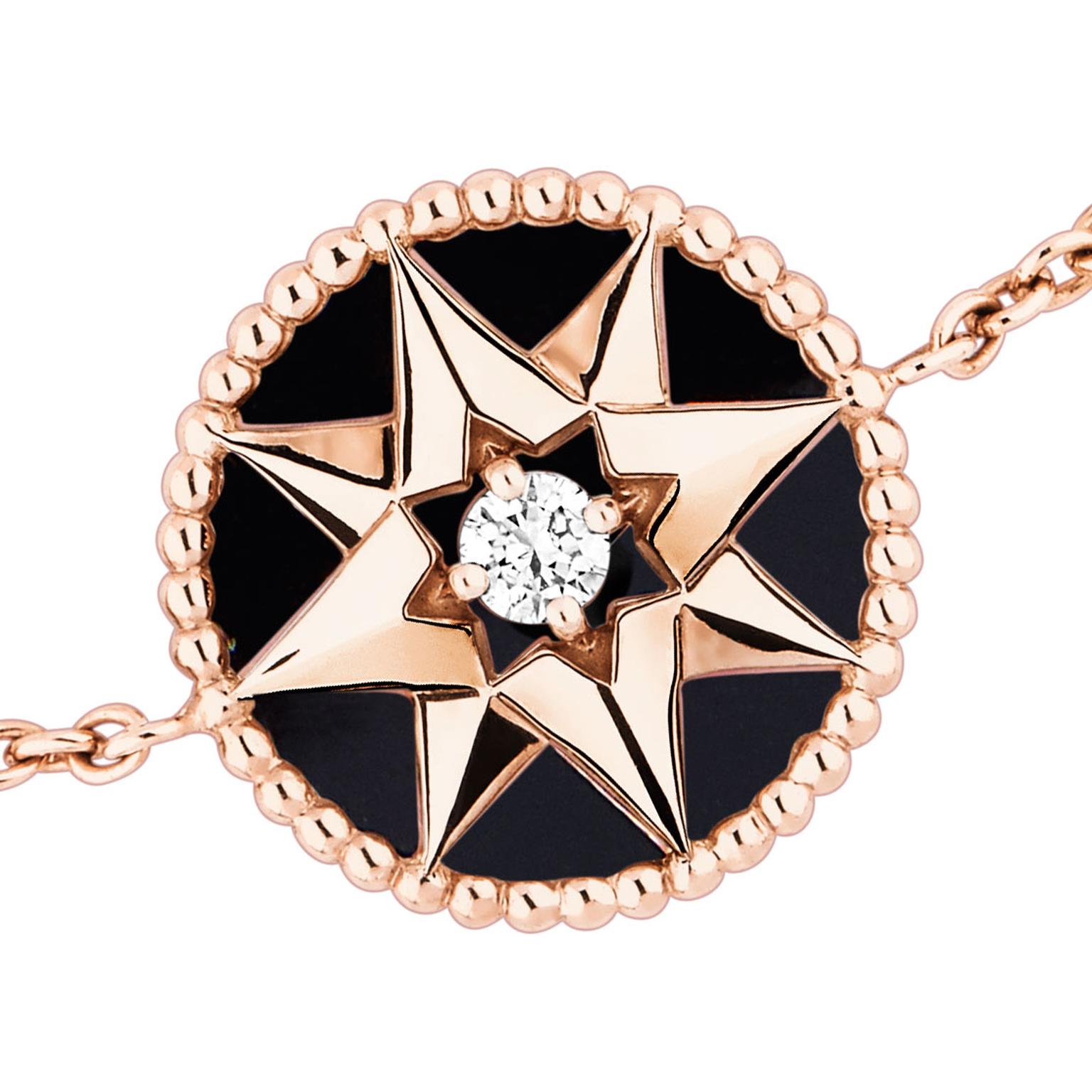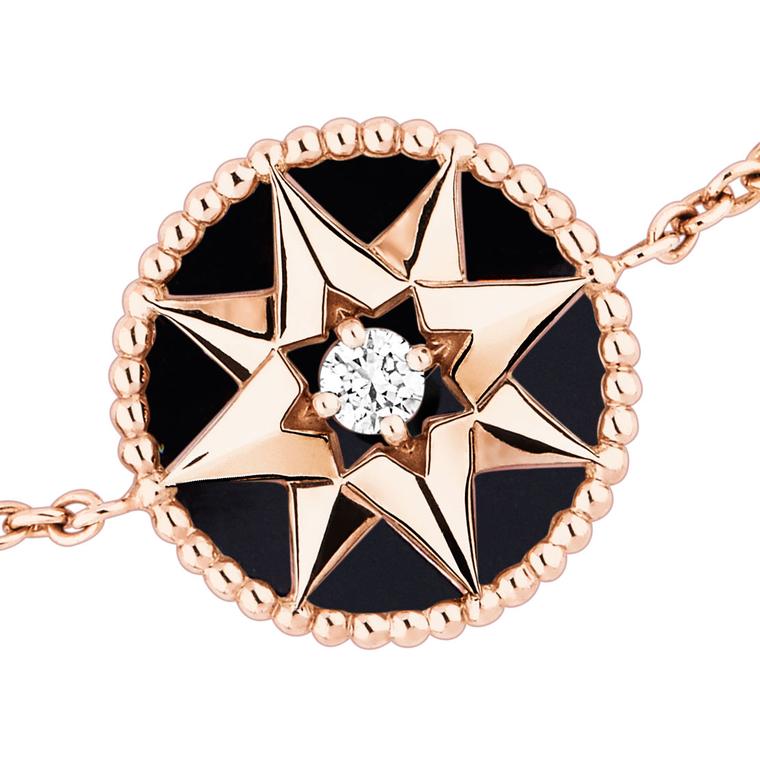 What could be better at Christmas than the gift of diamond jewellery to bring good fortune? Whether her particular talisman of choice is the Hand of Fatima, a four-leaf clover or a lucky number, we have 10 great jewels, all set with diamonds, that will allow you to place a precious protector under the tree that she'll never want to take off.
1. Chopard
Good Luck Charms rose gold and diamond pendant
£1,500
The Hand of Fatima, or Hamsa, is believed to protect its wearer from the evil eye, although this rose gold version may well attract one or two envious eyes this Christmas. Rather than the traditional eye symbol at the centre of this Chopard pendant, you'll find a delicate heart shape containing a free-moving diamond in the style of the brand's iconic Happy Diamonds line.
2. Dior
Rose des Vents rose gold, onyx and diamond bracelet
£1,100
The Rose de Vents collection features an eight-point star design that Christian Dior adopted as his lucky charm and kept close to him throughout his life. It was based on the meteorology tool called a wind rose, which was a prevalent motif at his family home, and also reflected his favourite number - eight. This rose gold Dior bracelet has a diamond at the centre of the star, surrounded by a black onyx disc. 
See more Dior Rose des Vents jewellery
3. Tiffany & Co.
Petals Key rose gold and diamond pendant
£6,550
Key pendants are one of Tiffany's most iconic designs, and the New York jeweller promises that they also hold the power to unlock happiness and grant access to a brilliant future. This particular beacon of Tiffany jewellery has been realised in rose gold and set with a generous blanket of round brilliant diamonds. 
4. Anna Loucah
Amulets Fairtrade gold and diamond necklace
£500
Amulets have long been worn to protect their wearer from harm, and ethical jewellery designer Anna Loucah is bringing a modern twist to this by letting you create your own piece. Simply write to her, explaining what the symbol is and why it is important to you, and she'll turn it into a Fairtrade gold pendant set with a single diamond. Or if you're stuck for inspiration, choose from one of her existing designs.
Read more about precious jewellery amulets
5. Annoushka
Love Diamonds Horseshoe yellow gold and diamond pendant
£495
Wearing a horseshoe is supposed to bring luck, but rather than be weighed down by the real thing, invest in this precious talisman from British jewellery designer Annoushka. The delicate diamond pendant has been crafted from yellow gold, with 0.06cts of white diamond pavé microset into the horseshoe. 
6. Jennifer Meyer
Good Luck yellow gold and diamond pendant
£3,000
If you're not sure which lucky charm is the one for you, then hedge your bets with this yellow gold and diamond pendant from Jennifer Meyer. Within the gold disc, which has been handmade at the designer's studio in Los Angeles, you'll find a four-leaf clover, lucky 13, evil eye, a horseshoe and more, plus two white diamonds for good measure.
7. Monica Rich Kosann
Lucky Charms Clover yellow gold and diamond necklace
$3,450
Get the luck of the Irish with this four-leaf clover pendant from American designer Monica Rich Kosann's Lucky Charms collection. The yellow gold bevelled-edged pendant is set with 0.09cts of white diamonds at the centre of the leaf. It is fitted to a long, delicate 30-inch open-link gold chain that positions the amulet half way down the torso.  
See more lucky charm jewellery
8. Sarah Ho
Numerati yellow gold and diamond ring
£1,300
It took Sarah Ho more than two years to create the innovative Numerati ring concept, which is designed around lucky numbers. The clever yellow gold and diamond ring looks like numbers one to nine when off the finger, but when worn, your lucky number disappears and so is a secret to you, unless you want to share it. The ring pictured here is lucky number seven, which Ho says is the perfect number for deep thinkers.  
9. Van Cleef & Arpels
Alhambra 5 Motif white gold and diamond bracelet
£18,700
In 1968, Van Cleef & Arpels decided to create its own symbol of luck, the Alhambra. Designed to bring positive energy and good fortune to those who wear it, the symbol has become the Maison's most iconic motif. This white gold bracelet has been decorated with five of these lucky charms, each set with sparkling white diamonds. 
10. Theo Fennell
Zodiac gold and diamond charm
£1,300
For those of you who put your faith in the power of the Zodiac, you can now take your star sign with you wherever you go. Dotted in the hammered yellow gold surface of this range of Theo Fennell jewellery are diamonds that map out the constellations of the Zodiac. There is a charm dedicated to each of the 12 star signs, and this particular one is for Sagittarius.   
A freely moving diamond can be found at the heart of this pendant from the Good Luck Charms collection by Chopard that takes inspiration from the Hand of Fatima. (£1,500)

A star based on Christian Dior's personal talisman sits at the centre of this onyx, diamond and rose gold bracelet from the Dior Rose des Vents collection. (£1,100)

Unlock your potential with this rose gold and diamond Petals Key pendant from Tiffany & Co. (£6,550)

Anna Loucah uses Fairtrade gold and diamonds to create personalised amulets based on your very own symbols of luck. (£500)

Invest in a precious horseshoe to bring good luck, like this yellow gold and diamond necklace from Annoushka. (£495)

Hedge your bets with this Good Luck gold and diamond pendant from Jennifer Meyer at Net-a-Porter, which incorporates a whole host of lucky symbols. (£3,000)

Monica Rich Kosaan has recreated the classic lucky four-leaf clover in yellow gold and diamonds for her Lucky Charms collection of pendants. ($3,450)

The Numerati collection of gold and diamond rings by Sarah Ho is designed around lucky numbers that are clear to see when off the finger, but hidden when worn. (£1,300)

Van Cleef & Arpels has its very own lucky symbol, the Alhambra, which is repeated five times on this white gold and diamond bracelet, for extra luck. (£18,700)

The star sign for Sagittarius is mapped out in diamonds on this yellow gold charm from the Zodiac collection by Theo Fennell. (£1,300)

Give the gift of diamond jewellery this Christmas with a Dior charm bracelet - a precious protector she'll never want to take off.