Did you know that if you are a June baby, you have three birthstones from which to choose? Pearl, moonstone and alexandrite. But since pearls are the first gems ever known to man, we have chosen to focus on pearls alone in celebration of all those June birthdays out there.
Pearls are associated with the Moon and are symbolic of its enchanting powers. In many cultures, they also have a connection to love and marriage, so it's no surprise that June is also the month in which brides accessorize themselves with pearls on their wedding day.
Before the creation of cultured pearls in the early 20th century, natural pearls were the most valuable of all gems. From Ancient Egyptian and Roman stories of Cleopatra and Marc Anthony, to Asian beliefs and Greek mythology, pearls revealed various lores and legends. There was a superstition that regarded pearls as unlucky if worn by a person of impure emotions such as malice or jealousy. But if given in love or worn with a pure heart, the pearl was regarded as a symbol of purity, fertility, modesty, love, and the cycle of life.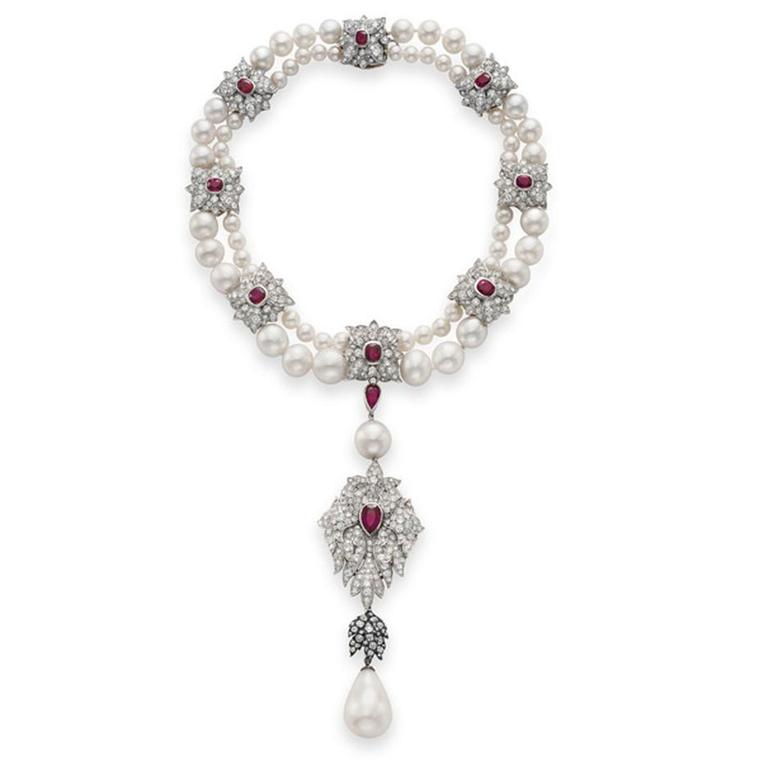 One of the most legendary pearls, La Peregrina, had many owners and traveled through lands and time periods. It was reported that a 16th century slave won his freedom by bringing the pearl to the Spanish court. Owned by Queens Margarita and Isabella of Spain, and Mary Tudor of England, in the 1800s it became part of the Bonaparte family.
This pear-shaped saltwater pearl, with a name that aptly means "the wanderer", was auctioned in 1969 where it was snapped up by Richard Burton as a gift for Elizabeth Taylor. She had Cartier design a necklace of pearls and rubies around it, based on a portrait of Mary Tudor. And speaking of Cartier, in 1916, Jacques Cartier traded two pearl necklaces for the property that was to become his landmark Fifth Avenue store. 
Up until the 19th century, saltwater pearls were predominately worn only by the nobility and the very wealthy, set into crowns and sewn on clothes. But this began to change when freshwater pearls were discovered in the US and seed pearls were imported to Victorian England from India and China. These were found in almost every type of jewelry of the day and in every conceivable motif. When Prince Albert died, seed pearls began to represent tears when set into mourning jewelry against jet or black enamel.
In the Edwardian/Belle Époque era, pearl jewelry continued to be popular, but now the pearls were set alongside mine or European-cut diamonds in platinum for the all-white look that was the fashion in jewelry at the time. 
By the beginning of the 20th century, Kokichi Mikimoto, the son of a restaurateur, was being credited with creating the cultured pearl industry, which allowed a wider audience of women to wear perfectly matched strands of pearls. When we think of the 1920s and women's changing fashion, an image of Coco Chanel wearing strand upon strand of real and faux pearls immediately springs to mind. "I think that pearls are understated and slightly reticent and for that reason they really are very effective," she once said, eschewing the ostentatious jewelry of the day. Later, in the 1950s, Grace Kelly became a poster girl for pearls. "I favor pearls on screen and in my private life," she is quoted as saying. In the film Rear Window (1954), her jewelry consists mainly of pearls, while in the official engagement photo of Kelly and Prince Rainier III, she wears a two-strand pearl choker.
Style icons Audrey Hepburn and Jacqueline Kennedy ensured that pearls remained in fashion throughout the 1960s. And in 1981, royalty reigned over pearls once again in England when Lady Diana married Prince Charles. As a wedding gift, the Queen gave Diana a tiara called the Cambridge Lover's Knot. Diana was also responsible for bringing back the pearl choker and was often photographed wearing pearl necklaces.
From the 1960s to the millennium, pearls came to represent prep school girls and the country club set, and were pretty much out of fashion with the exception of on one's wedding day. But in the early 21st century, creative thinking designers working with South Sea, Keshi and baroque pearls, have put this queen of gems firmly back in the jewelry spotlight, where it belongs.
Richard Burton spent $37,000 on the La Peregrina pearl in 1969. The value increased over 300 times when sold by Christie's in 2011 for $11.8 million.

The La Peregrina pearl necklace was custom designed for Elizabeth Taylor by Cartier and features the world's most expensive pearl. It sold for $11.8 million in 2011.