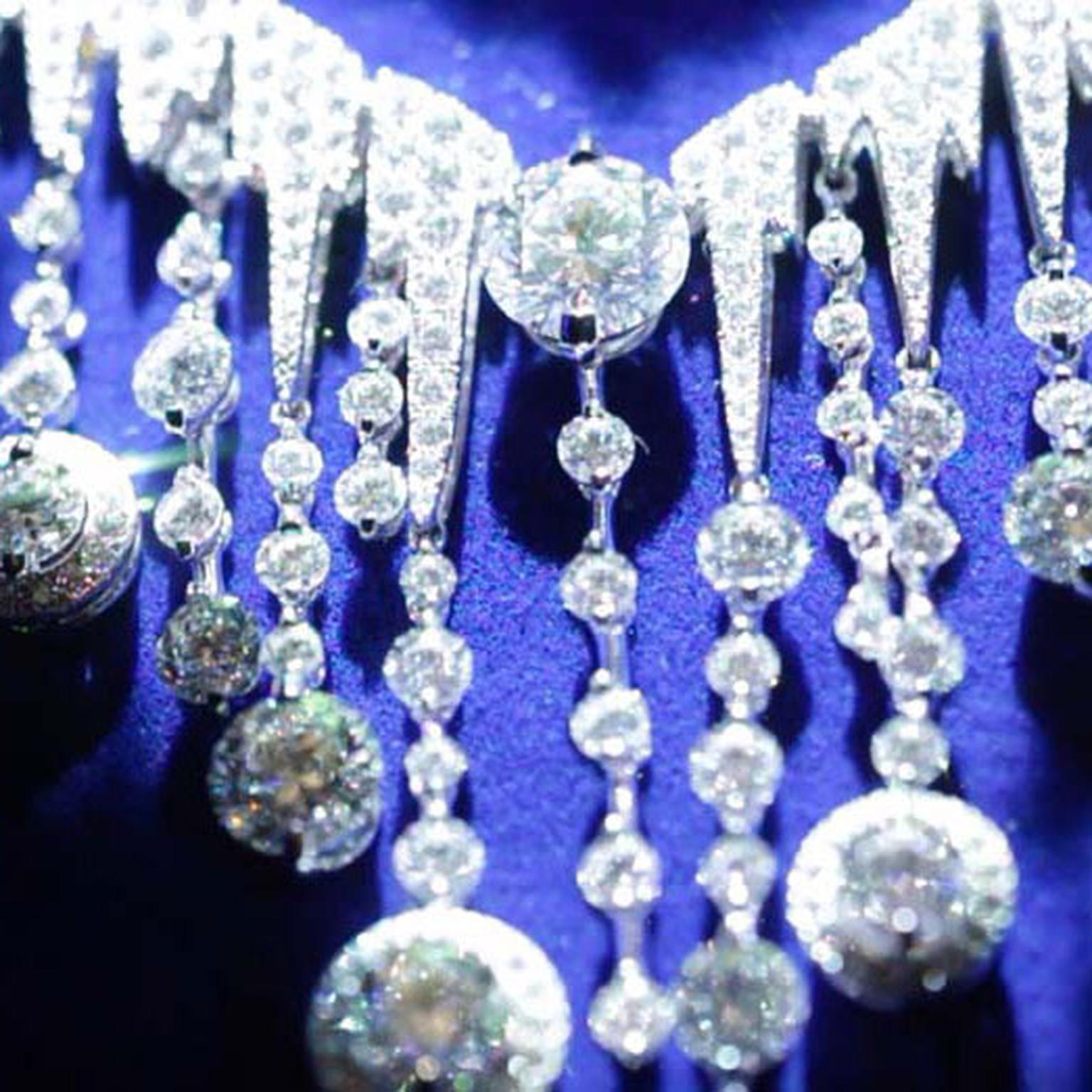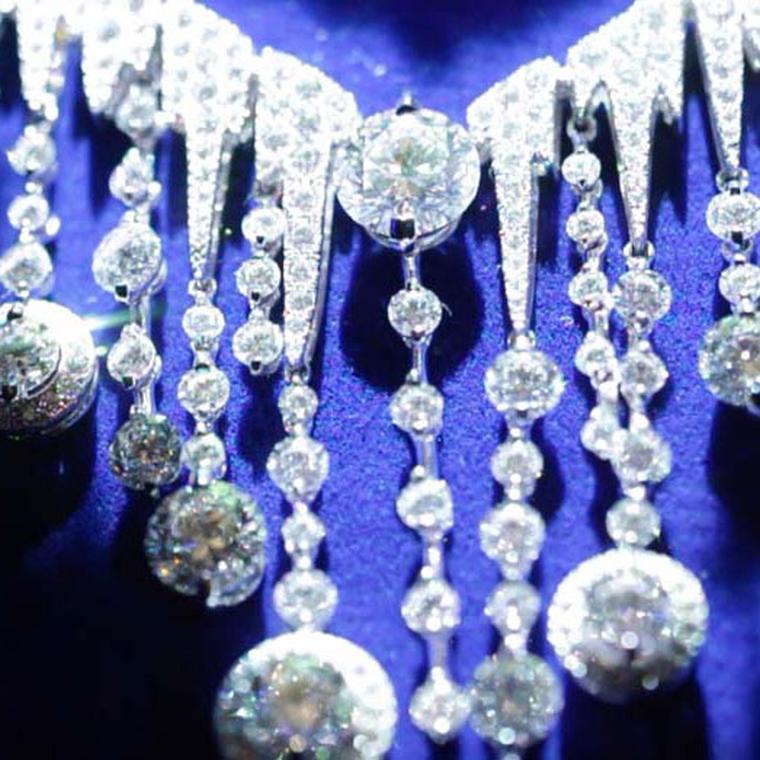 By Maria Doulton in Paris
The Biennale des Antiquaires, which comes by but once every two years, is the most important event in the world of fine jewellery. So The Jewellery Editor team was ready to take it all in and prepare this video of jewellery highlights from this remarkable event, which takes place at the Grand Palais in Paris.

To give you an idea of the magnificent jewels on show, I have selected some of the most notable and eye-catching examples. At Van Cleef & Arpels I took a close look at the Marine Rose necklace of Wello opal, dusty pink tourmalines and lapis lazuli. The necklace has been sold, so it was its last public outing and an exclusive viewing for The Jewellery Editor.
Graff Diamonds offered an incredible spectacle of hundreds of carats of flawless diamonds that would dazzle even the most jaded. The Royal Star of Paris brooch, with over 200 carats of diamonds, and the Bleu de Rêve necklace with its blue diamond and perfect emerald are not to be missed as you will be lucky to see such a spectacle even once in a lifetime.
I chose to focus on jewels that capture the beauty of frozen water at Chaumet in the Lumières d'Eau collection, while at Cartier it is all about important and rare stones in the new Royal collection.

Lee Siegelson, at the helm of vintage jewellery expert Siegelson, had a real treat for us. He placed on my wrist the original Boucheron bracelet that was shown at the 1925 Arts Decoratifs exhibition in the Grand Palais. The bracelet says so much about the influence of the Art Deco movement that got its name from the exhibition and is testimony to the enduring appeal of great design and craftsmanship.

I just loved the Extremely Piaget collection, which looks to the 1970s for its inspiration. Bright and optimistic, the jewels and watches are so very wearable. And Maison Giampiero Bodino made its debut at the Biennale offering an opulent interpretation of Italian art and history in jewels.

David Morris, the London jeweller, set centre stage a 60.15 carat Type IIA diamond from the Golconda mine, not to be outdone by a 70mm natural round pearl that is claimed to be the largest of its kind in the world, set into a necklace above an 125 carat sapphire.
Archi Dior takes the idea of Christian Dior's architectural approach to couture and transforms it into jewels that imitate pleats, ruffles, ribbons and even sequins. The effect is entrancing.

Alexandre Reza had some impressive jewels with top-quality precious stones including some stunning sapphires. And Elizabeth Taylor's emerald and diamond Bulgari necklace was on display at the Italian jewellery house as well as an emerald bead necklace weighing in at 1,000 carats.

Later, Wallace Chan, the Chinese jeweller, who works magic with stones and precious metals, welcomed us into his astounding and wonderful world. See it all for yourself in our latest video as words do little justice to the most spectacular jewellery show in the world.
To read more stories on the Biennale de Paris 2014, please click here.
Created especially for the Biennale des Antiquaires, Cartier's Royal collection Reine Makéda necklace stars a 15ct oval-shaped ruby from Mozambique.

Wallace Chan's magical Vividity brooch features a rare elbaite tourmaline at its heart, green tourmalines, rubies, diamonds and sapphires.

Van Cleef & Arpels' Rose Marine necklace was inspired by Indian sunsets and features a central Wello opal, deep blue lapis lazuli, tourmalines and diamonds.

Cartier Alligator brooch with diamonds and emeralds from the new Royal high jewellery collection.

One of the highlights of the Biennale was this Boucheron bracelet, on display at Siegelson. Shown at the original 1925 Arts Decoratifs exhibition at the Grand Palais, it says so much about the influence of the Art Deco movement.

Dior Bar en Corolle Diamant ring in white gold with diamonds, pink and purple sapphires, emeralds and demantoid garnets.

Elizabeth Taylor's emerald and diamond Bulgari necklace was on display at the Italian jewellery house.

Chaumet Frozen diamond necklace from the new Lumières d'Eau high jewellery collection.