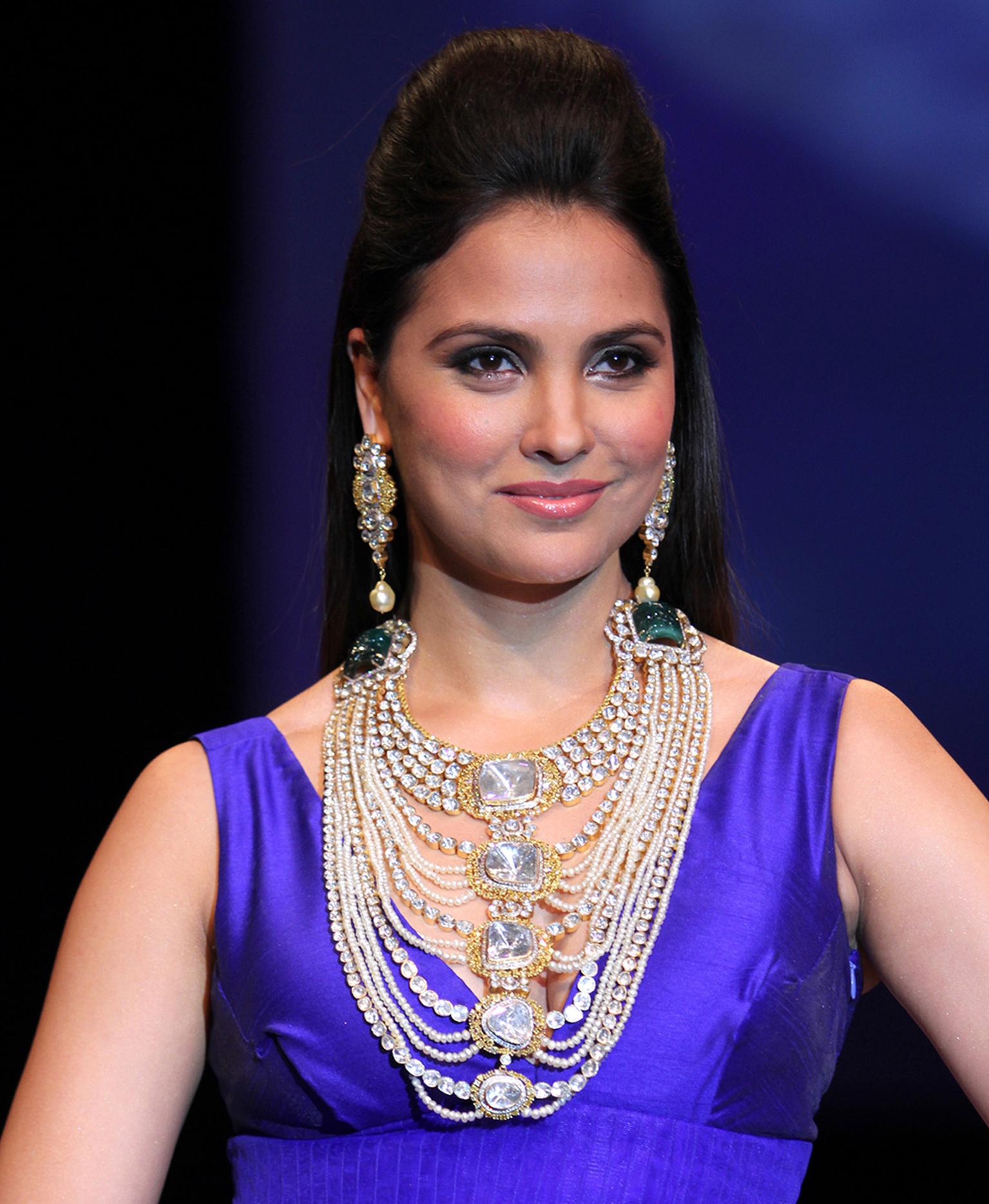 By Preeta Agarwal
When I entered the room for Birdhichand Ghanshyamdas Jewellers' latest catwalk show - part of India International Jewellery Week (IIJW) - I was greeted with a giant visual of Jaipur's formidable Amer Fort. After taking my seat, six screens sprung to life, showing footage of a railway station and two trains moving in opposite directions. When the lights came on, the backdrop for the show was revealed: a life-size reproduction of a luxury train, complete with lavish arching ironwork, from which emerged beautiful models wearing the first of three collections from Birdhichand's new Amér range of high jewellery.
The 3D projection of the railway station and the sound of the engine left the audience awestruck. Graceful models, visible through the train windows, descended on to the station in their black and gold Indian attire, wearing mesmerising polki jewellery. As each model took their turn on the catwalk, the others giggled and flirted with a charming young prince aboard the train. When the train moved ahead, the audience were left to marvel at the visuals of the lavish forts and palaces for which Jaipur. For the grand finale, ballroom music played as models paraded their jewels and gowns. In the centre, a couple danced, recalling the regal era of the Indian maharajas and maharanis.
The show was stunning, but what we were all gathered to see was the jewellery: signature pieces from Birdhichand's new Amér collection. Inspired by the forts and palaces of Rajasthan, white and natural fancy coloured canary yellow and pink diamonds in full cut, rose cut and uncut shapes flashed past, together with lush green emeralds, natural basara pearls and rubies. Recurring motifs flowed through the collections - pillars, arches and peacocks that reflect the legacy of Rajasthan's architecture - incorporated into giant necklaces, lavish hair ornaments, armlets, bracelet, rings and earrings. A Lord Ganesha Pendant, which recreates the Ganesh Pole gate, caught my eye, and an elaborate shoulder piece from which descended pearl tassels. There was a royal offering for men, too: dual brooches linked by polki strands - ornate creations that would work beautifully with sherwanis (Nehru jackets) and tuxedos. 
The stunning Bollywood actress and former Miss Universe Lara Dutta cast a stylish spell in a royal blue gown and the most spectacular necklace of the day: a heavily bejewelled creation featuring five enormous uncut white diamonds and green emeralds, strung with multiple rows of uncut diamonds and pearls strands. Striding down the catwalk beside her to rapturous applause was Birdhichand's Creative Director, Mr Yash Agarwal, closing a show that no one who was there wanted to end.
A model wearing Birdhichand's peacock-inspired polki necklace, earrings and bracelet, from the new Amér collection.

A model wearing Birdhichand's polki choker, pearl necklace, earrings and wrist wear, from the new Amér collection.

Model wearing a polki and emerald necklace with earrings and a cuff from Birdhichand's Amér collection.

A model wearing Birdhichand's polki and emerald ensemble from the just-launched Amér collection.

Models await their turn on the catwalk at the Birdhichand show.

A model wearing Birdhichand's Amér pearl shoulder piece with earrings, inspired by the architecture of pillars.

Mr Yash Agarwal closing the show with Lara Dutta.

Model wearing Birdhichand's Amér pokli necklace and earrings.

Birdhichand's earrings from the Amér collection, in gold with polki diamonds and pearl strings, was inspired by the architecture of traditional pillars.

Birdhichand's pearl, polki, emerald and diamond-studded necklace, from the Amér collection.

A polki and pearl bracelet from Birdhichand's new Amér collection.

The Birdhichand Express - a life-size replica of a luxury train - opened the show.