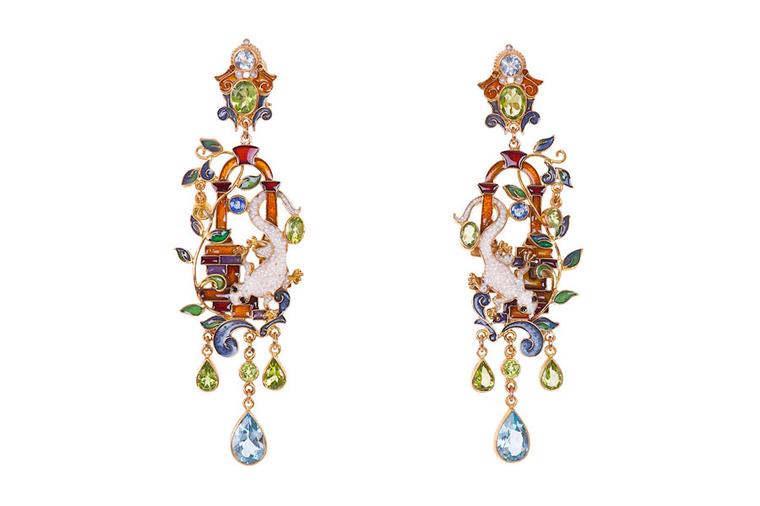 Italian jeweller Percossi Papi has recently launched a new collection of colourful jewels made up of vibrant gemstones and pearls, set in warm gold. Inspired by the the Mediterranean, as many of his jewels are, the Ibiza collection comprises 12 eye-catching pieces, each designed with Papi's signature flare and baroque style.
The Italian jeweller chose precious gems, crystals and coloured stones to interpret the beauty and nature of the Ibizan landscape in this summer-ready collection. Blue topaz, sapphires and lapis lazuli mirror the shades of the Mediterranean sea, while rubies, citrine and gold bring forth the warmth of the hot sun. Creamy pearls and mother-of-pearl have been broken down and rebuilt as micromosaics, given the pieces a beautifully handmade feel.
Among the precious gems sit the collection's protagonists. The ever-present gecko, which appears on a number of the colourful pieces, again symbolising the White Isle, while its brother, the blue lizard, is the symbol of Formentura island, a short boat ride away. 
Evidence of Papi's architecturural training can be found in the Ibiza collection, which sees earrings and pendants as tiny structures. Boats, dolphins, the all-seeing eye of Isis and, of course, the gecko, are layered up and intricately connected, creating a rich tapestry of colour and shapes, a style that Papi has become well known for.
Papi has been designing and hand-making jewellery since 1968 from his small atelier in the heart of Rome. His colourful jewels have become increasingly popular around the world. Currently stocked on net-a-porter.com, Papi's creations have also starred in a number of films, including 'Elizabeth: The Golden Years', starring Cate Blanchett.
Percossi Papi necklace with geko and blue lizard made from amazonite, chrysoprase and moon stone. The geko is depicted in micromosaic of small natural pearls and the blue lizard in mother-of-pearl mosaic.

Percossi Papi "Geko" bracelet made with garnet, pink sapphire, ruby, citrine, blue citrine, chrysoprase, kyanite, amazonite, chalcedony, tourmaine, blue topaz, labradorite and amethysts. The gekos are made with natural pearl mosaic.

Percossi Papi earrings depicting a Phoenician ship, with a protective Isis eye and dolphins made with lapis lazuli, sapphires, emerald, ruby, amethyst and blue topaz. The hull of the ship is made from natural pearl micromosaic.

Percossi Papi "Geko" pendant made from ?sapphire, moonstones, tormaline, garnet, baroque pearls and labradorites.

Percossi Papi "Geko" earrings made with peridot, blue topaz, sapphire and pearl micromosaic.