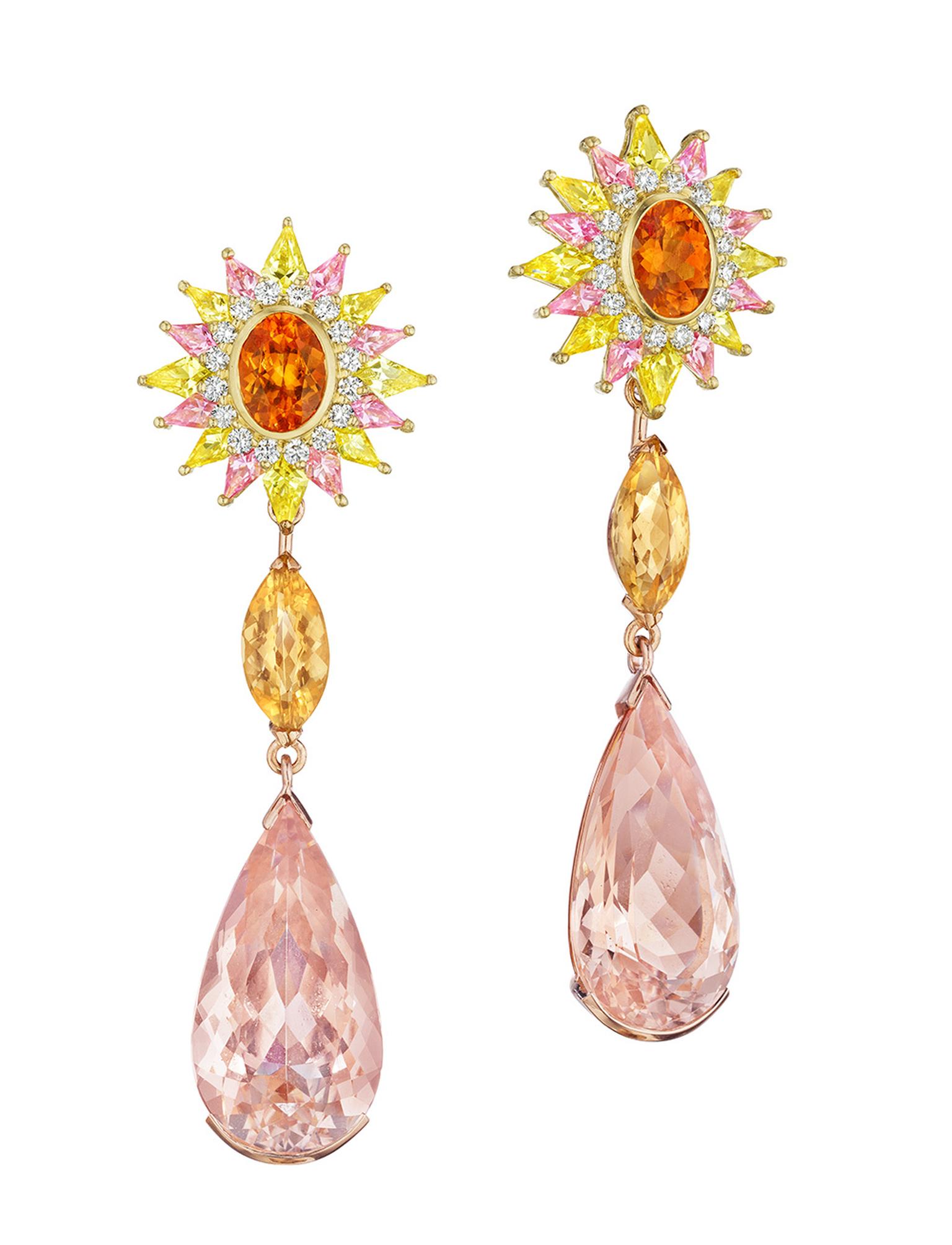 With the recent heatwave (it's not very often you get to say that in the UK), putting on a summer's dress has become second nature, our shoulders have turned a lovely shade of brown and a holiday mood has descended upon The Jewellery Editor.
In the warm months, your whole attitude to getting dressed changes. Hot and heavy necklaces are out, colourful rings are in. Fun and frivolous - like MadStone's Aphrodite earrings - is how we want our summer jewels. Rather than deep reds and rich purples, we're craving sky blues and sunset oranges, startling colour combinations and transluscent gemstones the colour of the sea.
Demure doesn't get a look in it during the holiday season. The colour of a ripe mango, Carla Amorim's Sunlight earrings are deliciously decadent. Kiki McDonough's colour-clashing peridot and amethyst earrings are crying out for a beach party in Miami, while Borgioni's stunning across-the-finger ring is destined for a soiree on a riad roof terrace in Marrakech.
Stacking is one of summer's big trends, be it dainty bracelets that tinkle on the wrist or Katrina Kelly's mystical Magi rings, dotted with colourful gemstones. Andrew Geoghegan's ruby and pink sapphire Cannelé ring is garden party pretty, or if your style is more structured, Miseno's Seahorse ring is offset by a soft green tourmaline - the perfect alternative to dramatic emeralds on a hot day.
Robert Procop's aquamarine Queen of Diamonds earrings look as refreshing as an ice-cold drink, while his American Glamour earrings, set with yellow and orange sapphires, radiate the fiery glow of the sun. And before any of you head off to Ibiza, don't forget to pack a pair of Percossi Papi's Gecko earrings - they have all the bohemian charm of the Balearic isle after which Papi's new collection is named.
Kiki McDonough blue topaz and diamond hoop earrings (£6,900).

MadStone Poseidon bracelet with green and blue amethysts, with pavé set ombré white, cognac and blue diamonds. The handcarved prongs that hold each stone are modelled on Poseidon's Trident.

Miseno ring from the Seahorse Collection, set with green tourmaline and rubellite in yellow gold.

Robert Procop earrings from the Queen of Diamonds collection, with aquamarines and diamonds set in white gold.

Robert Procop earrings from the American Glamour Collection, with yellow and orange sapphires and white diamonds, set in yellow gold.

Andrew Geoghegan ruby and pink sapphire Cannelé ring.

Colette emerald and diamond hand piece.

Percossi Papi "Geko" earrings made with peridot, blue topaz, sapphire and pearl micromosaic.

An across-the-finger ring set with tsavorites, opals and diamonds, from Carolina Bucci's Gitane collection.

Carla Amorim Pistachio ring in rose gold with mint chrysoprase and white diamonds.

Carla Amorim Sunlight earrings in black gold with cognac calcite and black diamonds.

Kiki McDonough peridot, amethyst and diamond drop earrings (£3,400).