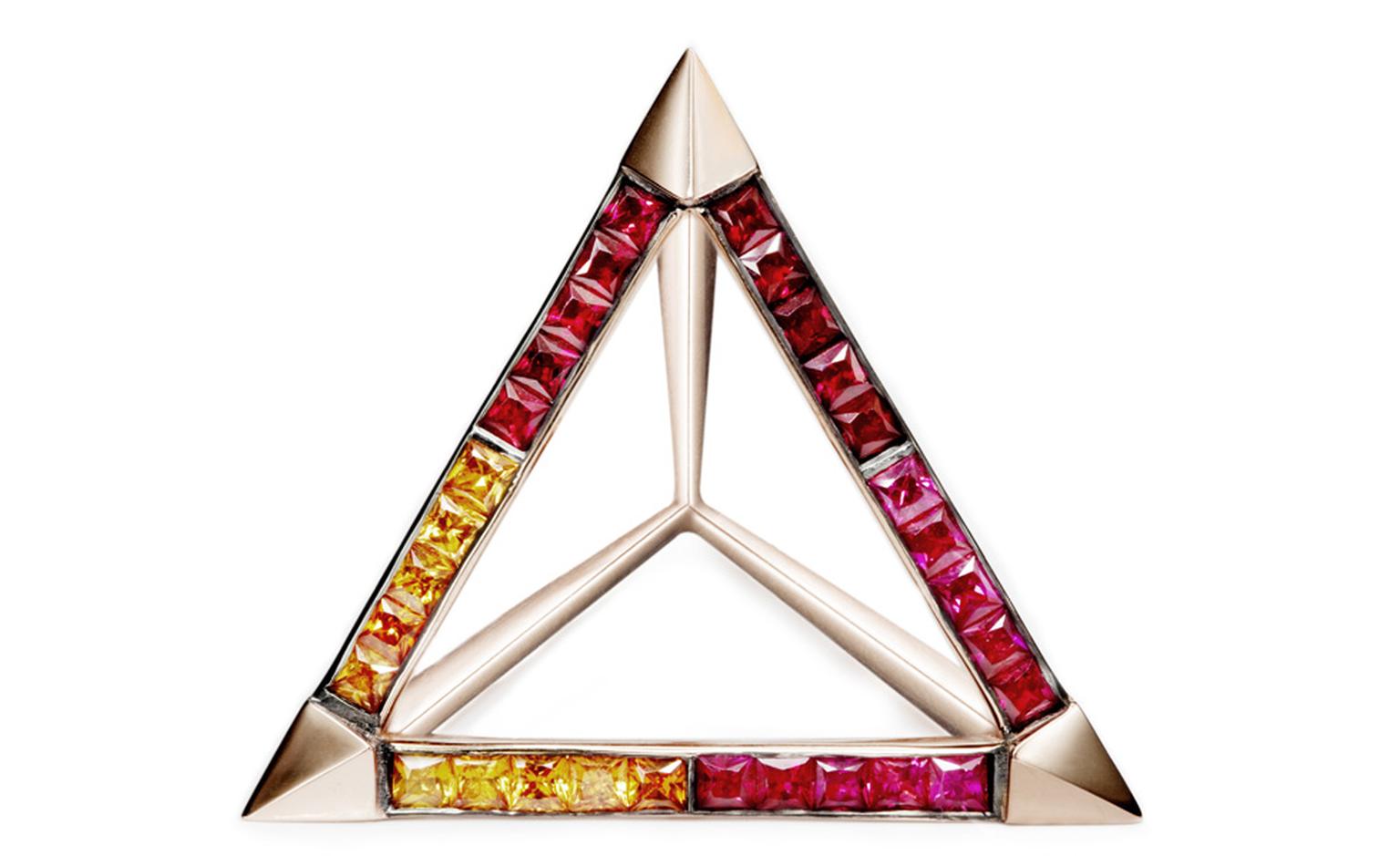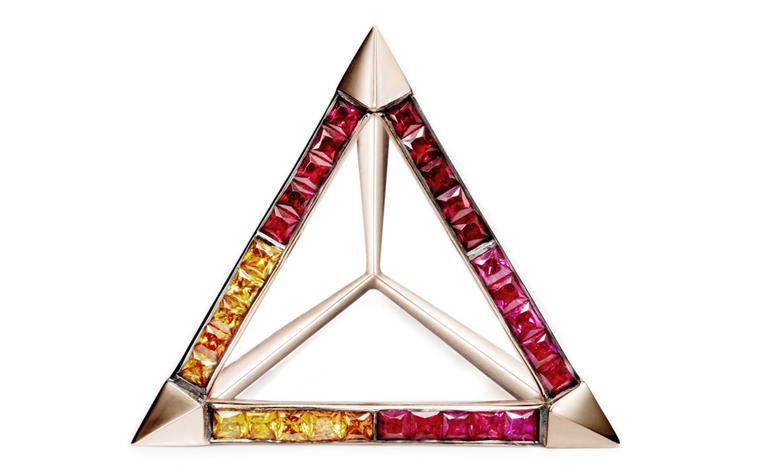 Hannah Martin, who puts a bit of kick and bite into fine jewellery, doesn't do things by the book. Hannah presented her new ring in a high-tech, avant-garde-fashion setting at Dover Street Market in an installation by German designer Moritz Waldemeyer and augmented reality specialists Holition. It wouldn't be like Hannah Martin, with her jet black kooky ruffled page boy hairstyle, carmine red lips and Dr Martens to have a standard cocktail party for the launch of a new jewel. Instead, Hannah and her team, embraced the future and offered an augmented reality/design/fashion  experience. First let's talk about the Comte's Pyramid Ring which is based around the story of the "man from nowhere" embodied in the Comte de St Germain from the 17th century. This dashing, darkly seductive figure casts his shadow throughout history in various guises and has the advantage, according to  Voltaire, of knowing everything and never dying. The very large pyramid shape of the ring, that sits on the finger with the point facing down, is based on a shaman's triangle and the red and orange sapphires remind me of hot, licking flames. I tried the ring on before the launch and despite its size and daunting shape with pointy tips, was quite wearable. The base of the pyramid sits on the outside of the finger and the rest of the sizeable structure on the inside of the hand. Fine to wear if you are drinking cocktails and looking sauve rather than say, trying to do the washing up or fumbling in your bag for a pen At the launch, Holition, that have been described as 'the East End's answer to Silicon Valley' created an augmented reality experience that allowed guests to 'virtually' try on the ring that was on display on a dramatic 12 foot obelisk designed by Waldemeyer and protected by a curtain of red light beams. Visit Hannah Martin's website where you can try the ring on thanks to the wonders of Holition's Augmented Reality technology.
A curtain of red beams of light guarded the precious new arrival

Trying on the Hannah Martin Comte ring at Dover Street Market using Holition's Augmented Reality technology

Hannah Martin's Comte Pyramid ring sitting on the obelisk designed by Mortiz Waldemeyer at its launch.

The launch of Hannah Martin's new Comte de St Germain inspired ring brought together the worlds of art, fashion and cutting edge technology.

Seeing is believing and touching is even better, but the only way to try on this ring is using Holition's augmented reality

Hannah Martin's golden pyramid Comte ring sits surprisingly easy on the finger despite its three dimensional shape. The ring channels the spirit of the mysterious Comte de St Germaine who, according to Voltaire, was the man who knew everything.