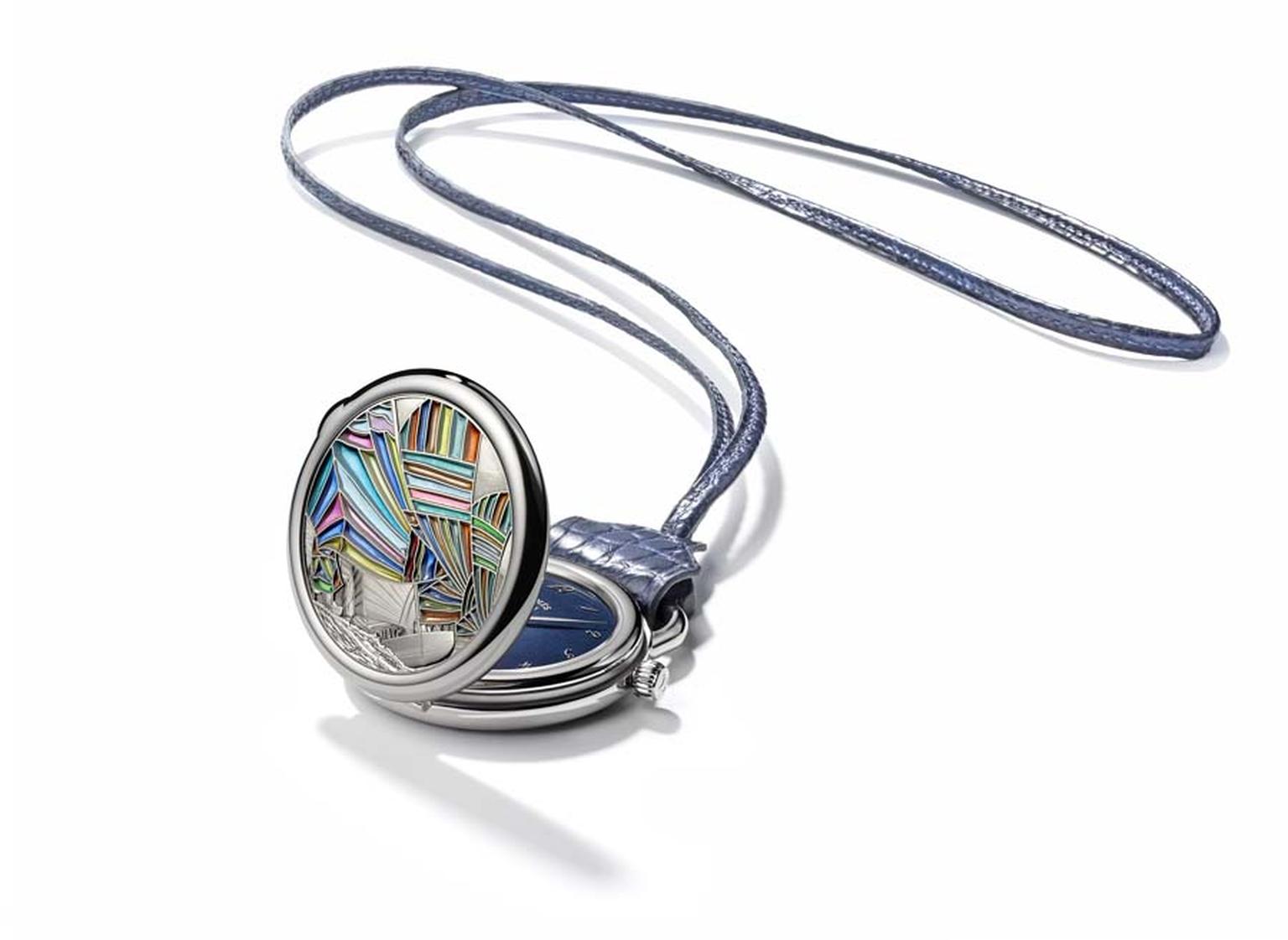 Hermes has that unusual talent of being able to bring a light-hearted touch to the earnest and sometimes stuffy world of luxury. Always willing to raise a smile and forever inventive, the family run Hermes never takes itself too seriously. It goes without question that every one of its products is meticulously made, which frees up the creative team to have a bit of fun.
You only need to spend a few hours in the company of Guillaume de Seynes, Managing Director of Hermes International and sixth-generation family member to run the company, to know that luxury doesn't need to be dull. And this year's offering of watches presented at Baselworld shows a healthy dose of thinking out of the box.
In fact, the very reason Hermes started producing watches dates back to 1912, when one excitable little girl - Mr de Seynes' grandmother - was captured in an age-dappled photograph wearing the very first Hermes wristwatch. In the picture, the nine-year-old Jacqueline Hermes is in fact wearing a pocket watch, fastened to her arm by way of a pigskin strap and case. "She was very energetic," explains Mr de Seynes, "so her father devised a way to stop her watch falling out of her pocket."
Which explains the presence of an 'In the Pocket' watch among this year's Baselworld offerings. Presented in a leather case, much like the very first experiment in horology conducted by great-granddaddy Hermes, it is - like the original - a pocket watch snugly fitted into a bulging leather strap. I am assured it is fully playground proof. Another pocket watch in this year's Baselworld line up is the Arceau Pocket Volutes. With its elaborate decoration of rose and white gold swirls on the cover, it exults the art of the engraver.
A further rare skill is showcased on the cover of the white gold Arceau Pocket Violier. Plique a jour enamel, which creates little windows of colour, brings to life the billowing spinnakers of sailing yachts. This colourful, light-filled cover sits over the dial, not the case back as is more usual.
And why not have a perfectly spherical pendant watch dangling around your neck? Particularly when the watch in question is the pretty Pendentif Boule. One half is covered with blue quilted leather, cinched with a band of diamonds to show off the bulbous orb of the sapphire glass over the dial. A very satisfying piece of jewellery with a practical purpose.
And if you have a modern minimalist look to your office, the Pendulette 8 Jours is the perfect desk clock. With an eight-day power reserve, this sleek, all-gold clock would make a handsome addition to your work day.
Two white gold and rose gold discs are first crafted separately, before being assembled and welded together by firing in a furnace to create the Arceau Pocket Volutes pocket watch from Hermes.

The new 'In the Pocket' watch from Hermes is based on the brand's first ever wristwatch and is made from palladium, a rare and precious metal. It pays homage to the original model given to Jacqueline Hermes by her father in 1912, more than 100 years ago.

The new Hermes 'In the Pocket' timepiece is a wristwatch that cleverly transforms into a pocket watch. Hand-sewn by Hermes' artisans, the watch can be released from its brown leather strap.

The Hermes 'In the Pocket' watch can be fully removed from its leather case and worn as a pocket watch instead.

Three pieces of top-quality leather are used to create the 'In the Pocket' watch case from Hermes. Each must be carefully cut out using a pointed tool.

The leather is pressed into shape to create the 'In the Pocket' watch from Hermes.

After being carefully cut out and pressed, each piece of leather is delicately sanded down before being glued and partially stitched.

The finishing touches,including dyeing and polishing with beeswax.

Le Pendentif Boule from Hermes is another unusual timekeeper. Crafted from white gold, the pendant is set with 420 diamonds and an additional 63 on the crown. The back is covered with matt indigo blue alligator leather.

La Pendulette 8 Jours desk clock is crafted in Switzerland from white gold.

The Arceau Pocket Volutes by Hermes showcases grand feu enamelling at its finest. The white and rose gold case is delicately handcrafted, and it is finished with a chocolate brown Havana alligator case.

The creation of the Arceau Pocket Volutes pocket watch from Hermes.