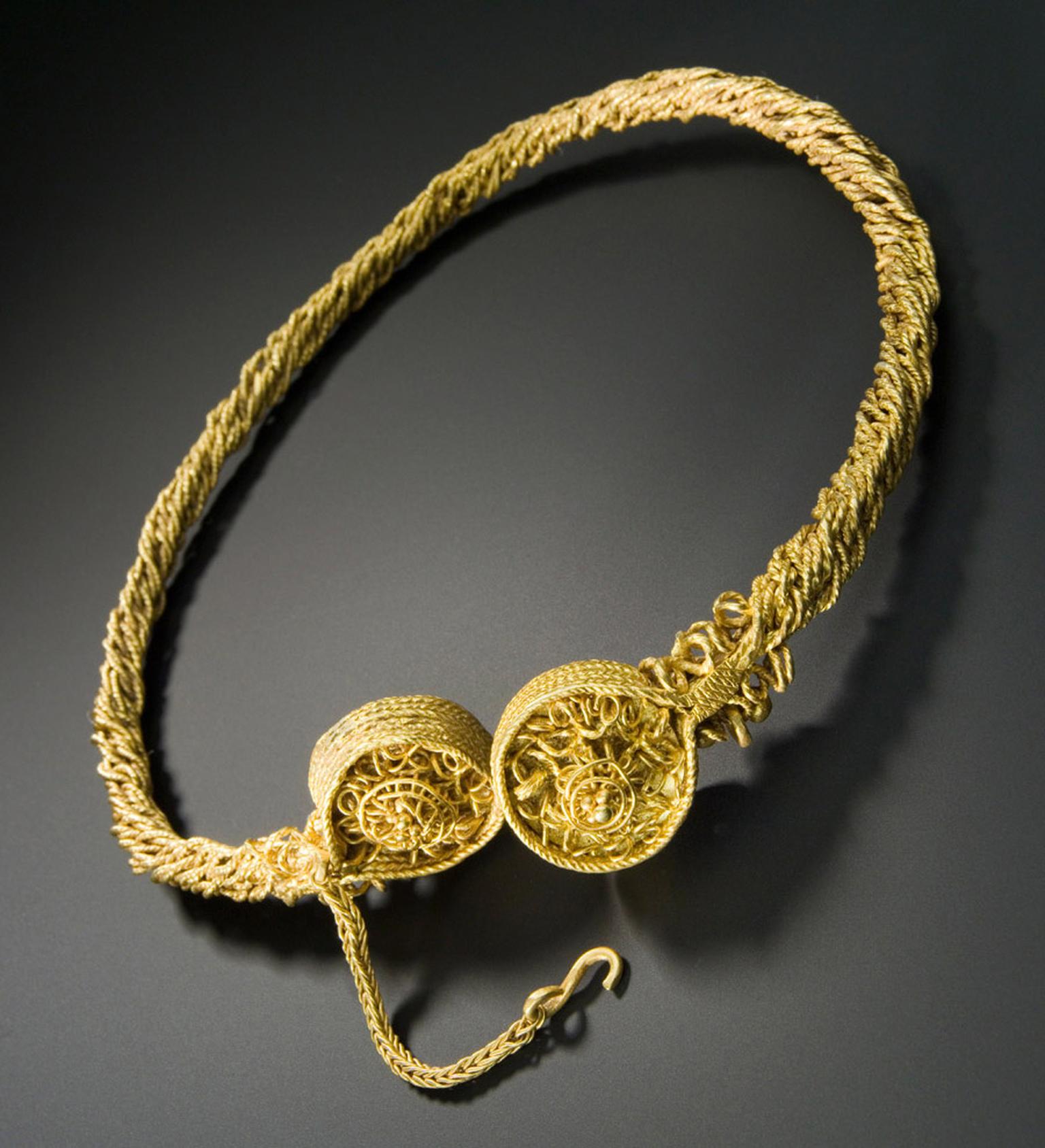 In a world with jewellery both old and new beguiling us with their diamond lustre and sapphire charms, it's sometime easy to forget the raw and powerful qualities that the original precious quantity, gold, can hold. Never tarnishing with a glow that lasts beyond lifetimes, gold is a metal against which all glory, either physical, financial, or empirical, has been measured for centuries on end. It is no wonder then, that the Goldsmiths' Company's new exhibition "Gold: Power & Allure", is by far and away one of the most comprehensive collections open to the public; with four hundred gold items spanning over four and a half millennia, it has to be seen to be believed.
With an array of pieces from such a vast measure of time, it's understandable that they've all been loaned from renowned institutions and private collections the world over. Allthough many have never been seen in public before, they all share one common historical trait: most originated in Britain. With a Diamond Jubilee just finished, and the Games around the corner, it seems fitting that such an exhibition would take place in 2012.
As Historian Dr Helen Clifford, the curator of the exhibition, explains: "Gold: Power and Allure presents the opportunity of a lifetime… With the focus on Britain it has been possible to assemble a story that goes far back into geological time and forward to the most cutting edge gold working, where this country excels... In essence it is a story of global connections and one where the familiar is transmuted into the iconic, via the power of gold."
Unbelievably for a collection of gold works so detailed and prepared, it's incredible to think how the most ancient of them were discovered by pure chance. Excavations for a new housing development in Amesbury, near Stonehenge in 2002 revealed the burial of two men, thought to date to 2300 BC.  Each had a pair of small gold basket shaped ornaments laid near them. Understandably for artefacts nearly 4,500 years old, although some of the earliest know examples of worked gold, we still don't know what these pieces were used for though some suggest they were hair ornaments.
Yet as you can see here, there is much to admire both in the craft displayed by the gold working, as well as the historical provenance accompanying each of them, be it a more recent (and timely) example like the 1908 Olympic Gold Medal for Rowing, won by Charles Desborough Burnell (1876-1969) for Great British rowing at the 1908 Summer Olympics at Henley, or the Blair Drummond Looped Terminal Torc from the Iron Age, 300-100 BC. The latter piece was made from a gold alloy using eight gold wires twisted together, with intricately decorated terminals and short safety chain. It marks a mix of Mediterranean craftsmanship and more traditional Iron Age motifs, suggesting connections between Scotland and Southern Europe.
There are surprises too, such as the mischievous little mechanical mouse, attributed to Henri Maillardet around 1810. Decorated with pearls and made in gold, this life-size automaton is thought to be originally Swiss in origin, but bought by John and Josephine Bowes in 1871 for their museum in Barnard Castle, County Durham. Another fascinating golden treasure is the Cromwell Trial plate, for the Trial of Pyx in 1649, which holds particular significance for the Goldsmiths' Company itself. At the trial of Pyx on the 9th November 1649, it was found that there was a 'want of sufficient p't of the Standard' of Crowne gould', and the Goldsmiths' Company was immediately ordered to prepare a plate of crown gold and one of silver, which they did and delivered the same to the Council of State on 22nd November. These plates were vital in allowing for samples to be readily cut so as to conduct comparative assays to ascertain the veracity of coinage; thus explaining the strange shape of the plate on display.
But gold work is not a lost art in any way shape or form, as some new pieces on display more than show. Wright & Teague's Power of Gold has been crafted from fine sheets of 18ct gold, the collars are designed to be worn individually or together, their striking silhouette taking reference from an Elizabethan ruff - and of course from the Irish Lunula, providing an artistic link spanning four millennia. The Lunula itself is also on display, dating from 2000-1500BC it was hammered out of gold and thought to adorn the necks or tribal chieftains. Less than 200 gold lunulae are known and it is possible they were all the work of a handful of experts. Three of them from different sources are on display at Goldsmiths' Hall, and without any supporting evidence these enigmatic objects continue to inspire and beguile.
As impressive as our modern computer displays and high-resolution digital cameras can reproduce here, nothing compares to seeing these pieces and their magical allure in person. The exhibition at Goldsmiths' Hall, Foster Lane. London EC2V 6BN, runs until July 28th with free admission, and details can be found here. www.thegoldsmiths.co.uk
Cross made from Kildonan gold, late 19th century - Prospectors flocked to Kildonan in the Highlands in 1869 and some of the finest fruits of their labours feature in the exhibition. © Private Collection, photography by Richard Valencia

Cromwell Trial plate, 1649 for the Trial of the Pyx- In the first year of the Commonwealth, the Council of State was empowered by Act of Parliament to administer an oath to the jury of goldsmiths charged with the preparation of the plate. © Royal Mint

'Basket Rings', Early Bronze Age, c.2470 BC. Sheet gold, embossed. The oldest gold objects yet found in Britain. Found in a grave near Stonehenge in 2002, and buried over 4,300 ago. © Salisbury and South Wiltshire Museum

Gem-set gold pendant, c. 1570. Gold pendant enclosing triangular shaped cameo of an illustrious lady. Possibly Mary Queen of Scots in enamelled scroll border set with four stones the back similarly decorated with three pendant baroque pearls some stones replaced c. 1720. It was given by Queen Mary to Thomas Howard 4th Duke of Norfolk then by descent. © The Portland Collection

The Irish Lunula c.2000-1500 BC. Another exciting example of early gold work featured in the exhibition is a magnificent lunula dating from 2,000-1,500 BC, which was found in Northern Ireland on land then owned by the Worshipful Company of Drapers in c.1845/6. © The Drapers' Company

The Kingston Brooch, 7th Century AD. Anglo-Saxon - gold, inlaid with blue glass, white shell and cut garnets. This is the largest and finest brooch of its kind to be found. © National Museums Liverpool

Mechanical Mouse Automaton. Gold with pearls, attributed to Henri Maillardet, c.1810. Among the more unusual gold items in the exhibition is a delightful mechanical life-size mouse made in gold and decorated with pearls. ©The Bowes Museum

Pleiades by Wright & Teague – The Power of Gold. Fashioned from fine sheets of 18ct gold, the collars are designed to be worn individually or together, their striking silhouette taking reference from an Elizabethan ruff – and of course from the Lunula. © World Gold Council

Olympic Gold Medal for Rowing, London 1908. Charles Desborough Burnell (1876-1969) won the gold medal for Great British rowing at the 1908 Summer Olympics at Henley. © Private Collection

Queen Elizabeth I's Ring. Gold, mother-of-pearl, rubies, and enamel, c.1560. According to tradition this ring was dedicated to James I (James VI of Scotland) as evidence of the Queen's death and given by him to 1st Earl of Home in 1603. © Chequers Estate

Gold court jerkin for the Coronation of George IV. © The Goldsmiths' Company

Stapleford Cup, circa 1610. Earliest surviving piece of English secular gold plate in a British collection. Also known as the "Acorn" cup after its shape. © Trustees of the British Museum