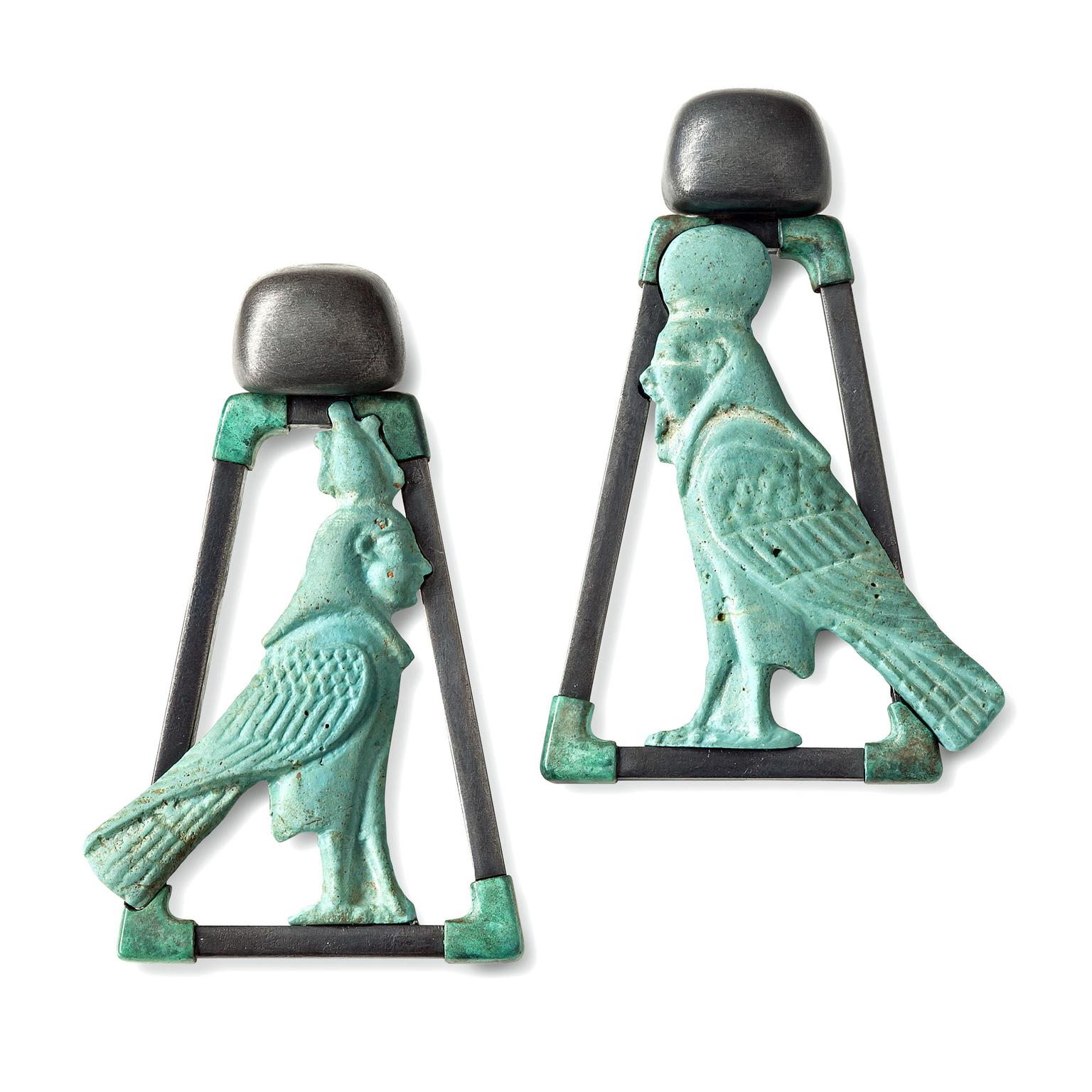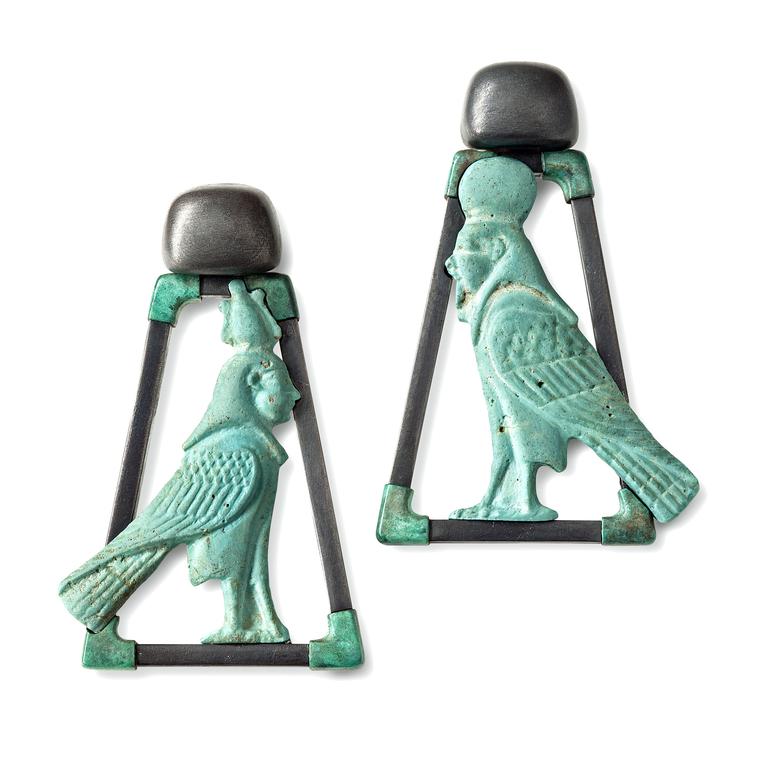 Straddling the divide between contemporary and antique, the growing trend for incorporating artefacts into fine jewellery will appeal to both history buffs and jewellery enthusiasts. A rich tapestry of past centuries is woven into these captivating jewels, set with ancient coins, glass embossings or cameos, but with a modern aesthetic designed to appeal to the woman of today.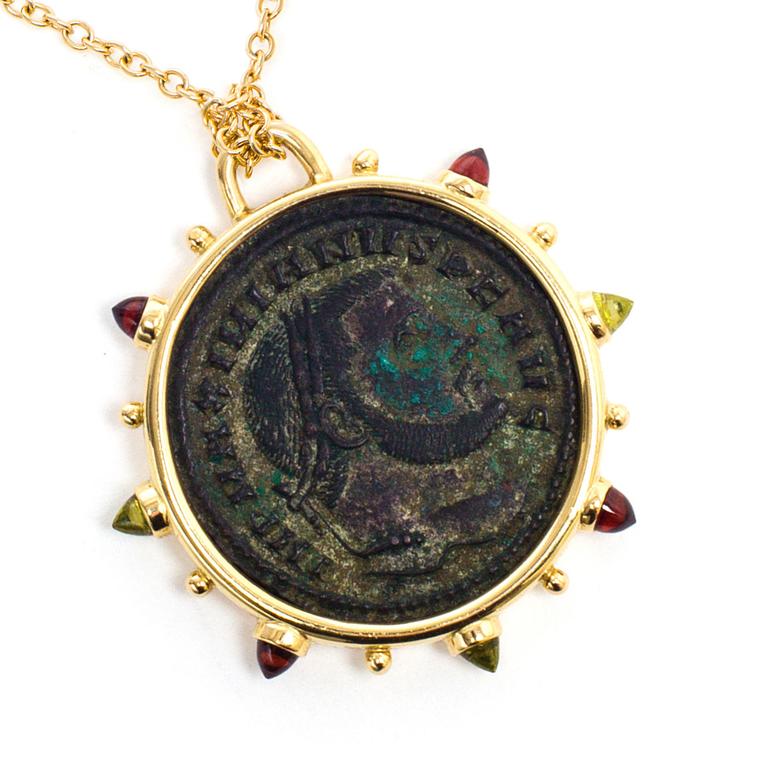 London-based Italian jewellery designer Benedetta Dubini brings home treasures unearthed on her frequent travels and uses them to bridge the past and present in her work. The Empires collection takes inspiration from the boldest characters of Roman and Greek history, including two of the famous Greats; Alexander and Constantine. Here, carefully selected antique bronze and silver coins, which had been left to gather dust in forgotten safes, have been resurrected in unique pieces of Benedetta Dubini jewellery.
The Antiquity collection by Indian-born jewellery designer Coomi Bhasin explores different forms of art symbolism used by humans as far back as the Palaeolithic and Neolithic eras. The latest pieces for her Coomi jewellery brand feature antique glass pendants embossed with gold designs, which were created using an ancient Mughal technique called Thewa.
See more historically diverse Coomi jewellery
Having perfected the goldsmithing methods used 7,000 years ago, Turkish brand Gurhan jewellery seeks out the mysteries of the past to pass on to today's discerning customers. Its Antiquities jewellery collection includes one-of-a-kind pieces in 24ct gold set with Byzantine coins and carved crosses, as well as Roman bronze artefacts dating back from the 2nd to 4th century.
It is safe to say that Spanish designer and former art dealer Ines Nieto's fascination with archaeology and ancient jewellery shines through in her own innovative creations. History is the backbone of Ines Nieto jewellery and each piece has a unique story behind it, including this necklace featuring a 24ct gold Byzantine coin that was in circulation when Constantine VII and Romanus II ruled the Empire. The design of the diamond-set pendant necklace is also inspired by the elaborate necklaces and tiaras worn during the Byzantine period. "My favourite part of the necklace is the back holes," says Ines, "So beautifully done, they are a work of art."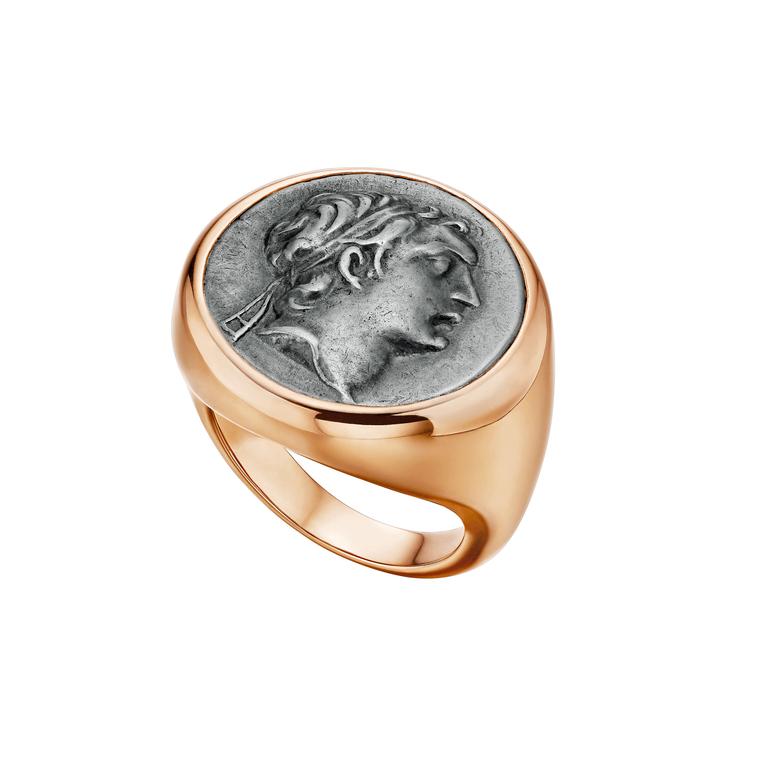 Bulgari jewellery started featuring coins in its designs almost half a century ago when Nicola Bulgari first conceived the iconic Monete collection. The contemporary jewels set with coins spanning different eras, from ancient Greece to early 20th century America, were an instant hit with Bulgari fans such as Grace Kelly, Elizabeth Taylor and Goldie Hawn. Constantly updated to keep the design handwriting relevant for a new generation, the new Monete jewellery designs pair fashionable pink gold with antique bronze coins.
Cameos, where a raised motif is carved onto a gem, were very popular in ancient Greece and Rome, as well as in the early Renaissance, usually depicting portraits of rulers or dignitaries. Hemmerle jewellery often incorporates vintage cameos, which are steeped in the Munich-based brand's "contemporary traditional" style. This marrying of old and new is also evident in a new pair of Hemmerle earrings featuring Egyptian faiences from the 4th century Ptolemaic period depicting the gods Osiris and Re. Faience is a glassy substance made by grinding quartz or sand crystals together with different quantities of sodium, potassium, calcium, magnesium and copper oxide. Artisans in ancient Egypt would form the faience into an amulet, brooch or figurine, which was then heated until it developed a bright colour.
See more colourful fine jewellery from Hemmerle
Whether or not you have a passion for antique jewellery, there is something utterly thrilling about wearing an extraordinary piece of bejewelled history dating back thousands of years.
Dubini necklace from the Empire collection in 18ct yellow gold with an ancient bronze coin surrounded by garnet and peridot cabochons.

These 18ct yellow gold earrings set with ancient bronze coins are from the Empire jewellery collection by Dubini inspired by Roman and Greek history.

Coomi necklace from the Antiquity collection with a yellow gold ram, cat, boat, horse and owl embossed onto glass with diamonds and mother-of-pearl.

Pendants from Coomi's Antiquity collection with motifs such as the evil eye, a horse, owl or ram crafted from gold and set onto glass, moonstone, citrine or mother-of-pearl.

One-of-a-kind pendant necklace by Gurhan in the Turkish designer's signature 24ct gold set with a bronze Roman owl dating back to the 2nd-4th century.  

Spanish designer Inés Nieto's 18 carat yellow gold and diamond necklace featuring a Byzantine coin made from 24 carat gold.

Almost half a century after it was first launched, Bulgari's Monete jewellery collection is as relevant as ever with new pieces including this pink gold ring set with an ancient bronze coin.

Bulgari necklace from the iconic Monete collection in pink gold set with an ancient bronze coin.

Hemmerle cameo pendant depicting King George II dressed as an emperor in white gold, onyx, bronze and diamonds with a sapphire tassel.

New Hemmerle earrings in silver and white gold featuring antique Egyptian faiences representing the gods Osiris and Re, dating from the 4th century BC Ptolemaic Period.