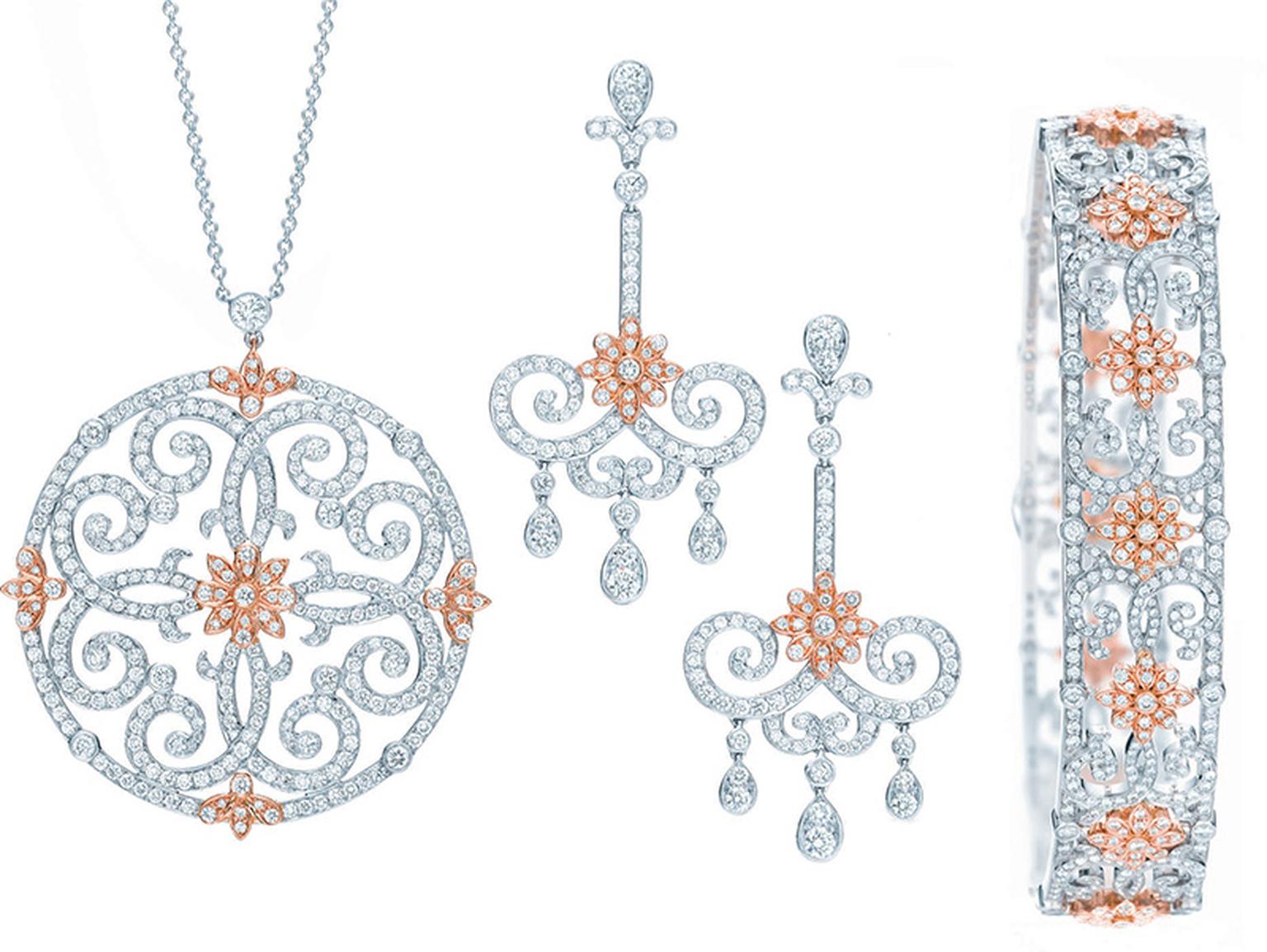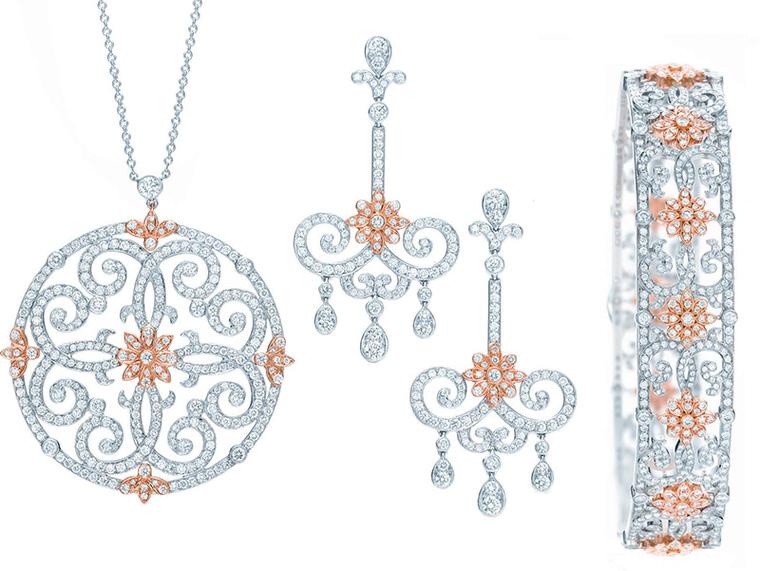 Tiffany Enchant is the latest fine jewellery collection from this American house that often turns to nature for inspiration. Tiffany Enchant looks at the nature closest to our homes and strolls into an enchanted garden where pink diamond butterflies flutter over sunshine bright yellow diamond flowers. All this encircled by the swirling patterns of wrought iron gates and railings that opened on to this secret garden- and the very key itself to unlock this enchanted world.
There is a nostalgic,  Belle Epoque feel to this collection, particularly in the scroll motifs and floral forms and the dangling diamonds delicately suspended at the ends of earrings, like drops of dew in the early morning on a garden gate. The more formal shapes of 19th century wrought iron gates can be see in the platinum and rose gold earrings, bangle and pendant and the platinum and diamond Scroll pendant. As well as picking up on architectural details of the garden, the collection also harks back to the days of Louis Comfort Tiffany and his delicate creations that exalted nature such as his early 1900's pendants with their elaborate metal work and intrepid use of colour. With links to the house's design history all these pieces have an air of timelessness and what the American's would call 'heritage status.'
And it makes perfect sense that Tiffany & Co, who are known for their diamonds, and particularly yellow diamonds from Australia, should use coloured diamonds in this collection. The precious pink and yellow diamonds sing out against the bright white diamonds and I like how the jewellers have set white diamonds into rose gold for a warm, vintage effect in the bangle, pendant and earrings set. A charming collection that with the lightest of touch brings alive Tiffany's great heritage of design in jewels relevant to today's romantics.  
Tiffany Enchant Key in platinum and rose gold with white and pink diamonds. I love the little butterfly hovering over the key

Tiffany Enchant scroll pendant and earrings with diamonds in platinum

Tiffany Enchant yellow and white diamond ring set in platinum

Tiffany Enchant yellow and white diamond ring set in platinum

Tiffany Enchant yellow and white diamond ring set in platinum

Tiffany Enchant collection in platinum and rose gold. The swirling forms evoque the majesty of 19th century wrought iron garden gates and railings.