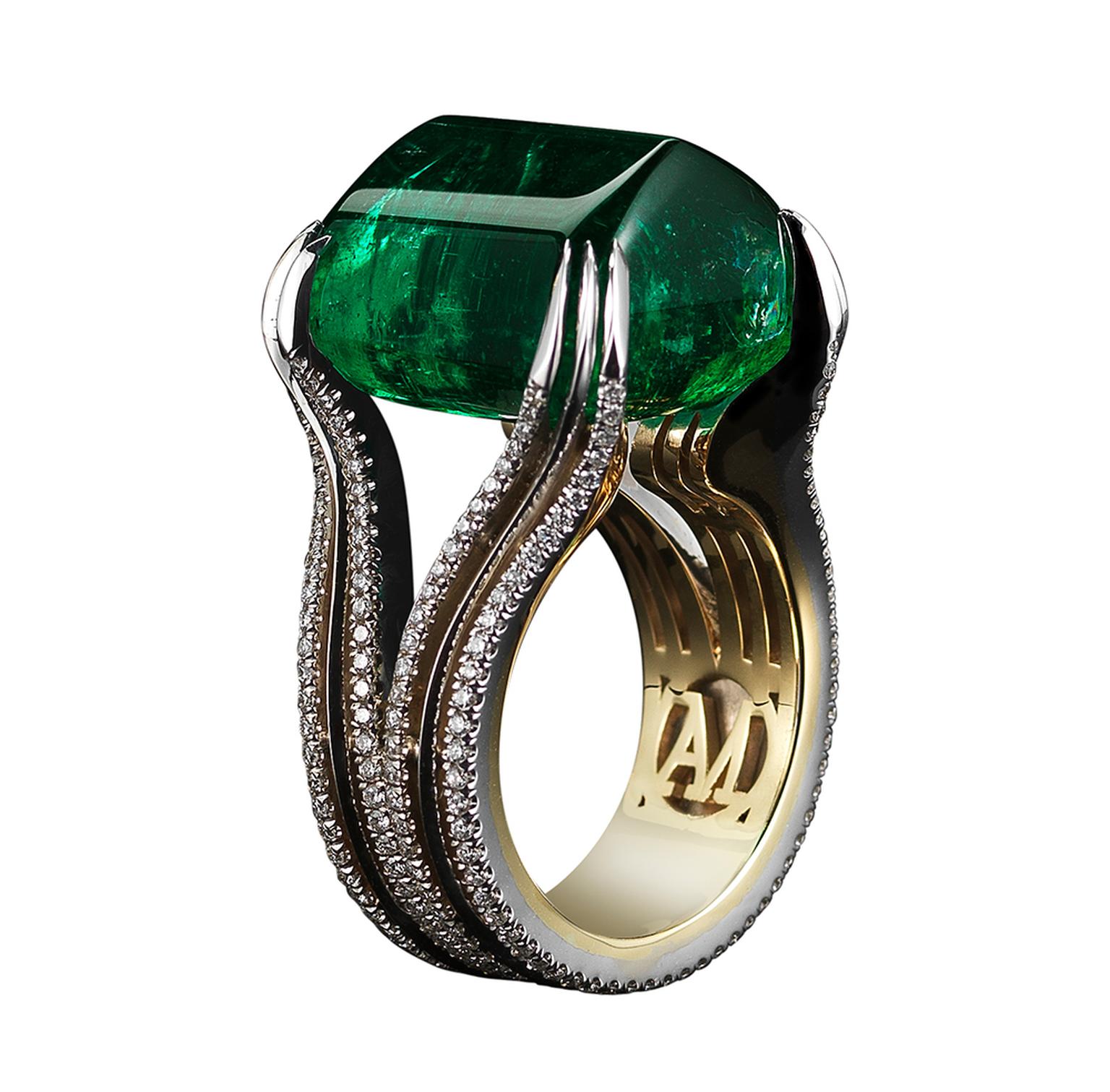 You will remember from earlier posts the knock-out collection of jewels commissioned by Gemfields, the ethical gemstone mining company. Some 36 designers from around the world chose Gemfields' finest emeralds, rubies and amethyts to create a treasure trove of jewels that surprised with their variety of styles and imaginative use of colour.
One of the most recognisable pieces is the Alexandra Mor emerald ring, as worn by Mila Kunis to the premieres of 'Oz: the great and the powerful', which found its way into the media around the world. Other names that may ring a bell include Jasmine Alexander, Jordan Askill, Fernando Jorge, Shaun Leane, Anndra Neen, Wendy Yue, Farah Khan and Dominic Jones, each of whom created one-of-a-kind pieces incorporating Gemfields Zambian emeralds and amethysts, and Mozambican rubies.
Well now, from September, you will be able to buy some of these jewels, including the Mila Kunis emerald ring, at COUTURELAB, the online boutique that specialises in the exceptional and the rare, from fashion to fine jewels.
Carmen Busquets, founder of COUTURELAB, explains: "The Gemfields philosophy aligns perfectly with our own. By telling the story of the stones and working with the world's leading jewellers, the Gemfields collection at COUTURELAB represents everything we stand for: exceptional craftsmanship, unique product and brands with a story to tell. I am so happy to be able to offer our customers the opportunity to purchase a totally unique piece with the knowledge that the gemstones have been sourced in a sustainable and ethical way."
Select pieces from the Gemfields collection - pictured below - will be available at COUTURELAB's Belgravia boutique and online from September. I wonder who will buy the amazing emerald ring by Alexandra Mor - will Miss Kunis make a beeline for it?
Gemfields' Farah Khan earrings with 20.58ct of Zambian emeralds and 9ct of rubies.

Nam Cho earrings with diamonds and Gemfields' Zambian emeralds, set in white gold.

Gemfields' Dominic Jones earrings with 12ct of Zambian emeralds bring edgy design to the Gemfields collection of jewels by contemporary designers.

Gemfields' Fernando Jorge earring with 11ct of Zambian emeralds and diamonds.

Jordan Askill's brooch with 11ct of Gemfields Zambian amethysts.

Gemfields' Shaun Leane earrings with 6.10ct of Zambian emeralds.

Duffy's Odyssey necklace in red gold with a 52.25ct Gemfields Zambian amethyst and 1.08ct diamonds.

Farah Khan bracelet in 18ct yellow gold with 10.31ct Gemfields Zambian emeralds, 57.22ct Mozambican rubies and 9.43ct diamonds.

Gemfields' coloured stone Wendy Yue ring with 1.86ct of rubies, diamonds and tsavorites. The ring slips onto the middle and pinkie finger.

Penny Winter necklace with Gemfields amethysts.

Necklace by Anndra Neen using Gemfields' Zambian emeralds set in silver and yellow gold.

Jasmine Alexander ring using Gemfields' Zambian emerald set in yellow gold and platinum.