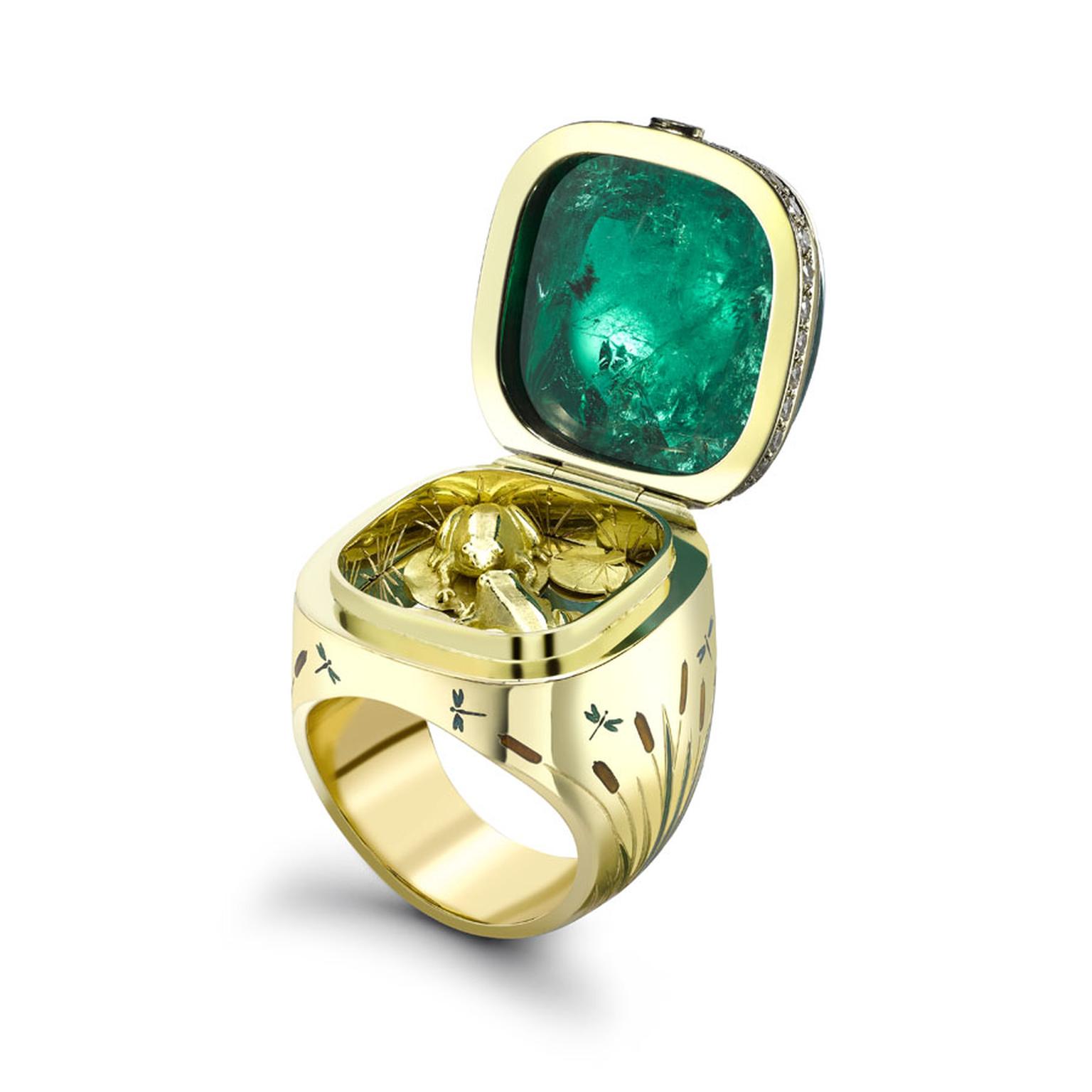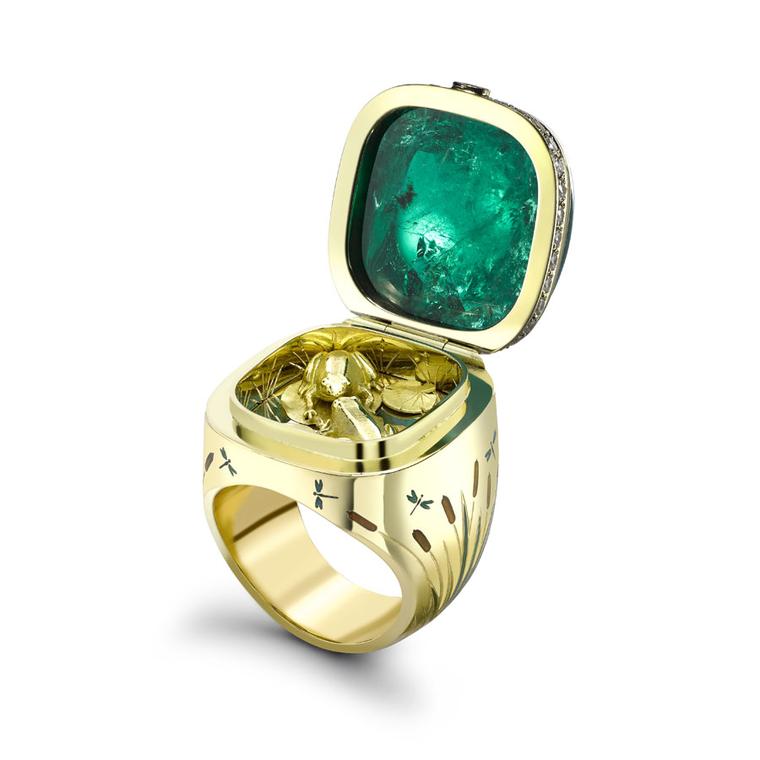 Gemfields, the world's leading producer of ethically sourced coloured gemstones, has created a succesful collaboration with the London jeweller Theo Fennell. Earlier this year Fennell created a bejewelled cross using Gemfields emeralds and now the jeweller, known for his meticulously crafted jewels, has created this whimsical "Kissing Frogs" ring, featuring a superb 42.66ct Zambian emerald.
The themes Fennell chooses are always highly original, often humorous and invariably feature exquisite coloured stones. His love of colour makes him an ideal design partner for Gemfields. The "Kissing Frogs" ring is dominated by a magnificent sugarloaf-cut emerald that caught Fennell's eye as much for its rich colour and impressive size as the fact that Gemfields prides itself on sustainable and ethical mining practices, plus strict social and safety standards. Gemfields is one of the few gemstone producers to be able to assure a completely transparent route to market.
By collaborating with Gemfields, Fennell is able to work with a consistent supply of rare coloured gemstones from a company that is committed to protecting the surrounding local communities and the natural landscape from which the gems are sourced.
On setting eyes on the lush, green stone, Fennell soon knew what he wanted to do with it. "The emerald sugarloaf looked like a leaf on top of a pond," explains Fennell. "It was a joy to work with an emerald of this colour, and it just lent itself to being a secret, opening ring covering lush lily pads and frogs kissing. Wouldn't you have done the same?" he asks.
"The best craftsmen imaginable were, as always, close to hand in our workshops next to my studio to make my whim a reality," continues Fennell. "The fabulous green light coming through the stone dapples the frogs and really makes this tiny space so atmospheric. 'To hold infinity in the palm of your hand' said the poet William Blake... or maybe just wear a forest on your finger."
Fennell reports that his clients have often requested jewels featuring frogs, whether it is the Prince Charming type of amphibian or dear little tropical tree-climbers.
This one-off 'story' ring is entirely made in the Theo Fennell workshops in the heart of Chelsea. The gold sides of the ring are decorated with enamelled engravings of bulrushes and dragonflies, creating an idyllic miniature scene.
Diamonds play second fiddle to the splendid emerald and twinkle demurely in a single row encircling the ring. "I love the idea of diamonds highlighting a really interesting stone," says Fennell.  "I think the buying public hasn't been nearly well educated enough in the mysteries of stones. It has been force-fed diamonds and hasn't seen what a fabulous variety of stones there are in terms of colour, shape and rarity. Yes, a diamond is very practical as it doesn't break, but it is more about power and money than it is about romance and sentiment."
And looking at the two kissing frogs, you can't argue that there is plenty of romance and sentiment in this playful ring. What can we expect next from the Gemfields and Theo Fennell collaboration? Another emerald, of course, but the soon-to-be-unveiled "Emerald City" ring will tell a very different story: that of Dorothy and her unlikely companions as she steps on to the Yellow Brick Road.
Theo Fennell yellow gold 'Kissing Frogs' ring with a 42.66ct emerald from Gemfields' mine in Zambia.

Inside the Theo Fennell workshop in London where each jewel is made by hand, from scratch.

Traditional jewellers' tools inside the Theo Fennell workshop.

One pair of pliers is just not enough at Theo Fennell's workshop in London.

Theo Fennell in his studio in London.

After the initial sketches have been completed, the design is recreated digitally.

Theo Fennell, who studied Fine Arts, works up his initial idea into a jewel, incorporating the frogs and bulrushes captured in his sketch book.

Theo Fennell's creative process starts with a sketch made in his notebook of scenes he encounters.

The 'Kissing Frog' ring opens to reveal two adorable little frogs kissing.