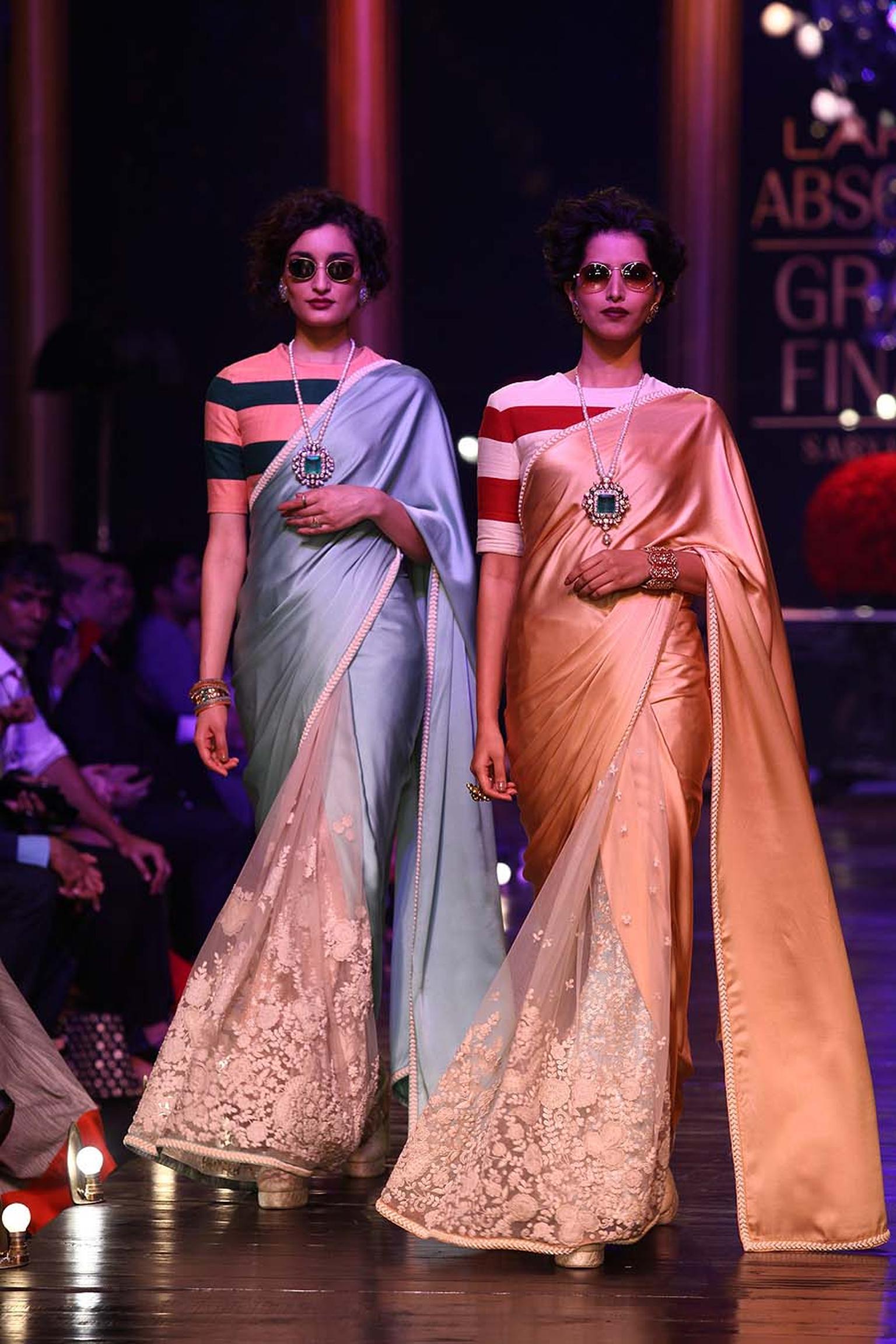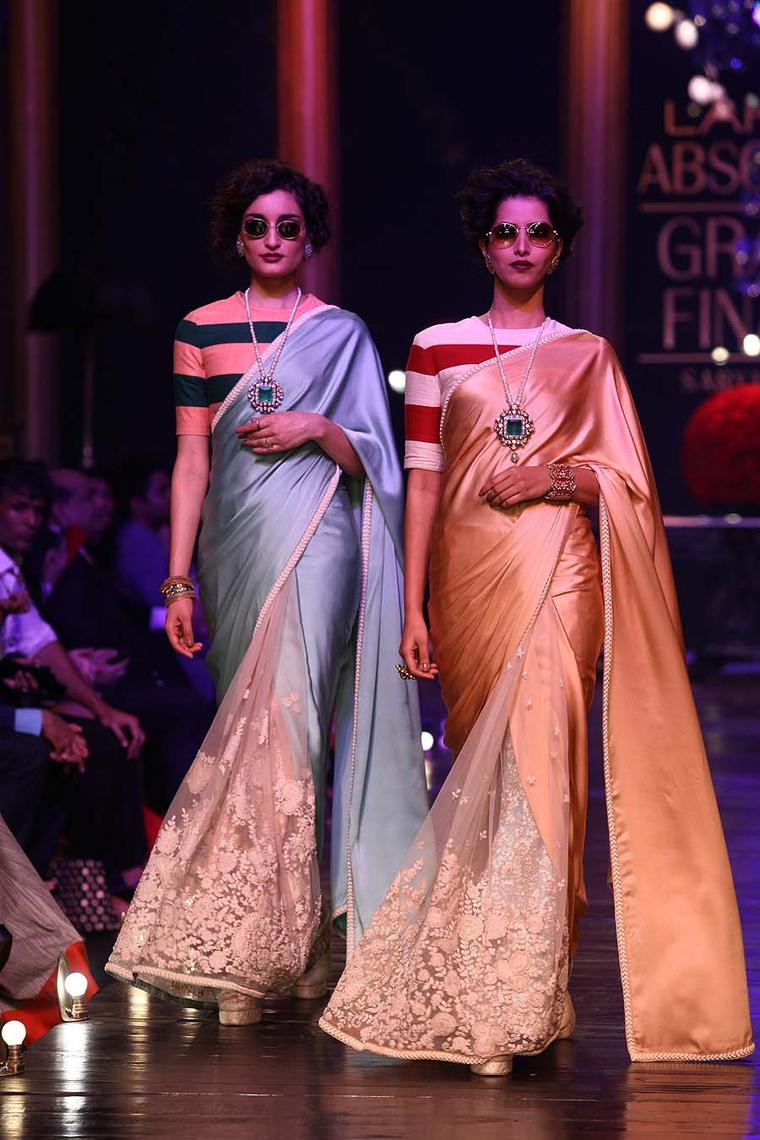 By Preeta Agarwal
As models walked the ramp for the final time as part of Sabyasachi Mukherjee's crowd-pleasing show, the audience cheered. A fitting grand finale to the high-profile Lakme India Fashion Week, which takes place twice a year in Mumbai, Sabyasachi's one-off creations - inspired by the limited-edition Lakme Absolute Royal collection - were paired with jewellery by Gem Palace, official jeweller of the Royal family of Jaipur, creating an opulent spectacle of colour.
The dramatic, dark-wood ramp, uplit on either side, set the mood, while seven sparkling chandeliers created a vintage ambience. Rows of twinkling bulbs covered the ceiling and bouquets of red roses injected some colour into the mirrored backdrop, which recreated the interior of an atmospheric jazz club in London.
The show opened in a dramatic fashion with a live performance of "Feeling Good" by Rachel Varghese. The theme from the film "Pink Panther" filled the Ballroom of Hotel Grand Hyatt as Indian supermodel Indrani Dasgupta glided down the ramp in a luxurious crystal choli and net sari over printed lehenga, paired with Gem Palace jhunki earrings.
As the show progressed, many of Gem Palace's most iconic pieces made an appearance: two brooch pendants set with impressive emeralds; an antique diamond choker; a ruby pendant on pearl strings. Stacked bangles and layered necklaces studded with rubies, emeralds and diamonds were paired with jewel-coloured fabrics.
There were suggestions of youth amongst all the grandeur, with delicate pearls draped over printed jackets. Alongside the new-season Sabyasachi collection, two very special Gem Palace jewels were also making their Lakme Fashion Week debut. Created in collaboration with Gemfields, the world's producer of ethically sourced coloured stones, the stunning Gem Palace for Gemfields emerald pendant and ruby drop earrings were deserving of a standing ovation.   
Indian supermodel Indrani Dasgupta at LFW 2013 in jhunki earrings by Gem Palace.

Gem Palace brooch with a central emerald, polki diamonds and rubies.

A model in a Gem Palace choker necklace, pendant and jhunki earrings at Lakme India Fashion Week 2013.

Gem Palace diamond studded antique choker necklace.

A model dressed in Sabyasachi at LFW 2013, accessorised with a Gem Palace choker necklace, pendant, stacked bangles and cocktail ring.

A model in a Gem Palace choker necklace, pendant, stacked bangles and cocktail ring at LFW 2013.

Majestic Gem Palace jewels, including layered necklaces, a pendant and a cocktail ring, were paired with Sabyasachi unique creations at LFW 2013.

A model layers up in Gem Palace necklaces and a pendant at LFW 2013.

Stacked Gem Palace bangles at LFW 2013.

More stacked bangles, a necklace and a pair of earrings by Gem Palace at LFW 2013.

Models walking the ramp for Sabyasachi in Gem Palace brooch pendants at Lakme India Fashion Week 2013.