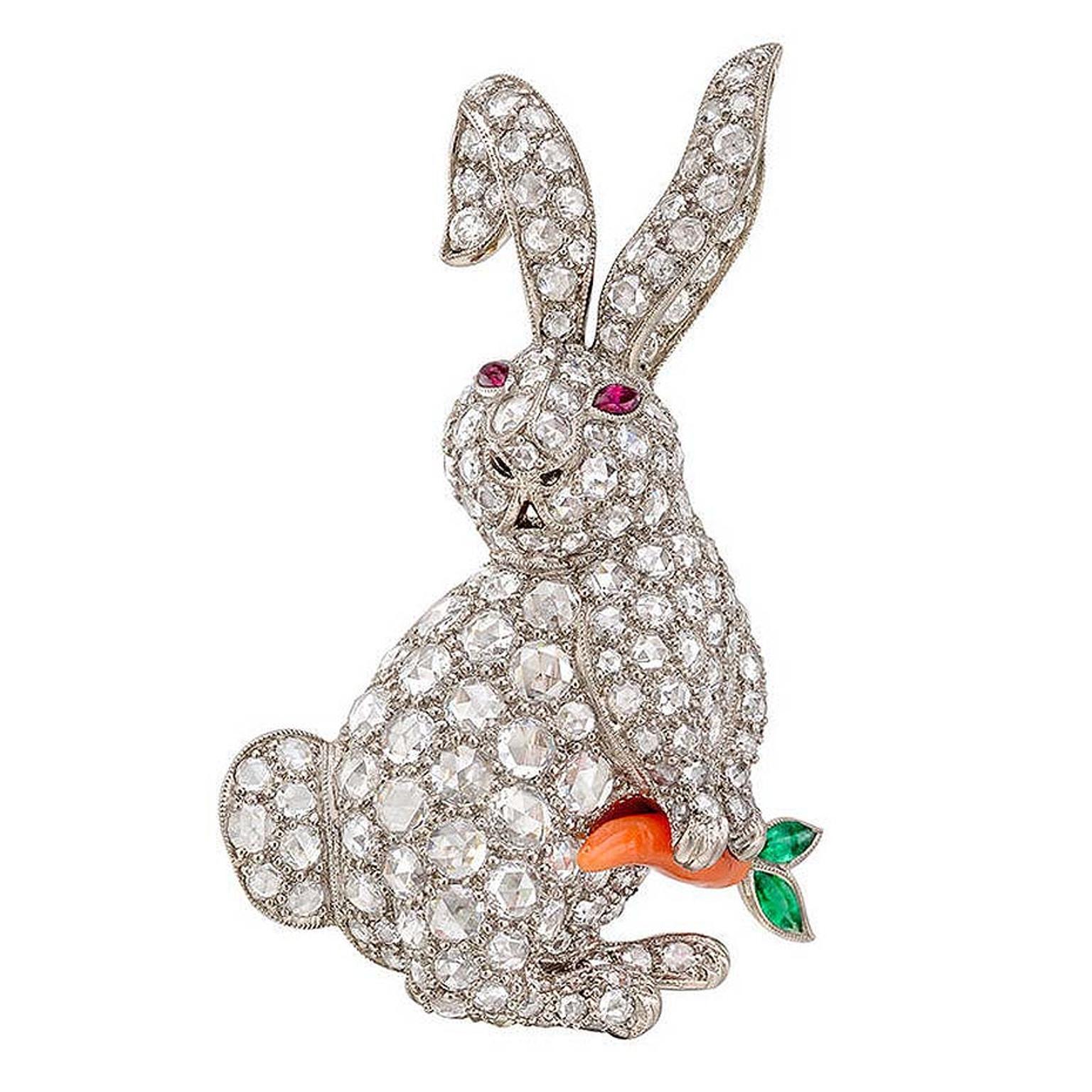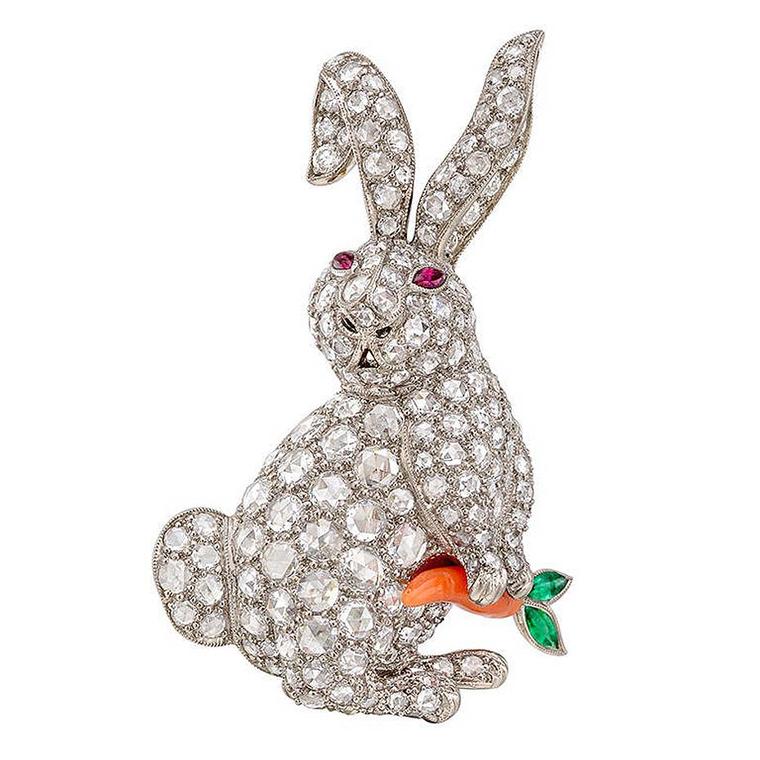 By Åse Anderson 
Bejewelled bunnies are everywhere this spring, whether peeking out from behind a ring or casually swinging from a pair of designer earrings. Although less soft and fluffy than their real-life counterparts, these bunny jewels will keep you smiling long after the last Easter egg has been eaten. 
The origins of the Easter bunny can be traced back to 13th century Pagan Germany, where the rabbit was the symbol for Eastre - the goddess of spring and fertility. The tradition of the Easter bunny bringing eggs came to America in the 1800s via German immigrants and, over time, developed into an Easter egg hunt whereby a bunny secretly visits homes overnight, hiding sweets and chocolates for children to find. Whether or not you still believe in the Easter bunny, these designer jewellery pieces definitely capture the magic. 
With his body and fluffy tail set with circular-cut diamonds, gleaming ruby eyes, and a carved coral carrot with emerald leaves clutched between his front paws, the rabbit adorning a 20th century white gold brooch, currently on sale at 1stdibs, is the epitome of luxury antique jewellery. Meanwhile, fans of Alice in Wonderland will adore the diamond-encrusted white rabbit, carrying an umbrella and pocket watch, on this contemporary brooch from Bentley & Skinner.
For a more modern interpretation of the rabbit theme, Californian jeweller Jacquie Aiche has created a cool yet playful bunny ring in rose gold with pointy ears covered in diamond pavé. 
Lydia Courteille is renowned for her colourful animal jewellery. Her Lapin Rose, or Pink Rabbit, set with vibrant pink tourmalines and sapphires, is perfect for spring, while pink enamel ears also add a pop of colour to the diamond bunny pendant from Theo Fennell. 
The most avant garde bunnies of them all, however, are Natasha Zinko's rabbit earrings. Skeletons and bunnies are recurring motif's in Zinko's designs, and these earrings featuring rabbits on swings suspended from diamond studs are top of my wish list this Easter.
Bentley & Skinner White Rabbit antique jewellery brooch in yellow gold, set with a ruby and 1.10ct of diamonds.

Lydia Courteille pink tourmaline and pink sapphire fine jewellery bracelet from the Lapin Rose collection.

Natasha Zinko designer jewellery rabbit earrings in gold and diamonds.

1stdibs white gold rabbit antique jewellery brooch featuring circular-cut diamonds, ruby eyes, and a carved coral carrot with emerald leaves, dates back to the 20th century.