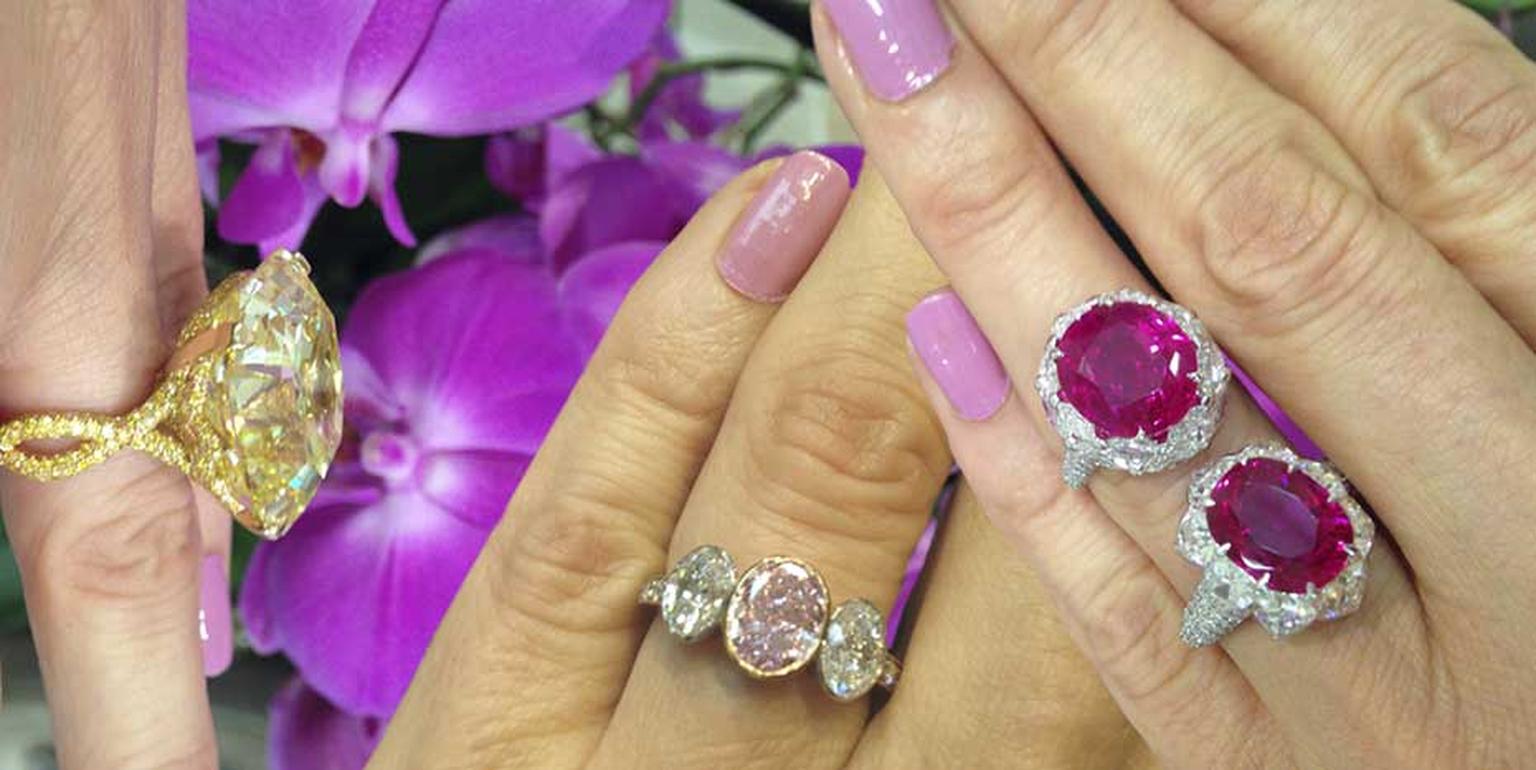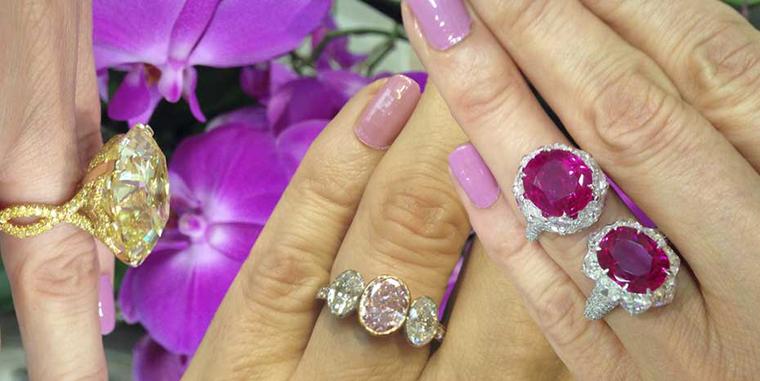 By Maria Doulton in London
It's all very well talking of buying an engagement ring from the safety of your desk, but doing the rounds is another thing. So to really get a feel for what is out there, I visited 13 different jewellers on Bond Street in the heart of London's Mayfair.
The ideal place to hunt for engagement rings is Bond Street because there are few places in the world where you will find such a variety all on one neat little street. Without travelling more than a few hundred metres, in just one day I tried on over 100 different rings. And to help guide you on a Grand Tour of Bond Street engagement rings, here is what to expect from the big names in the engagement ring game.
Let me start by giving you an idea of the importance of Bond Street by sharing some of the most incredible rings that only a few can dream of owning. Graff's selection of diamonds, and particularly sunshine-bright yellows, is second to none. If money is no object, head straight to Graff. David Morris' 41.35 carat yellow diamond ring and the two ruby rings may not be for everyday or for everyone - and you could buy a Chelsea house for the price of one of these - but it is nice to know that the ultimate in gems resides on Bond Street. More modest is Asprey's pink and white diamond ring, which is certainly for high rollers and rather more wearable.
I started at Tiffany & Co., where a large part of the ground floor is dedicated to bridal. True to the house motto, there is a diamond for every love story, and the range of rings is impressive. From delightful 0.18 carat diamond engagement rings to conker-sized high-value stones as well as dazzling yellow diamond rings, there is something to suit every engagement. The prices are all displayed, making this a good place to get a feel for what is right for you.
De Beers is a temple to diamonds so of course engagement rings take up a substantial part of the boutique. The layout of the minimalist but luxurious shop floor encourages browsing, and the wide selection of diamond engagement rings and settings mean that it would be hard to leave without a favourite ring firmly lodged on your wish list.
The friendly sales staff at Cartier are expert in the matters of love and diamonds. Starting at a few thousand pounds and going into the millions, the quality of the diamond engagement rings and other precious gemstones feeds this famous house's legendary reputation.
Don't be put off by having to ring the bell to many of the boutiques - it's just a security precaution. At Van Cleef & Arpels I found a tempting selection of 1.00 carat rings, each an example of the house's distinctive approach to design. The Perlée solitaire diamond engagement ring combines a classic design with a high-quality gem and impeccable craftsmanship.
If it is an original design that you are after then consider Chanel, Chaumet, Chopard and Piaget, all of whom make an art of creating very different engagement rings.
I loved the Chanel Boucle de Diamant ring, which ties a diamond-set bow around your finger, with a pear-cut diamond swinging from the knot. The black ceramic band with a diamond solitaire is a seriously cool way to say "oui" in style. Chaumet's romantic Josephine tiara-inspired rings are princess-pretty. Chopard, meanwhile, always has a little fun with designs and it was here that I saw alternatives such as heart-shaped diamond engagement rings and signature house "Happy Diamonds" rings, which set the diamonds free to skittle around between two layers of sapphire crystal.  Head to Piaget for both contemporary designs and some perfectly executed classics.
More traditional styles such as the Halo, with its frame of diamonds around the central stone, are one of Boodles' best-sellers. If you are looking for an elegant Ashoka-cut diamond engagement ring, this is the place to come to.
Asprey, the famous British jeweller, offers a range of classic three-stone rings as well as some jaw-dropping coloured diamonds. My favourite is an oval diamond surrounded by two smaller pink diamonds.
I feel so spoilt every time I enter Harry Winston as the decor sets the mood for indulgence. And while the King of Diamonds can bring out trays of fabulous diva-worthy diamonds, there are also more affordable alternatives. I particularly like the dainty Lily Cluster diamond ring, which is so feminine and different.
 So what are you waiting for? Bond Street and its diamonds are ready and waiting for when you are ready to say "I do".
To see more rings from my day of engagement ring shopping on Bond Street, visit The Jewellery Editor on Pinterest, Instagram or Facebook.
Boodles halo-style 2.00ct Vivid Yellow diamond engagement ring (£155,000).

Cartier 3.00ct oval-cut diamond engagement ring.

Chanel Boucle de Diamant diamond engagement ring.

Chaumet Josephine diamond engagement ring with 2.00ct pear-cut diamond (£93,800).

Chopard Happy Diamonds ring (£4,210).

De Beers Adonis Rose solitaire diamond engagement ring in rose gold with matching diamond wedding band.

Graff Fancy Vivid 2.07ct yellow diamond engagement ring.

Harry Winston Lily Cluster 0.54ct diamond engagement ring.

Tiffany & Co. Tiffany Setting diamond engagement ring with a 3.59ct round brilliant diamond in the classic six-prong setting created in 1887 by the house (£124,500).

Spending the day engagement ring shopping on Bond Street, London's most famous destination for jewellery, Maria Doulton visits 13 jewellers to see what tempting rings are on offer.