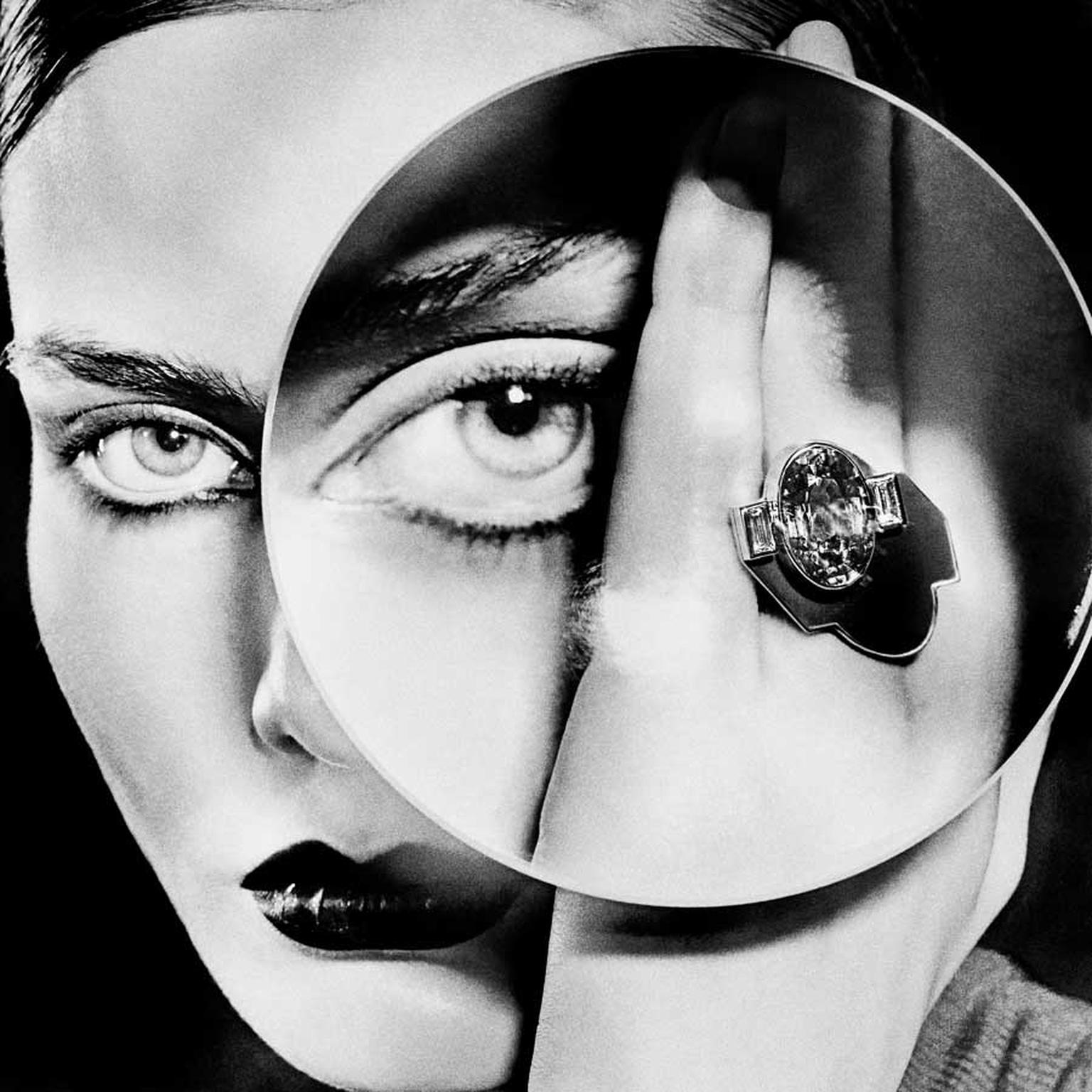 High jewellery trends move at a stately, glacial pace. Hardly surprising given the investment in both precious materials and time lavished on them. However, change is definitely afoot as this year's high jewellery collections confirm that even the highest price-ticket luxury items are indeed moving with the times.
Some two dozen high jewellery collections were unveiled mainly in Paris in the first week of July to coincide with the couture shows. Having seen almost ever single one, we reveal those that stand out for their unique vision of what high jewellery means today.
Leading the way is Boucheron whose Creative Director Claire Choisne has been serving up dazzling jewels that are both ground breaking in their choice of materials as well as breathtakingly beautiful.  While previous collections have featured high tech materials such as an insulating gel borrowed from NASA and psychedelic holographic coatings, this year's Carte Blanche Ailleurs is much more grounded and is set in an 'elsewhere' or 'ailleurs'. This is the realm where: 'there is only one rule: to reveal the beauty and poetry of nature.' Bringing a sense of marvel, each jewel does feel like it has come from elsewhere.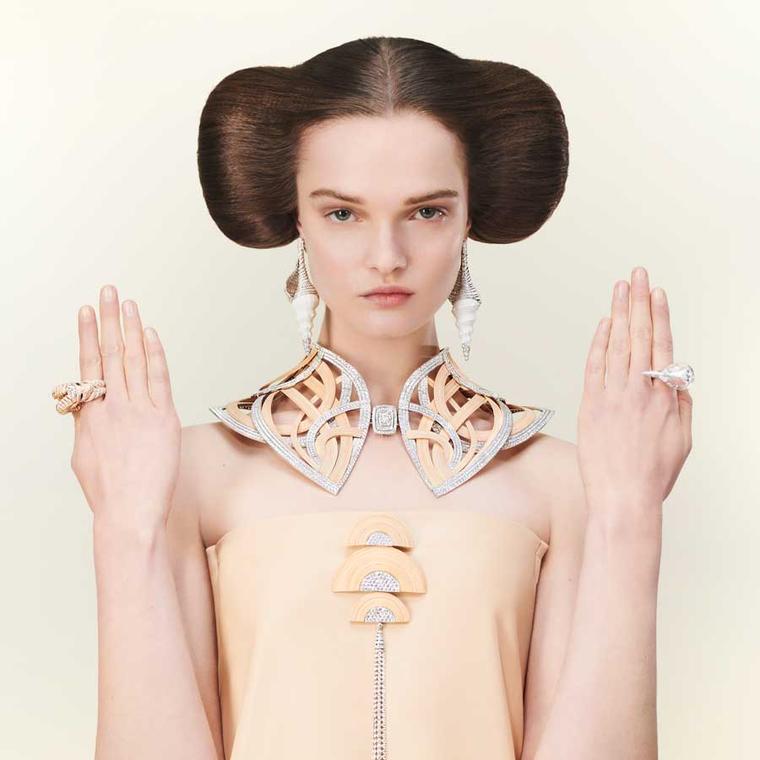 Each of the five realms is represented by a persona and Sand Woman  (above) from the world of dunes, wears rattan and white seashells embellished with diamonds. Leaf Woman is dewy fresh from the rainforest with a jungle green woven aluminium bracelet and a butterfly brooch made from real wings, her hair is adorned with a bird of paradise clip carved from amethyst, orange and pink sapphires and titanium. Earth Woman wears a sculptural wood and diamond brooch in the shape of a bouquet of autumn leaves as realistic as if just fallen from a bough. Pebble Woman prefers bleached out, pure colours reminiscent of a solitary beach. Hollowed-out pebbles are set with diamonds, a sea urchin becomes a bejewelled pendant and white gold coral set with mother of pearl and diamonds grows around her ear. Volcano Man (below) wears a bib of mother of pearl airbrushed with the form of the spiral of a sea shell. A coil of Japanese Chou Sugi Ban burnt wood encircles his neck and meets a knot entirely covered with diamonds and a diamond-set octopus writhes around his ear.
Clever, daring and technically challenging the studio had to invent ways to work with this unusual array of materials. For the Sand jewels rattan was dampened and formed into swirling shapes and then gold rods inserted into the hollow of each straw to make them rigid. New tools had to be made to drill out water-tumbled pebbles to egg-shell thinness. Guided by a scanned model,  a flower was carved from Santos wood and set with diamonds and titanium pistils that vibrate with the slightest breeze.  This strange new beauty is turning on its head our concepts of what is precious in the most beguiling way.
The founding Cartier brothers were born innovators who travelled the world to create brilliant fusions. They dared to bring the opulence of Indian colours, stark Japanese aesthetics and even Egyptian motifs into their workshops and create jewels with their trademark European savoir faire and panache. True to this global vision, Cartier's Beautés du Monde: 'enhances beauty through design, tension of lines, geometry and abstraction' which translates into dazzlingly bright gems embedded in strong graphic forms in Cartier's confident style with all the Parisian élan of its early creations.
Like a magical creature found in a tide pool, water-slicked carved coral beads bubble around sea green emeralds in a surf of diamonds in the Recif necklace (above). The Rituel necklace (top) combines sky-blue chalcedony with midnight black onyx around a mesh of rubies and diamonds with echoes of Mesoamerican relief carvings. The markings of green iguana is captured in softly curved emerald cabochons and diamonds in a V-shaped necklaces that drapes with sinuous ease. Still so very Cartier, but strikingly contemporary, Beautés du Monde is confident step forward in the house's unerring sense of style.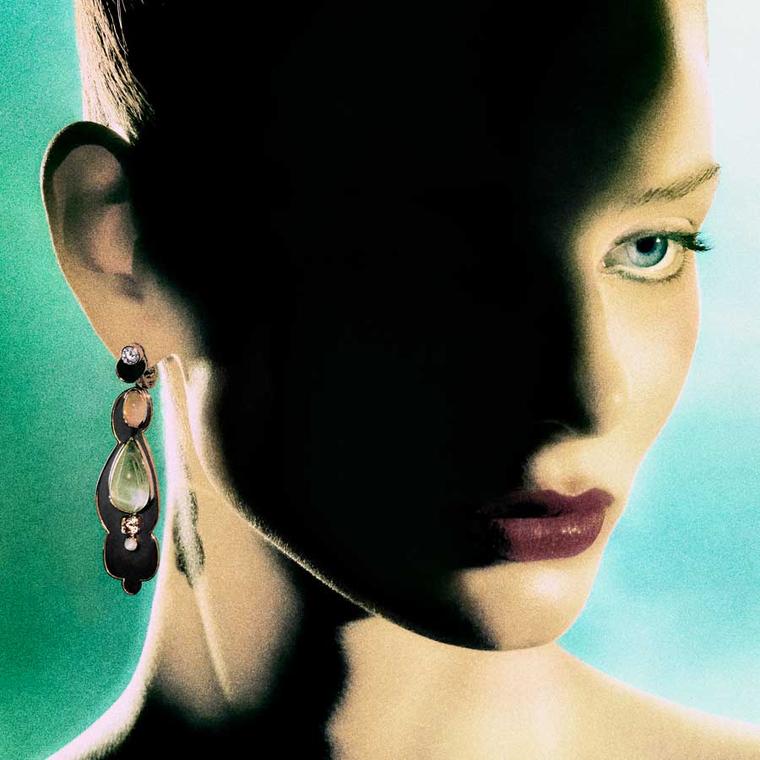 Hermès has an uncanny ability to be ahead of the pack, casually nonchalant and always in the know. And we certainly didn't see coming this year's Les Jeux de l'Ombre or shadow play jewels. Based on the concept that light relies on darkness and the whole philosophical ball of string that thought unravels, this intellectual stance offers a singular take on adornment. Stark yet playful, soft-edged shadows slide away from gemstones (above), darkness gives way to blocks of colour and the classic Hermès chain d'ancre bracelet or the Fouet necklace cast inky silhouettes of themselves. Urbane, bold and unconventional Hermès Les Jeux de l'ombre is whip smart and true to its pioneering take on luxury.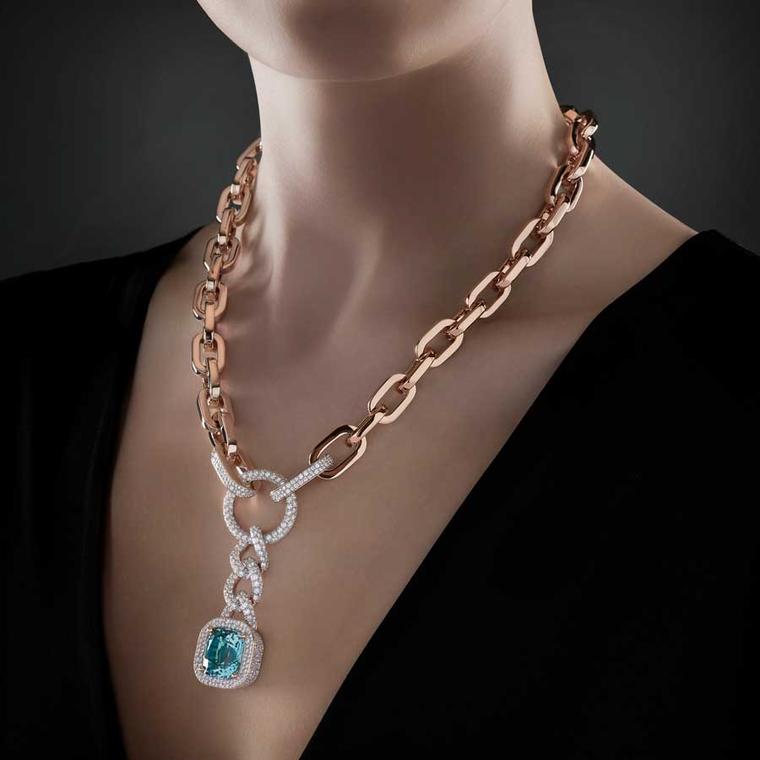 The jewels by Milanese jewellery house Pomellato are the quintessential expression of the refinement of this city known for exquisite design and craftsmanship. Founded by Pino Rabolino in 1967 the first jewel - and every single one since - is created to be worn with ease offering not mere adornment but an empowering ally, a semaphore of quiet sophistication. Imbued in the spirit of this city that breathes design and forges icons from furniture to fashion, Pomellato has an unwavering ability to be relevant and on the crest of trends. Its approach to high jewellery, a sector it first entered just three years ago with the first La Gioia collection, is equally pioneering. Super chic, skilfully crafted and reassuringly precious, La Gioia, A Walk in Nature from Sunrise to Darkness (above)  gives women the option to wear highly valuable jewels on their own terms. Long necklaces can be slipped over the head, wrapped twice around the neck or taken apart and reconstructed at will. Vibrant gemstone pendants swing from chunky diamond-swathed links and an unfussy, uncluttered gold cord or a stormy grey strand of pearls coil around the neck like precious scarves. Always with the woman at the centre of each creation, Pomellato makes jewels for those who know what they want and don't shy away from buying it for themselves, a factor key to the survival of high jewellery that others have overlooked.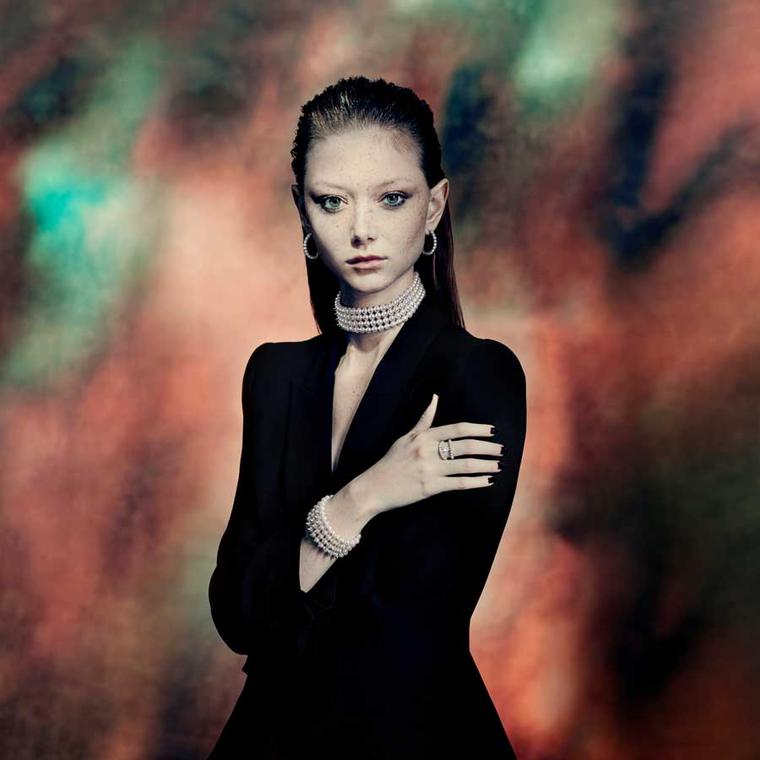 Another house that was born disruptive is the Japanese jeweller Tasaki, that is also the largest Akoya pearl farmer in the world. As contradictory as pearl farming and rocking the world may appear, Tasaki has never made a boring jewel and is one of the most directional jewellers with design at its very core. Seeking the same evolving appeal of fashion, Tasaki does things with pearls and gemstones like no one else. This avant-garde pearl visionary thoroughly understands the instinctive allure of fashion and the impulse to innovate. In fact, two fashion designers, Thakoon Panichgul and Prabal Gurung have steered the vision of the brand. This year's collection was designed by Prabal Gurung that brings a freshness to the world of high jewellery with colour drenched, convention defying jewels such as Radiant Sky, Linkage and Ore. The Danger high jewellery offering manages to make pearls slightly menacing with punk overtones (above).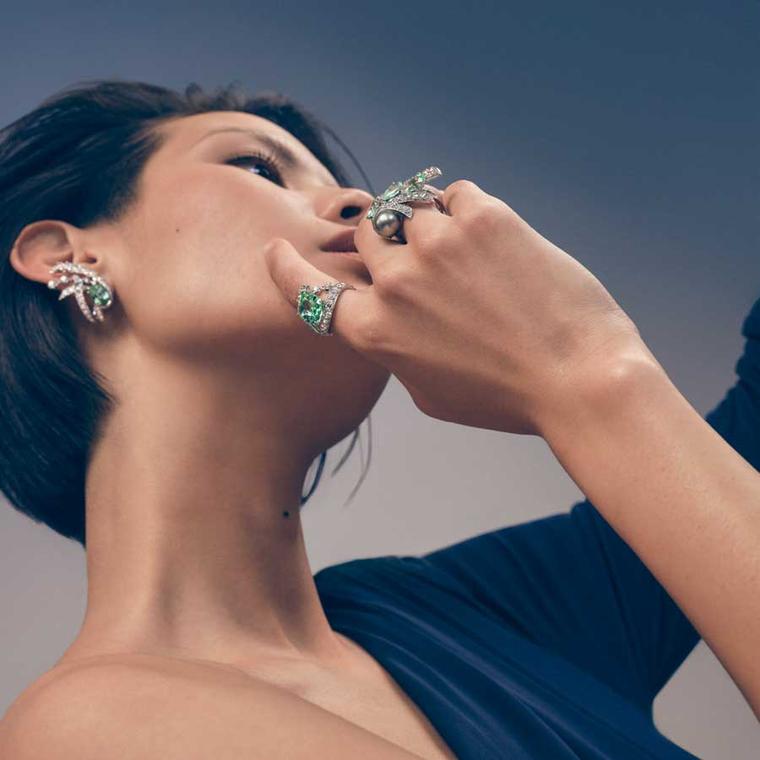 Chaumet's illustrious heritage as the choice of royalty for tiaras, doesn't stop this house from looking forward and turning heads with its innovative designs. Ondes et Merveilles is entirely dedicated to the sea, a theme visited in the past in wave tiaras and diamond spray brooches. But Ondes et Merveilles puts a contemporary spin on the story with jewels that younger jewellery buyers will warm to.  
From the fantastical world of Boucheron comes leaf Woman who wears a woven aluminium bracelet in jungle green with a 38 carat tourmaline, a brooch made from real butterfly wings, a toucan bracelet carved from citrines, a titanium and lacquer snake bracelet and a titanium, gem-set bird of paradise hair ornament. Boucheron Carte Blanche Allieurs

The spiral structure of a shell, as viewed through an x-ray, is airbrushed onto the mother of pearl elements of this white gold coquillage (shell) necklace paved with diamonds. This gender-fluid necklace has an otherworldly air and looks like nothing you have ever seen before. Boucheron Carte Blanche AllieursThe spiral structure of a shell, as viewed through an x-ray, is airbrushed onto the mother of pearl elements of this white gold coquillage (shell) necklace paved with diamonds. This gender-fluid necklace has an otherworldly air and looks like nothing you have ever seen before. Boucheron Carte Blanche Allieurs

Ahead of the curve for gender fluid high jewellery Boucheron's Volcano Man wears a torque choker made from Japanese burnt wood and diamonds, a necklace of mother pearl with airbrushed shell motif shell necklace and a diamond-set mother of pearl octopus single earring that writhes across one side of the skull. Boucheron Carte Blanche Allieurs  

Boucheron's Sand Woman jewels are an extraordinary mix of rattan, diamonds, gold and sea shells to create high jewellery that brings back the awe and magic of this most refined segment of the luxury world.  Boucheron Carte Blanche Allieurs Sand Woman jewels

Sky blue chalcedony combined with black onyx, rubies and diamonds are draped across this dazzling necklace that is inspired by the graphic carving found in Mesoamerican architecture and textiles. Since it was founded, Cartier has absorbed influences from around the world and given them a sophisticated twist. Cartier Beautés du Monde

Cartier's Beautés de Monde high jewellery offers a contemporary view of high jewellery through the prism of marvels from around the world. The Recif necklace in coral and emeralds captures the wonder of a rock pool in a classic Cartier colour combination and style. Cartier  Beautés de Monde high jewellery 2022

Cartier's Beautês de Monde high jewellery offers a contemporary view of high jewellery through the prism of marvels from around the world. The Recif necklace in coral and emeralds captures the wonder of a rock pool in a classic Cartier colour combination and style. Cartier  Beautés de Monde high jewellery 2022