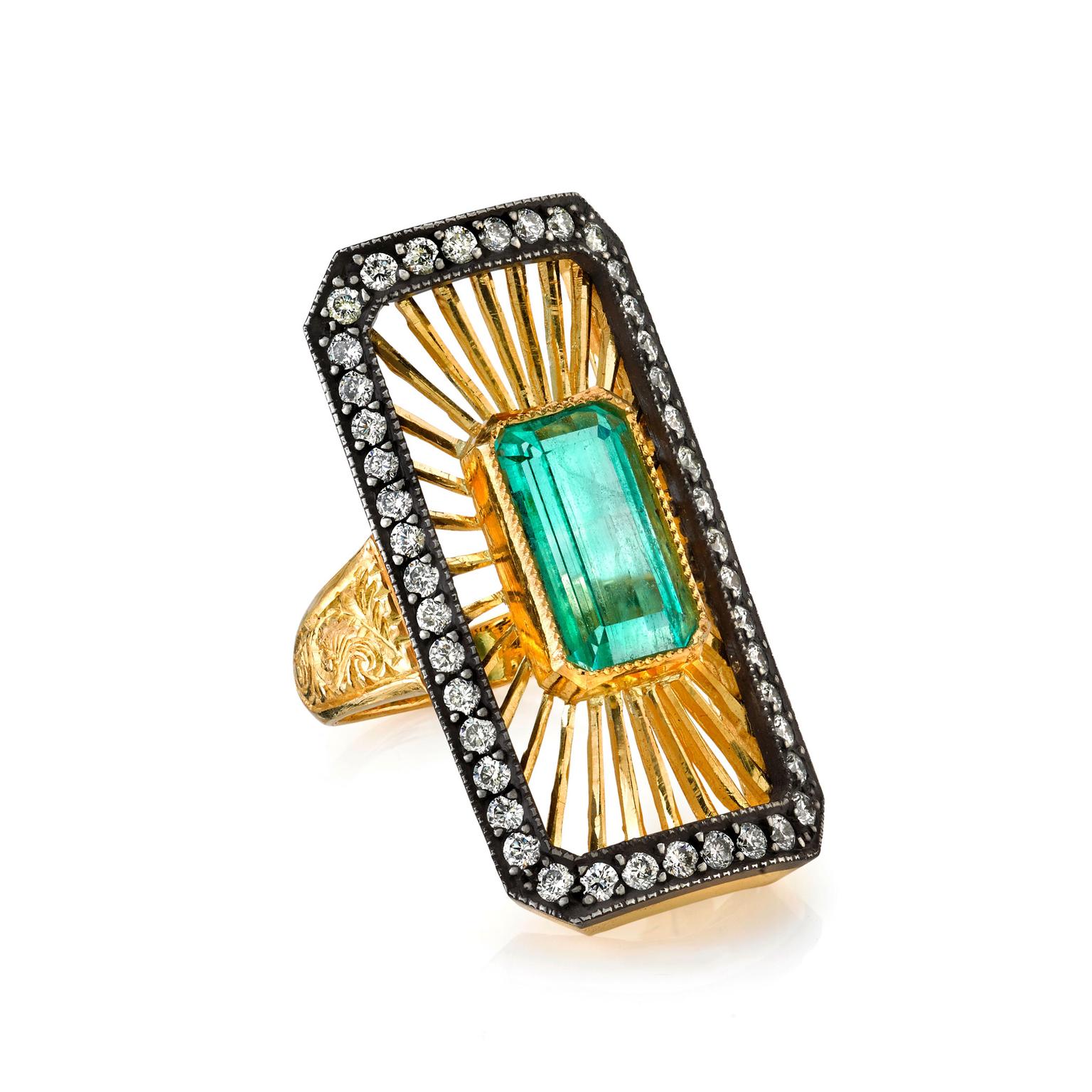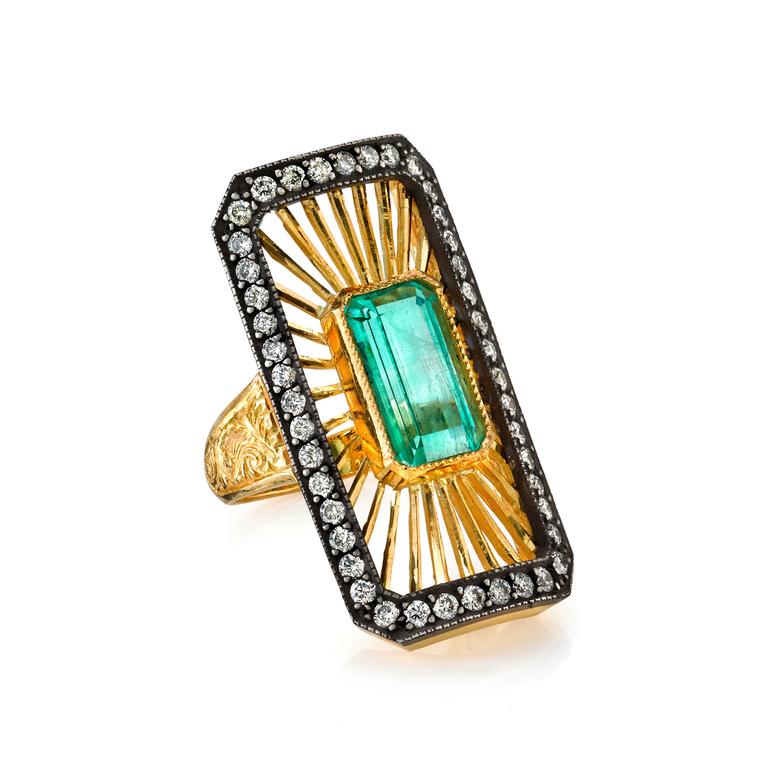 By Claire Roberts
One of the most influential eras in the history of design, the Art Deco movement continued to stamp its style on the Couture Show Las Vegas. However, this year, the telltale signs were more subtle - a splash of turquoise here, a golden sunburst there. Geometric references were also softened, with sparse use of the bold colors that typified the era, giving this year's Art Deco-inspired jewelry a thoroughly modern feel.
"Bo-Deco" is how award-winning fine jewelry designer Jane Taylor describes the look, which captures the effortlessly wearable spirit of her jewels. "The idea of merging a Bohemian lifestyle with a clean-lined Deco era sensibility has always been where my heart lies," she explains. "I'm not inspired to design based specifically on the Deco or the Boho periods. The thing I love to do most is merge geometric, streamlined concepts into something wearable, while holding on to the long-held romantic notions inherent in jewelry."
Art Deco jewelry was often bold, colorful and ostentatious, while the modern Deco look is much easier to incorporate into your everyday wardrobe. With Maiyet jewelry I had fun stacking slim, spiky bracelets inlaid with black horn and green malachite, and trying on a pair of earrings set with half-moons of white opal and detachable starbursts of diamonds, designed so just the studs can be worn by day.
Art Deco motifs were also on show at Silvia Furmanovich, where ear cuffs set with black and white diamonds fanned up the ear - a classic Deco color combination. At Jemma Wynne, a pair of drop earrings comprising golden circles intersected with a straight line of diamonds were just one of many fine jewelry pieces that gave off the most modern of Deco vibes.
"Our Revival collection was influenced by our combined love for Art Deco design, and the ornate and bold look of costume jewelry," says Jenny Klatt, one half of the design duo behind Jemma Wynne. "It draws on a time that represented luxury, glamour and a faith in technological progress. We have combined textural chains with bold geometric shapes to play with symmetry, and positive and negative space."
Amongst the best-known examples of Art Deco design is the Chrysler Building in New York, home to Fred Leighton - a legendary name in vintage and estate jewelry. Leighton also creates new interpretations of designs from some of the greatest eras in jewelry-making, such as this cabochon emerald and gold cuff. Mirroring the symmetrical curves of the spire at the top of the Chrysler Building, the off-center cabochon emerald - set at 45 degrees into gleaming, polished gold - propels this beautiful Deco-esque jewel firmly into the 21st century.
The baguette cut came to the fore in the 1920s and quickly become synonymous with Art Deco. The clean-lined geometry of this classic cut fit in perfectly with the design ethos of the time, when it was used primarily for accent stones. Nikos Koulis has added two rows of emerald and diamond baguettes to his Deco-fabulous open collar Universe necklace, while Nam Cho uses white sapphire baguettes as accent stones in her textural kyanite and sapphire necklace, which is part Navajo warrior, part Deco diva – two very distinctive styles that inspire Nam's designs.
One of my top three jewels at this year's Couture Show Las Vegas was Arman Sarkisyan's emerald ring - its Jazz era aura tempered by Arman's signature use of 22K gold and oxidized silver, which gives the ring a unique, old-world patina. The Deco references are clear - an emerald, one of the most popular gemstones of the time, and the sunburst design - but Arman has put his own twist on them, opting for a luminous, light green African emerald rather than a darker, more traditional, Colombian emerald, and encircling the golden sunburst in a halo of blackened silver.
Mizuki, best known for her minimalist designs, has updated her signature open hoop earrings with a stack of golden cubes, which spin when played with. The juxtaposition of sinuous curves and geometric lines is classic 1920s, but these edgy earrings are infused with nothing more than a whisper of the post-war era in which the Art Deco style flourished. While the 1920s continued to cast a spell over many designers at the Couture Show Las Vegas, there was nothing remotely vintage about their cool and comtemporary jewels. 
Read more about emerging jewellery trends at the Vegas Couture Show
Jane Taylor bib necklace with amethyst, iolite, French-cut white topaz baguettes, white topaz squares and turquoise cabochons. The baguettes and squares give it a Deco feel while the Boho turquoise softens the look. 

Jemma Wynne Revival circle drop earrings in gold with snake chain and diamonds.

Maiyet Dagger gold bracelets, set with black horn, malachite and diamonds.

Mizuki Diamond Stacked Spinning Cube Slice gold and white diamond earrings.

Maiyet Starburst opal earrings in gold with detachable diamond drops. 

Nam Cho Baguette necklace with emerald-cut kyanites, blue sapphires, blue sapphire cabochons and white sapphire baguettes. 

Nikos Koulis Universe necklace with lapis lazuli, brown diamonds and emerald and diamond baguettes. 

Silvia Furmanovich cuff earrings in gold, set with black and white diamonds.

Cabochon emerald and gold cuff, signed Fred Leighton. 

Arman Sarkisyan emerald and diamond ring in 22K gold with oxidized sterling silver.