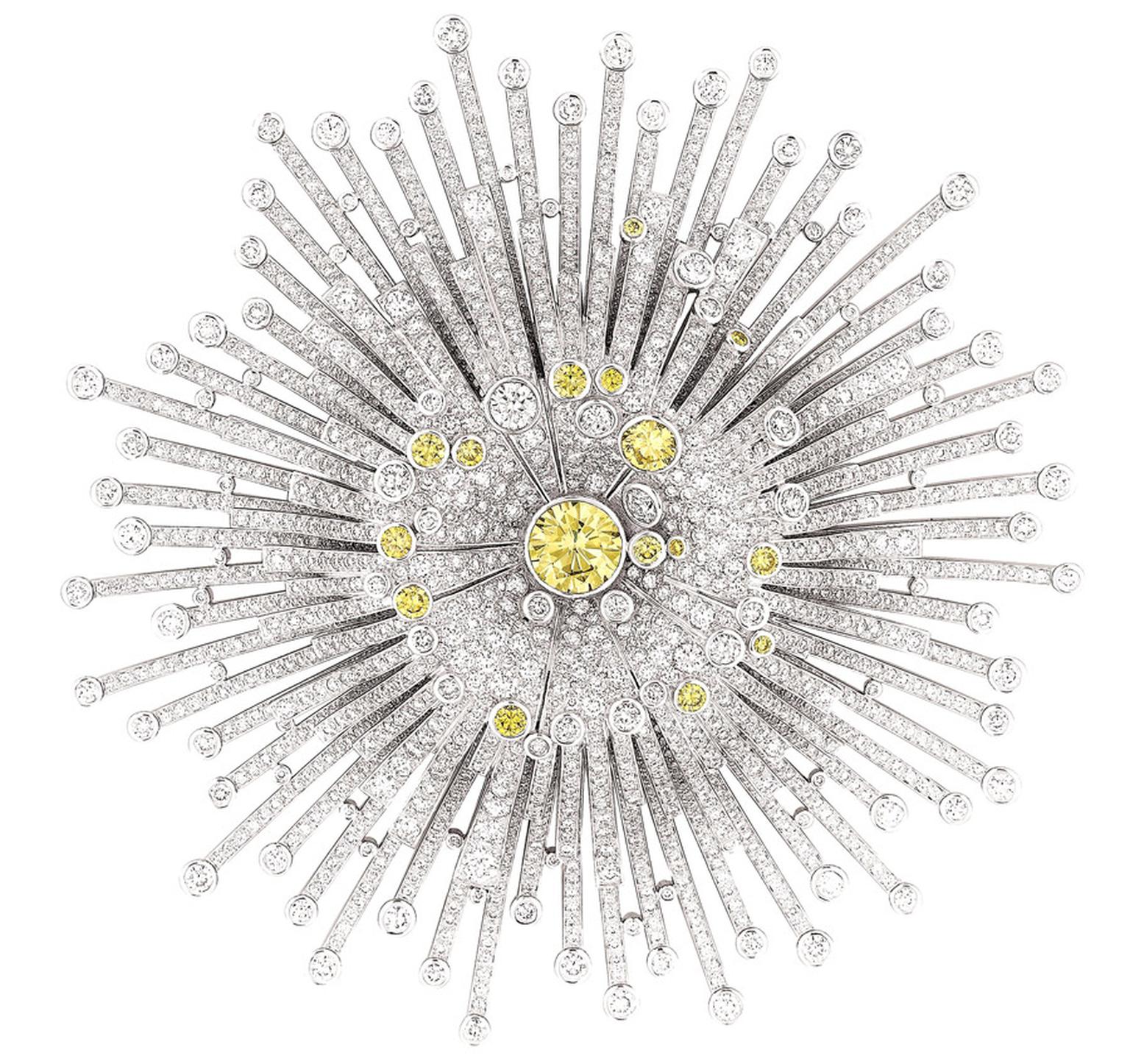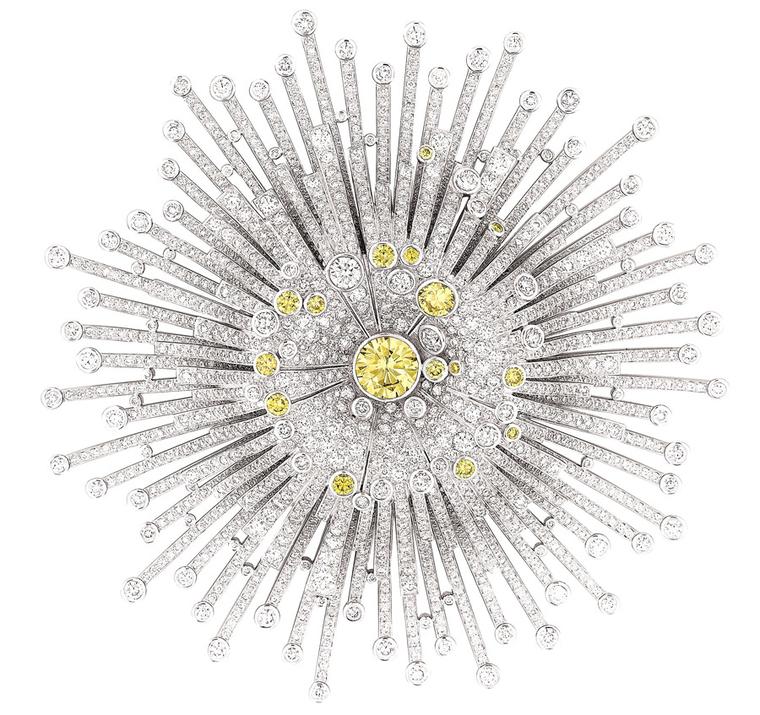 Chanel was at the Biennale des Antiquaires to present the '1932' collection of jewels that celebrate the 80th anniversary of Gabrielle Chanel's Bijoux de Diamants of 1932 in Paris. For the event, Chanel has created 80 diamond jewels that echo the themes of the original collection. The motifs dear to Madame Chanel and present throughout her work include stars, comets, suns, fringes, ribbons and feathers as well as Leo, the lion, her star sign. Chanel loved to wear her jewellery with as much liberty as her clothes and often wore several pieces stacked-up and was known to mix real gems with costume jewels. Always experimenting, her 1932 diamond collection could be worn in the hair or draped across a shoulder and 'open' rings made diamonds float over the finger as if by magic. Read more about the 1932 exhibition by clicking here. 
Like Chanel's original 1932 jewels, these re-interpretations are easy to wear with no clasps or fastenings and move with the same ease as her couture creations. Take the feather brooch that almost looks as if it is going to flutter with the slightest breeze and is so well articulated that it falls on the skin allowing it to be worn as a bandana, a brooch or pinned to the hip.
The star of the show is the Comète necklace that swoops around the neck and displays an impressive 15 carat white diamond set into the heart of the shooting star but there is plenty more.
An original Pathé film reel in black and white covers the original opening and best captures the audacity and admiration that exhibition commanded. Here is a transcript of the sound track that brings to the 1932 exhibition to life and puts these jewels into context.
"In her famous apartment on Fauburg Saint Honoré Chanel launches her new diamond creations. Wax busts protected behind glass rest on their plinths like antique torsos with ravishing eyes, curled lashes and genuine hair untouched by any perm, lily and rose is their complexion. Only a woman can scatter precious stones so gracefully through hair with jewels cascading like gossamer ribbon. Irregular stars on invisible thread echo the shape of the tiara. The Big Dipper becomes a pendant. There are inimitable bows and glittering suns of yellow diamonds set in gold. A comet coils gently around a neck without enclosing it completely. A bracelet - just a simple twist. Open rings display stones which sit magically between fingers. Chanel brings diamonds back into vogue by marrying art with apparent casualness."
From the new collection inspired by the 1932 exhibition, Chanel 'Come`te' necklace in 18ct white gold, set with a 14.8ct round-cut diamond, 823 round-cut diamonds totalling 61ct and 34 princess-cut diamonds totalling 1.9ct.

Chanel 'Nuit de Diamants' necklace in 18ct white gold, set with 319 brilliant-cut diamonds totalling 11.9ct, seven round-cut diamonds totalling 2.9ct and facetted black-diamond beads totalling 453.3ct.

Chanel 'Clair-obscur' cuff in 18ct white gold, set with 348 round-cut diamonds totalling 9.4ct and titanium.

This Franges diamond cuff from the Chanel jewellery collection, inspired by Coco Chanel's groundbreaking 1932 Bijoux de Diamants exhibition.

Chanel 'Cosmos' watch in 18ct white gold, set with 537 brilliant-cut diamonds with a total weight of 4.2ct, 29 fancy-cut diamonds totalling 3.8ct and 31 princess-cut diamonds of 0.9ct. Black satin bracelet. Quartz movement.

Chanel 'Constellation du Lion' ring in 18ct white gold, set with 157 brilliant-cut diamonds totalling 1.9ct, a 1.5ct round-cut diamond and a 91ct fancy-cut crystal.

From the new collection inspired by the 1932 exhibition, Chanel 'Etoile Filante' head jewel in 18ct white gold, set with a 1.0ct brilliant-cut diamond, 164 brilliant-cut diamonds totalling 11.7ct, 54 baguette-cut diamonds totalling 3.2ct, 22 princess-cut diamonds totalling 0.9ct and 40 fancy-cut diamonds with a total weight of 0.9ct.

Chanel 'Plume enchante´e' earrings in white gold, with 243 brilliant-cut diamonds totalling 4.8ct, four pear-cut diamonds, 142 round-cut pink sapphires totalling 11.8ct and 16 pear-cut pink sapphires totalling 10.6ct.

An article in 'VU' from November 1932 covering Madame Chanel's diamond jewels exhibition in Paris.

The original cover of the 1932 press kit for the exhibition, held in Chanel's own apartment.

The original 1932 Franges necklace, draped over one of the lifelike wax mannequins.

The original Noeud necklace from Chanel's 1932 exhibition.