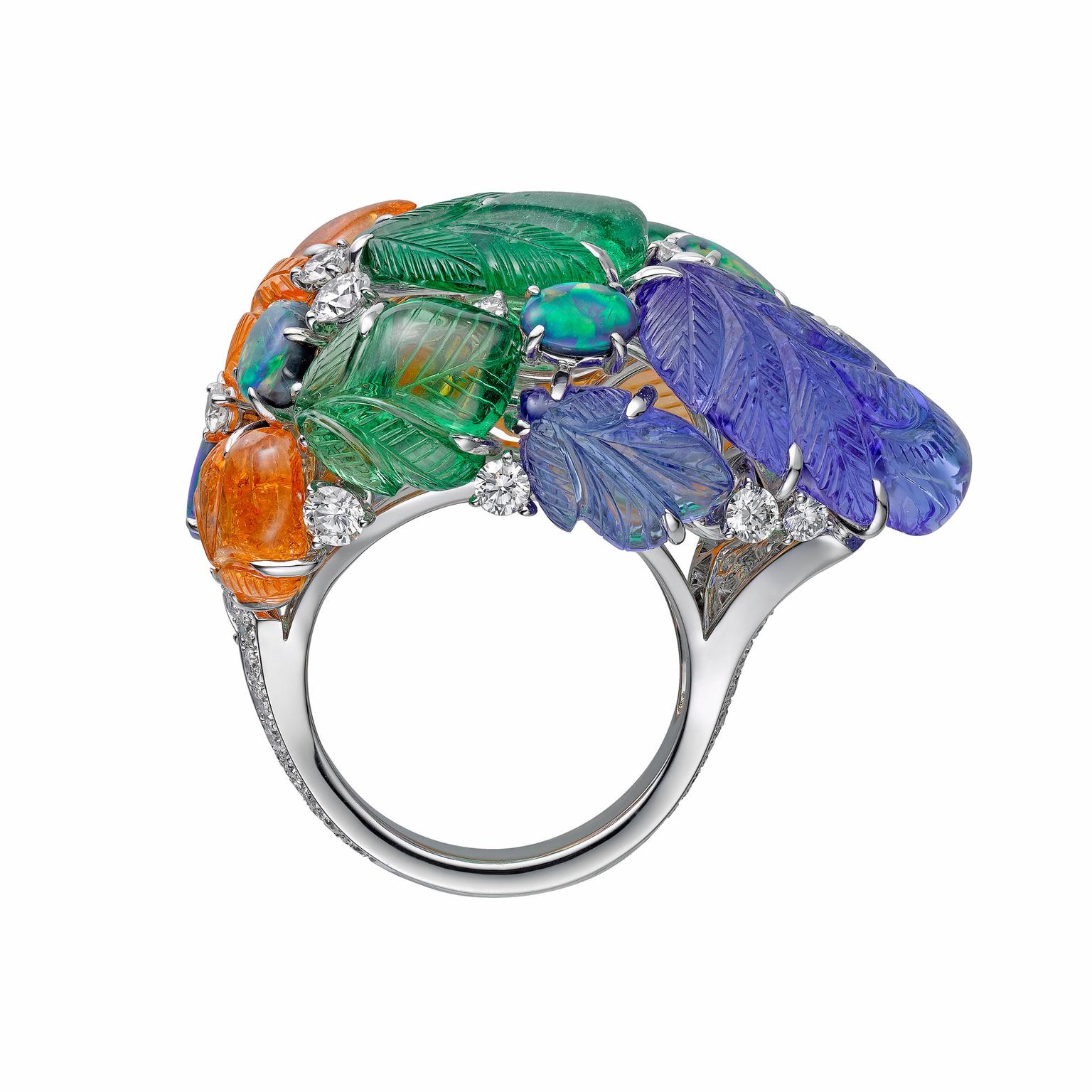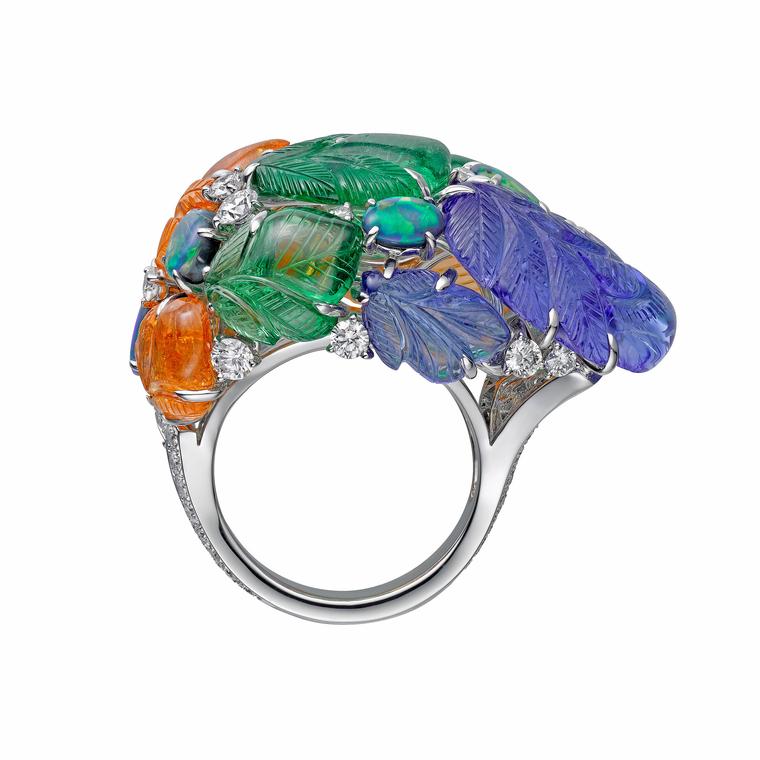 The line between art and jewellery has always been blurred, and carved gemstones are a perfect example of how the two worlds continue to collide.
These miniature sculptures, carefully crafted from different types of gemstone, add incredibly intricate detail to a piece of jewellery.
Read more about the ancient art of gemstone carving
Natures in all its form as well as mystical symbols such as the Hamsa are often incorporated into gemstones and the exquisitely detailed marble carvings on the Taj Mahal in India are also a rich source of inspiration for jewellers.
Cartier has been inextricably linked to India since 1901 when Pierre Cartier was commissioned to create a jewel for Queen Alexandra using stones from Indian jewels already in the Royal treasury. Carved gemstones, particularly emeralds, featured prominently in the Cartier jewellery produced in the lead-up to the Art Deco period, and the latest Cartier high jewellery collection, Etourdissant, revitalises the art of gemstone carving with mandarin garnets, tsavorite garnets and tanzanites transformed into detailed leaves on spectacular Cartier rings, necklaces and bracelets.
Read more about the Cartier Etourdissant collection
London based jeweller Flora Bhattachary often uses ancient Indian carvings as inspiration for her unique and sculptural jewellery designs.
"The first piece of jewellery I was ever given as a young child was a pre-Roman carnelian bird at an archaeological dig in Taxila so my love for carved gemstones started early," says Flora, who will shortly be adding pendants and earrings to her collection of carved stone cocktail rings. 
Gem cutters have engraved gemstones with images or inscriptions since ancient times when either flat-edged wheels or round-tipped drills were used to create intaglios that were considered the height of luxury. Relief carvings, where the design projects out of the stone, became popular in ancient Greece and are usually more detailed and impressive than intaglio images, which are cut into the stone. The Romans, Persians, Assyrians and Egyptians also turned rough gemstones into ornately carved jewels that were worn by members of the nobility and royalty.
German-based master cutter Bernd Munsteiner is renowned the world over as pioneer of modern relief carving. The sculptural pieces he and his son Tom create for their jewellery brand Atelier Munsteiner feature bold, colourful gemstones carved into geometrical and abstract shapes.
Read more about German jeweller Atelier Munsteiner
The process of gem carving today is much the same as it was in antiquity, although the tools used are slightly different. Once the rough gem has been selected it is cut to the desired shape but left slightly larger to allow room for the carving process. The stone is usually hollowed out by drilling through both ends and the rough form to be carved is also sketched on its surface. While ancient craftsmen relied on hand-powered tools, modern jewellers use an electric drill dipped in a slurry made from a mix of oil and an abrasive powder, usually diamond dust. For the final, more detailed, stages the gem cutter switches to tools made from softer materials, such as wood or leather, and a slurry containing a finer abrasive.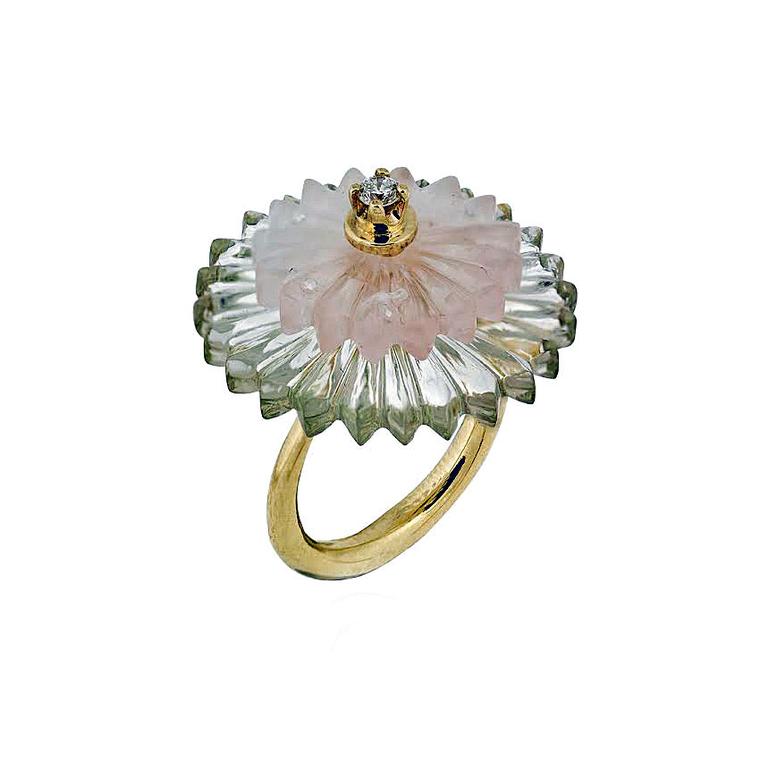 It may sound simple, but gemstone carving is both highly skilled and labour intensive. The ethereally beautiful rock crystal and quartz flowers in the Summer Snow collection by British jewellery designer Alice Cicolini are a case in point. Hand carved in Jaipur by a craftsman whose regular job is a sculptor and furniture maker, the disks for each piece can take up to a month to create.  A lathe is used to form the basic shape before details are hand cut into the stone, ensuring that, while the design is the same, there are incremental differences between each handcrafted piece, which add a very human quality to the Summer Snow collection.
Read more about British jewellery designer Alice Cicolini
"I have found it impossible to find a European producer who can recreate the disks," says Alice. "Disarmingly simple, the fact that the ridges are on both sides, and angular rather than rounded, makes them extremely difficult to produce on a machine in their entirety."
Lebanese-born Sylva Yepremian recently opened an atelier in Los Angeles for Sylva & Cie, the fine jewellery brand she runs with her husband. Inspired by antique jewellery, especially from the Art Deco period, she creates one-of-a-kind pieces that combine a contemporary edge with an organic, earthy feel. Her fine jewellery collection comprises pendant necklaces with different types of gemstones, including opal, turquoise and carnelian, carved into symbolic motifs such as the Hamsa hand, Buddha and Egyptian scarab.
Read about the superstitious history of opal jewellery
Each jewel is handcrafted in LA, ensuring that no two pieces are ever the same as there are always small differences in the stone facets and distressed gold patina.
Almost any types of gemstones can be carved with intricate motifs, although the technique is most often used on semi-precious stones. The latest Corrado Giuspino jewellery collection features pendants with round discs of hand-carved jade paired with other coloured gemstones and set in white gold. American jewellery designer Pamela Huizenga also uses a variety of gemstones, such as tanzanite, aquamarine and jade, often in combination with white diamonds.
One of the most spectacular carved jewels we have come across this year is a Graff necklace featuring 181.18ct of historical carved rubies sourced by Mr Graff himself. The leaf-shaped rubies are framed by sparkling diamonds while the centre stone is a huge rose carved tourmaline in the same shade of red as the rubies.
Flora Bhattachary rings from the Jyamiti collection, with hand-carved flowers, set with diamonds and peacock pearls.

Atelier Munsteiner hexagonal gold earrings with amethysts, carved from within. German-based master cutter Bernd Munsteiner is renowned the world over as pioneer of modern relief carving.

The rock crystal and rose quartz disks in this 9ct yellow gold and diamond ring from Alice Cicolini's Summer Snow jewellery collection have been hand-carved in Jaipur. 

Alice Cicolini hoop earrings in 9ct yellow gold with hand-carved rock crystal and rose quartz set with lavender sapphires and white pavé diamonds from the Summer Snow collection. 

Sylva & Cie pendant with a hand-carved opal matrix in the shape of an Egyptian scarab, framed by brilliant-cut white diamonds and anchored by a deep blue Ethiopian opal.  

Sylva & Cie pendant in yellow gold with a hand-carved chrysoprase snake motif framed by round brilliant cut diamonds and 2.65ct of rough diamonds. 

Corrado Giuspino hand-carved lavender jade pendant with amethyst and prehnite in white gold. 

Corrado Giuspino hand-carved jade pendant in yellow gold with milky aquamarine and prehnite.

Pamela Huizenga earrings in yellow gold with carved tanzanite, tanzanite cabochons and white diamonds.

Pamela Huizenga yellow gold ring with a large 48.56ct carved aquamarine and white diamonds. 

Ruby, tourmaline and diamond necklace by Graff set with 181.18ct of carved, leaf-shaped rubies and a 41.40ct carved rose tourmaline.

Pushkar ring from the Étourdissant Cartier high jewellery collection in white gold with carved mandarin garnets, carved tsavorite garnets, carved tanzanites, cabochon-cut opals and brilliant-cut diamonds.