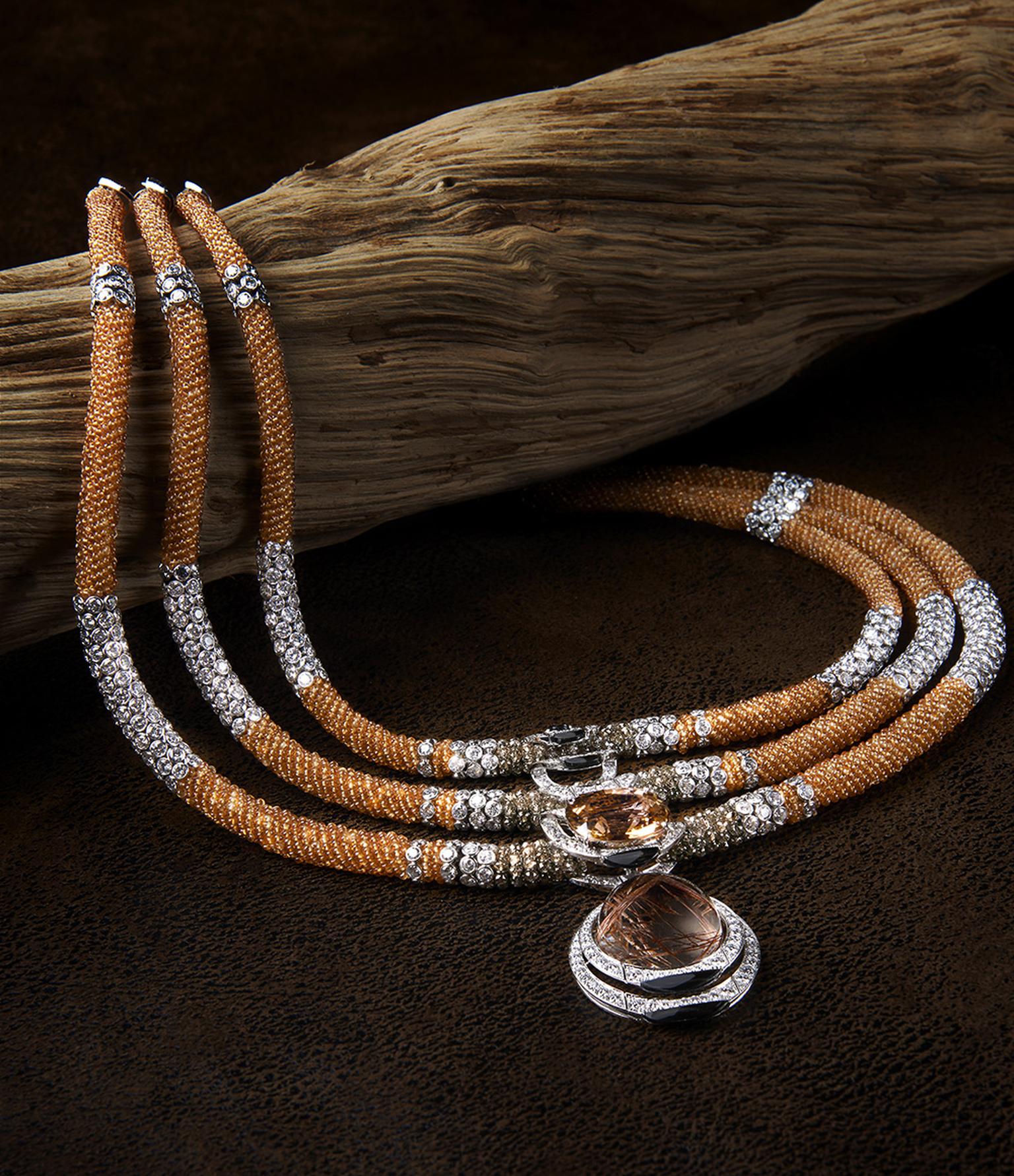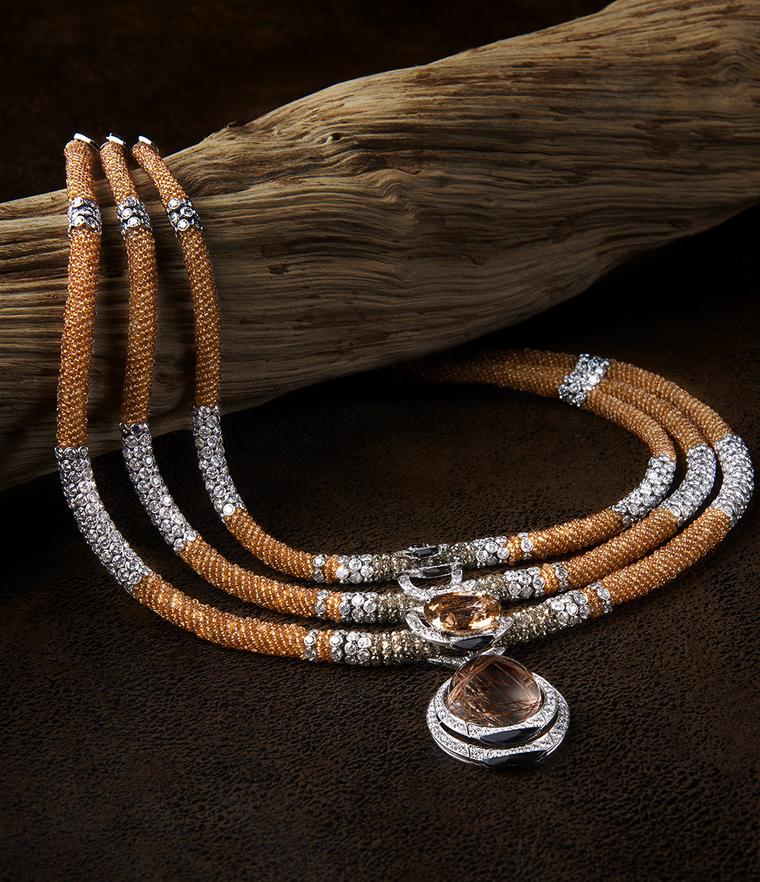 Cartier whisks us around the world on a journey like no other with its new high jewellery collection called L'Odyssée de Cartier Parcours d'un Style, a preview of which I saw in Paris this July. The searing golden-brown heat of an African sunset, the shimmering pulse of a city and the delicate beauty of Asian art are distilled and captured in this impressive new collection.
Though there is something so Cartier about the jewels - the striking colour combinations, the richly carved stones and the bold geometric patterns - this is a brand new voyage that opened my eyes wide to new ways of seeing both the world and Cartier, which is exactly what travel should do.
As expected from this most respected of the Place Vendôme jewellers, a breathtaking range of precious stones are mustered, including sapphires, emeralds and, of course, diamonds. But in this exciting voyage, lesser-known gems such as rutilated quartz, mandarin garnets and obsidian are ushered into the story with magnificent results.
As well as exploring new territories in colour and stone combinations, Cartier has also travelled beyond the traditional gem-setting and jewellery-making boundaries. Take the 'Solar' necklace, inspired by the ochre hues of an African sunset and sandy undulating dunes. As if teasing, the form of the necklace, which reminds us of primitive African tribal jewels and beads, belies a complex construction of precious materials woven into an entirely new narrative.
While your eyes are drawn to the orange tourmaline that glows like warmed earth and the central rutilated quartz with its strands of golden fire that evoke the splendour of the setting sun, if you look again you will see that the rutilated quartz is suspended, as if floating, surrounded by two rows of brilliant diamonds - a carefully constructed piece of jewellery-making bravado.
The 'Zebra' bracelet, in the form of a traditional African bangle, brings to life the skin of this animal with a highly complex setting technique that mixes different-sized diamonds to form undulating bands of brilliant white against softly curved, irregular-shaped black onyx stripes. Look inside the bracelet and a lace-like structure of white gold is hard at work supporting the gracious flow of stones on the outer faces of the bracelet.
We visit China through a bracelet with a central 66.43ct carved rubellite set with brilliant diamonds - a masterful feat of the gem-setters chez Cartier. Two ferocious dragons, whose writhing forms are painstakingly set with diamonds and onxy,  guard this precious stone, which draws you in with its infinite circles of time everlasting.
And no Cartier collection would be complete without a stopover in India, the country that so inspired the globe-trotting Cartier brothers in the early 20th century. They came back from the land of maharajahs with brightly coloured, carved stones, which they set in a joyous clash of lush colour to create what is now the iconic Tutti Frutti jewels. A new interpretation of the traditional colours of India is found in the show-stopping necklace with a 67.94ct carved sapphire set at its heart. Melon-cut emeralds, soft sapphire beads and curling diamond-set platinum leaves and beads cascade down the neck as free as running water in this spectacular necklace.
In contrast, the geometry, order and non-stop intensity of the city is captured in the diamond and platinum bracelet. Art Deco-style arches harbour impressive cushion-set diamonds that encircle the wrist, all underpinned by a lattice of platinum: a complex construction designed to show the diamonds in their best possible light.
Cartier's master craftsman diamond-sets parts of the L'Odyssée high jewellery necklace by hand.

The rutilated quartz cabochon and mandarin garnet beads before they are set in the necklace.

The L'Odyssée de Cartier high jewellery 'Solar' necklace in the process of being made, overlaid on the original drawing.

The 'Solar' necklace undergoes a threading test to ensure it will sit perfectly on the skin.

Setting the L'Odyssée de Cartier high jewellery bracelet with onyx.

The 'Zebra' bracelet from the L'Odyssée de Cartier Parcours d'un Style high jewellery collection features undulating bands of brilliant white diamonds against the irregular black onyx stripes.

The Cartier L'Odyssée de Cartier Parcours d'un Style 'Zebra' high jewellery bracelet in white gold, onyx, garnets and diamonds viewed from the side.

The L'Odyssée de Cartier Parcours d'un Style 'Solar' high jewellery necklace is a riff on African tribal jewels and what Cartier describes as 'art brut'.

The different elements in L'Odyssée de Cartier's high jewellery 'Solar' necklace are laid out before they are assembled.

The first of two high jewellery necklaces in Cartier's new L'Odyssée collection, called 'Solar, which is set with a 21.13ct cushion-shaped orange tourmaline, cabochon-cut rutilated quartz, mandarin garnet beads, brown diamond beads, obsidian and diamonds.