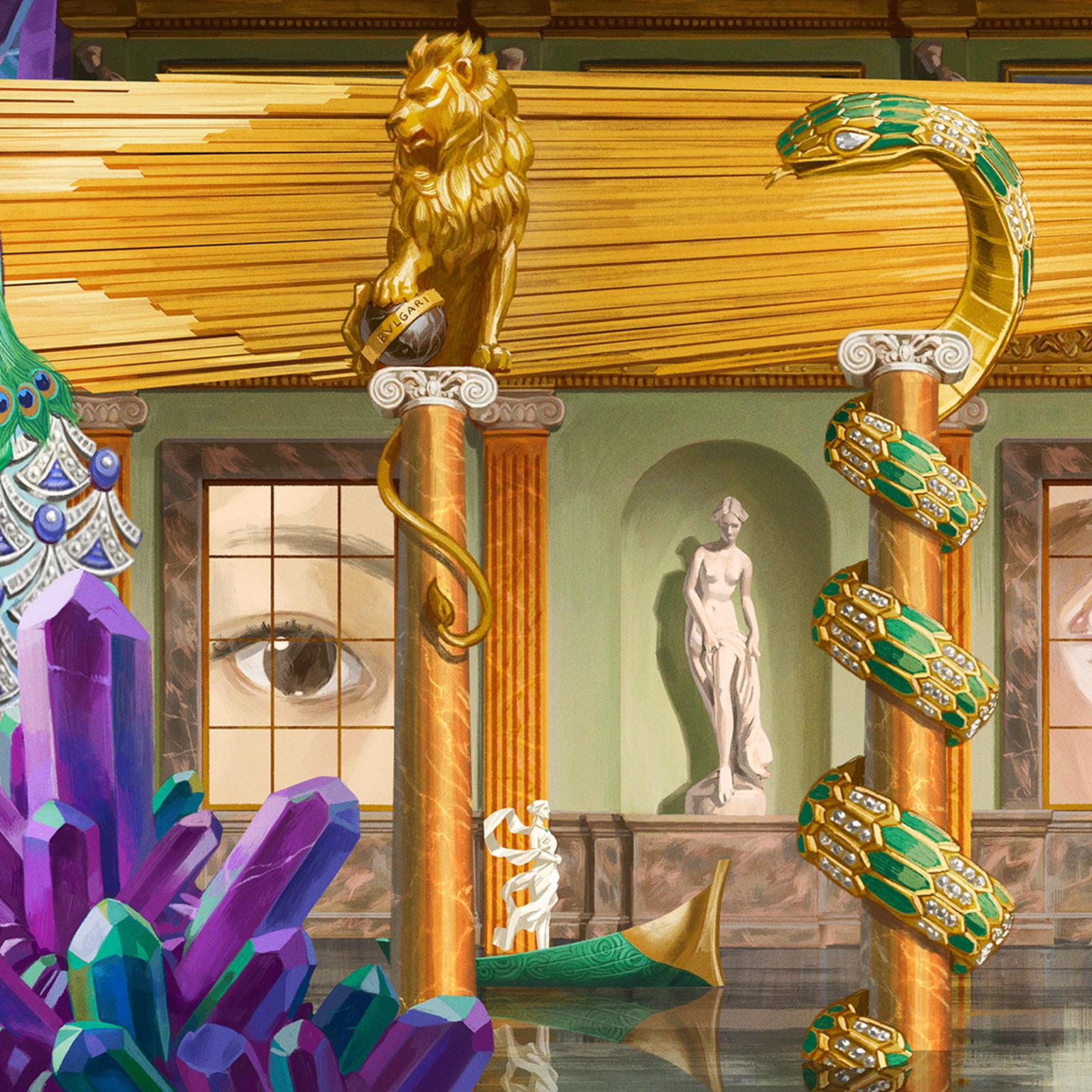 Despite global lockdown, in mid-July Bulgari bravely held a virtual unveiling of Barocko, the latest of its annual high jewellery collections. Barocko is as passionately extravagant as we have come to expect from this Roman jeweller and the new jewels offer a high voltage dose of exuberance and all the glamour you could possibly hope for.
Following on from the 2019 Cinemagia theme of Italian film-making and the 2018 Wild Pop Warhol-esque inspired extravaganza, Barocko is all about the art of the Italian sixteenth century.  And as its name suggests, this is a baroque flourishing with a contemporary twist. Tapping into the sensuality found in the richness of forms, texture and the wealth colour of this era, Bulgari makes the baroque a very sexy proposition indeed.
Ignasi Monreal, a Spanish artist living in Rome, was commissioned by Bulgari to create an animation and series of illustrations to set the mood. Monreal explains: "(This is) Italian Baroque but reviewed through a post-modern lens. It's a camp re-telling of the famous Cavern allegory by Plato." That certainly does set the scene for a high-colour, opulent remix of Italy's great cultural flourishing. Inspiration comes from the artists and architects who etched its inimitable style in our global consciousness for perpetuity.
The baroque style is brought to life through generous volumes, plentiful use of vivid gemstones, an abundance of curlicues and sumptuously indulgent details in each of these one-of-a-kind jewels. The idea for the collection was sown during early morning walks around Rome by Lucia Silvestri who is Creative Director and Head of Gemstone Buying. Ms. Silvestri says of Barocko: "The thing I really loved about creating this collection is that Baroque is perfectly imperfect in shape and wonderfully rich in colour, as we are here at Bvlgari. We interpreted the movement with a touch of rock attitude for style, because Bvlgari is also rock! Thanks to our craftsmanship, the shape and volume of the collection ensures Bvlgari's bold aesthetic vision, creating a rich collection for both design and quality. The unique stones and colour combinations that we've used in Barocko recall the magnificence of Rome and Bvlgari, spreading a message of joy and positivity."
Only an Italian jeweller with the audacity of Bulgari could bring to life with such vibrancy this golden era of history and make it relevant all over again. This daring recreation of a time long past reminds us of the evocative power of strong design, exquisite craftsmanship and the very best gemstones. Who would have thought that we would be swooning over jewels that pay homage to the greatest names of the baroque era such as Bernini, Borromini or Caravaggio that most of us only know through dry textbooks or long forgotten museum visits?