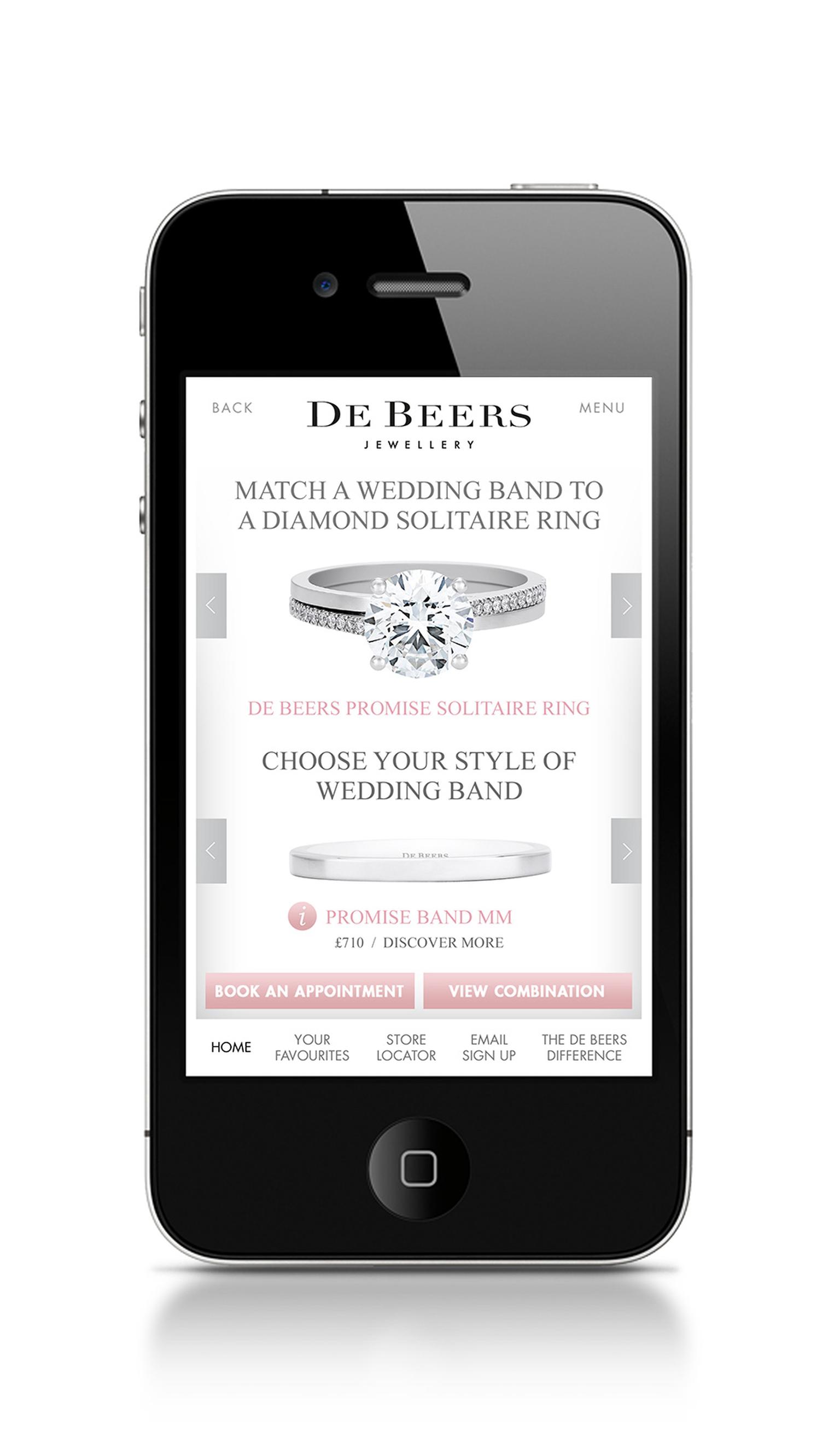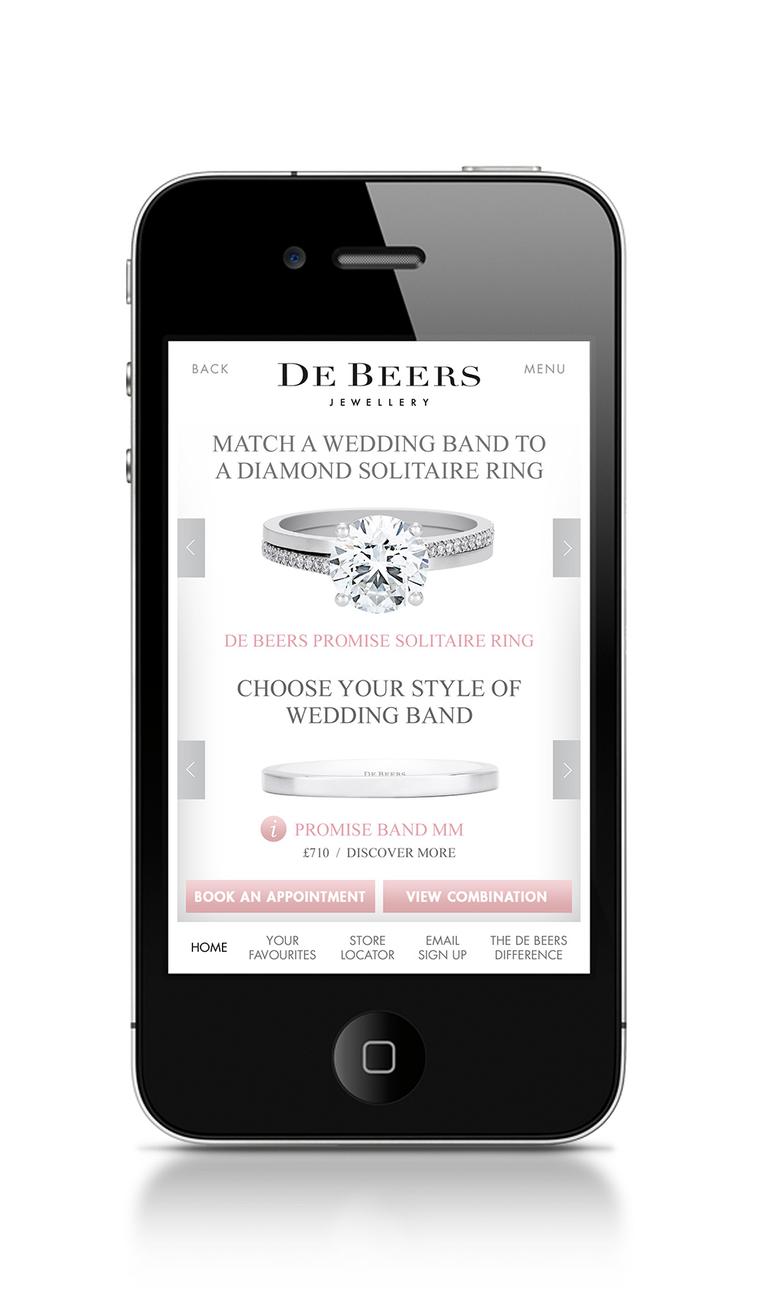 Swishing through images on our tablets and smartphones has become second nature. More than 50% of smartphone users in the UK access the Internet daily from their device, and tablet usage is also on the increase, as iPads and similar handheld tablets become an indispensible fourth screen in many households. We're an app nation, too, downloading more - and spending more time using them - than ever before, and the world of fine jewellery has caught on. With the latest bridal apps you can scroll through images of beautiful jewels in super-detailed high resolution, create wish lists of your favourite pieces, send them to friends and zoom in for close-ups.
The trailblazer was Tiffany & Co, which launched a bridal app in 2010 and received a massive 800,000 downloads within the first year. The app, which allows you to share and save your favourites, as well as view them in motion on a hand, is easy to use and typically chic. Browse rings according to shape, setting, metal and design, and view them from all angles, including the glamorous Tiffany Embrace (from £9,450), launched in 2009 and already a classic. To get in the mood, check out Tiffany's What Makes Love True app - part of a recent, hugely successful social media spin off to its original What Makes True Love campaign. Mr Tiffany would be proud.
More recently, legendary French jeweller Van Cleef & Arpels and diamond jeweller De Beers have been getting in on the act. De Beers' new app comes in five different languages and is incredibly slick, with razor-sharp images of their latest bridal collection and videos of in-house experts giving advice on how to choose the best ring for you. In just a few clicks, you can flag your favourite rings, set up an appointment and decide on your preferred wedding ring combination. The app itself is easy to follow and incredibly enticing. Take a peek at the latest Bridal collection - it includes everything from a Classic Solitaire engagement ring (£1,150) to the new Promise 18 ring, a duo band that holds a 0.18ct diamond crafted with exquisite pave diamonds (£2,150).
Over at Van Cleef & Arpels, the Maison's app - for iPad use only - homes in on its unique jewellery craftsmanship, which you can learn about in just a few quick clicks. The collection is cleverly laid out, brides-to-be can share their favourites via various social media networks, and there is a page designated to finding your ring size, in French or American. Highlights include the new Perlee pink-gold and diamond collection (from £3,200) and the Romance wedding band (£4,850) - a ribbon of pure diamonds crafted using the same technique as the Maison's high-jewellery collection.
Launched earlier this year, Hirsh now has its own app, which you can use to browse elegant engagement rings alongside its other collections. Hirsh is an independent British jeweller, and it's great to see the London-based brand using the latest technology to widen its fan base. The app itself is beautifully simple. Navigation is easy and images are exceptionally detailed, showcasing gorgeous handmade pieces like the Artemis ring, set with a rare, 2.01ct natural yellow diamond  (£34,995), and the classic Regal ring, with a central, 1.05ct cushion-cut diamond (£8,995).
Legendary French jeweller Cartier also launched a bridal app recently, which is currently available in the US only (we're hoping it makes it to our shores soon). Blending Cartier's signature style with cutting-edge technology, you can browse engagement rings and wedding bands, view them in close up and store your favourites in a wish list. A unique "Set for you by Cartier" function allows you to customise a ring according to price, carat, color and clarity and view the life-size finished product, a practical way of discovering how much diamond you can get for your buck or a fun tool for creating the Cartier engagement ring of your dreams.
Words by Mary Sanderson. 
Tiffany Embrace platinum ring with a round brilliant central diamond (from £9,450)

De Beers Classic Solitaire ring in Platinum (from £1,150)

De Beers The Promise 18 platinum ring with a 0.18ct central solitaire (£2,150)

Hirsh London jewellery app

Tiffany Engagement Ring Finder app

Van Cleef & Arpels Romance platinum and diamond wedding band (£4,850)

Van Cleef & Arpels bridal app for iPad

Van Cleef & Arpels Perlee Solitaire ring in pink gold, available in four carat weights of diamond (from £3,200)

Hirsh London Artemis ring in platinum, set with a 2.01ct natural fancy vivid yellow emerald-cut diamond (£34,995)

Hirsh London Regal platinum ring set with a 1.05ct cushion-cut diamond (£8,995)

De Beers bridal app