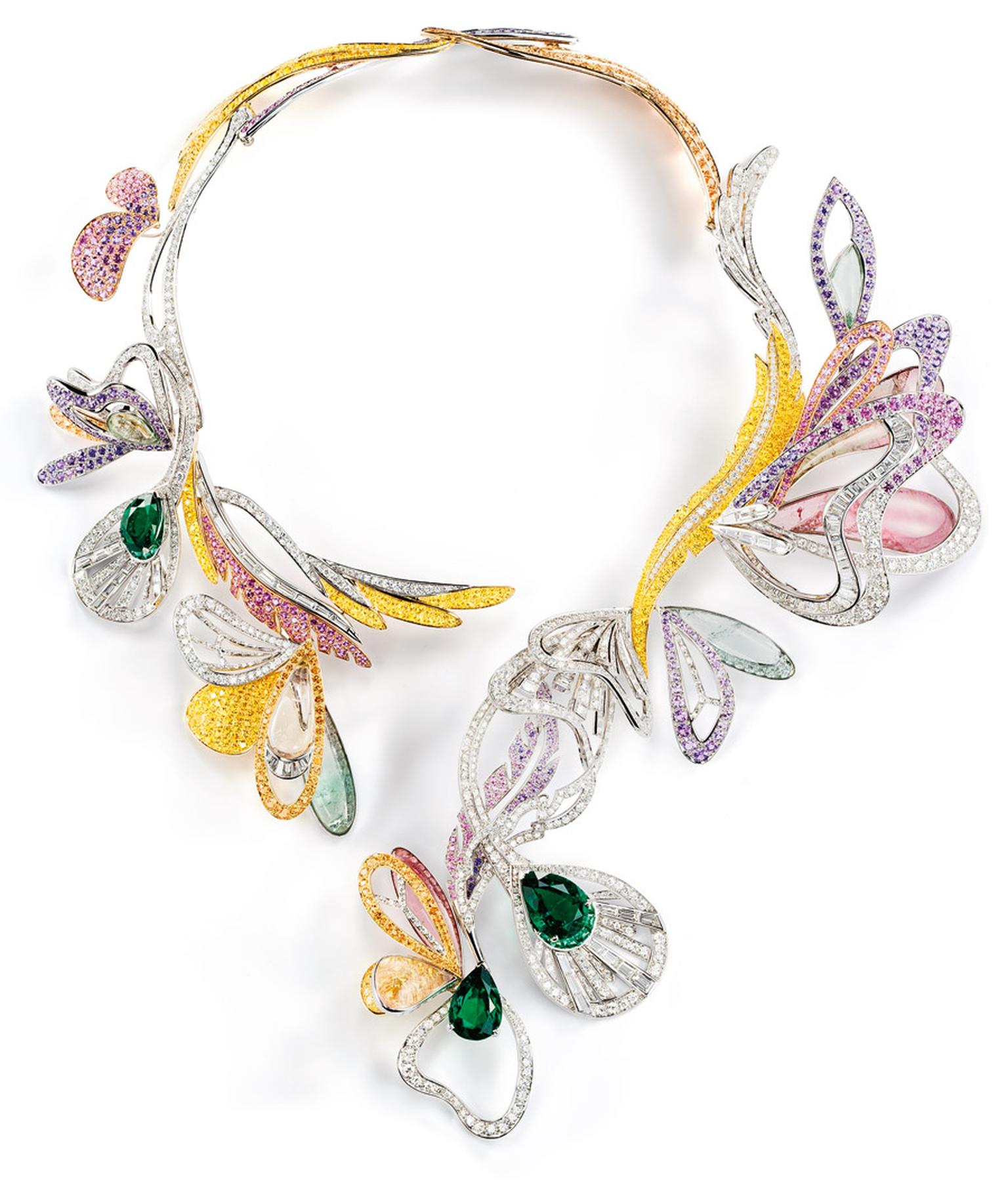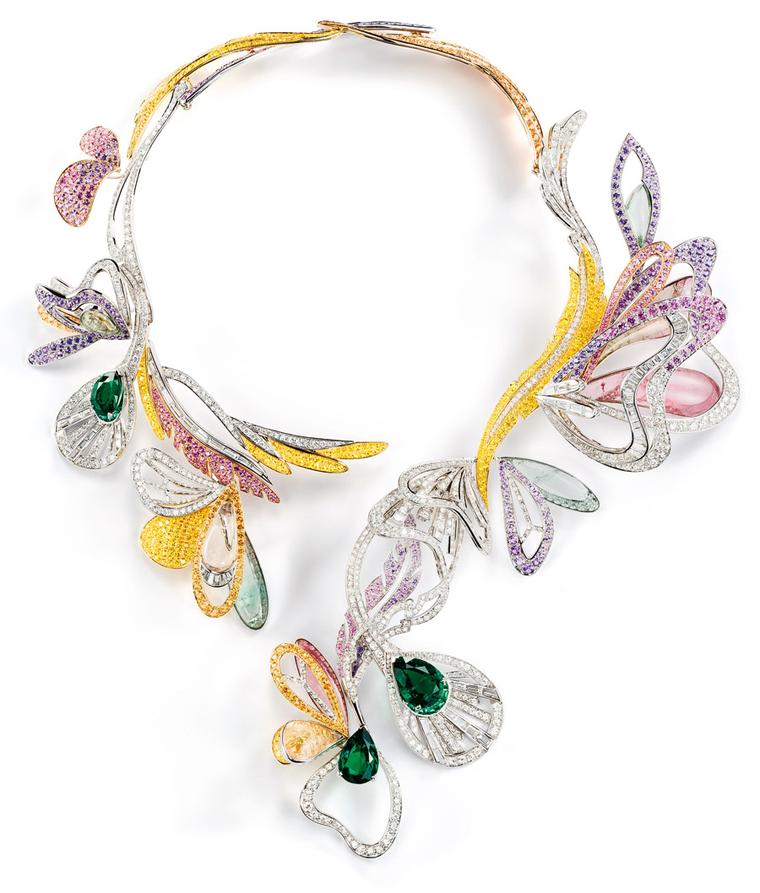 Boucheron are back at the Bienanale des Antiquaires and they have arrived in grand style with a collection that takes a new look at the icons of this Place Vendome jeweller and the results are spectacular. The snake, chameleon and ivy of the house's rich heritage are re-worked into exciting and unexpected new forms.  
In February the recently appointed CEO Mr. Pierre Bouissou said "it is with great pleasure that Boucheron returns to the Biennale des Antiquaires this year, an event that glorifies our trade. With its rich heritage and innovative creations, the collection will be a celebration of the Maison's savoir-faire, fully revealing its unique craftsmanship". The L'Artisan du Rêve collection on show at their 119 year old 26 Place Vendôme boutique was stylistically varied and experimental in its use of stones and techniques using exuberant colours and playing with the icons that we associate with Boucheron such as the snake, the Delilah woven gold necklace and of course the chameleon.
The Bouquet d'Ailes quite literally trembles with light as air butterfly wings set with colourful stones, emeralds, sapphires  and diamonds  all formed into organic curves perfectly mirroring their inspiration. Using the 'en tremblant' technique the entire necklace quivers and flutters. Like the signature piece of the Maison, the 1867 Point d'Interrogation necklace, the necklace forms a question mark shape that sits delicately and asymetrically on the neck. Similarly, the peacock inspires the Plume de Paon jewellery. Our eyes were drawn to deep green emeralds with diamonds on necklaces, rings and pendants that flowed effortlessly over the body. Instantly recognisable is the Serpent necklace, perhaps the most iconic of Boucheron's animals. In its re-incarnation, the necklace represents just the skin of the snake and the hollow tubular links are set with rock crystal 'windows' that allow glimpses into the diamond settings inside. Opal, diamonds and rock crystal create a shimmering effect for this new take on the Serpent.
Although elements of the Maison's archives inspire each piece, a wide variety of colour schemes are used in this new collection. Both the Nature de Cristal and Perle au Trésor show a subtler, but no less opulent colour palette of diamonds and opals all woven into a truly inventive design. The Perle au Trésor continues Boucheron's tradition of jewellery that can be worn in more than one way. A mother of pearl, diamond and opal ball transforms and comes apart into a necklace, two brooches and a bracelet. Look out for this enigmatic treasure chest at the Biennale. The Nature de Cristal pieces also convey a sense of storybook magic. We see crystal domes revealing cushion-cut diamonds and rock crystals inside and out; the simplicity of the idea and palette create a powerful effect  as a bracelet, brooch, or necklace.
Claire Choisne was personally chosen by Pierre Bouissou as the new head of creation at Boucheron, and the L'Artisan du Rêve collection is her dramatic debut. With a creative heritage as rich and playful as Boucheron's, the changes at the top have added a new sense of vitality to one of Place Vendôme's most respected jewellery houses, changes that have stayed true to the archives of old.
Boucheron Perle au Tresor 'object' design with all pieces together.

Boucheron Perle au Tresor 'object' design as it unfurls the pieces contained within.

Boucheron Bouquet d'Ailes brooch set with colored sapphires, fine stones and diamonds.

Boucheron Lierre de Paris rough and faceted diamond necklace.

Boucheron Mosaique Delilah diamond and coloured sapphire earrings.

Boucheron Mosaique Delilah morganite, diamond and colored sapphire necklace.

Boucheron Bouquet d'Ailes brooch set with emeralds, colored sapphires, fine stones and diamonds.

Boucheron Lierre de Paris rough and faceted diamond studs.

Boucheron Lierre de Paris diamond ring.

Boucheron Serpent diamond, opal and rock crystal necklace.

Boucheron Nature de Cristal diamond and rock crystal necklace.

Boucheron Plume de Paon emerald and diamond necklace.