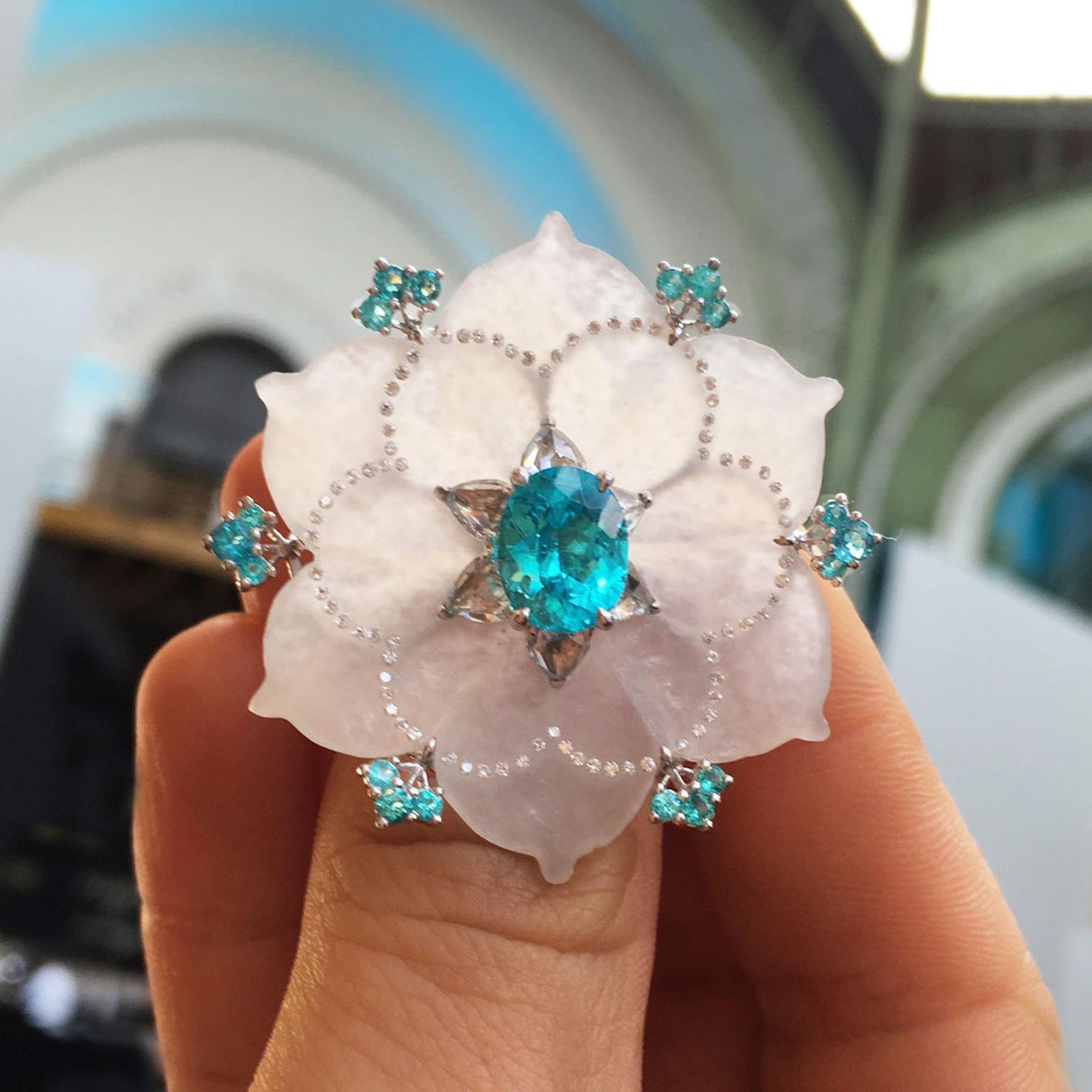 The magnificent steel glass house structure of the Grand Palais houses one of the most anticipated antique and jewellery exhibitions of the year: the Biennale des Antiquaires. And this year, amongst the antique and art dealers offering Picassos, Roman statues and pre-Colombian artefacts, were four high-end jewellers, among them Boghossian of Geneva.
Boghossian is a niche brand known by sophisticated and savvy jewellery collectors as the go-to place for outstanding quality yet truly different jewels. Based in Geneva, the family has Armenian roots, and though the brand may only be less than a decade old, six generations of Boghossians have been handling highly valuable stones and creating bespoke jewels on a commission basis. This confidence shines out in the jewels, which marry eye-wateringly valuable gems with highly creative designs.
The centrepiece of Boghossian's stand was the display of seven glowing green jadeite orbs that make up the Imperial Jadeite Bead necklace. Each of the chestnut-sized beads dates back to the Qing Dynasty and was lit up from behind to emit a verdant halo of light. Like moths to candlelight, the luminous spectacle drew in visitors, both cognoscenti and novices alike.
Captivated by the glowing jade, no visitor could leave without pausing in awe at the sheer value and brilliance of the majestic Fancy yellow and white diamond necklace. The necklace is a spectacular assembly of 250 carats of diamonds, with the central yellow diamond alone weighing 50 carats.
There are few jewellers in the world that can summon such a display of diamonds both in terms of size and quality, and if that weren't enough, there is a matching pair of 50 carat earrings and a 10 carat yellow diamond ring.
With barely time to catch my breath, next to it was a 120 carat Colombian emerald necklace with more than 200 carats of diamonds. The prowess of Design Director Edmond Chin is evident in the harmonious design, which mingles ropes of diamond briolettes and marquise diamonds, from which are suspended 15 fabulous cushion-shaped emeralds.  
Though I wouldn't say this necklace is easy to wear, as it inevitably commands a certain formality, it moves with ease on the body thanks to the layers of diamond briolettes.
Still one of the most sought-after coloured gems, Paraiba tourmalines shone out their electric-blue light at Boghossian. Two rows of diamond beads cinched an impressive 62.75carat Paraiba tourmaline in a spectacular lariat-style necklace. Perhaps it could be worn with the Kissing Diamonds ring, on which a diamond seems to hover on top of a Paraiba tourmaline?
Unusual combinations of colour and texture are another Boghossian forte, and the Paraiba tourmaline and nephrite ring, with matching earrings, were among my favourite pieces. The translucent texture of the milky-blue nephrite carved into the shape of a flower is the perfect backdrop for dramatic flashes of Paraiba tourmalines, highlighted by a dainty row of diamonds set into the nephrite itself.
One ring that kept drawing me back was a sapphire and diamond ring. The combination of blue and white may be traditional, but not when Boghossian takes over.
Here, a deep-blue oval-cut sapphire is flanked by diamond-set teardrops, creating a fluid and sensuous form transforming the traditional into something new and strangely beautiful.
What will Boghossian dream up next? Well, here is a little insight into the latest creations. Ever striving to bring light into jewels, Boghossian has perfected highly complex stone-setting techniques that draw on the skills of master stone cutters and setters. The latest breakthrough is showcased in a groundbreaking new collection that launches in November.