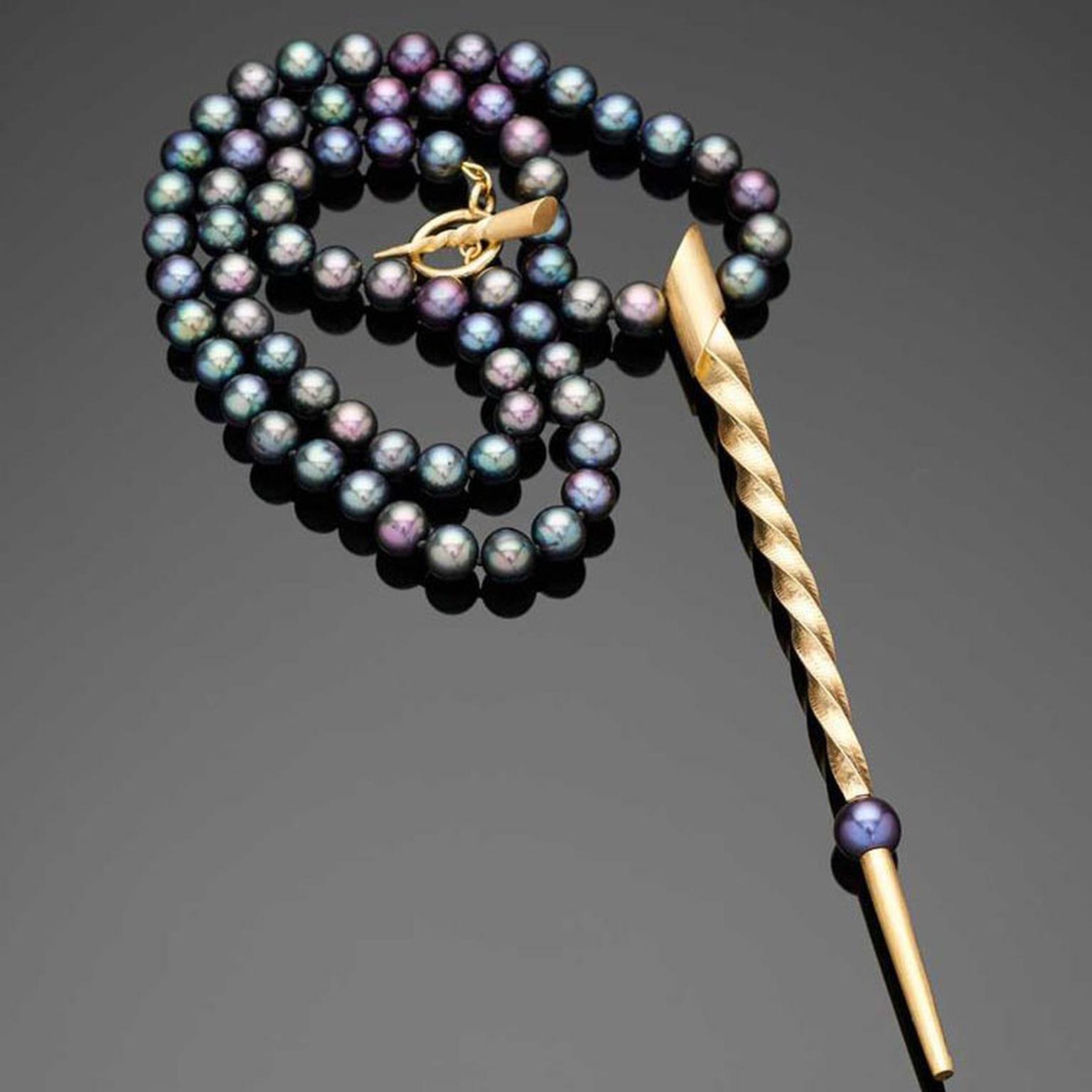 By Rachael Taylor 
Nestled below the surface of the warm salt water of the South Pacific, lies the black-lipped oyster - or Pinctada margaritifera, to give it its proper Latin name. A native to the island archipelagos of French Polynesia, this creature is responsible for creating one of the most dramatic-looking gems in the world, the black pearl, otherwise known as the Tahitian. 
Read about the history of pearls
While most associate Tahitian pearls with very dark hues, the colour spectrum of an oyster's nacre ranges from white to black, with a rainbow of variations to be found in between. Boodles' Rococo necklace beautifully shows off the diversity of Tahitian pearls in a string that travels from light grey to the highly iridescent green complexion of the peacock pearl. 
YOKO London chief executive Michael Hakimian says that even more colours of Tahitian pearls are emerging as rising ocean temperatures affect the speed at which the black-lipped oysters produce them. "We are now finding that pearls from Tahiti that used to create dark colours now have greens and blues, and greeny-yellow colours, and even what I refer to as cherry colour," he says, adding that the combination of grey-blue Tahitian pearls with rose gold are very popular with his clientele.  
It is the deep lustre of black pearls that attracts Central Saint Martins graduate Flora Bhattachary, who set up her own brand this summer. "In the Jyamiti collection I use a lot of strong colours - carved amethysts and smoky quartz - and the combination of that with the dark peacock pearls created an opulent but moody effect," says Bhattachary, whose love of the subaqueous gems is reflected in her daughter's name, Pearl. 
Tahitian pearls also offer drama in their size as well as their colour. In the pearl industry, 10mm is considered to be the benchmark for a substantially sized gem, and Tahitians typically grow to between 9mm and 14mm. Exceeding this scale are the colossal and darkly coloured Tahitian pearls used in Chanel's Perles de Nuit necklace, which range from 15mm to 18.2mm. The gems clash wonderfully with tassels strung with 1,362 much smaller, Japanese-cultured white pearls.    
While a string shows off the natural beauty of Tahitian pearls through its simplicity, there is much to be said for a new wave of designs that make heroes of a single pearl in exciting new ways. YOKO London's diamond-set ear cuffs dangle a 13mm Tahitian pearl at the base, while Winterson's Luna Moss collection matches a Tahitian pearl with an adjacent baguette-cut pink sapphire on an angular rose gold ring.   
Trendsetting designs, an exotic lustre, and proportions that demand attention - it's no wonder that all eyes are on black pearls. 
Read more about Tahitian pearls here
Chanel Perles de Nuit high jewellery necklace in white gold set with 914 brilliant-cut diamonds and 47 Tahitian cultured pearls.

Flora Bhattachary Jyamiti Ring in gold with a peacock Tahitian pearl and hand-carved amethyst.

Rose gold ring with diamonds and Tahitian pearls from YOKO London.

Rose gold diamond and Tahitian pearl ear cuff from YOKO London.

Rose gold earrings featuring diamonds and 12mm-13mm Tahitian pearls from YOKO London.

YOKO London rose gold earrings featuring diamonds and 14mm-15mm Tahitian pearls.

Cutting Edge Pearl Earrings from Boodles featuring a cultured Tahitian pearl, set with round brilliant-cut diamonds, in white gold.

Rococo Pearl Necklace from Boodles featuring Tahitian cultured pearls of 10.5mm-11.5mm, and decorative diamond-set Rococo motifs, set in white gold.

Rococo Pearl and Diamond Ring from Boodles with 10mm Tahitian pearl, 0.49ct of round brilliant-cut diamonds, in white gold.