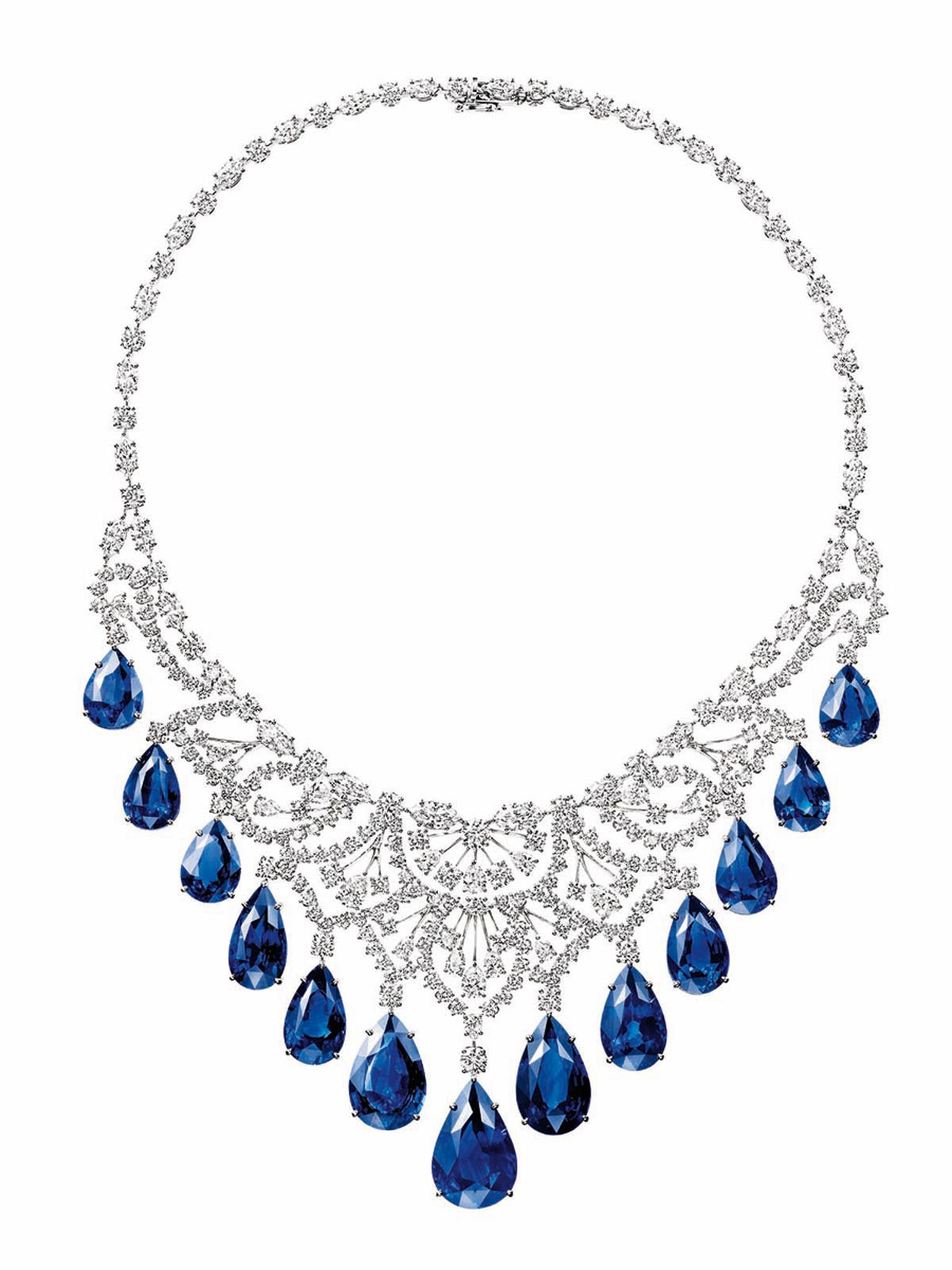 With the re-opening of the breathtaking and newly-refurbished Salon d'Honneur, an area within the Grand Palais, this year's Biennale des Antiquaires in Paris promises to be the biggest yet. The Biennale will host for 150 exhibitors, nearly double the 86 present at the last event in 2010. The 26th Biennale des Antiquaires runs from 14th September to the 23rd at the Grand Palais and alongside the world's most exclusive antique and art dealers are ten of the most desirable jewellers including Cartier, Chanel, Harry Winston, Boucheron, Piaget, Van Cleef and Arpels, Dior and for the first time ever Bulgari and Chinese jeweller Wallace Chan. All of these houses will create their most refined jewels for this event which is the most important jewellery show of its kind. It is here that the most valuable jewels are showcased to the world's most sophisticated and wealthy clients. 
This enclave of jewellers creates an avenue of gems that is always one of the busiest parts of the show. Each house creates a 'mini maison' and though all are different in their style, and sometimes their wild creativity - last Biennale Van Cleef & Arpels took us on journey with Jules Vernes - they are all opulently appointed and temples to luxury. Chanel always has a comfortable sofa and art work to create a soothing atmosphere in which to gaze at their diamond creations while Harry Winston whisks you straight into a New York mood.
The big names this year aren't just on the show floor, but behind-the-scenes as this year organisers have lured fashion designer and decorative-arts lover Karl Lagerfeld to design and create the Biennale's fantastical scenography. The man himself said "I wanted to emphasise the immensity and the splendour of the glass roof, which will be like a protective sky… it is a place I adore". Lagerfeld sums up his approach when he says: "The era is different, I wanted to evoke, not reconstitute," said Scenographer Karl Lagerfeld. "The intended effect is "that the visitor immediately feels enveloped by the atmosphere as soon as he enters the Grand Palais."
Apparently, the deal with Karl Lagerfeld was a friendly gentlemen's agreement and Christian Deydier, Président of the Syndicat National des Antiquaires, explains the inspired venture, "Karl Lagerfeld's creative genius, sensibility, finely honed taste and stage sense are all reasons why I am thrilled that he agreed to shape the 2012 Biennale according to his own taste. He is also a leading collector, someone who loves rare and beautiful objects, which means that he will approach this unique task as a connoisseur". Although no images or mock-ups have been released, those in the know have been promised something truly special and anticipation is growing. 
Many of the pictures you see here are from Biennales past, but they give an idea of the sort of wonders that are to be found in a setting as fantastical as this. Pieces such as Boucheron's Adam necklace, which takes their usual and playful animalistic design, incredible settings and a heavy does of biblical etymology to produce something so wickedly tempting. New York giants Harry Winston will once again be the American in Paris, having had a boutique there since 1957 and a place at the Biennale since 1974. "At Harry Winston, we share in the same values of authenticity, exclusivity and a quest for the exceptional. We look forward to sharing a selection of our rarest and most spectacular designs with all the devotees of fine jewellery and art who will attend," said Frédéric de Narp, President and CEO of Harry Winston, Inc. Expect to see this delicious sapphire and diamonds necklace stunningly realised this year, with 13 pear-cut sapphires, 146.71 carats; 225 brilliant, marquise, and pear-cut diamonds, 42.49 carats, all in a platinum setting.
Special previews will be held in Paris in early July and The Jewellery Editor will be there to give you as much of a look ahead as possible as the greatest names in jewellery get ready for the biggest and most important week of the past two years.
Dior's cute and quirky displays at the Biennale des Antiquaires in 2010

Chanel's sumptuous salon at the Biennale des Antiquaires in 2010.

Chanel display at the Biennale des Antiquaires in 2010.

Van Cleef & Arpels at the Biennale des Antiquaires in 2010.

The setting for the Biennale des Antiquaires is the magnificent Grand Palais in Paris, originally built as an exhibition space and museum in 1897.

Boucheron's Adam necklace, an iconic jewel by Boucheron from a former collection that features two of the house motifs: the serpent and the shape of a question mark and an indication of the level of creativity to expect from the Biennale collections.

Chanel's collier etoile filante from the anniversary collection launched earlier this year.

Model Christy Thurlington at the 2010 Biennale des Antiquaires.

Bulgari earrings in yellow gold, with turquoises, 30.45ct emeralds, 73.46ct amethysts, two amethysts totalling 7.80ct and 2.04ct diamond pave.

Bulgari necklace in white gold with emeralds 141,97 ct, sapphires 149,31 ct, rubis 95,42 ct, round brilliant cut diamonds 34,13 ct, baguette diamonds 4,78 ct and diamond pave 14,99ct.

Bulgari necklace in yellow gold with turquoises, 318.90ct amethysts , 211.52 emeralds and 7.20ct diamond pave.

Piaget's new collier broderie which is part of the collection to be shown at the Biennale des Antiquaires.