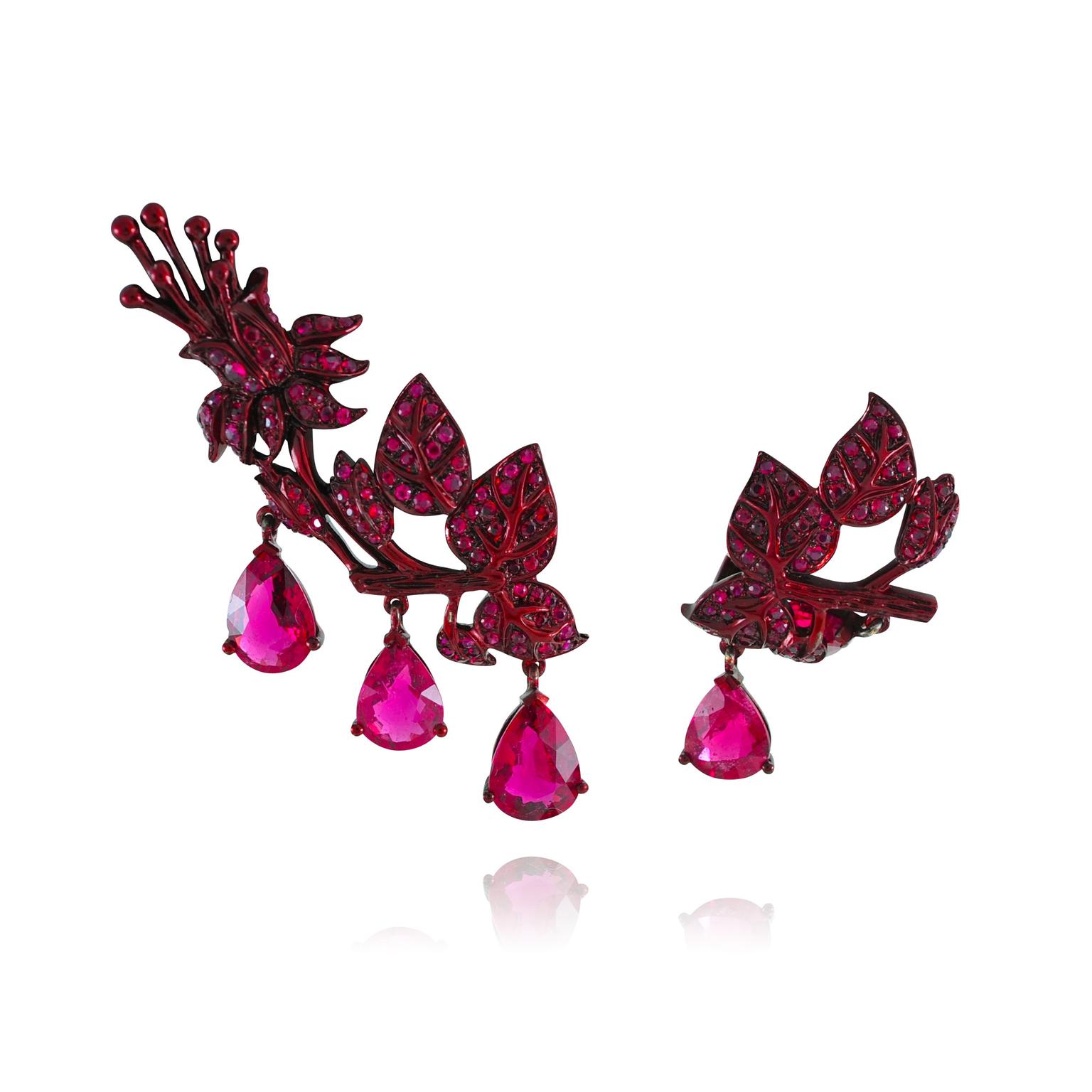 The past year in jewellery has most definitely belonged to the ear, with all sorts of exciting designs emerging. There have been ear cuffs, ear climbers and ear jackets, and the rules about mixing and matching have definitely favoured the former.
Mismatched earrings can be hard to spot, with some fine jewellery houses creating pairs that differ just slightly through the shape of a gemstone, a slight colour variation, or a pattern that very nearly repeats but not quite. A dazzling asymmetric pair, which almost mirror each other yet use different shades of pearls, are the Chopard diamond and pearl earrings, while VanLeles has a pair of Paraiba tourmaline and rubellite earrings that flip the order of the coloured gemstones. Another great example is from a range of Autore earrings, which will have you playing an intense game of spot the difference.
Around the world in luxury jewellery: Brazilian Paraiba tourmalines
A chic way to wear ear climbers is to opt for a design with just one earring that climbs its way up the ear, while the second is a stud, such as the white gold and diamond snowflakes created by NOA Fine Jewellery. Or for something a little more dramatic, Bee Goddess has created one, long honeycomb-inspired drop earring connecting descending gold and diamond hexagons - complete with its own precious bee - which is sold with a simple matching diamond stud.
So perhaps you could make an obvious statement, such as with the diamond-set Messika ear cuffs and a not-so-matching stud, or keep them guessing with something like Kova's black gold and black diamond earrings. But definitely mix it up when it comes to dressing the ears. 
Chopard has used light and dark pearls to differentiate these earrings, and the diamond plaits also have differences to discover.

VanLeles one-of-a-kind Timeless Wonders earrings, set with Paraiba tourmalines, rubellites and diamonds.

This pair of pearl and diamond earrings from Autore will have you playing spot the difference.

Make a statement in this gold and diamond long drop and stud set by Bee Goddess.

Subtle tweaks to the design of these black gold and black diamond earrings by Kova create some geometric asymmetry.

A tumble of different gemstones makes these earrings by Margery Hirschey beautifully imperfect when it comes to symmetry.

This diamond ear cuff by Messika is sold with a single stud.

These white gold and diamond snowflake earrings by NOA Fine Jewellery feature one stud and one climber.

Lydia Courteille included a pair of asymmetric earrings in her Scarlet Empress collection of ruby and red tourmaline jewels.