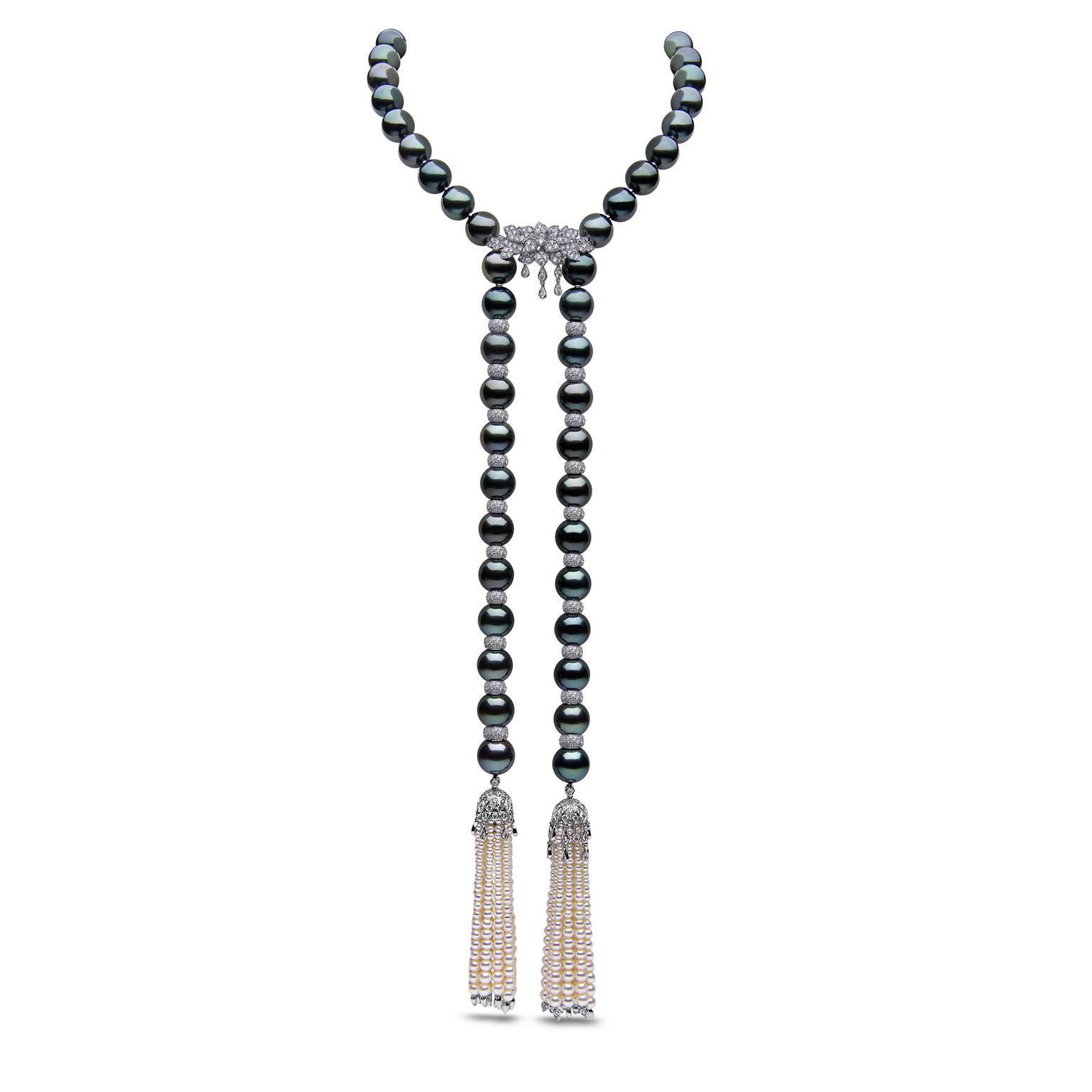 The quickest way to transform a simple pearl necklace from prim and proper to daring and decadent is to swap the white orbs for a string of black Tahitian pearls. These dark beauties have been making waves in the world of fine jewellery for a while now, rearing their perfectly spherical heads in an array of pearl earrings, necklaces, bracelets and rings.
See our pick of the best black Tahitian pearl jewellery of 2015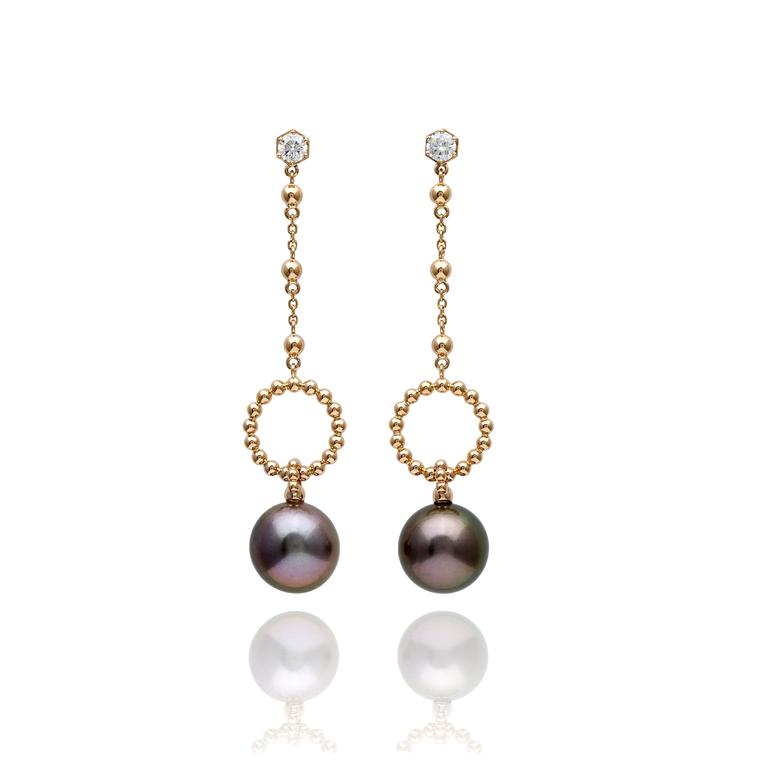 Produced by the black-lipped Pinctada Margaritifera oyster, which lives in the warm waters of the South Pacific surrounding the islands of French Polynesia, Tahitian pearls have a very modern yet elegant quality. While many people think of Tahitian pearls as black pearls, the hues formed by the oyster's nacre range from white to very dark, with many variations in between, including grey, green and aubergine. In fact, true black pearls are extremely rare and most gems going by the "black" moniker are actually dark charcoal, green or silver.
As pearls with a diameter of 10mm are generally considered large, the fact that Tahitian pearls range in size from 8mm to 18mm makes them very attractive to jewellery designers. Their larger-than-average size, combined with their beautiful colours and incredible lustre, adds a sense of drama to pearl jewellery creations such as the Tiffany necklace from the Blue Book collection 2015.
While there is no doubt that Tahitian pearls are enjoying a fashion moment, our fascination with these dark wonders of the sea is nothing new. Both men and women have worn Tahitian pearl jewellery since the 17th century and, at one time, demand was so high that the Pinctada Margaritifera oyster supply was almost depleted.
While Tahitian pearls are still more valuable than freshwater and Akoya pearls, the growth of the pearl farming industry in the lagoons of French Polynesia has boosted their availability. The first Tahitian pearl farms opened in the 1960s and, today, the pearl industry accounts for more than half of the country's annual exports of $20 million. The first round Tahitian pearl was produced in 1970 and six years later the Gemological Institute of America officially recognised the natural colour of Tahitian pearls.
Established in 1973, YOKO London is one of the world's most esteemed pearl houses, whose breathtaking creations include the glamorous Twilight collection set with various combinations of black, white and grey pearls. Pairing black pearls with white diamonds is a sure-fire way of accentuating the colour contrast between the two gems, as is the monochrome combination of black and white pearls. YOKO London CEO Michael Hakimian says: "Tahitian pearls only come from one particular part of the world, Tahiti and French Polynesia. The natural colours of Tahitian pearls range from peacock green and blue, to inky black and grey. This year, black Tahitian pearls against black gold and diamonds have featured prominently in our Twilight collection, providing a very modern and dramatic way to wear them. In addition, large sizes of Tahitian pearls are becoming increasingly rare, which makes them even more valuable. We are proud to possess unique sizes of Tahitian pearls of up to and over 18mm."
Read more about Tahitian pearl jewellery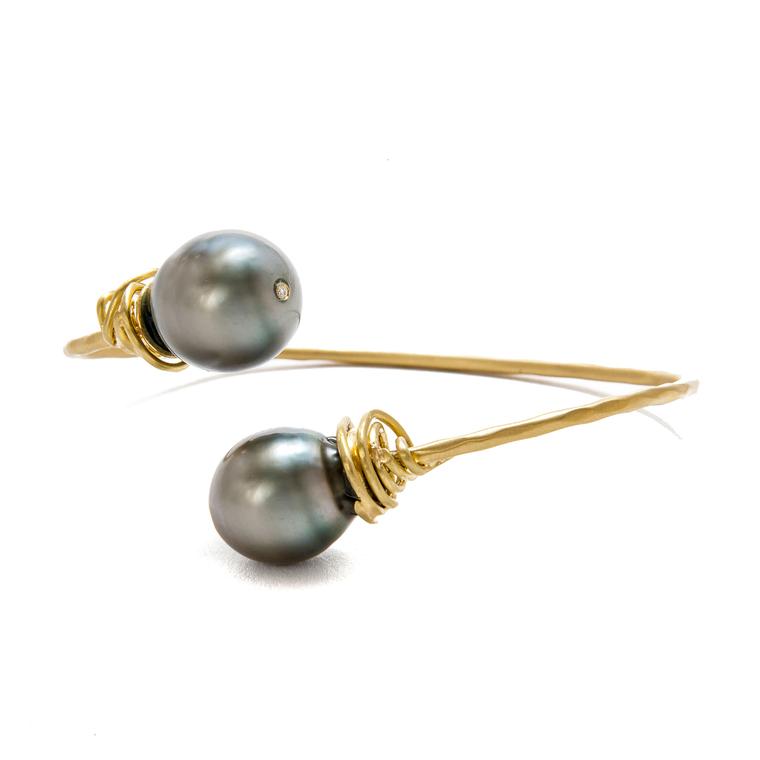 Tahitian pearls really come into their own in contemporary designs such as these minimalistic jewels by American label Jordan Alexander, where lustrous dark gems are combined with textured yellow gold. The Double Asymmetry ring by Kattri, and the Winterson Luna Moss ring are also great examples of how designers are using Tahitian pearls to entice a younger generation to embrace modern pearl jewellery.
Read more on Tahitian pearls in Jordan Alexander jewelry
Another jewellery brand that has nailed the on-trend pearl look is New York-based Mizuki. Edgy and bold, yet elegantly feminine, the new Sea of Beauty collection pairs large Tahitian pearls with round diamonds, all set in gleaming yellow gold.
Known as the Queen of Pearls, there is no doubt that Tahitian pearls will continue to stake their claim on the world of fine jewellery, tempting us all over to the dark side.
Really dark Tahitian pearls, like those in this Tiffany necklace from the 2015 Blue Book collection, are extremely rare and incredibly valuable.

YOKO London Novus rose gold ring featuring diamonds and a Tahitian pearl.

Two Tahitian pearls dangle delicately from a string of diamonds in this pair of Boodles Circus earrings.

Edgy and bold, yet elegantly feminine, this Sea of Beauty ring by Mizuki pairs large Tahitian pearls with round diamonds, all set in gleaming yellow gold. 

The Winterson Luna Moss ring is a shining example of how designers are using Tahitian pearls to entice a younger generation to embrace modern pearl jewellery. 

YOKO London white gold Twilight necklace set with 13.34cts of diamonds, alongside black Tahitian pearls ranging between 11-14mm.