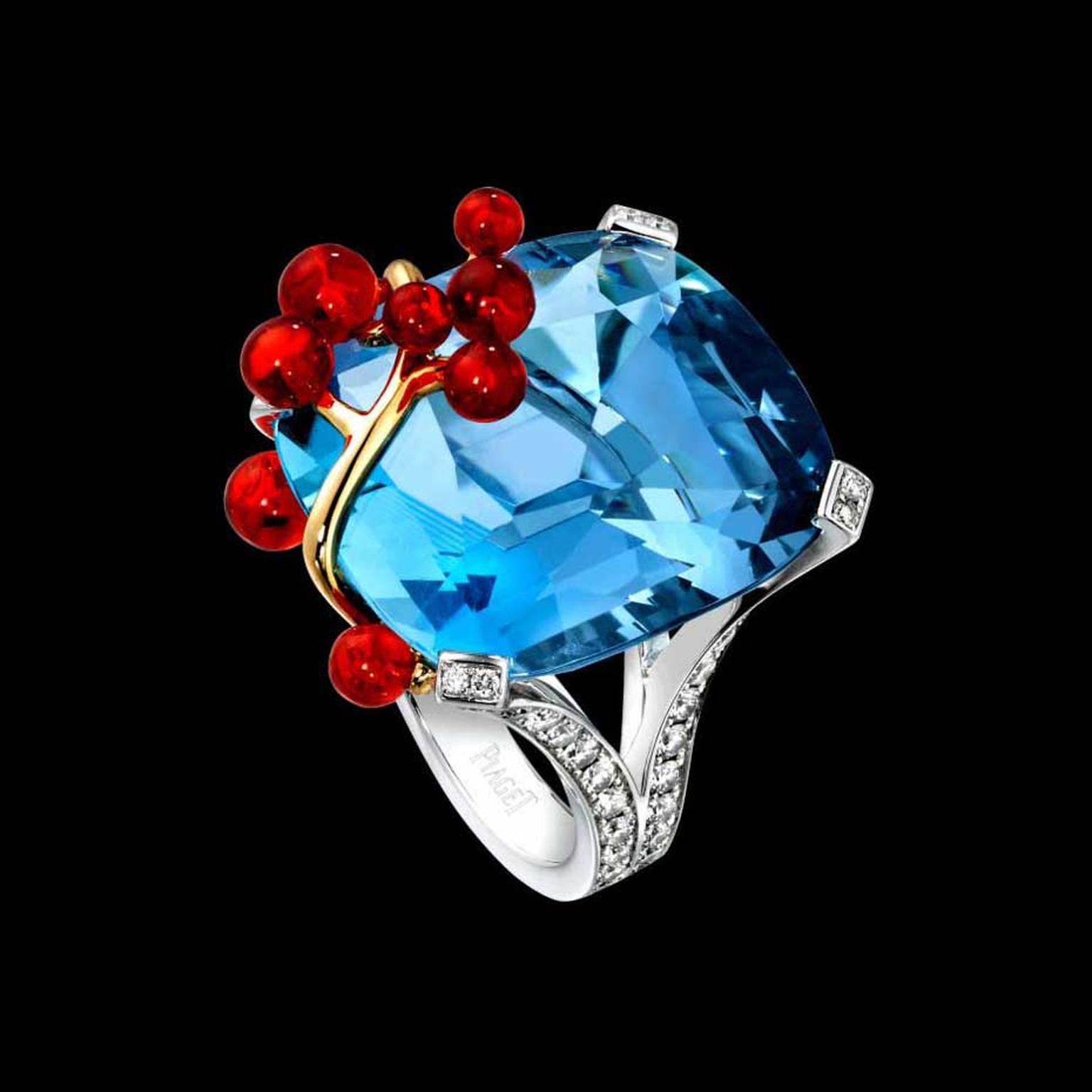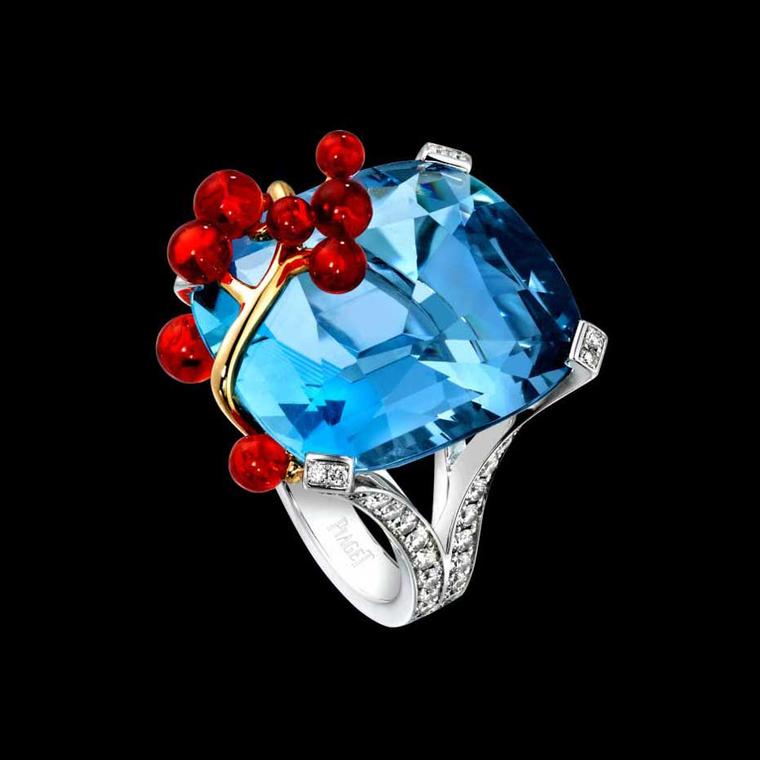 By Åse Anderson
Each month we will be choosing a stone that we love as our gem of the month, and February we have devoted to the incomparable aquamarine. From a light, almost translucent greeny-blue to the deep blue of the ocean, aquamarines display an extraordinary range of colours. This semi-precious gemstone belongs to the same beryl family as the emerald but, unlike its green cousin, it is less prone to inclusions and, scoring 7.5 to 8 on the Mohs scale, is also very durable. Immediately recognisable, larger aquamarines make magnificent centrepieces in jewellery, particularly in rings.
The aquamarine is especially popular with contemporary jewellery designers as its lucidity lends itself extremely well to creative cuts. An Asscher-cut aquamarine of majestic proportions steals the show in the one-of-a-kind ring designed by New York jeweller Alexandra Mor. The stepped Asscher cut is usually reserved for diamonds but works stunningly in this aquamarine ring, with the light retracting off the facets on the 27.24ct aquamarine. 
Inspired by the gold scrolls that adorned the famous 1902 Rocaille Fabergé Egg, the Fabergé Rococo aquamarine cocktail ring features a sky blue, oval-cut gemstone surrounded by swirls of white gold. 
Like all coloured stones, the blue hue of the aquamarine can be further emphasised by the addition of white diamonds, as seen in the cocktail ring from the Sarah Ho collection for William & Son. The icy cool combination of a faceted oval cabochon-cut aquamarine and swirls of sparkling diamonds is both stylish and elegant. 
Designers are also opting for bolder colour-on-colour designs, as seen in Chopard's aquamarine ring from the Red Carpet collection, which pairs a pale blue, pear-shaped aquamarine with darker blue sapphires, aquamarines and diamonds. The playful cocktail ring from Piaget is also a jewel that is sure to get its wearer noticed. Inspired by a Blue Lagoon cocktail, it features a branch of fire opal "grapes" draped over a 28.03ct cushion-cut aquamarine, with the deep red opals forming a daring contrast against the sky blue central stone.
Alexandra Mor's one-of-a-kind Ode to Enchanted Light aquamarine ring.

The Cannes aquamarine ring from Chopard's Red Carpet collection features a pear-shaped aquamarine, diamonds and sapphires.

de GRISOGONO aquamarine ring with diamonds, from the Melody of Colours collection.

Van Cleef & Arpels white gold Peau d'Âne collection aquamarine ring surrounded by diamonds, sapphires and tourmalines.

The Ode to Enchanted Light aquamarine ring from Alexandra Mor is set with an extraordinary 27.24ct Asscher-cut intense bright blue-green aquamarine.

The Limelight Blue Lagoon cocktail inspiration ring from Piaget is set in white gold with a cushion-cut aquamarine, brilliant-cut fire opals and brilliant-cut diamonds.