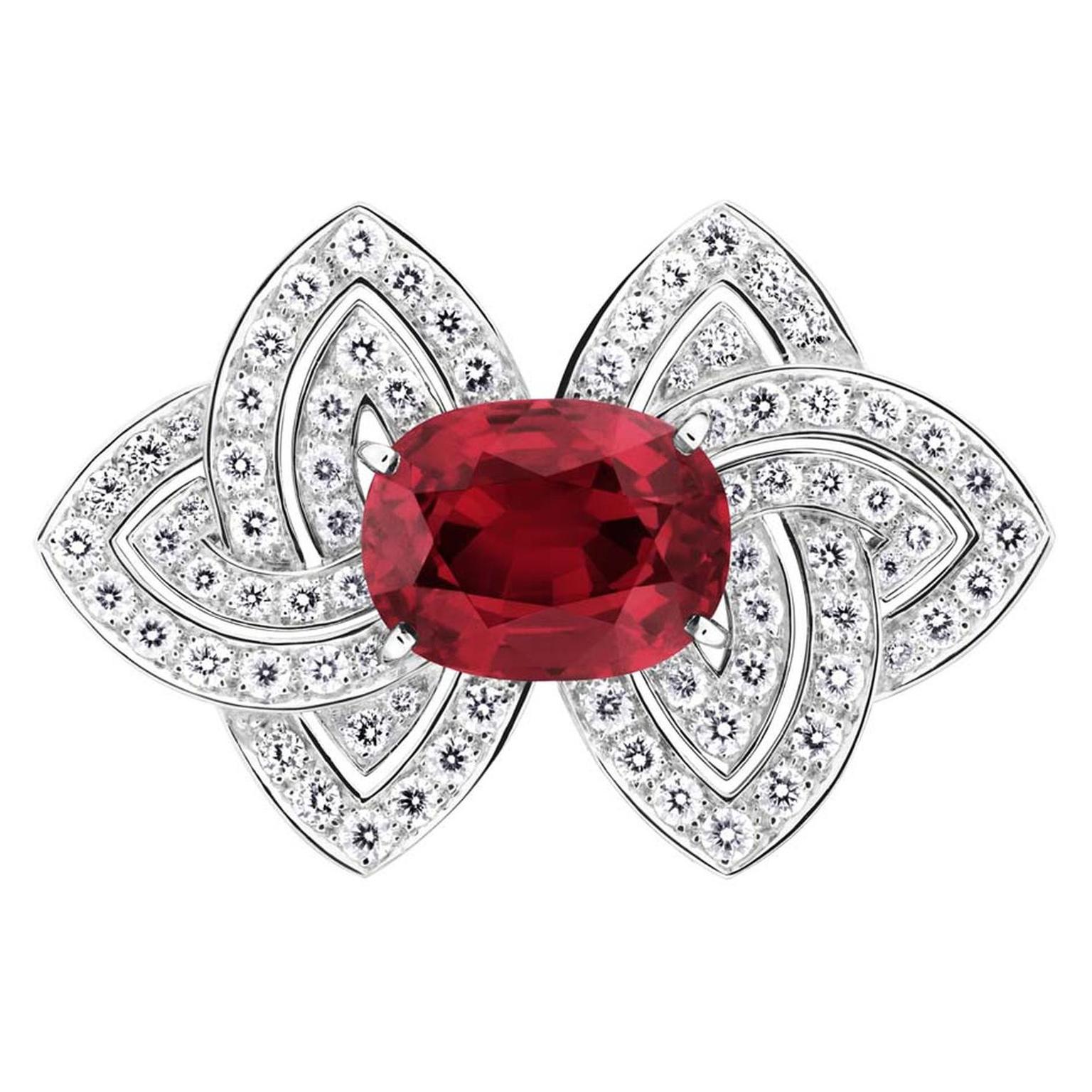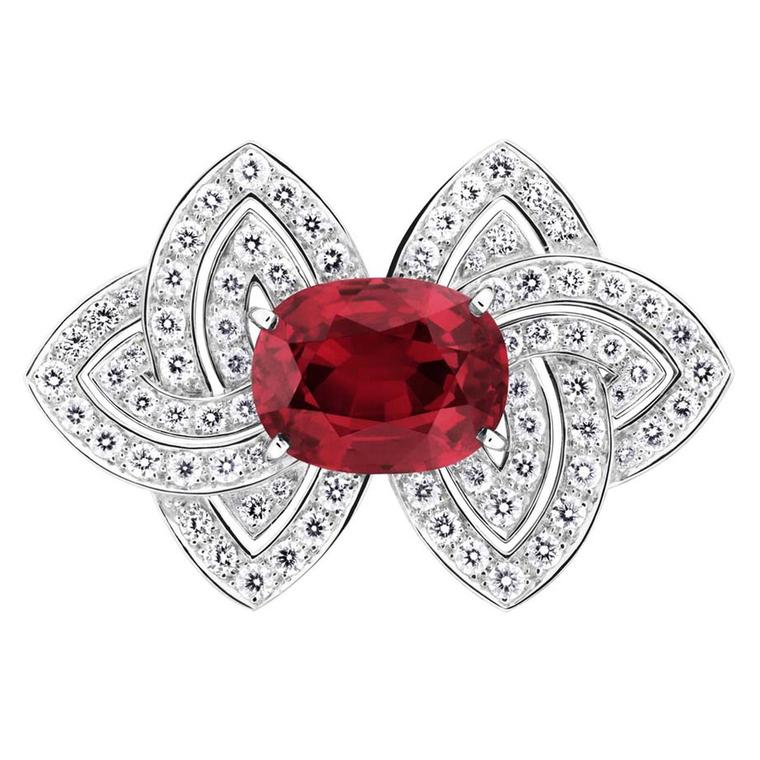 Higher in value than sapphires or emeralds, and often more valuable than diamonds, the most coveted rubies have traditionally emerged from the ancient Mogok mines in Upper Burma, or Myanmar. Today, these mines are virtually depleted, sending the price of prized Burmese rubies sky high. Add to this the protracted US embargo on goods from Myanmar and it is easy to understand why gem hunters have turned elsewhere in their quest for the perfect red gem. And so it is that African rubies are coming into their own and increasingly adding their flash of rich red to high jewellery pieces. 
"Everyone dreams of a 10 carat Burmese ruby ring, but not everyone can pay £15 million for one," says Jeremy Morris of London's David Morris, a reflection on the colossal prices that top-quality rubies can fetch. Only last year the record price of $8.6 million was paid for an 8.6 carat Burmese ruby ring, previously the property of Greek magnate Dimitri Mavrommatis.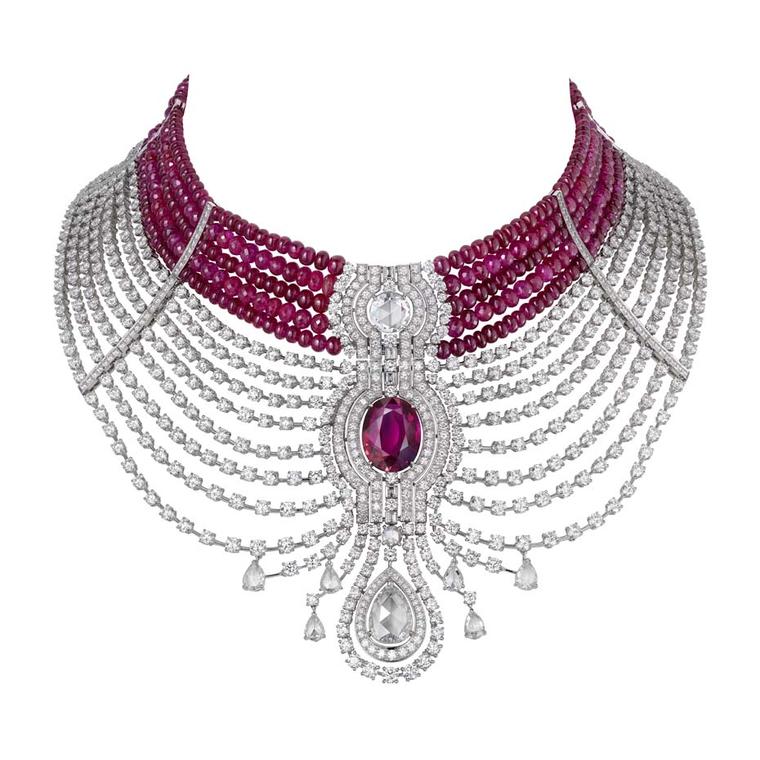 African rubies are starting to take up the void left by the Burmese, and the African ruby that caused the biggest stir last year was a 15.29 carat oval-shaped Mozambique gemstone. The ruby sits plumb centre in Cartier's impressive Reine Makéda multi-strand ruby necklace, which was presented at the prestigious Biennale des Antiquaires 2014. This spectacular jewel was the star of the Royal collection of haute joaillerie, which gathered precious stones and those of regal provenance, and incorporated them into high jewellery creations. With African rubies taking such a prominent role, it is difficult to ignore the importance of these coloured gemstones.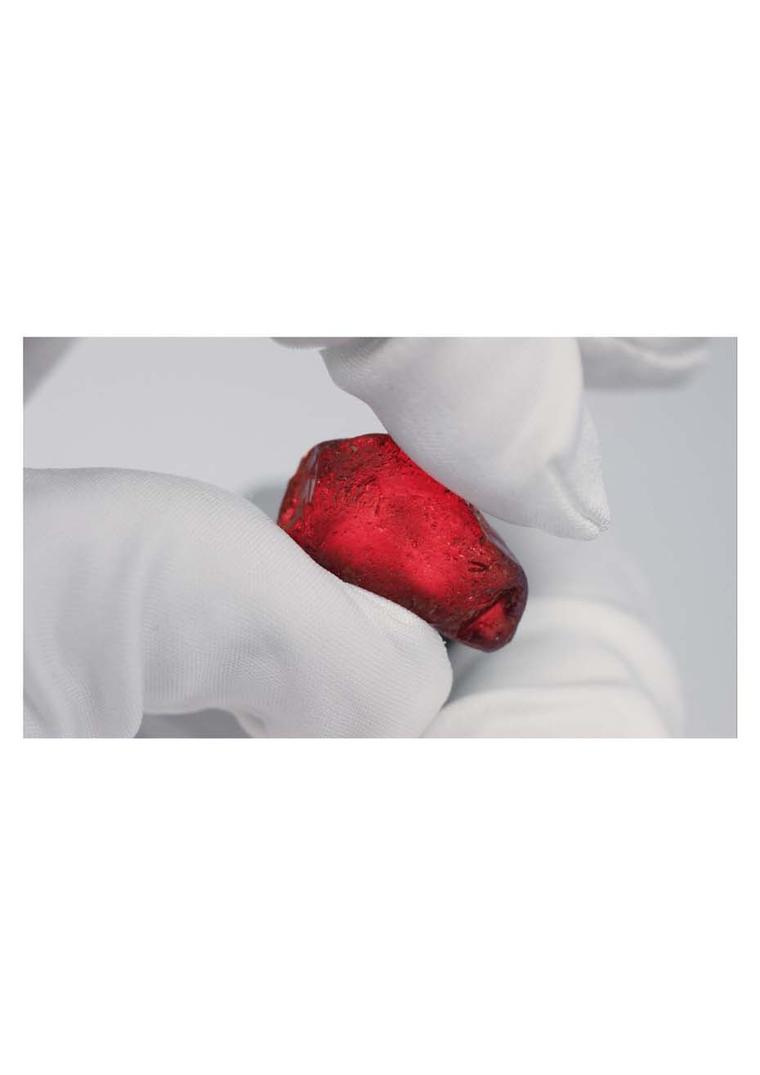 Gemfields, a mining company dedicated to conquering the coloured gemstone market, has added a larger number and more consistent quality of rubies to the supply chain, from its Montepuez ruby mine in Mozambique. This new source is having a considerable impact on the global ruby market. Last December, Gemfields reported that its auction of Mozambique rubies raised $43.3 million - the highest in its history.
Whatever the origin of a ruby, and they can be found on several continents, it is the "pigeon's blood" ruby that sets the gold standard, and traditionally these have been from Burma. "Pigeon's blood" is a term used to describe a particular hue of ruby, regardless of its origin, which is used by gem laboratories and dealers to classify stones.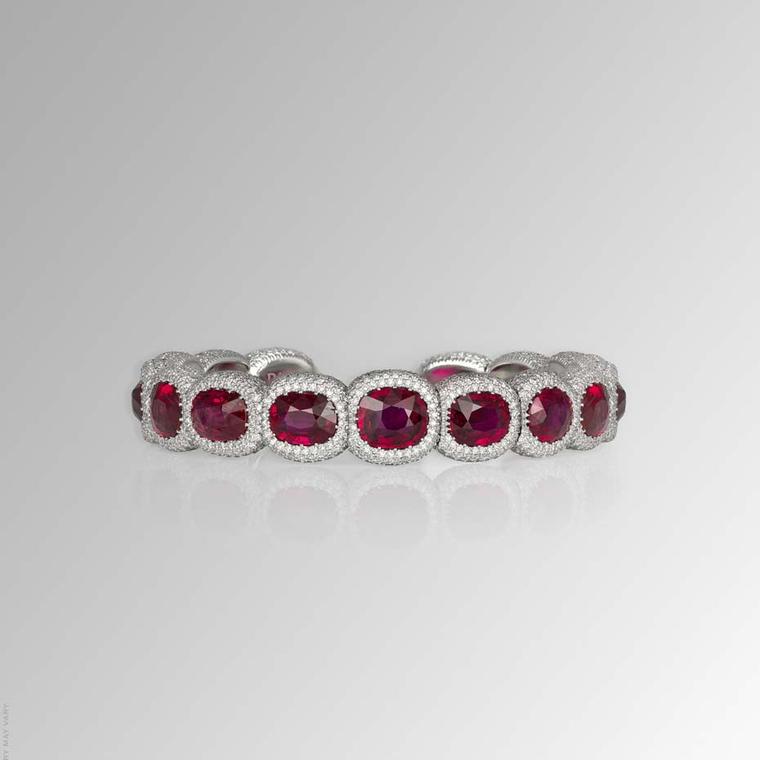 André Abadjian of Star Diamond Private Jeweller, which offers both Burmese and African rubies to its clients, explains: "Before, it was mainly just Burmese rubies that people wanted but, in the last few years, with the discovery of ruby mines in Mozambique and Tanzania, people have started to like them because of the beautiful quality and, of course, the price." 
And is there a difference between the famous Burmese rubies and African ones? Burmese are known for their fluorescence, which makes them appear to glow - a characteristic that is particularly visible in pigeon's blood varieties, which emit a purple-hued glow. "The slight difference is the colour," explains Abadjian, who spends his days looking at precious stones. "The Burmese are a rich red and the African rubies have a small touch of purple. You can tell the difference between an African and a Burmese ruby, except those from the Windsor mine in Tanzania, which are very close to the Burmese."
The slightly lighter pink of some African rubies is also appealing to a younger clientele and opens the scope to new colour combinations in jewels. Houses such as Bulgari and de GRISOGONO are embracing African rubies, which look like they are here to stay.
Read about rubies in the latest trends in the world of high jewellery here
One-of-a-kind Niquesa Rose of the Desert ring set with a central Gemfields African ruby and Gemfields emeralds, encased in diamonds.

The African ruby and emeralds peep through when viewed from behind in Niquesa's Rose of the Desert ring.

Cartier Reine Makéda necklace in platinum, set with a 15.29 carat oval-shaped ruby from Mozambique, alongside rose-cut and pear-shaped diamonds, and cabochon-cut ruby beads. The ruby choker can be detached and worn separately from the diamond necklace.

David Morris Mozambique ruby bangle, with a round white diamond micro-set surround set in white gold.

The Grappoli ruby watch from de GRISOGONO is set with grape-like briolette African rubies that jiggle on the wrist.

This 40-carat rough ruby from Gemfields Mozambique mines shows the brilliant colour of a natural ruby in its raw form. Until a rough is cut it is not possible to determine whether it will need heat or any other treatments. 

Actress Mila Kunis wore a Miiori necklace set with Gemfields rubies to the premiere of her 2015 movie, Jupiter Ascending.

Gemfields' Montepuez ruby mine in Mozambique is having a considerable impact on the global ruby market, following the virtual depletion of mines in Burma.

Louis Vuitton bracelet set with an African ruby flanked by diamond-shaped petals.

Extravagant art deco-style ruby ring from Star Diamond Private Jeweller featuring a deep red African ruby flanked by emerald-cut diamonds.

Constel ruby ring from Star Diamond Private Jeweller. The vivid red Mozambique ruby is set within a sunburst of pear- and round-cut white diamonds.

Louis Vuitton high jewellery ring featuring a centrally set African ruby, flanked by diamonds.