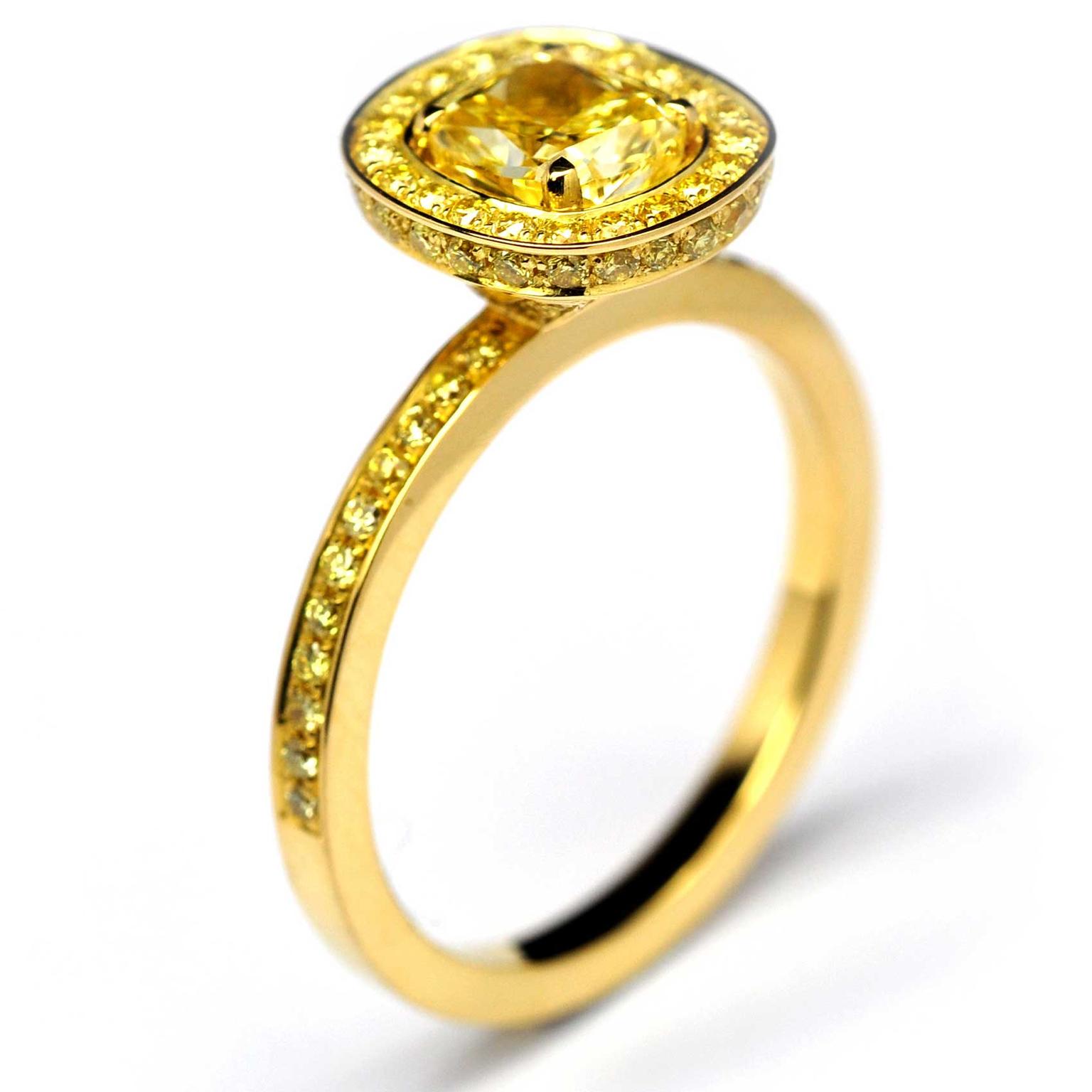 Deciding how and what to buy when shopping for diamond engagement rings can be a nerve-racking moment. This is a decision that will quite literally follow you around for the rest of your life. While there is a fantastic selection of engagement rings to be found already twinkling in the windows of boutiques, sometimes none of them are quite right. If this feeling is familiar, you should consider approaching an independent jeweller to commission a bespoke engagement ring.
"If there is a designer or style of work you like, that's a good starting point," advises Rachel Sweeny, owner of Cox + Power in London's Marylebone Village. "You'll soon know if you have found the right person to make your ring. It's just like finding the perfect hairdresser - someone who gets you and understands what you're after, even if you don't know yourself yet."
Once you've clicked with a jeweller, you can start the process of designing the ring. "We design in multiple stages," explains London-based jeweller Hattie Rickards, who once had to search as far afield as Thailand to find the perfect sapphire for a surprise engagement ring. "I will provide a number of initial sketches to refine the design concepts and the client can then choose which ones are turned into drawings. Following drawings, we can do 2D technical drawings, 3D digital renders and mock-ups, and also produce a wax model."
Read Hattie Rickards' tips on commissioning a bespoke engagement ring
British jeweller Andrew Geoghegan, who says most of his brides-to-be are searching for classic forms with twists of modernity, advises that you shouldn't skip the wax model stage. "This is always a great idea, as it gives your client an understanding of the true scale and balance of the piece."
While this may seem like a long process, timescales can vary. Hattie Rickards and fellow London goldsmith David Marshall say they have created bespoke engagement rings in as little as a week. "This is the benefit of having all our own mastercraftsmen in-house," says Marshall, who has worked on commissioning unique engagement rings ranging from £2,500 right up to £200,000.
Usually the process will take between four to eight weeks, although rings designed around rare gemstones or unusual diamond cuts might take longer to source. "A very special ruby once took a year to find," says Sweeny at Cox + Power, where the record turnaround for a bespoke engagement ring is three days. 
When it comes to price, the assumption is that bespoke diamond engagement rings will cost significantly more, but Barry McCaul at McCaul Goldsmiths says this is not usually the case when working with independent jewellers. "Every piece we make is handmade and would be the same price if it was a commission," he says. "There is no added charge."
One of McCaul's favourite commissions was for an elegantly twisted gold ring set with a sapphire, which the husband-to-be had found as a child and kept ever since. While McCaul's store is in London, the customer was living in San Francisco but felt an immediate connection with the firm when he found it online. They worked via email, sending sketches back and forth, and then the customer dropped the sapphire at the shop at the beginning of a fortuitous pre-planned trip to London and picked up the finished ring at the end of the week.
Enchanting stories like this come hand in hand with commissioning unique engagement rings. So if you do choose to work with an independent designer, not only will you walk away with a wonderfully personal ring, but also an experience to remember during one of the most precious and exciting times in your life.       
Discover the top bridal jewellery trends for 2016
This engagement ring by Cox + Power has been crafted in platinum with a bezel-set, cushion-cut diamond at the centre.

A round brilliant diamond is surrounded by custom-cut deep blue sapphires in this Fairtrade gold engagement ring by London-based Hattie Rickards.

The old-cut diamond at the centre of this bespoke engagement ring originally belonged to the mother of the husband-to-be, who asked Hattie Rickards to set it in a yellow gold engagement ring surrounded by sapphires and emeralds.

Renaissance white gold engagement ring from British jeweller Andrew Geoghegan.

This creative engagement ring from David Marshall London surrounds a round brilliant diamond with a tilting split halo of diamonds.

A vintage-style platinum engagement ring set with a pear-shaped diamond by David Marshall London.

A pear-shaped cognac diamond engagement ring by McCaul Goldsmiths.

McCaul Goldsmiths have set a Paraiba tourmaline in the centre of this platinum Wave engagement ring, which has a matching diamond-set wedding band.

From British jeweller Andrew Geoghegan, a bespoke yellow diamond engagement ring.