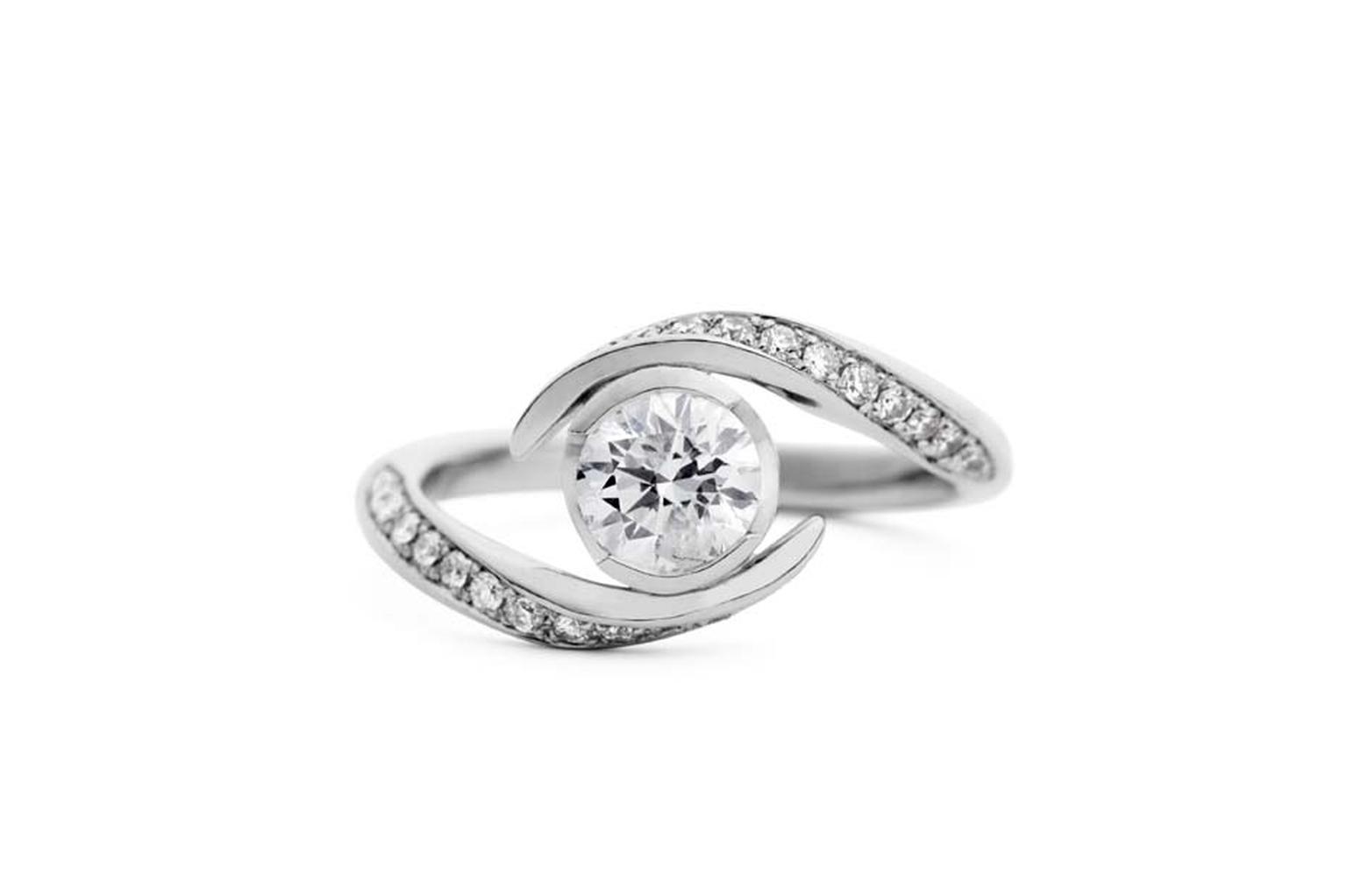 By Åse Anderson in London
Choosing a ring should be fun and exciting, but with such an abundance of engagement ring styles, it can seem like a bewildering process.
The Internet is loaded with quizzes designed to help men define their girlfriend's personal style and pinpoint the perfect ring. However, even if you manage to answer the questions on her ideal date and favourite flower correctly, it is doubtful that this will bring you any closer to finding her dream ring.
These days, picking out an engagement ring is often a collaborative decision and online quizzes, or even looking at pictures, are no substitutes for trying on the actual jewel. Even the most ardent jeans and T-shirt girl may find that, when it comes to engagement ring styles, she prefers a decadent, romantic design.
Whether you're buying a ready-to-wear design or commissioning a bespoke ring, it is good to have a general idea of what you're looking for before visiting the jewellers. To narrow down the process and help you tell your halo from your solitaire, we have put together a guide to the most popular engagement ring styles available.
Simple but elegant, the solitaire is characterised by a single stone, usually a diamond but it can also be another gemstone such as a ruby or sapphire, on a relatively plain, unadorned band. As far as the cut of the centre stone is concerned, a brilliant round diamond is the classic choice, although fancy cuts can make a striking alternative. From emerald, Asscher and marquise to pear, cushion and heart, there is a plethora of beautiful cuts to choose from. The cushion-cut, for instance, adds vintage style glamour while the clean, crisp lines of the emerald-cut create a striking, chic look.
Halo style engagement rings, where the central stone is surrounded by a row of smaller diamonds, are very popular at the moment. Evoking the romance of a by-gone era, this style is reminiscent of the heirloom rings you might find in your grandmother's jewellery box. Gemstones of almost all shapes and sizes can be accented with a circular halo, adding an extra dimension and carat weight to the centre stone.
Adding two side stones will also emphasise the central stone and boost the total carat weight without sporting a huge rock. The three stones can all be the same size but usually the side stones are slightly smaller and sometimes have a different cut. Tapered baguette-cut diamond side stones can beautifully emphasise a central stone in a statement cut such as the Asscher or emerald.
Another way of upping the wow factor without going into bling territory is to choose a pavé band. The word pavé originates from the French word for paved and setting accent diamonds close together makes the band look as if it has literally been paved with diamonds. Elegant and graceful, there are many different ways of incorporating pavé-set diamonds into an engagement ring. The pavé can be in one or several rows and either fill the entire band or stop halfway down each side. You could even choose to forego the centre stone and wear an engagement ring covered in pavé diamonds.
Bridal sets that incorporate both an engagement ring and a wedding band ensure that the two rings fit together seamlessly. They come in many different designs, from rings that sit alongside each other to ones with interwoven bands that fit together like two pieces of the same puzzle. Choosing a set also removes the stress of having to search for a wedding band to match your engagement ring.
If you want to eschew tradition in favour of a ring that is sure to be noticed wherever you go, there are plenty of options to choose from. A non-white centre stone, whether it is a coloured diamond or another gemstone altogether, such as a ruby or sapphire, will definitely make your engagement ring stand out. Combining white diamonds and coloured stones also adds drama and intensifies the stones' fire and sparkle.
Split shank engagement rings have a band that diverges into two strands at the crown to further emphasise the centre stone. Usually the two bands are set with diamond pavé and the result is an intricate, yet graceful design that complements many different diamond shapes. If the split shank is combined with a halo design, the effect is even more striking.
For the kind of full-on statement ring that enters the room before you do, take a leaf out of the celebrities' book and go for the biggest rock that your budget will allow. From Victoria Beckham and Kim Kardashian to Elizabeth Taylor and Grace Kelly, these famous women agree on one thing: when it comes to flashing your engagement ring, size really does matter. 
Asprey sapphire engagement rings.

Mappin & Webb Amelia collection halo-style diamond engagement ring (£3,450).

Robert Procop larger-than-life brilliant-cut diamond engagement ring surrounded by a pavé of diamonds and a band set with brilliant-cut diamonds.

Monique Péan Mineraux collection rose-cut diamond engagement ring with white diamond pavé in recycled platinum (£27,209).

Anna Sheffield Theda diamond engagement ring with a central elongated rose-cut pale yellow diamond flanked by four white diamonds in yellow gold (£9,378).

David Yurman diamond engagement ring featuring two sapphire side stones leading to the band with the iconic Yurman Cable motif.

Harry Winston emerald-cut three stone diamond engagement ring.

De Beers Annabel brilliant-cut diamond engagement ring featuring a split shank band with a double pavé of diamonds (from £12,400).

Theo Fennel Water Lily yellow sapphire engagement ring featuring a 5.88ct pale yellow sapphire enveloped in pavé diamond petals leading to the pavé band.

Barbara Michelle Jacobs Bucolic wedding set consisting of a diamond engagement ring and wedding band in recycled white gold (£2,445).

Brilliant Earth brilliant-cut diamond engagement ring with matching wedding band, perfectly formed to fit next to the diamond.

Andrew Geoghegan bridal set featuring a brilliant-cut diamond engagement ring with a surrounding pavé of diamonds and a coordinating pavé-diamond wedding band (£4,570).