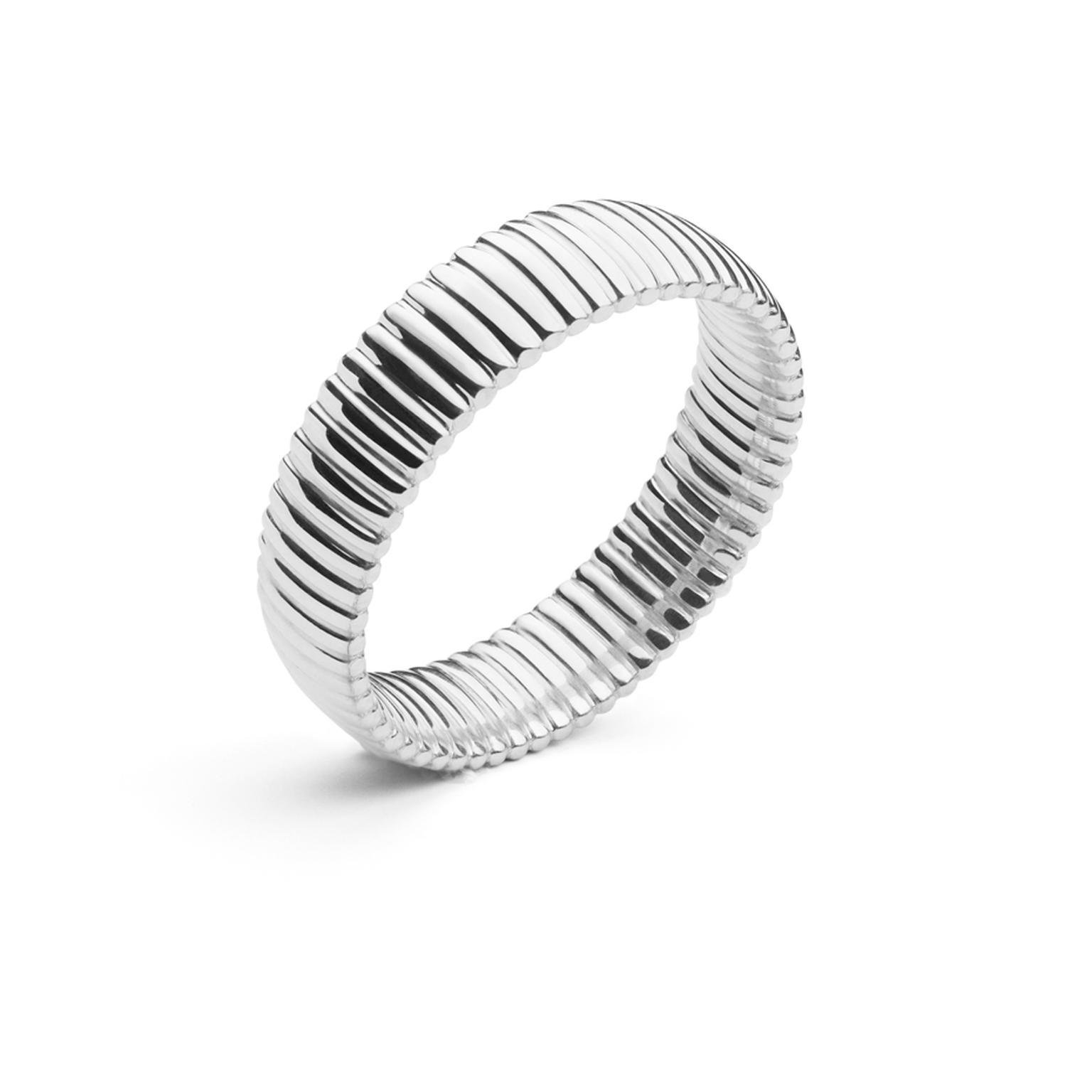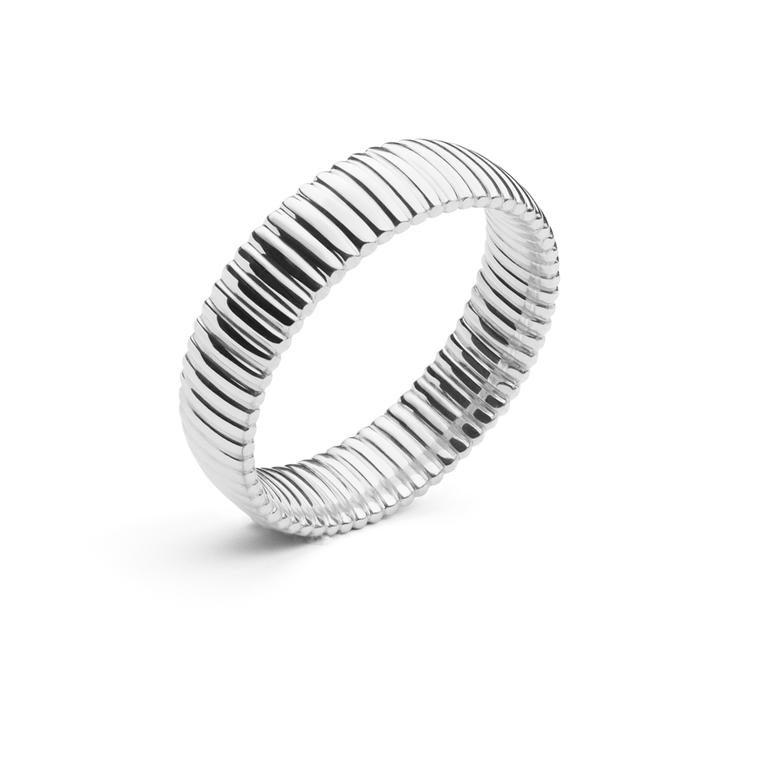 By Charlie Byrne in London
Weddings are women's business, or so it is often thought. With all the fuss made over the bride, her engagement ring and subsequent choice of wedding band, it's easy for grooms to fade into the background when it comes to nuptial jewellery.
But the choice of wedding ring for a man is equally as important as the bride's, if not more so. For many men, this will be the first time they have worn a ring, so finding one that is comfortable and feels natural can be a challenge. 
British designer Andrew Geoghegan, based in Yorkshire, offers a stylish solution. His new Cannele ring, a round ribbed band available in white, yellow or rose gold, is a tactual luxury. If you're looking for a more eye-catching style, Geoghegan's Reveal ring is another possibility - it boasts a sliver of diamond pavé without compromising on masculine allure.   
Jon Dibben's triple band ring is a contemporary and modern choice that still feels timeless. The chunky ring has a central channel that adds interest without being too fussy, and as all of Dibben's metals are Fairtrade mined, this is a wise choice for ethically minded grooms.
If, however, you're looking for a more fashion forward style, consider Shaun Leane's interlocking diamond set ring. The trio of rings comes in at £6,950, but worn on their own - they can be purchased individually - this is a ring for the man who is serious about his jewellery and wants to make a bold statement. Leane offers other affordable and wearable options also, such as his white gold Vine wedding ring.
If budget is a concern and you're unsure of where to start when choosing a ring, choose your preferred metal first, then consider width. Boodles' Max ring in white gold costs £2,400 but is 10mm wide - a substantial width - while Tiffany's gold Lucidaring is only 2mm wide and costs just £590.
It's worth hunting out independent designers to get your hands on a unique piece. Stephen Einhorn's range of men's wedding bands is exceptional - his thick, solid designs are reassuringly well made and built to last. If you're bored by the idea of a standard size yellow or white gold ring, why not consider his Beaten ring in rose gold or his extra-wide Liquid yellow gold ring.
For something even more unusual still, head to Todd Reed. Reed's yellow gold ring set with raw diamond cubes (also available in palladium if you prefer silver tones) is unlike anything you will see your mates down the pub wearing.  
Don't, however, discount the mega brands of jewellery - they have years of experience in creating reliable, iconic pieces that last for generations of marriages. Cartier's Trinity ring combines three types of gold, while its Love platinum wedding band is decorated with the Parisian jeweller's signature rivets.
When you're choosing your wedding band, remember that there are only three things from your wedding day that should last forever: your marriage, your photographs and your ring. It's worth getting them right.
Jon Dibben triple band ring.

Cartier Love collection platinum wedding band (£1,660).

Stephen Einhorn Beaten rose gold ring (£2,323).

Stephen Einhorn Liquid extra wide yellow gold ring (£6,798).

Todd Reed yellow gold ring featuring raw diamond cubes.

Boodles Max wedding band in white gold (£2,400).

Andrew Geoghegan's new Cannelé ribbed ring is available in white, yellow or rose gold.