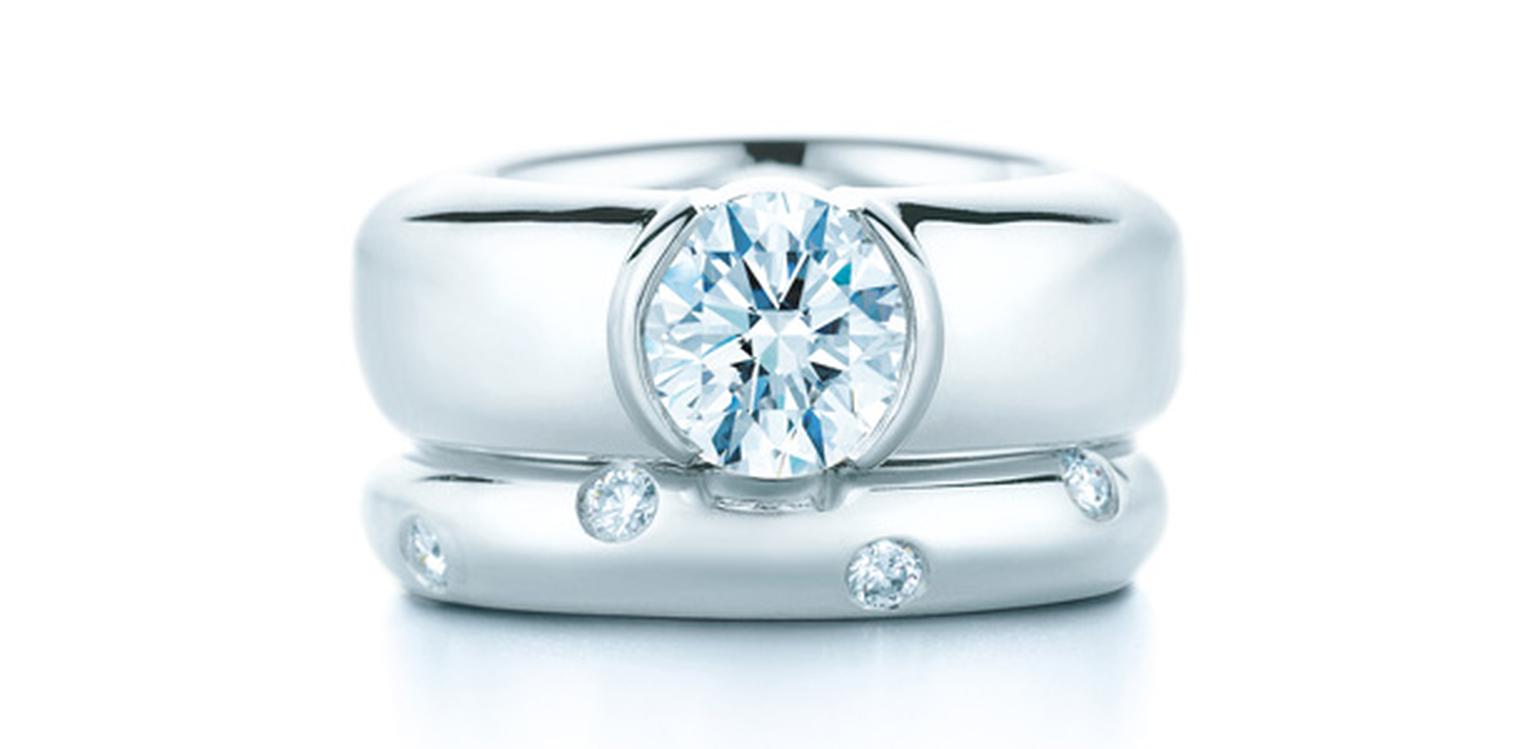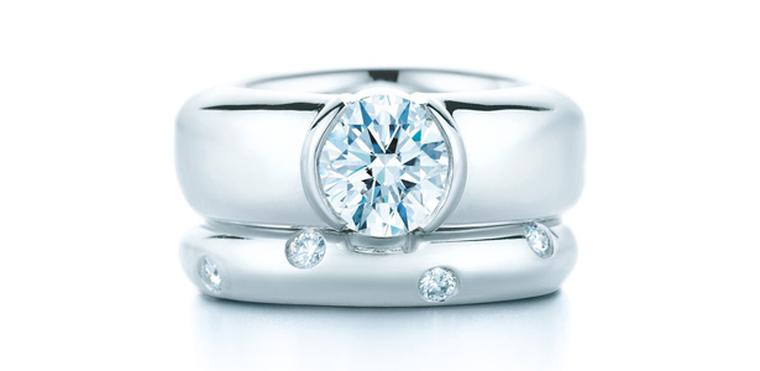 The solitaire engagement ring is a classic that refuses to date. A single round-brilliant diamond, held in a claw setting on a simple gold or platinum band, remains the number-one choice with brides-to-be, who love the idea of a show-stopping diamond to flash on their finger. The popularity of Tiffany & Co's classic six-prong Tiffany Setting ring - created more than a century ago and still its best-selling engagement ring - is proof that the solitaire style has become an enduring classic. But what if you like the idea of a big diamond but want something with a bit more character?
Traditionally, a solitaire engagement ring features a single stone, but the term is now commonly used to refer to rings set with a prominent central diamond. Look beyond the traditional claw setting and a whole world of solitaire-style engagement rings opens up - a world in which stunning stones are incorporated into exciting designs to become part of a more elaborate picture.
Take Harry Winston's fun "HW" diamond engagement ring, which features a 1.02ct round-brilliant diamond. Viewed head on it looks like a traditional solitaire engagement ring, but from the side you can see the pavé-set initials of the brand's founder holding the diamond in place. Or Graff's 1.22ct heart-shaped diamond ring, set between two tapered baguette diamond shoulders, which couldn't be clearer in its romantic intentions.
Staying true to the idea of a central solitaire diamond but placing it in a setting that reflects the jewellery house's design ethic, Chaumet, Tiffany & Co and Van Cleef & Arpels have created three stylish engagement rings with the emphasis on exceptional diamonds. Chaumet's Joséphone Tiara ring is named after Napoleon's wife and designed to mimic the bejewelled headpieces of which she was so fond, while Van Cleef & Arpels' Couture engagement ring sees the central diamond - available in different carat weights, from 0.30 to 1.00 - transformed into a button, fastened by a string of pavé-set diamonds. And Tiffany's Etoile ring is a solitaire, but not as you know it. Set into a chunky band, it hugs the diamond and looks  fabulous paired with the polka-dot diamond Etoile band.
You don't need to break with diamond tradition if you crave something brighter. Coloured diamonds, though much more valuable than a white come in a spectrum of different shades, from mint green to baby pink. Graff's fancy intense orangey pink diamond is a firey central stone with so much character that you will be reminded of honeymoon sunsets every time you look at it.
Earthy and imperfect, rough diamonds are the antithesis of the classic mega-watt sparkle of a round-briliant diamond. In their natural, pre-cut form, a rough diamond's imperfections become part of its character; rather than glittering, they give off a mellow glow. Diamonds in the Rough specialises in one-of-a-kind uncut diamonds, incorporated into exquisite settings and contrasted with pavé diamonds. The look is organic yet polished and highly original, emphasising the diamond's innate beauty.
Joséphine Tiara Ring in platinum, fully paved with brilliant-cut diamonds, set with a brilliant-cut diamond.

"HW" diamond engagement ring with micropave round brilliant diamond, featured here in a micropavé platinum setting.

De Beers' platinum Annabel engagement ring with diamond pavé mount, set with a round brilliant solitaire.

David Yurman platinum Crossover engagement ring, with intertwined pave-diamond set bands and a round-brilliant diamond in a four-prong setting, sculpted inside with the classic cable design.

Boodles Vintage Classic yellow diamond engagement ring in platinum, set with a round-brilliant cut yellow diamond (from £8,760)

Boucheron Quatre Follies Solitare ring with 24 pavé set diamonds and one large round diamond, in white and yellow gold setting (£4,720)

Heart-shape Graff diamond ring with tapered baguette diamond shoulders.

Van Cleef and Arpels' Couture engagement ring in a platinum pavé setting.

Graff pink diamond solitaire engagement ring.

Diamond in the Rough Embrace engagement ring in 18ct white gold (from US$7,500)

Tiffany's exclusive Etoile design features a round brilliant diamond bezel-set in a platinum band (from £9,675). The platinum Etoile wedding band features 10 round brilliant diamonds (£2,000).