Every bride-to-be is familiar with the traditional poem 'Something old, Something new, Something borrowed, Something blue'. Originating from an Old English rhyme, it has become customary that brides carry or wear four objects that correspond to each line as good luck charms on their wedding day. In days gone by, brides would also adhere to the final line of the poem 'A Sixpence in your shoe' by placing a coin under their foot to bring good fortune and prosperity.
Whether or not you're the superstitious type, it is a fun tradition and here we have applied the age-old rhyme to that one token of love that started the whole journey to the altar: the engagement ring.
The very concept of a diamond engagement ring is old, dating back to 1477 when Archduke Maximilian of Austria proposed to Mary of Burgundy with a ring set with pieces of diamonds in the shape of an 'M'. While the discovery of large diamond deposits in Brazil and South Africa in the 18th and 19th century gave rise to more diamond engagement rings, most affluent couples still favoured coloured gemstones such as rubies or sapphires. It was not until De Beers launched its famous 'A Diamond is Forever' campaign in 1948 that the solitaire - where one diamond, usually in a round brilliant cut, is set onto a gold or platinum band – became popular. Today, it is still by far the best-selling engagement ring design, and you can rest assured that a diamond solitaire on a plain or pavéd band will never date or go out of style.
A beautiful variation on the classic solitaire is the halo setting, where the central diamond is surrounded by smaller accent diamonds. Originating from the Georgian and Victorian eras, when many rings featured centre stones framed by small round diamonds or seed pearls, a halo will add an extra layer of sparkle to your ring. The halo design can be adapted to suit any shape of diamond and we particularly like the way it emphasises more elaborate cuts such as the pear or heart.
The 'Something New' could be a contemporary engagement ring by an independent jewellery designer such as New York-based Monique Péan, who creates stunning rings using recycled metals and conflict-free diamonds. It is also, of course, your wedding band, fresh out  of the box as it joins the engagement ring to signify the commitment you've made to each other. While it is important to choose a wedding band that complements your engagement ring, there is no need to opt for a plain band. Diamond wedding rings are becoming increasingly popular and look especially stunning when paired with a solitaire.
'Something Borrowed' stems back to the idea that if a bride borrowed an item from another happily married woman, that happiness would transfer onto her own marriage. These days a bride may choose to wear a piece of jewellery that has been lent to her by a friend or family member. However, a vintage-style engagement ring has all the hallmarks of a family heirloom that you're holding onto for a moment in time before it is passed down to the next generation. Emerald-cut diamonds capture the elegance and romance of a bygone era and look fabulous on their own or in a three stone setting, with each diamond symbolising the past, present or future.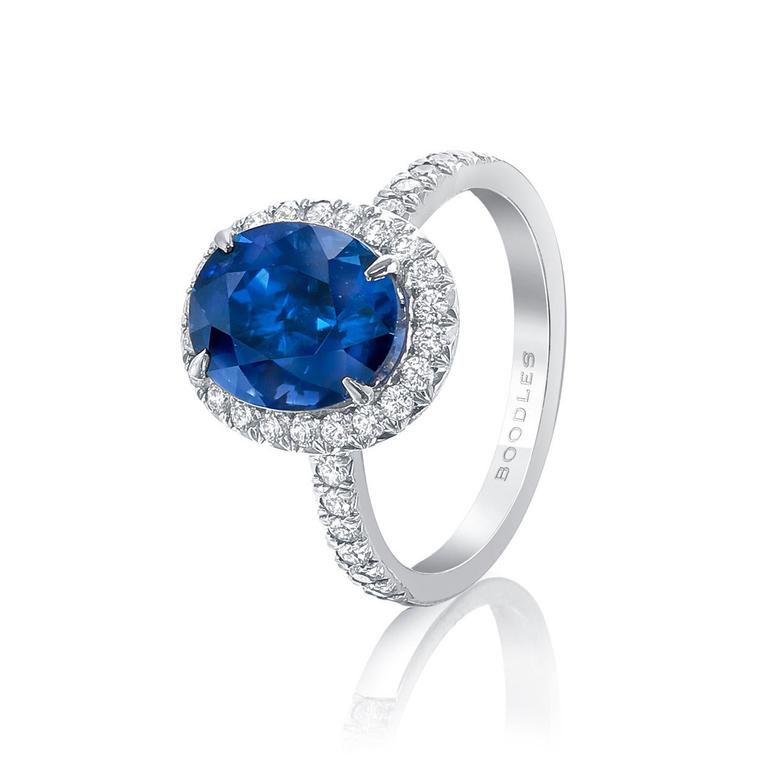 Finally, the colour blue has been associated with weddings for many centuries and stands for purity, love and fidelity. The easiest way to incorporate it into an engagement ring is via a blue gemstone such as a sapphire. If you don't want to forego the diamonds there are plenty ways to get your sparkle, either with a halo surround, a pavé band, or both.
While 'Something old, Something new, Something borrowed, Something blue' dates back to Victorian times, weddings seem to bring out the traditionalist in most of us, which is probably why the wording still resonates with today's modern brides. And let's face it, none of us are likely to say no to a bit of extra luck to ensure that both the big day, and married life, run as smoothly possible. 
Boodles New Vintage engagement ring in platinum, set with an oval-cut blue sapphire and brilliant-cut diamonds (£9,000).