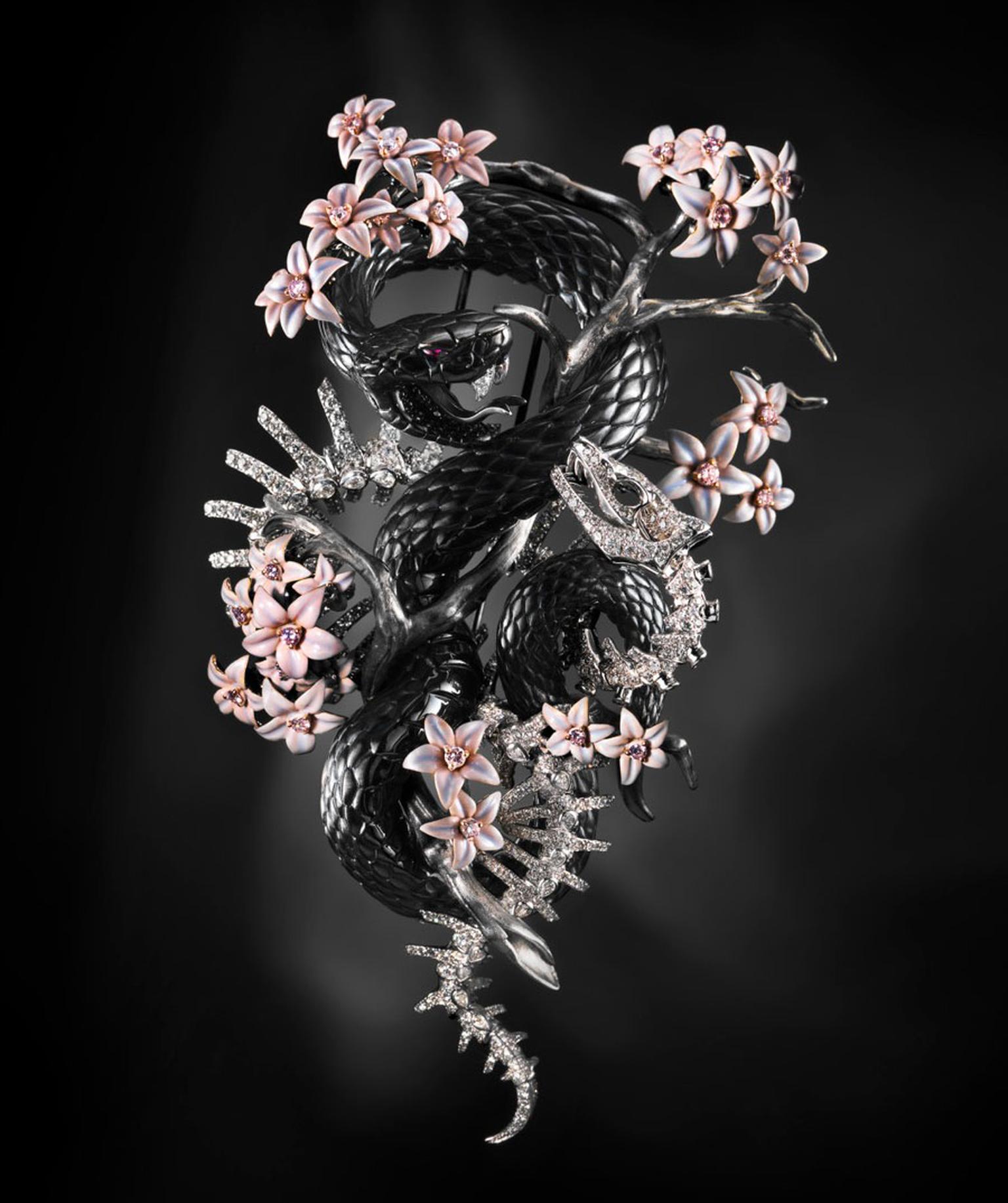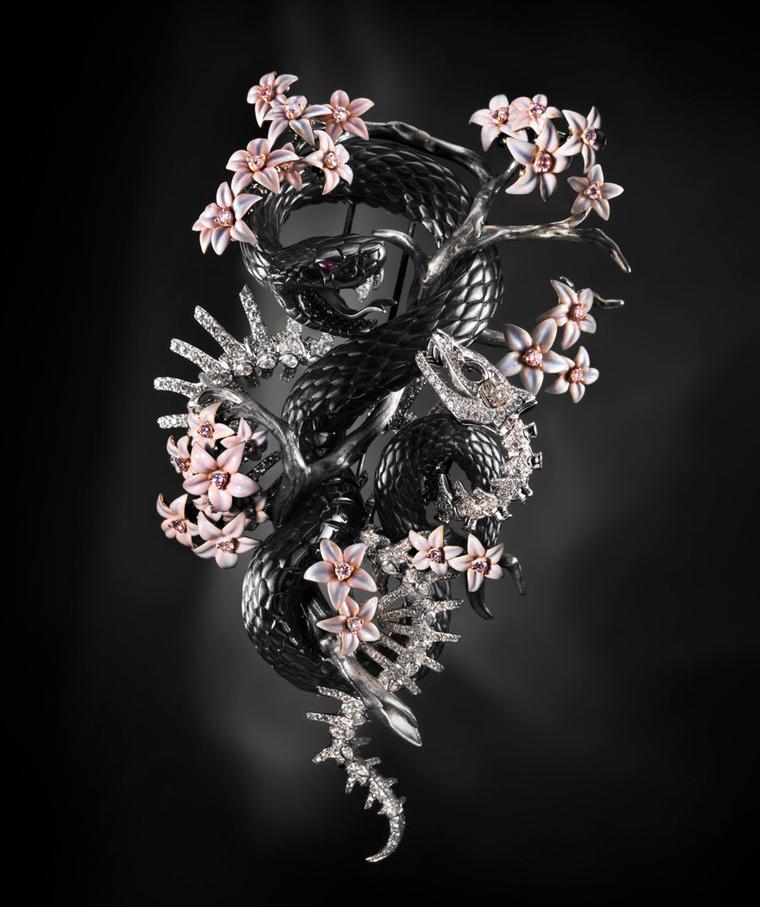 If you don't like creepy crawlies, look away now, as Jack du Rose's jewels are literally seething with spine-tingling critters. For his first collection of eight one-off jewels, aptly called 'Danger', du Rose turns vipers, black widows, poison moths, wasps, jelly fish, dart frogs, lions and even a blue-ring octopus into dangerously attractive jewels. Enter at your peril as achingly beautiful colours and mesmerising shimmering forms lure you into a land where evil lurks in the most tempting and glamorous guises.
Once you get up close, your instinct is to recoil when you realise that these alluring creations are about to bite, sting or snarl. Finding beauty in danger, Jack du Rose has made a mark for himself with his incredible eye for detail and refined workmanship, combined with spectacular stones. Full of intriguing details, it takes a while to absorb all that is going on in du Rose's elaborate jewels. A necklace of entwined tendrils of exquisite blue sapphires, diamonds and green tsavorite flowers crawls with wasps. Diamonds are draped as fine as cobwebs around a black widow's deathly lair. Turn the jewels over and, even on the reverse, du Rose shows great attention to detail. Diamonds are tucked away in dark nooks and crannies, and there are surprises only the wearer will ever see. 
Softly spoken du Rose did not start out life as a jeweller but studied English at university. A visit to a bookshop in the Cotswolds, where he discovered a tome that brought him face to face with the works of great jewellery masters such as René Lalique and Fabergé, changed his life forever. He had found his calling. Self-taught, du Rose began making models for other jewellers and eventually created his own jewels, the first of which make up the 'Danger' collection. The sculptural appeal of his larger jewels is clear, particularly when displayed in their own handmade glass bell jar and stand, created by artist Andy Paiko. This unique display case is housed in a wooden cabinet, which can only be unlocked with the golden 'Deadly Scorpion' bejewelled key handed over to each owner of a Jack du Rose one-off jewel. 
Handmade by craftsmen in London with Macassar ebony veneer, Alacantra upholstery and rose gold-plated metalwork, these jewellery boxes hold the glass jars.

Jack du Rose Emerald Labyrinth ring set with a 9.196ct emerald in blackened white gold (£56,000).

Jack du Rose Green Beryl Labyrinth ring with 20.64ct green beryl and 3.016ct diamond set in white gold (£25,250)

Jack du Rose pink tourmaline lotus ring with 24.33ct pink tourmaline, 3.12ct rubelite and 1.922ct diamonds set in rose gold (£29,000)

Jack du Rose Aquamarine Concentric ring in white gold with 17.38ct Aquamarine and 3.297ct diamond (£21,300).

Jack du Rose Dart Frog ring in white gold, lagoon tourmaline, mandarin garnet, emerald and black and white diamond.

Commissioned by du Rose and created by Portland, Oregon-based glass artist Andy Paiko, this series of sculptural vessel ware accompanies each piece. Each jar contains a handmade stand, which securely and subtly holds its content in optimal position.

Jack du Rose Jellyfish white gold, ruby, and diamond earrings.

For each of the eight pieces is a corresponding deadly scorpion key, a functional jewel to safeguard the creation and lock and unlock the cabinet. Crafted in rose gold with channel and pavé-set white diamonds, the key may also be worn as a pendant.

Jack du Rose Lion in yellow gold, cognac, champagne and white diamond, and caramel sapphire.

Jack du Rose Poison Moth in white gold, pink tourmaline and black, white and pink diamond.

Jack du Rose Octopus in yellow gold, yellow, orange and blue sapphire, cognac, champagne and white diamond, and black opal.