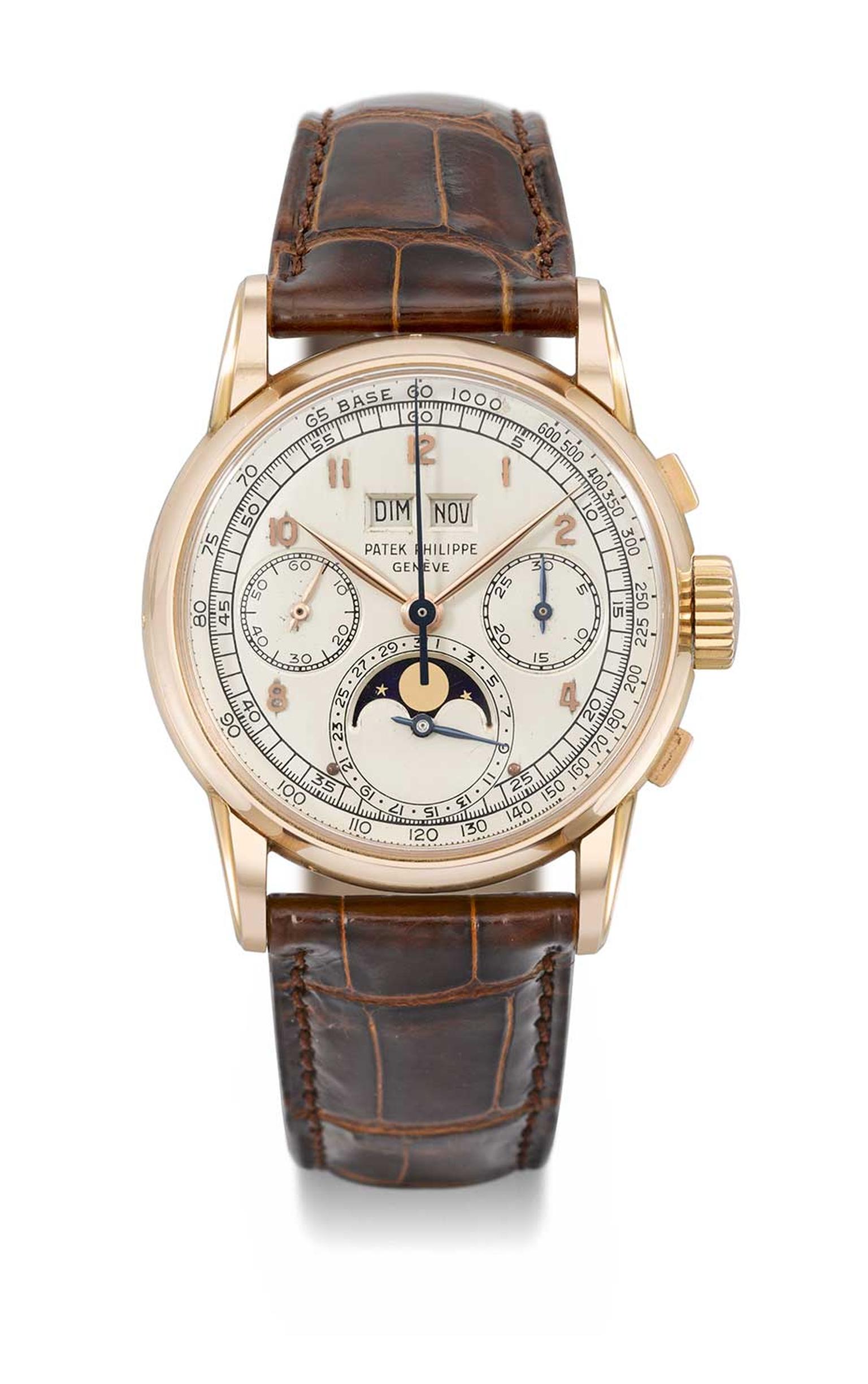 By Rebecca Doulton in Madrid
It was only a matter of time before the curtain was finally raised on Patek Philippe's surreptitious 175th anniversary preparations. Christie's Geneva has announced that it will be auctioning 100 "symbolic timepieces from the world's foremost watchmaker" at a special evening auction on 9 November 2014 to celebrate Patek Philippe's venerable anniversary.
Pushing the boat out hardly does justice to the treats ahead, starting with the first scoop that came bang in the middle of summer when the explosive news that Patek Philippe's masterpiece, the Henry Graves Supercomplication, the most complicated watch ever made without the aid of computer technology and auctioned for a whopping US$11 million dollars in 1999, was back on the block.
In fact, the Graves Supercomplication, the "Mona Lisa" of watches with 24 complications spread over two dials, will be auctioned by Sotheby's Geneva on 11 November and some specialists are already hinting that the pocket watch will hit the US$17 million mark. The question everybody is asking is whether Patek Philippe will be able to reclaim its magnum opus. In 1999, Patek Philippe was narrowly outbid by Sheikh Ali Al-Thani from Qatar - who had to return it to Sotheby's in 2012 to cover his debts - and returned from the New York auction in shock, empty-handed.
Which is why the timing of the recent news regarding Christie's Patek Philippe auction, just two days before Sotheby's Important Watches auction in Geneva starring the Graves Supercomplication, seems particularly revealing.
Christie's will lay out a cornucopia of vintage Patek Philippe watches spanning from the early 19th century to the 1980s, including 58 watches that have never appeared in public before. With low-end estimates ranging from US$1,710 to $1.7 million, there is something for almost every Patek Philippe fanatic.
Highlights of the Christie's auction include the Patek Philippe watch "The Boeing" Reference 130, a rare gold wristwatch with a split-seconds chronograph, sold by Cartier in 1939 to commercial aviation pioneer Mr William E. Boeing of Seattle, Washington. In keeping with the jet-set era, the Patek Philippe Reference 2523 is a gold world time watch with a lovely blue enamel dial with indications of time around the world at a glance.
Although the owner has not been revealed in the case of the Patek Philippe watch Reference 2499 First Series, this 1951 perpetual calendar wristwatch is the only pink gold example with English import marks. With the highest pre-sale estimate of US $1.7 -2.7 million, this watch is one of four models in pink gold known to the market.
Another watch that is bound to be hotly contested is the Patek Philippe watch Reference 2497 in white gold, a perpetual calendar with Moon phases - one of three models in white gold of this reference known to exist.
The man who turned Hublot into a global name, Jean-Claude Biver, is auctioning his personal Patek Philippe watch Reference 1563, a gold split-seconds chronograph with a two-tone dial and rare pulsometer scale. The most famous model belonging to Duke Ellington is on permanent exhibition at the Patek Philippe Museum in Geneva.
Owned by King Farouk of Egypt, another top lot, Reference 1518, has the distinction of being one of the first perpetual calendar chronographs produced in series by any watch manufacturer.
As John Reardon, international head of Christie's watches, comments: "Each timepiece is a true work of art that will forever be remembered as part of this sale, and part of Patek Philippe's unrivalled history."
In addition to the anticipation and tension generated by these two historic auctions, we are still waiting to see whether Patek Philippe will regale the world with a complication to rival Calibre 89, made especially to celebrate its 150th birthday.