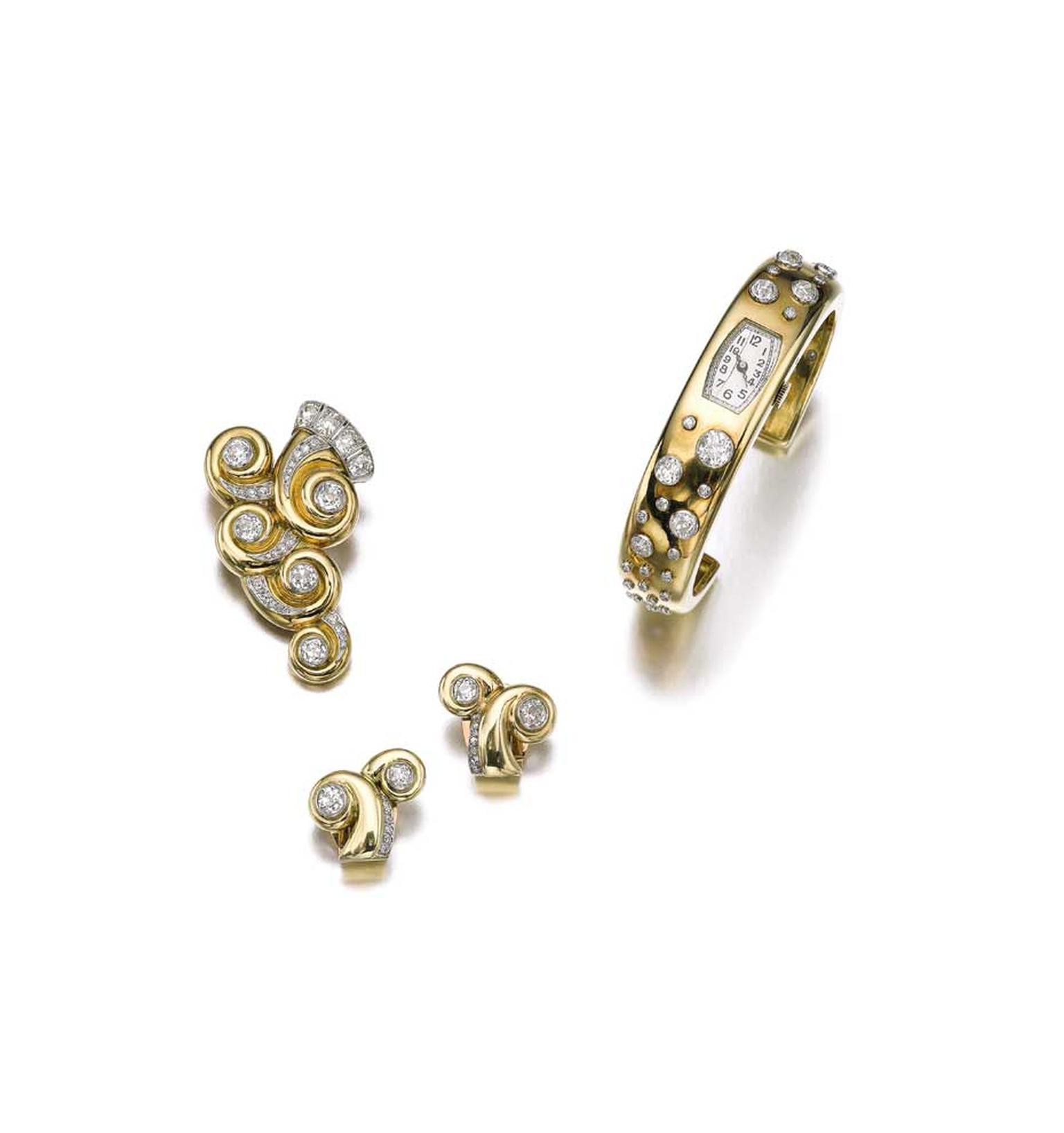 By Melanie Grant in London
Attending an auction of significant jewellery can be plagued with symptoms, including a dry mouth, sweaty palms and a longing to wave your arms wildly in the air and bid for a jewel once owned by royalty. Sotheby's is wise to this and deliberately provokes collectors everywhere by seeking out the grandest, the most obscure and the most important gems on the planet.
Sotheby's auction of Magnificent Jewels & Noble Jewels on 13 May 2014 in Geneva is no exception. I witnessed first hand the drooling that went on during the handling session of a select few lots being readied for auction.
Daniela Mascetti, Senior Director and International Specialist of Sotheby's jewellery department, talked me through each piece with the assured ease of a woman who has orchestrated sales from the collections of Elton John right through to the Duchess of Windsor.
We started with some huge diamond rings, including the Graff Vivid Yellow diamond - 100 carats of sun-drenched colour that set my finger ablaze. Next, the gargantuan 31.34ct step-cut Victory diamond, which is the largest of its kind in the world.
A finely crafted Van Cleef & Arpels ruby and diamond 'Deux Fleurs' mystery set brooch was next, which danced in the palm of my hand. A wonderfully modern yellow gold and diamond necklace that once belonging to Jacqueline Auriol, with a fighter jet swerving at its curve, rippled over my fingers - also by Van Cleef & Arpels. Auriol was France's first test pilot, the first European woman to break the sound barrier and was known for her love of speed and danger.
Next a pretty assortment of pearl earrings, an emerald necklace and a pair of Kashmir sapphire and Burmese ruby rings sailed past.
Even maverick jeweller Suzanne Belperron was present in the form of a whimsical chalcedony, sapphire and diamond brooch alongside a velvety smooth diamond cuff. The cuff is one of Daniela's favourite lots. "One can put it on in the morning and wear it at night. It's a fashion statement as well as a good piece of jewellery," she mused.
Belperron is acknowledged as one of the only female master jewellers of the 20th century, and bidding for her pieces is always predictably fierce. In 2012, a Sotheby's auction dedicated exclusively to the designer in Geneva saw all 60 Belperron jewels sell at top prices, more than tripling their pre-sale estimate. She rarely signed her work, declaring "my style is my signature" and rebelliously creating voluptuously curved pieces in the 1930s when the rigid lines of Art Deco were at their peak.
So what can I take away from all this apart from a sudden yearning to play the National Lottery? Well, it is possible to still own pieces by greats such as Lalique and Belperron if you wait for them to come to auction. Auction houses like Sotheby's constantly scour the market for treasures long forgotten. Just grab the chance to buy when it arises as heirlooms can sit quietly in private collections for generations and prices are set by demand, so the lesser-known jewellers offer better value for money.
Our time was at an end and Daniela offered me a chocolate brownie in consolation instead of the diamond marvels that would never be mine. How cruel but yet how kind. I'm sure the Duchess of Windsor would have approved.