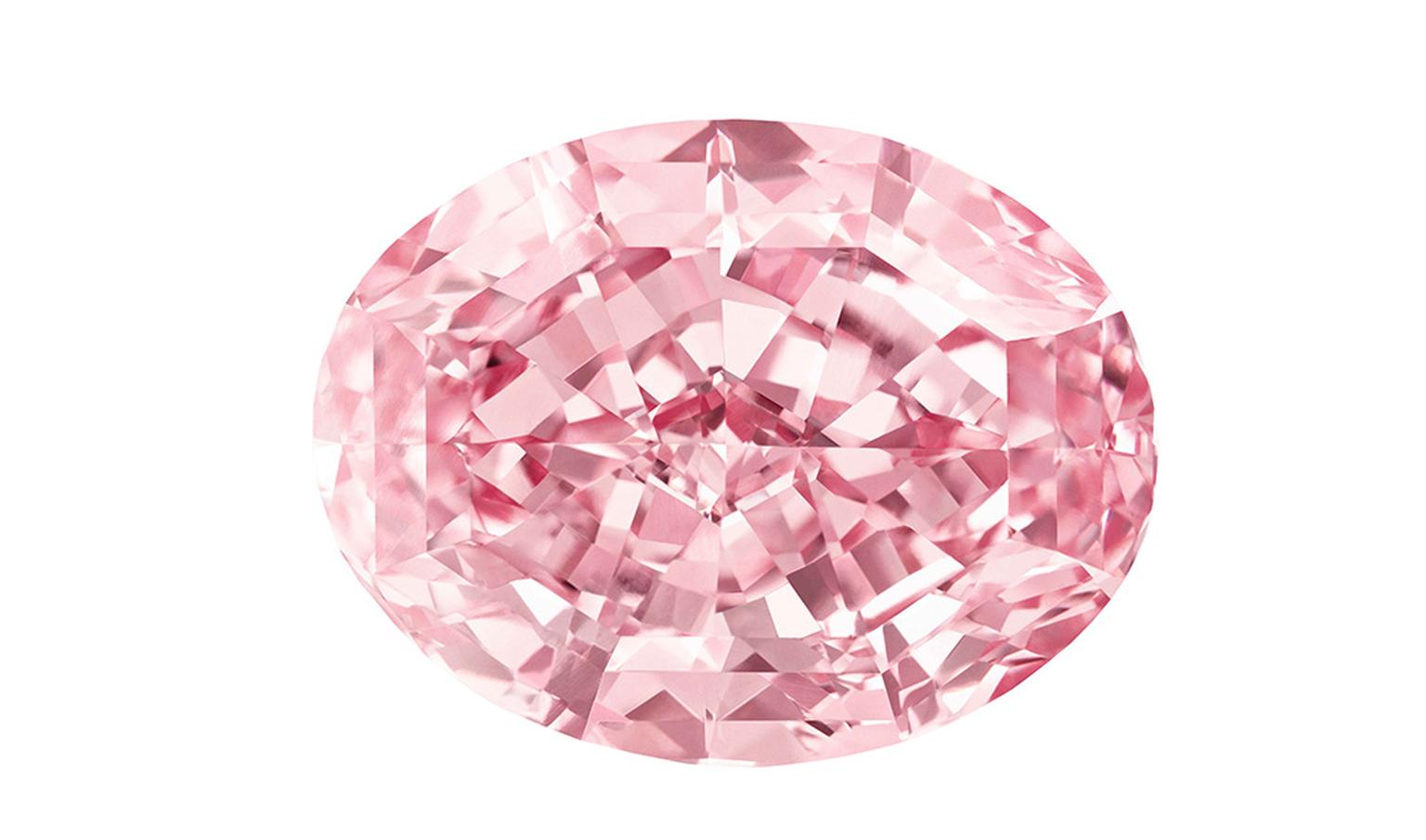 14 November 2013
The world record for the highest price paid for a diamond or indeed any jewel was broken at Sotheby's Geneva last night when the hammer came down at US$83,187,381 (CHF 76,325,000) for the 59.6ct 'Pink Star' Diamond. This new record high stripped the Graff Pink of its status of the most valuable diamond in the world that sold to Laurence Graff of Graff Diamonds for US$46.2 million in 2010 at Sotheby's Geneva.
The Pink Star was bought by Isaac Wolf of New York, a diamond-cutter who was bidding against three other contenders for this diamond that has made history. Mr Wolf has already re-named the stone The Pink Dream making this the third baptism for this exceptional pink diamond. The 132.5ct rough was mined in 1999 in Africa by De Beers who sold it to Steinmetz who called it the 'Steinmetz Pink'. In 2007 it was sold again for an undisclosed amount and became the Pink Star.
The Pink Star, has commanded huge attention as it was clear it was a strong candidate to become the most valuable diamond in the world ever auctioned. This is because the one-of-a-kind 59.60ct oval-cut pink diamond is the largest internally flawless fancy vivid pink diamond every graded by the Gemological Institute of America (GIA). More than twice the size of the 24.78ct Graff Pink fancy intense pink diamond, it also exceeds in both size and richness of colour any pink diamond found in state, royal or private collections.
Remarkable in every way, The Pink Dream is internally flawless and a beautifully saturated shade of pink known as Fancy Vivid - the highest possible colour grade for a pink diamond. It also falls into the rare Type IIa subgroup of diamonds, renowned for their flawless purity and exceptional optical transparency, which make up only 2% of all diamonds.
David Bennett, who led the sale at Sotheby's said:"The Pink Star is a true masterpiece of nature. Its immense importance was reflected tonight in the strength of the bidding and we are thrilled that the record price it achieved earned it a place in history. Today's record sale is a further testimony to the strength and depth of the diamond and jewellery market."
See Maria Doulton talking on Bloomberg TV about the Geneva diamond auctions by clicking here.